November 2021, I stepped out of my Jeep and looked around at the tall pine trees as I breathed in the thin mountain air. Flagstaff, Arizona would be my new home to heal. It was the place that would allow me to make sense of my sudden but very needed divorce and to understand my new diagnosis of rheumatoid arthritis earlier in the year.
As we settled into Flagstaff I leashed up my sweet rescue dog Suki and we took off to explore a local dog park. It felt comfortable to be back in my Arizona roots although I had not spent time in northern Arizona in many years. After a highly emotional few months, we had landed in this mountain community with zero planning. I felt like I was in a movie, and this was all a bad dream. The road trip from Seattle to Flagstaff had been very emotional. I was grateful to see friends along the way but now I was on my own and this was for real. This was not in my life plan.
I grew up in the valley of the sun a few hours south as a runner and swimmer. I had attended training camps and races in the cool pines. I arrived without any housing lined up as I chose to leave the house I owned and shared in the PNW with my former husband. I needed to protect myself and Suki. We were here to rebuild our lives. I felt this sacred place would be a good place to test the future of my body and better my soul.
I woke up one morning late spring and felt strong inflammation throughout my body. I could barely walk and had to slide down my stairs. I had a deep hunch that I had rheumatoid arthritis. My mother had been diagnosed middle aged and it can be genetic according to Google. As this was the pandemic, I could not get a doctor's appointment let alone a rheumatologist. What had happened to me? Could I have swallowed bad water in one of the algae bloomed PNW lakes while on a swim? Prayed this was it!
After much persistence I was able to make an appointment with a primary care physician who x-rayed me and drew my blood for testing. My worst nightmare was confirmed, and the rheumatoid arthritis indicators were off the charts in my bloodwork. After the diagnosis, I started a series of medications which included a chemo drug I did not do well with. Thankfully I did not lose any hair. I bought a pair of reflexology sandals to relieve the pressure in my feet as I wanted to get off the steroids so that I was sustainable. I walked 15–16-minute miles with Suki down a few blocks of my street. I was very determined to beat this unknown disease! I continued to crawl down the stairs.
I had run 20 plus marathons over a long period of time including Boston, competed as a triathlete, and completed long distance ocean swims all without injury or pain. Running was my lifelong escape and exercise of choice. It was a passion and a big part of my identity. I had also rescued Suki with the primary purpose of her being a running buddy. Would I be "disabled status" for the rest of my life? I did love the water and had gotten into aqua jogging years ago but that was not the same to road running. I always trained smart. This was little to no research on how athletes could cope with rheumatoid arthritis and compete. I was a middle of the pack athlete, but it was my everything!
Combined with my divorce, I knew I needed to rebuild my life and take a big time out. After securing temporary housing, the holidays were vastly approaching. My family had since moved from Arizona to the Midwest and Florida. I had a wonderful network of friends throughout the state but did not know anyone in Flagstaff. I did not want to board Suki so I could fly to spend time with family over the holidays.
So how do I spend my first holidays alone? I reached out to my local church to see if volunteers were needed to serve meals but did not hear back due to the pandemic. Being a "go getter" I made quite a few calls to other organizations but heard nothing back. I knew it was time to hit the trails with my best friend specifically during the holidays. We were not alone and always saw new things and were greeted by others. No one asked why we were alone. It was budget friendly activity to do during the holidays and allowed me to start healing. I was optimistic!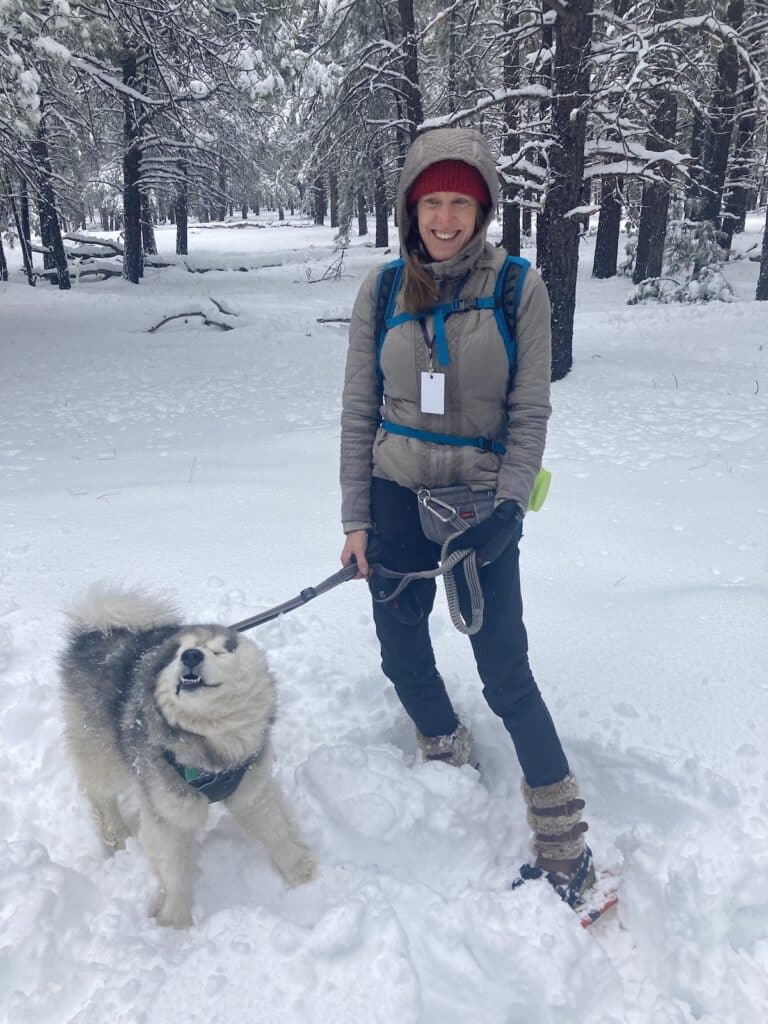 Christmas day I had a newfound independence hiking the trails with Suki. I dined at a local restaurant with her under the table and felt empowered but still very emotionally and physically wounded. I prayed to heal as the tears streamed down my face under my sunglasses like waterfalls on the Sedona trails.
As winter continued, I had started to do short trail runs no longer than 20-30 minutes with Suki. During these runs I had lost any joint pain, but I was very cautious. The alpine community of Flagstaff started to get heavy snow. I had read about "ski-joring" (skiing while being pulled by a dog) and had some Scandinavian in me. I did not own a harness and although I had cross country skied I was not a fan of ice and was scared to move fast down hills! This was high on the risk list for me but very intriguing.
Magically I made a friend while walking down a street in town a day before New Year's. He had owned a dog sledding business and immediately offered me a harness within 15 minutes of meeting him. What a coincidence!
On Winter Solstice Eve, Suki and I arrived at the Arizona Nordic Village as I researched, they had a dog trail for snow sports. We quickly became a staple, and my newfound hobby was born! I was grateful my joints would be safe. Even after some falls due to Suki chasing other dogs (terrifying yet very comical), I got back up! If I had to fall, I would go down laughing and having fun! I skied with a backpack full of snacks and water for us and made a small group of ski friends.
In January I started going on longer trail runs with Suki. I had also started to see a new doctor in Arizona and was taking a new medication with little side effects. It allowed me to continue to run low mileage. I started to see race flyers in beautiful places such as the Navajo reservation. I had run with Native Americans in my high school meets and cherished the culture and their landscape. I took a plunge and signed up for a half marathon. The half marathon was an amazing experience and I finished with no joint pain!
As Spring approached and the trail adventures continued. Suki and I continued to ski and run while my body was healing. After another doctor's visit, my blood work showed that I was now in remission from rheumatoid arthritis!
Arizona was a place for healing my body. We started to build community. Suki and I fostered dogs for a nearby shelter during wildfires. When the decision to stay or go arose due to housing, I made the tough but necessary call to relocate to Northern Kentucky to be close to my immediate family in Ohio & Florida.
Fast forward July 2023, I am still an active trail runner. I have run trails throughout Ohio and Kentucky. I love the hills of Kentucky! Suki is now a fan of the squirrels, red cardinals, and the deer. We both enjoy the climate and lack of wildfires and drought. I do miss the winter snow. Suki and I now take winter trips to Duluth, Minnesota to skijor. We will also do an annual trip to Minnesota. We joined Trail Sisters Cincinnati in early 2023 and have enjoyed some great runs. I also get to connect with Trail Sisters Duluth while skijoring in Minnesota.
While I'm not on the trails I am in the process of getting certified through the Arthritis Foundation so I can help others heals. My hope is to show others that they can move their bodies even if they have rheumatoid arthritis. I am forever grateful for my second chance as athlete and for the gift of starting over!