My sisters, I had a plan for this month's column focusing on all things avocado.
Then I was faced with the reality of a long-standing need for a total hip replacement. So here we are, with a more serious and hopeful conversation for the month of April.
Full disclosure, I am 52 and started running at the age of five. Really, I ran my first race during field day in 1975 on a cinder track in Muskegon, MI and proudly declared to everyone who would listen "I am going to be a runner." And that was the beginning of my racing career.
I was fortunate to grow up racing track, cross country and riding horses. I also swam, rode bikes like a maniac and then followed it up with decades of working on hard kitchen floors in restaurants. All activity aside, according to every orthopedic I speak with, my issue is simply genetic. Sure, the aforementioned level of activity may have hit the fast forward button by five years or so, but this surgery would be happening regardless.
I'll back up even further. When I was a year and a half old, my parents noticed my feet were turning inward. I wore corrective shoes during the day and a brace (a bar with shoes on it) at night. This was clearly the right move on my parents' part. As I grew older the issue was gone. I raced hard as a kid, was fast, and what most people who watched my races commented on was "how beautiful" my stride was. Literal strangers stopped me at track and cross country meets to mention this. I was a kid and could have cared less. As a 52 year old who is acutely aware that my stride (I cannot presently run) is sadly not so gorgeous, I am channeling that OG stride to come back soon.
I should have had this procedure done at least four years ago. That is another conversation, but I will say this, nearly everyone I know who has had a hip replacement has proclaimed the same thing. I am doing my best to stop beating myself up over this, and am somewhat successful in doing so 50% of the time.
So here we are today. This week I will again meet with the surgeon, and we will finalize the procedure date for sometime in May. I have an event on May 4th and will gladly roll into the hospital on May 5th. I have big plans for this summer and am excited to check the surgery box and start recovery.
It baffles me that the procedure takes place in the morning, and I will go home that evening, literally walking out on my own accord.
Full disclosure, this is the list of what is going on with my right hip and prompting the procedure. It was also important that I share this entire list with Stephanie in order for her to see the full picture.
Dysplastic right hip
Cam type lesion on hip proximal femur
Inside the joint osteoarthritis
Femoroacetabular impingement
Cartilage loss on femoral head/socket
Osteoarthritis and hip dysplasia
Labrum torn
Advanced degenerative changes inside the hip
Fixed femoral nerve
Let's get to the nitty gritty of how I am personally preparing for this replacement. The procedure is obviously heavily invasive to the bone, as well as soft tissue. I will never tire of shouting from the rooftops the privilege I have of so many Registered Dietitian friends on speed dial. I happily and hopefully emailed Stephanie for help on this all and here is what she had to say:
The most important thing for healing, in order of importance, is:
1. Adequate energy (calories). Without enough energy, the body cannot properly heal. That's number one, and none of the others matter if you don't have that bottom line.
2. Enough protein. The turnover of cells/healing requires protein. Not more than normal per se, but relative amounts generally go up. I have my recovering athletes shift from 10-15% protein up to 20-30% protein for healing. This is about 1.4g/kg/d. The best is not to overthink the numbers, but to just make sure there is a high-quality protein at EVERY meal.
3. The colorful stuff. All those vegetables and fruits with colors because that means they are full of micronutrients. Eat the rainbow!
4. Vitamin D. If you aren't on a supplement, get on one. Vit D3, and at least 1000 IU/d.
5. Lastly, collagen supplements can help, but they are less proven to work in literature. If you are getting enough protein, you probably don't have to worry about collagen. If you do want to try one (there is no harm), then opt for gelatin or bovine collagen. Unfortunately, the plant-based ones don't do the same thing.
6. If there are any deficiencies you tend to have, now is the time to stay on top of any foods or supplements necessary to keep those values up. You want to go into surgery and healing with your best foot (hip!) forward, and not be behind on anything important.
Some foods that I think are particularly useful for healing are:
Salmon (high in protein AND omega 3s)
Berries
Dark leafy greens
Anything orange- carrots, butternut squash, peppers, sweet potatoes
Iron-rich protein- red meat is the highest, but also chicken, turkey, seafood
Lentils/beans
Seeds
DAIRY. I use full fat yogurt and whole milk.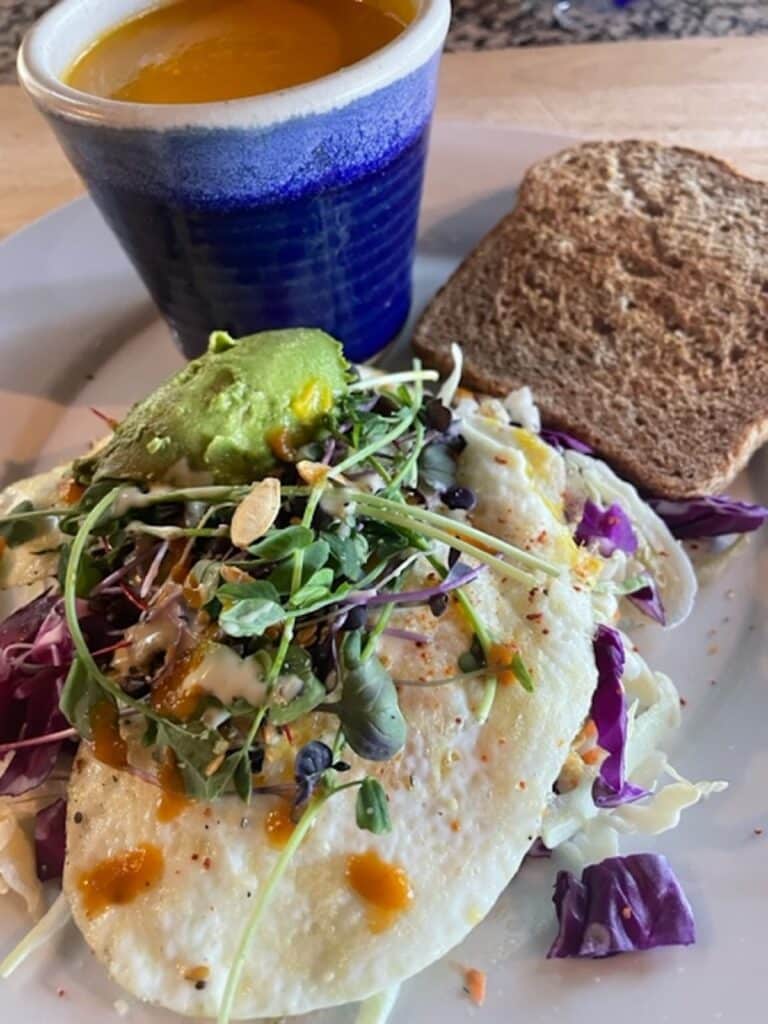 First and foremost, an enormous thank you to Stephanie. I cannot control a lot in this scenario, but what I am comfortable with and can control is food. The feedback and advice from Stephanie feel deeply helpful and supportive. I take care of others every day through food. I know this stuff inside and out, but I am not an RD. I especially appreciate her narrative around the order of importance and caloric intake.
Upon reading her email this morning, I was eating breakfast. This is what my breakfast looked like, and to reiterate I had prepared this before reading her email. I felt relieved after reading it.
Roasted carrot soup (leftover from last night)
Raw red cabbage/miso vin/lots of seeds/fresh sprouts
Two over easy eggs/sprouted grain bread
A total of 35g protein which is on par. If you follow me at all on social media, you know my bag of seeds is always within arms reach. Fresh sprouts are a clutch move for adding more protein and macros.
First and foremost, I had labs done last week in an effort to find out where I am deficient. I want to know for certain what I need to work on going forward. I am fortunate to be pretty even across the board with no deficiencies high or low.
My diet is always heavy on salmon, fresh raw vegetables, dark greens, seeds, sprouts and 99% of Stephanie's recommended list. However, I rarely eat dairy. It makes my stomach feel like a garbage can if I partake on a regular basis. I will up the Vitamin D in a form of adjusting my daily supplement and add dairy a few times a week. I spend a lot of time in the sun at high altitude and take a supplement already, but the supplement is on the low side for bone health in recovery and because I am 52.
I am a huge fan of soup and will add concentrated bone broth to them moving forward. My average protein intake daily is 30-40g three times a day. I start and end the day adding a tablespoon + of chia seeds to whatever I am eating. Chia is an easy way for me to add 3g of protein to anything.
Nut butter and dried fruit with muesli in the morning is also on deck to up the Vitamin D.
In the end, I feel hopeful and in control a bit more for this journey. I am forever grateful for the wisdom and education of my network of friends.
Steph's Notes
Here's a great way to incorporate lots of colorful veggies into a meal. This recipe has lots of fresh and nutrient dense vegetables and is easy to change up depending on the season and what's available. Simply omit foods you don't have on hand, and add any other colorful fruit or vegetable you'd like. Remember to be generous with the dressing- the fat is needed to absorb a lot of the nutrients (plus it tastes good!). To make this a complete meal, serve as a side with a nice big filet of Salmon and some farro or wild rice. You can substitute a plant-based protein for the Salmon, but make sure it's high quality.
There is a great pumpkin seed tofu (Pumfu) out that has 17g of plant based protein vs the 10g of plant based protein in traditional tofu. Pumfu tastes great, and is soy free for those with soy allergies. There are a few exceptional new to the market tempeh made with quinoa, black beans, chickpeas, seeds and sprouted grains. They are merely days old, rather than the months old product we traditionally find on shelves. The protein options are endless. And to reiterate what Stephanie is driving home, when in doubt pick your favorite high quality protein and add as many colors as possible.
I personally add fistfuls of dark leafy greens to a large bowl, add as many colors of raw vegetables as possible, seeds+sprouts and vinaigrette then gently toss with tongs. Find a favorite plate or bowl, add the salad and top with chosen protein. I have always been a fan of adding a hot protein to a cold salad. The variety of textures makes me happy and prompts me to keep eating.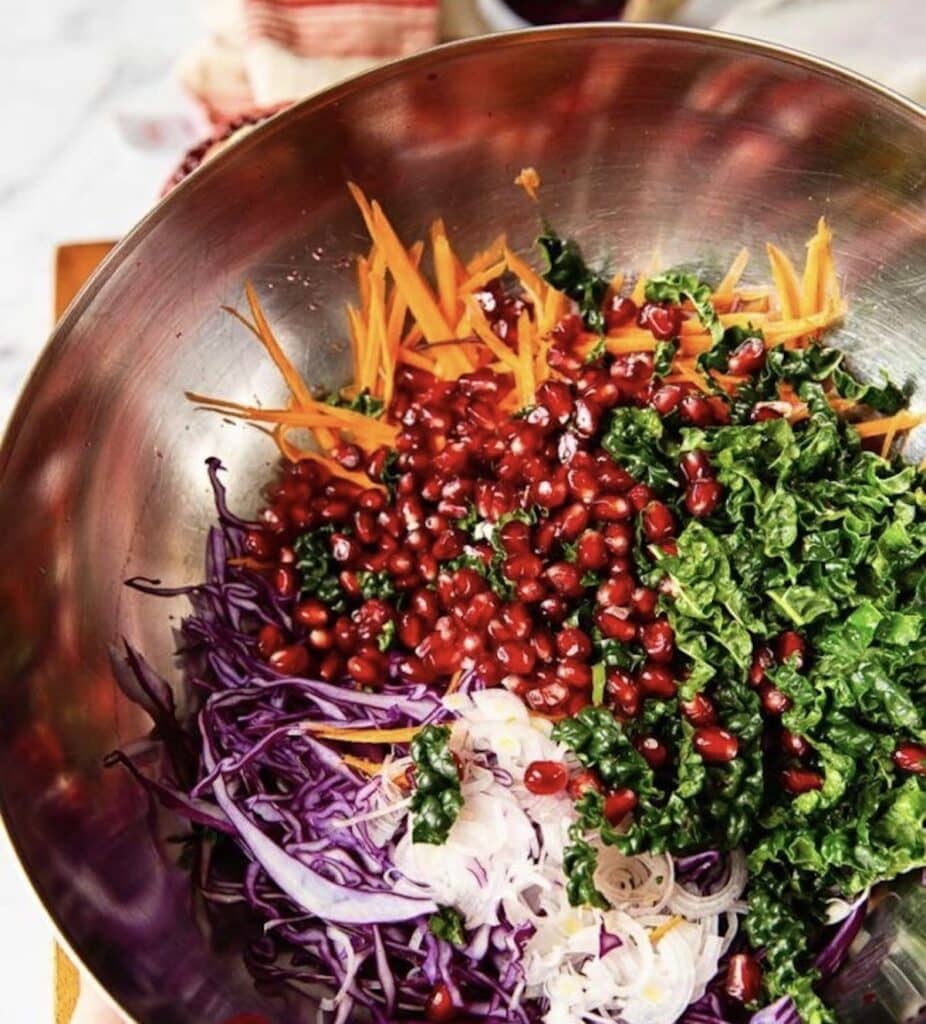 Stephanie's comments about salad dressings and vinaigrettes hits home. If I am in a hurry, my go to dressing is literally a scoop of hummus. The taste of the dressings is obviously paramount, otherwise why eat it yes? But let's not lose sight of the dressing as a vehicle for adding more micros and macros as well. A solid binder for all that is needed. Think of it as the ribbon and bow when wrapping a present.
Rainbow Salad:
Grated purple cabbage
Grated carrots
Grated beets
Radishes, thinly sliced
Tomatoes, sliced or cherry tomatoes
Cucumbers, thinly sliced
Avocado, sliced
Pea shoots/sprouts
Herbs
Sesame seeds or hemp seeds
Greens (arugula, spring mix, little gems, lettuces)
Make a bed of greens on a large plate. Top with grated and sliced vegetables. Generously drizzle with dressing and "stir" to gently combine. Top with microgreens, herbs, and seeds.
Dressing:
(You can use any dressing you'd like, but Ilke the taste of miso here)
¼ c sesame oil
2 T rice vinegar
1-2 T miso paste
2 T tamari or shoyu sauce
2-4 T water (to thin)
Salt and pepper to taste
Add all ingredients to a share and shake until well combined. Taste and adjust as necessary!