Trail Sisters was created to constitute for an equitable outdoors both recreationally and throughout the industry. Female voice and representation are essential in the future of our outdoors, impacting the role we play both on and off the trails.
To break through long-standing barriers, Trail Sisters generates educational content and resources, while fostering an inspirational community that encourages self-advocacy and life-long friendships.
The Trail Sisters community welcomes and encourages inclusion from All who identify as women: our sisters of Color, our Indigenous sisters, our LGBTQIA sisters, our Trans and Non-Binary sisters, our Adaptive Athlete sisters and our White sisters.
Pace, size, shape, experience level, whether hiking, running, or racing, none of that matters. What does matter is that sisters are experiencing a valuable and enjoyable time on the trails, surrounded by those who are supportive and empowering.
No sisterhood is truly a sisterhood without diversity in every way, as each woman is unique, significant, and can provide strength, love, and support to her fellow sisters.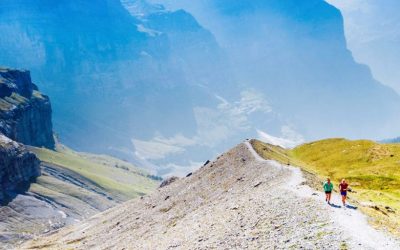 This multi-faced platform provides a place for womxn's voices to inspire and empower and resources to educate.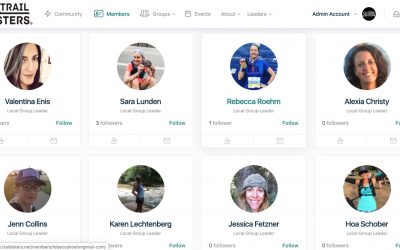 Trail Sisters Communities
A platform to connect with Local, Regional and Discussion Groups.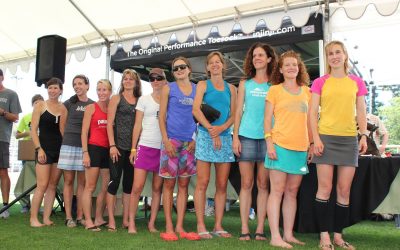 Our Trail Sisters Approved Standards seek to provide womxn the race day they deserve.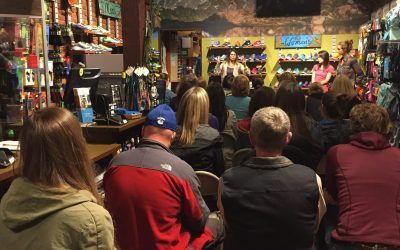 Events we have hosted include panel discussions, workshops and retail store events.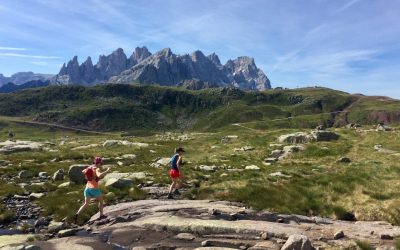 Created to help fund opportunities for women who want to explore, inspire, and share their experience with others.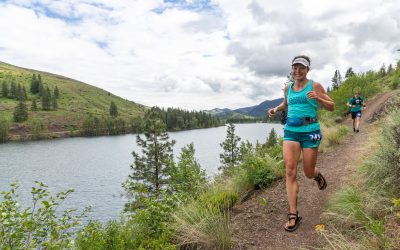 Join a team of likeminded womxn who support one another to reach their goals.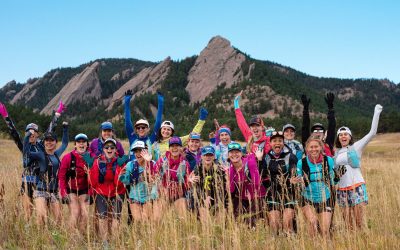 Women's only retreats curated to inspire confidence and build camaraderie. Great for both beginner and experienced runners.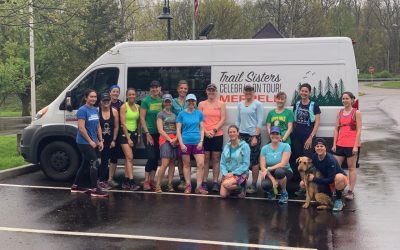 Go on the road with Trail Sisters! We love to visit TS communities around the globe. Trail Sisters Launch
On this day, the original Trail Sisters website went live! It originated as an online journal publishing one article per week and included perspectives from seven female contributors. The purpose was to provide more female voice and perspective to the male dominated sports of trail running and hiking.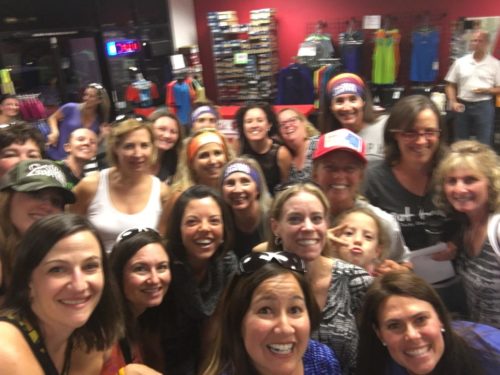 Trail Sisters Pacific Northwest Road Trip
As a firm believer of the importance of in-person interaction, Trail Sisters founder Gina Lucrezi hit the road to traveling through the PNW hosting presentations and fun runs at eight specialty run shops for women interested in trail running.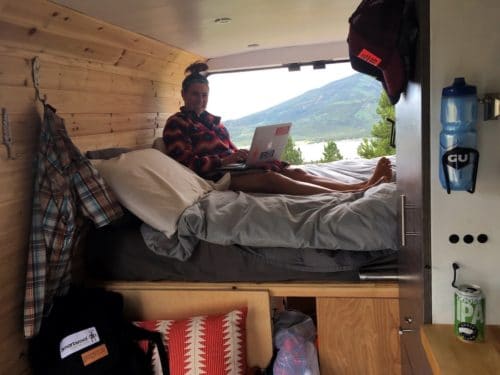 Van Life + TS Road Trip
Bit by the travel bug, Trail Sisters goes fully mobile for nine months of the year hosting presentations and fun runs at various specialty run shops around the USA and Canada. This trip really allowed TS to take a deep look at how trail running and hiking were embraced and approached in different areas of the country.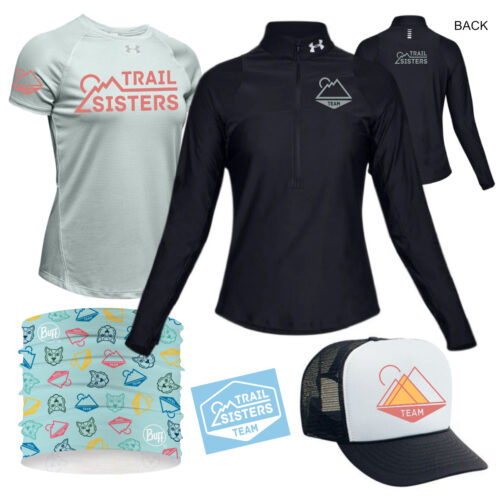 Team Trail Sisters Launch
Trail Sisters creates a community team for any and all women to join. The purpose was to provide additional opportunities and gear for women looking to fly the TS flag a bit higher and harder. The team welcomes 100 new members three times per year.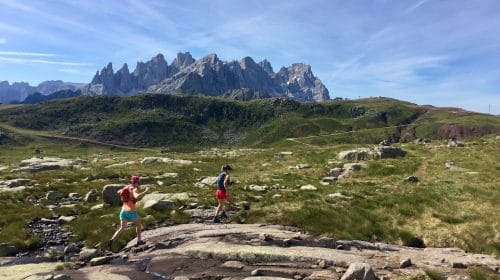 Adventure Grants Launch
With a mission to grow participation and opportunity in trailing and hiking, what better way to achieve this than offering a grant that will provide six women $500 to put towards their dream adventure. Grant recipients share an article about their adventures in hopes to encourage others in pursuing their dreams.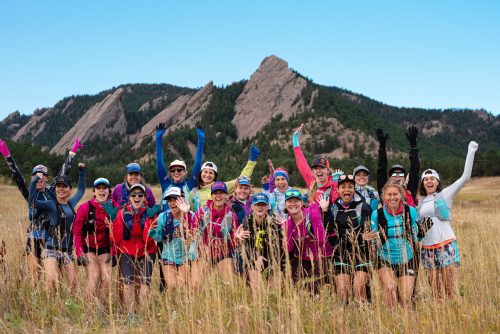 First Trail Sisters Retreat
We launched a women's only trail running retreat based in Boulder, CO. We filled all 19 participant spots within 40 days after posting the promotion! Currently we offer 2 retreats a year, hosted in Boulder.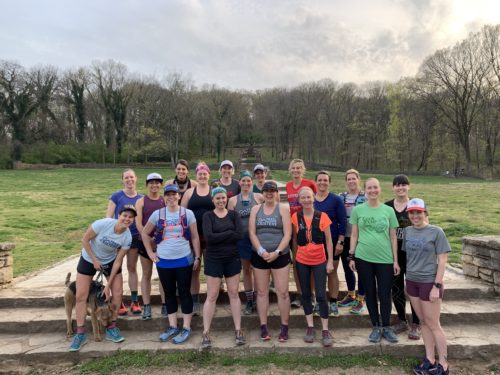 Local Groups Launch
In an effort to connect female trail runners and hikers within their respective local areas, and to encourage stronger relationships, education, trail resources, and safety, we created the opportunity for volunteer led local groups. We opened up approx. 85 groups by the beginning of 2019. There are currently 105+ Local Groups.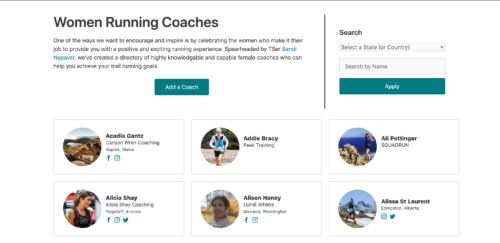 Female Coaching Directory
In our pursuit for increased representation and awareness, TS created a free directory where any and all female coaches could list their services. We wanted to help our female friends in business while also providing a helpful resource for our community.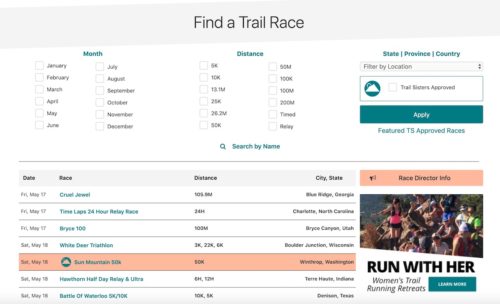 Trail Sisters Race Calendar & Approved Standards
TS has been inspiring and educating members about race events, and it's now time to address race directors or race organizations about how they too can help increase participation numbers and create a more welcoming race day event for women. With help from select runners and RDs, we created five standards for all events to uphold and commit to.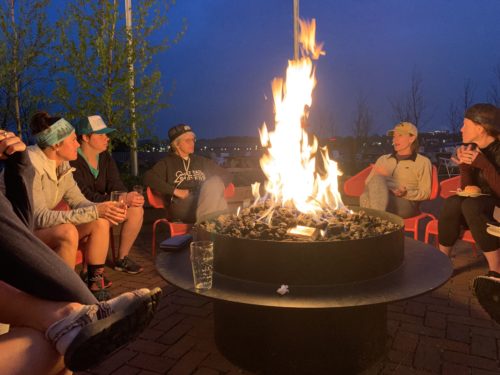 Merrell Local Group Road Tour
This two-part road tour was centered around visiting over 20 local groups across the USA. Each visit included a fun run followed by a social where we could all share some laughs, advice, and empowerment.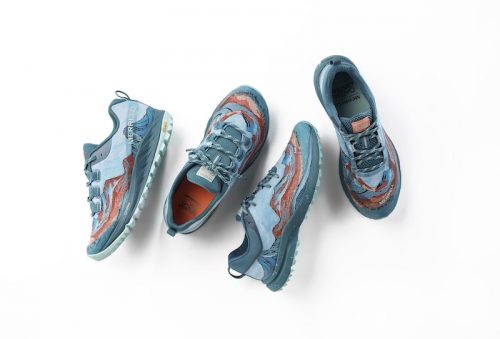 Merrell X Trail Sisters Shoe Collaberations
This collaboration was definitely one of the coolest parts of the TS journey thus far! This project was created to bring awareness to women in outdoor sports while encouraging participation in trail running and hiking. We hoped women would be inspired to hit the trails and share their experiences with others when lacing up!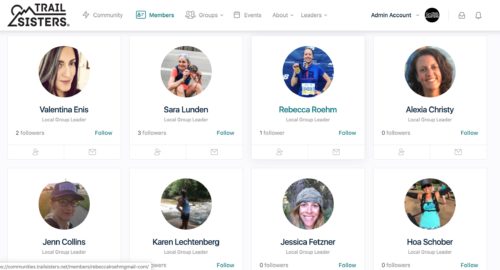 Trail Sisters Communities Site
With local group participant membership continuing to grow along with requests for new groups each day, it made sense for us to finally create our own platform to house and support communication and events. In addition to local group pages, we've also created various discussion and regional groups for members to utilize and enjoy.
Let's face it, there's a lack of intention and encouragement to engage women in outdoor sports. One may arrive at this realization via some quick Google searches, but I've experienced this first hand, on and off the trail.
As a woman, athlete, and outdoor industry professional, I couldn't stand by and allow the current culture to continue down a path that does not include adequate female representation.
The creation of an online journal sharing any and all female voices was my answer to growing awareness and education. I didn't know it at the time, but this passion project would quickly evolve into much more.
Growth of the Trail Sisters community includes multiple forms of outreach, resources, and participation opportunities. Though these avenues all contain a different approach to the outdoors, they are all centered on the cultivation of confidence.
I learned very quickly that with a boosted confidence, a person is capable of just about anything. In creating a community that inspires and educates women in conquering primitive environments, women will automatically receive a powerful skillset for self-advocacy within their everyday lives.
The path to expanding women's representation and opportunity in the outdoors is not only accomplished by participation on the trails, but also by women speaking up for what they want and deserve.
For stable and long-lasting changes, it will take advocacy from the entire community. I'm hopeful that both women, men, and those working within the industry can see and understand the benefits in creating a more equitable outdoors for all.
Interested in partnering with Trail Sisters ?
Contact us to learn more about how we can work together!