The number of people who run 100-mile races is tiny–less than 10,000 a year by one estimate–relative to the 8 million Americans who trail run.
And fewer still have finished a race like Colorado's notoriously difficult Smartwool Hardrock 100-Mile Endurance Run (and Trail Sister Krissy Moehl is one of the handful of women to do so).
And yet, Hardrock possesses a mystique that has elevated the 23-year-old race to international notoriety, despite the fact that fewer than 150 runners compete each year, that it's not televised, does not finish in a grandstand nor have any big corporate sponsors.
Many try to attribute Hardrock's appeal to its extreme technical difficulty set within the San Juan Mountains' wild, high-alpine beauty that is so rare in this country.  While those are two of its most distinct qualities, those aren't its "secret sauce."
While running over mountain summits as high as 14,000 feet in elevation may be the ultimate place to find some solitude, Hardrock 100 runners are grateful they're never totally alone out there on race day. Because Hardrock's terrain is so remote and exposed, serious harm is literally one tumble-triggering misstep, one lightning strike or one hypothermia-inducing snowstorm away. Which is why Hardrock's "competitors" are one another's best allies on the course.
Each competitor also has a support crew in one form or another. Most have pacers who accompany them during the race's second half, reminding them eat and drink, help them safely navigate through the darkness. At each aid station, crew members—typically friends and family—await their runners, often for hours at time, ready to provide much-needed nourishment, supplies and encouragement. Then of course, there are the volunteer race staff manning each aid station who provide another layer of physical and mental support.
While these support layers aren't unique to Hardrock, they contribute to a sense of community that is infused into the race's DNA in a way that is rarely seen elsewhere in competitive sports, even most trail races. That community extends beyond the people in the aid stations, in the race headquarters at Silverton's high school gym, or even the thousands of fans following the race online, one tweet at time.
Some might say that Hardrock is special because the race is there for the sake of the community, rather than the community existing for the sake of the race.
This strong sense of community is what attracted wool sock and apparel maker Smartwool to sponsor Hardrock in 2015. Smartwool also sponsors a number of decorated trail runners, including Boulder, Colorado's Darcy Piceu, who has finished Hardrock six times, winning four, and two-time Hardrock 100 finisher, Timothy Olsen.
Molly Cuffe, Smartwool's global marketing director, says that Hardrock provides the ideal proving ground for Smartwool's new Indestructawool technology, as it withstands the abuse of running 100 miles with over 66,000 vertical feet of elevation change in one weekend. "You can get away with cotton in a 10K, but this is where our products really shine," she says.
Whether the runners have the durability to withstand the hardships Hardrock dishes up is another story.
And this year's race was no exception. Despite the relatively good weather (no thunder and lightning or snow storms) and warm temperatures, even Hardrock's defending champions, Anna Frost of New Zealand and Kilian Jornet of Catalonia, Spain, faced a difficult task.
Jornet's primary focus for 2016 is setting a speed record on Mt. Everest, but even that ambitious undertaking didn't keep him from taking part in Hardrock, his favorite 100-miler, and only one of two races on his calendar this year.
Defending champion Jornet could have easily run the race alone for the win, however, he ran the last 60 or so miles alongside Smartwool athlete Jason Schlarb of Durango, Colorado. Though the two said little to each other during those long hours, their shared presence on the trail carried them through the inevitable low moments that occur during any 100-miler.
The moment the two runners reached the finish line hand-in-hand in a remarkably fast (for Hardrock) sub-23 hour winning time, the spectators went wild. Schlarb and Jornet's display of sportsmanship so perfectly embodied what attracts so many runners to the sport of trail running: that even for the sport's top competitors, the journey is more important than the outcome.
As for Schlarb, he consciously decided not to let Jornet's touchable, god-like status in the trail-running community psyche him out.
"Nobody can truly expect to show up and beat Killian at a mountain ultra and I didn't either," says Schlarb. "I focused on me. I focused on what I am capable of along with looking at running pace to meet or exceed what Killian had done before at Hardrock.  I also know anything can happen in a 100 mile race–even for Killian–and I would be ready to take advantage if Killian were to falter. I believed I could run with and maybe beat him. I didn't allow myself to be scared or doubt I could do it."
While running alongside the runner some call the best trail runner of all time, Schlarb stayed true to his "right race pace," which he says has taken years of specialized training and confidence-building to cultivate. "You must discover your strengths and weaknesses and overcome ego and all the stresses of comparing yourself to others," he says.
Defending women's champion Frost, a highly accomplished professional trail runner, struggled through the midday heat to claim her second-straight win. Despite having ticked Hardrock off her bucket list, Frost says she's not done with the race.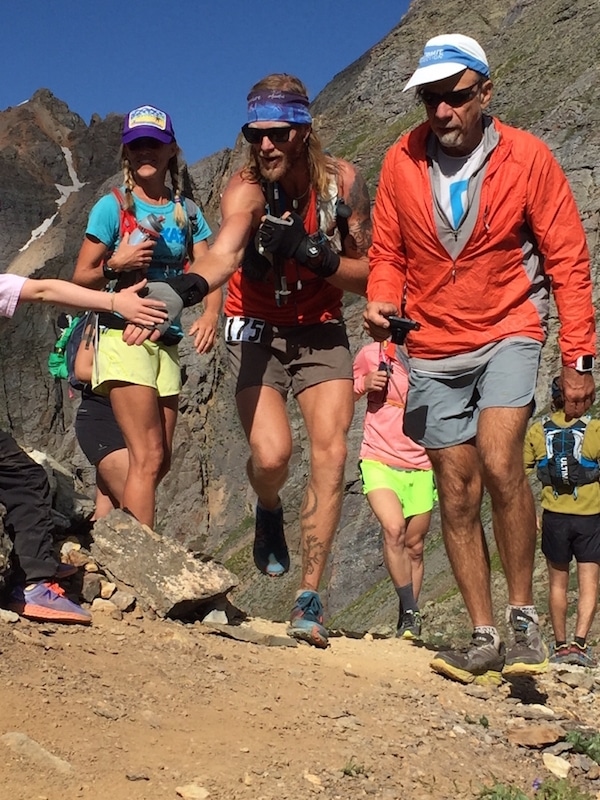 "Once Hardrock's in your blood, it doesn't go away," Frost told iRunFar.com's Meghan Hicks in a post-race interview. "This is going to be a life-long commitment to the Hardrock family. It's not just coming to a race, it's coming to support your friends, new and old.  It's to be in the mountains to get that thing that fills your spirit and soul up when you go out into the mountains with the flowers and night and when you have to dig deep. We've put ourselves here because we love it. Once you do that and it gets soaked into your soul, you can't get it away."
Click here for full results and more information about the Smartwool Hardrock 100.
---
ELINOR FISH
Elinor Fish is a trail runner, writer, speaker and educator who is passionate about helping people reduce stress and live a healthier life through mindful running. During her 25-year running career, Elinor has competed in events ranging from 800 meters on the track to 100 miles on mountain trails. She's lived in four countries and run in many of the world's best trail-running destinations.
She spent four years as the managing editor of Trail Runner magazine and is presently the CEO of Run Wild Wellness, which helps people cultivate more energy and better health so they can live a fulfilling and active lifestyle. Elinor leads running retreats in North America, Europe and Iceland, writes books, articles and offers online coaching using the Mindful Running Training System.