*Madeline is a 2019 Merrell and Trail Sisters Trail Run Adventure Grant Awardee.
I take off my shirt, hat, and sunglasses and pile them up on the mossy gravel. I realize the few people sitting on rocks behind me are watching. The large glacial field above No Name Lake is sparkling in the sun. The turquoise water is a giant Cascadian jewel. The sun warms my face just enough to convince me the water will feel refreshing. There's nowhere to jump in, but I run into the lake and in less than 5 seconds I am fully submerged. The air is completely knocked out of me but I feel ALIVE. This is the No Name Lake Funnest Known Time.
It all started as a dumb idea between two Unicorns.
Sasha and I met on the track team near the end of high school. We bonded over nausea-inducing 200m repeats. We call ourselves Unicorns, which is one step above sisters. Our paths split after high school, to different colleges and different states, but somehow we both ended up falling in love with long distance trail running.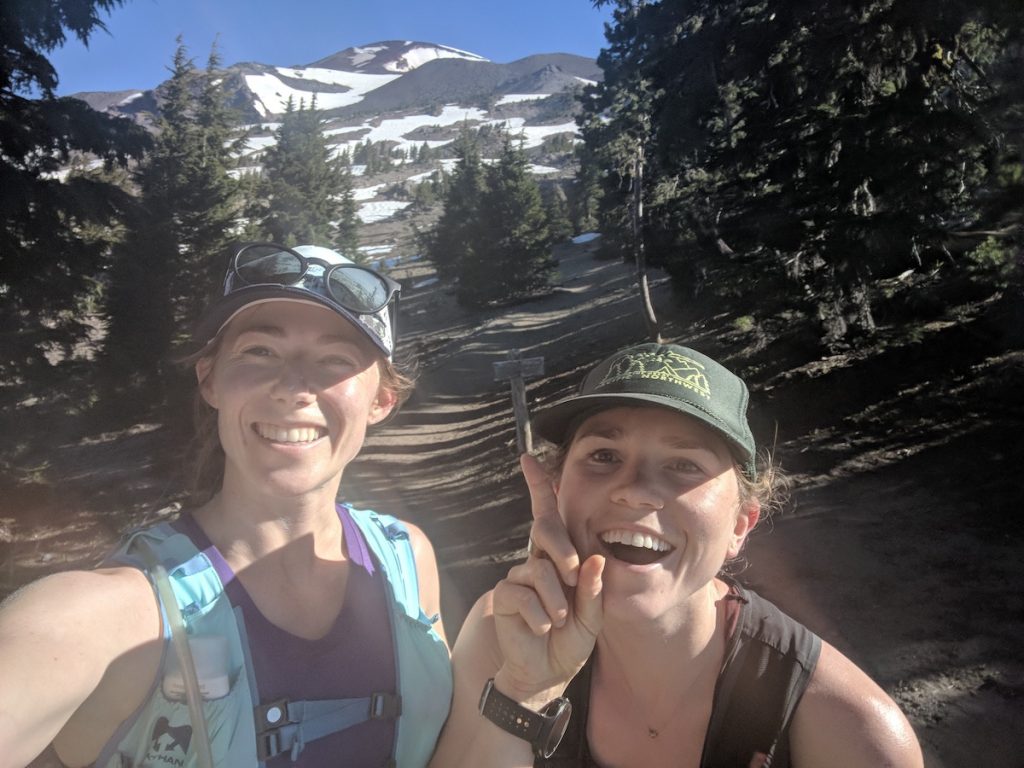 Two years ago, we decided we were going to celebrate our love for running and sisterhood by running the Three Sisters Loop back in our home state. The route is a 47-mile loop around the Cascade Mountains in the Three Sisters Wilderness of Oregon. It combines everything we love about trail running – volcanic vistas, remote trails, and a nice dose of uncertainty.
I was living in Bend at the time so Sasha came up from San Francisco to do recon on the Green Lakes Trail. 20 miles into the run her knee and quad started to hurt and by mile 24 she could barely walk. Something was wrong. After weeks of unsuccessful physical therapy and misdiagnosed tendonitis, an MRI revealed that a piece of cartilage under her knee cap had broken off and was jammed in her knee. She underwent a cartilage transplant in February of this year, and the prognosis was positive.
We decided to try again for a Three Sisters Loop FKT this August once she was healed. It would be the longest, hardest thing either of us had ever done. We applied for and won a Trail Sisters and Merrell grant which would support our attempt with money and gear.
We didn't make the FKT. We didn't even attempt it. That's hard for me to admit.
By early summer, Sasha's docs made it clear that she would not be running in 2019. Although knee surgery was successful, healing was fickle and unpredictable. She was out. She supported me attempting the loop without her, so I kept training for it. I spent long Saturdays powering through dusty climbs in the 90 degree Colorado heat with the singular goal in mind. And then I ran my first race of the year and my body started rejecting running too. I did all the PT, took time off, started training again, and the problem came back right before my planned attempt.
Sasha and I still had our Airbnb in Bend and the support of Trail Sisters, so we headed to Oregon with our tails between our legs. We invited more friends. My coach and PT both said a shorter run would be okay. If my expectations for the run weren't going to be met, did I have the power to reset them? Could I make a new goal out of the circumstances? And so was born the Funnest Known Time.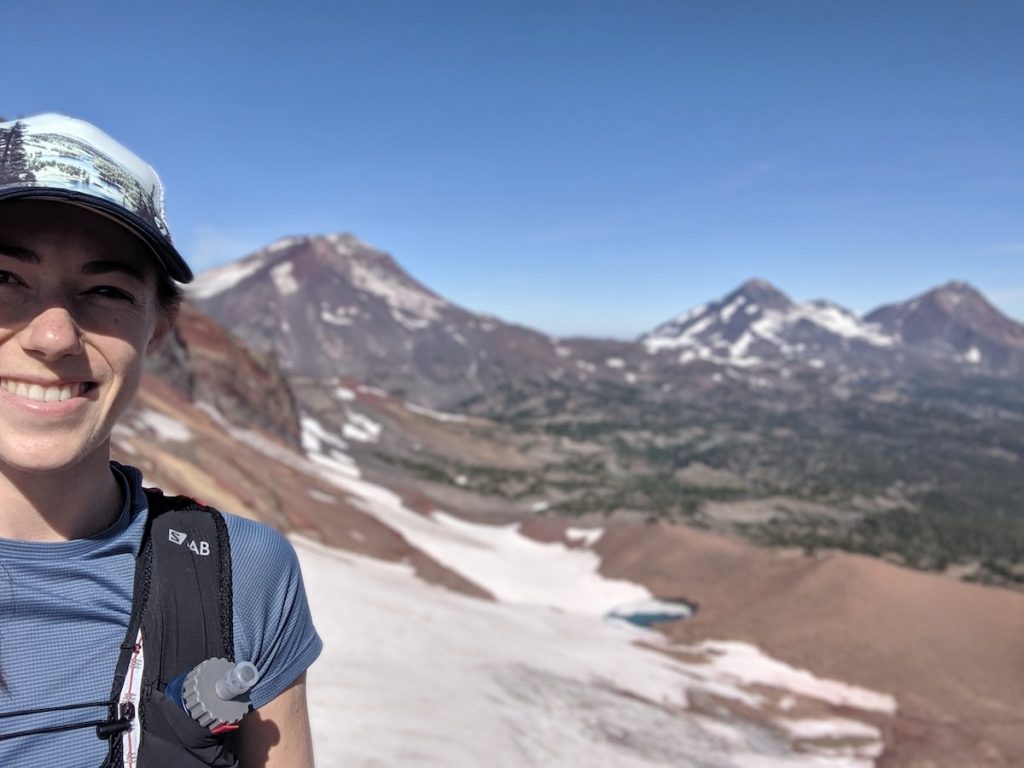 The concept of the Fastest Known Time (FKT) has become increasingly popular in ultrarunning over the last few years. Instead of racing, runners will attempt to beat previous records on notable routes. The best part is that someone can attempt an FKT any day and they don't really have to tell anyone. But speed doesn't need to be the only goal of running, and in fact, it is the least sustainable goal. I want to be running when I'm 75 and there is no chance I will continue to get faster until then. What if instead of minimizing time, I maximized joy?
In our rented house in Bend, Sasha and I schemed up how to make a shorter run to No Name Lake into a joyous romp through the mountains. We went to the grocery store and got all the supplies I would need: a large bag of bulk skittles, two donuts, jerky, peanut butter, and some sour beers for post run. I planned out the route and wrote "Isn't this nice!?" on my wrist in pen.
The next morning I set off early up a mellow trail to No Name Lake. I ran as much as my injured leg would let me, and hiked the steep parts, weaving through short trees, Lupine, and Indian Paintbrush. I said hi to everyone I saw – a few backpackers eating oatmeal near a Jetboil, a father and daughter hiking up a hill with sticks as trekking poles, and many, many happy dogs. I felt grateful for each step, each movement forward, and for the way Oregon had taken care of this land that I was enjoying.
When I reached No Name Lake, I stopped to eat an unnecessary amount of skittles. I noticed a group riding an inflatable SUP around the lake and asked if I could have a turn. The lake was the most turquoise thing I've ever seen. I decided I needed to know what that color of water felt like, so I stripped down and waded in. The shock of near-frozen water gave me a reset. This hard year did not have to define my experience.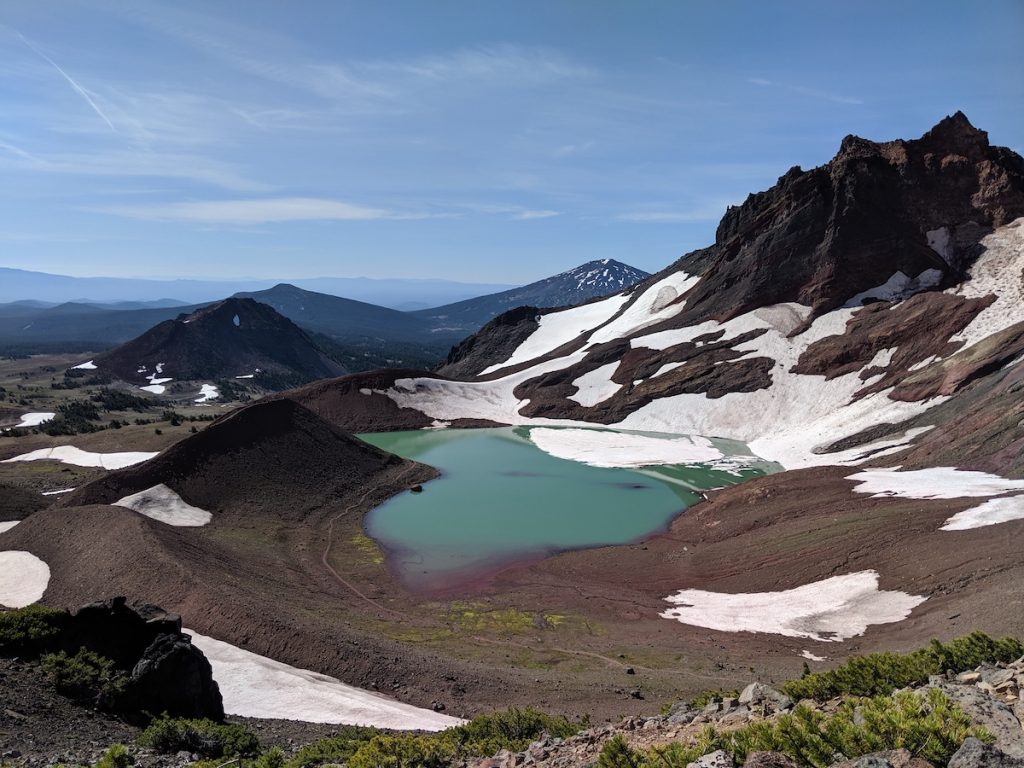 Then I hiked the last quarter mile to a ridge overlooking the Three Sisters mountains and did a photoshoot with a donut before devouring it in its entirety. I watched the clouds roll closer to Mt. Hood in the distance. I talked to a man about how he's done this hike for the last 22 years. I hope that's me one day. I ran down across a snow field and through wildflower fields and returned to Bend for a delicious meal with friends.
Although it's not recorded anywhere, I'm fairly certain I hold the record for the No Name Lake Funnest Known Time. But the record is ready to be challenged. Who's next?