Jennifer and I are M-powered runners (Midpack, Middle-Aged, Midwest Moms). We met at a 100 mile race a few years ago and discovered that we lived not too far away from each other. We also have a similar, somewhat flexible schedule, allowing us to run together when we can find the time between other commitments such as playing "taxi" for our kids, volunteering, coaching, family obligations, and work. We train together when we can and have run several races together, start to finish without crew or pacers.
100 miles really is long, especially in the more challenging races with lots of climbs, technical terrain, and extended night running. And if you are an introvert like Jennifer and me, this is a really long time to be with another person. Jennifer and I ran that distance together several times. Both of us continually look for the more challenging races. Graduate-level ultras are where our hearts are. We like those edge of the seat kind of events where we have about 50/50 chance of finishing. We like seeing how the story will end. Will we finish?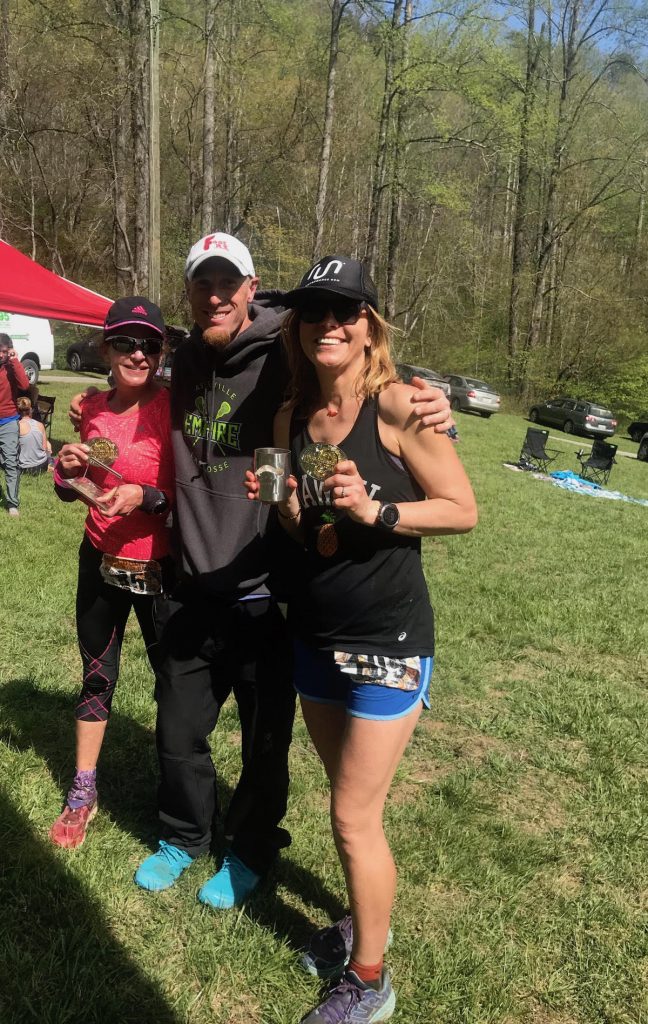 Last year we completed the inaugural Hellbender 100 without crew or pacer. This year's adventures included running together start to finish at the Cruel Jewel 100 and the Eastern States 100, and completing our goal of running three of the hardest East Coast 100-milers. We don't always race together, though. Our solo adventures include Grindstone (Jennifer), and Ute (me), and several other races.
Running 100 miles start to finish with another person is not easy regardless of how much you like each other. Yes, it helps to have company, but it is not all rainbow and butterflies. If you are thinking about sharing an adventure with a friend, here is what we have learned:
You must be really comfortable with each other and work together as a team. Your friend won't carry you to the finish line, and as much as you feel you could, you won't carry your friend either. You both need to contribute equally.
When you hit a low spot, admit it to your friend, but don't dwell on it. Acknowledging it will help your friend pull you out. You want her to help you dig out of the tough spot, but you don't want to bring her down into your misery. So be honest and open. State it as a matter of fact: "I need a couple minutes on this climb, I'm feeling lightheaded." Troubleshoot together.
When your friend hits the low spot show empathy, but stay calm and don't overreact. Show possible solutions. "Sure, let's slow down a bit. Are you drinking enough? When was the last time you ate?"
It is ok to complain. In moderation. If you hit a particularly difficult section it's ok to say "I hate this race. I'm never coming back." Jennifer and I finished races high on gratitude. We also finished races that ate us alive. We never wanted to see the course again, and that meant we had to close the chapter and get to the finish line. Often, complaints turn into jokes. Those dark moments eventually fill with silly giggles. It doesn't make any sense that tripping on rocks or having horribly blistered feet gave us belly laughs, but it did.
Understand your friend's need for space. At some points during the race, your friend might crave it. If she is quiet, accept it. Don't pepper her with questions. There is power and sisterhood in moving together in silence. Sound of your feet hitting the ground, in the count of four.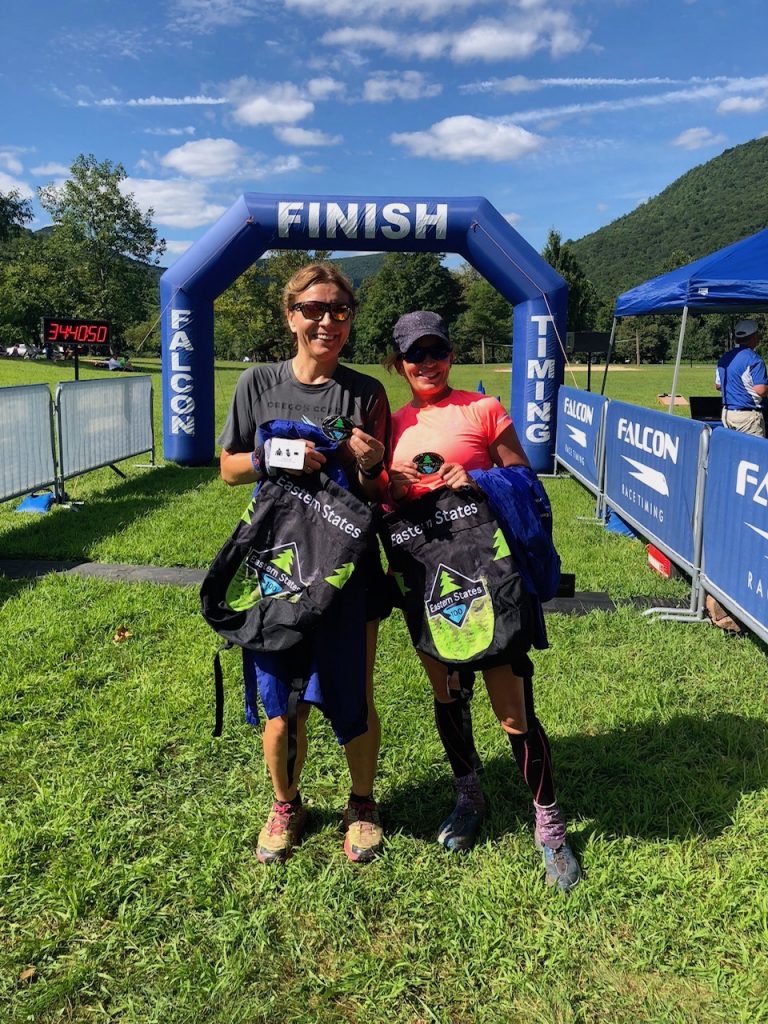 Find a game to play when you are tired. Of course, after over 24 hours on the trail no one expects sophisticated or complicated games. Our favorites are: run to the next flag, run to the curve, count how many trail markings there are per mile, guess how many flags there are until next aid station. It is also fine to suddenly abort the game as flag counting becomes too much work. Playing games often leads to another series of belly laughs.
Talk only about the next aid station. Don't talk about miles to come. There will be time for that. The only exception is talking about your next drop bag. "I think we are about a mile from next aid station, then only two more aid stations before we get our drop bags!" Something to look forward to!!
While you are on this adventure together remember that it is her race and it is your race. You are not her pacer and she is not yours. If something happens you can split. It will be ok. You will still be friends. If you are about to miss a cutoff it is ok to go forward if you feel strong. You might be able to pull your friend along too. And if you feel like you really slowing your friend down, please tell her to go ahead and finish without you.
It is wonderful to have company at night and two sources of light. You see more. You can also entertain each other with your hallucinations.
Most likely you won't hit a low spot at the same time so you can take turns navigating. Two sets of eyes at night make a huge difference. If you are tired, follow and let your friend lead. However, sometimes the opposite is a better solution. Being the leader wakes you up and reenergizes you. There is power in taking responsibility.
If you can find someone who runs a similar pace, a person you are very comfortable with, I encourage you to run together. The stories you create and the bonds you build are almost second to none. Both Jennifer and I have teenage kids. Long gone are play dates and mom bonding. Being mom of middle schoolers can be a lonely gig. Unless you find another Midpack Middle-Aged Midwest (or other area), Mom.