I was a little nervous going into my second opinion appointment, but I had a good feeling as this doctor was recommended by a friend. Talking to the surgeon he agreed that surgery was the best option, but was much less alarmist than the first surgeon. The nature of my tear was making the knee unstable and left me at risk for additional, potentially worse, tears. He wanted to see what the knee looked like using the scope and from there make the determination as to whether he could remove the pieces causing the instability, or if a repair was necessary. If I did need the repair, his version of six weeks non-weight bearing was in a special knee brace that would allow me to be mobile and drive. He said there was no rush for surgery, but that he wouldn't suggest I run on the knee until we did something, which of course meant that I wanted to get it done sooner rather than later.
This surgeon spent a lot more time with me and I felt much more comfortable. I decided to schedule the surgery and spoke with his office assistant to do so. It impressed me when she said to me, "Just remember, this is your decision. If at any point you don't feel comfortable you can cancel or delay the surgery. We want to do what's best for you."
I had to wait for my insurance to approve the procedure, but knew that the surgeon's schedule was out until mid-August. And so I set about waiting again. By this point, my knee was feeling pretty good, and I was coming to accept my time on the bike, some motivational music and the padding for my bum definitely helped. Still, it's hard because it all felt a little bit like false healing. I feel good, but it's with the knowledge that the surgery will essentially put me back to square one and I'll have to heal all over again.
I tried to stay positive though and focus on what I could do, I also was looking forward to my long weekend in Colorado to experience Hardrock. Of any of the big races, Hardrock is the one that interests me. I was going to be working at the Sherman Aid Station Friday. The rest of the time I had planned on running some of the trails. That of course was no longer in the cards, but I was determined to make the best of it.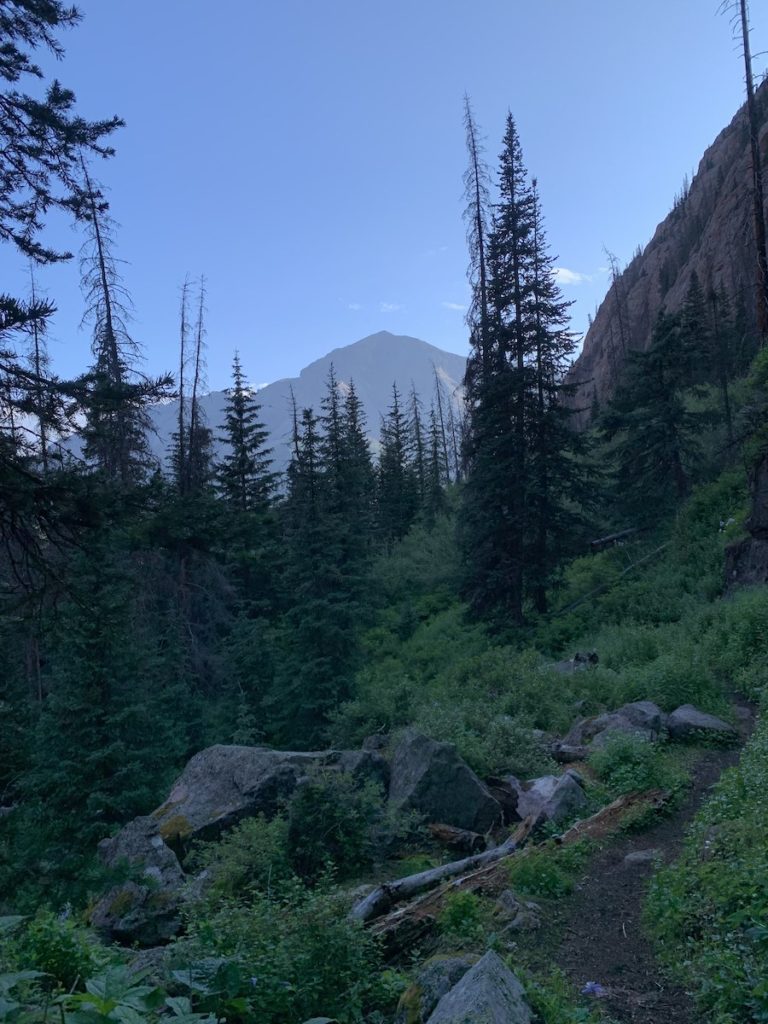 I packed for car camping, and after work Wednesday night I drove to Flagstaff to break up the drive. Thursday morning I continued on to Silverton. I had visited Silverton once before to do the Kendall Mountain/Alpine 50k double, but it was still amazing to come over Molas Pass and take in the views. Just as I got into town I got a call from my surgeon's office. I was approved for surgery and they had an opening on July 28th. I checked in with work and then called back to accept the appointment. This was good news, it put me 2 weeks ahead of schedule to be on the other side of surgery and headed towards actual healing and running. That first day I drove out to the Highland Mary Lake trail and did a short hike. Very carefully. With a knee brace just in case. I hiked as though I had my grandmother with me. I stopped and took pictures of waterfalls and wildflowers. It was pretty amazing.
That night I car camped at a rather overcrowded dispersed camping area outside Silverton. I decided that I'd have to find another spot for the other days I was in town. I woke early the next morning and made my way into town for the start. I have never been in a place where I've known who so many people are that have no idea who I am. I figured it must be weird for the elites as well since they probably don't get recognized on a daily basis, but were now surrounded by people who knew who they were. I did get to see one friendly face as Gina was also in town for Hardrock. While I've been involved in Trail Sisters from almost the beginning, this was the first time we got to meet in person. Then the runners were off to tackle the mountains, and I was off to grab some last-minute supplies and head out to the aid station.
I took the route over Cinnamon Pass to get to Sherman. I have a Honda Crosstour, and perhaps if I had known how rough the pass was I wouldn't have attempted it, but at a certain point the only way out is through. After a few times of asking myself if I should really be doing this, I made it onto smoother dirt roads and to the aid station. I got to meet the other volunteers, most of whom were from Lake City but a few of whom were also traveling from other areas. We waited around for the first runners and swapped stories. It was cool to see the front runners coming through. Milling about to see if Courtney and her crew needed anything, watching Sabrina blaze through like a woman on a mission, collecting nutrition wrappers from Darcy. The really cool part though was hearing stories from runners who needed/spent more time at the aid station. First, it was the mid-packers, then those who crept closer to the goal pace for 48 hours, and finally those who didn't make the aid station cut-off.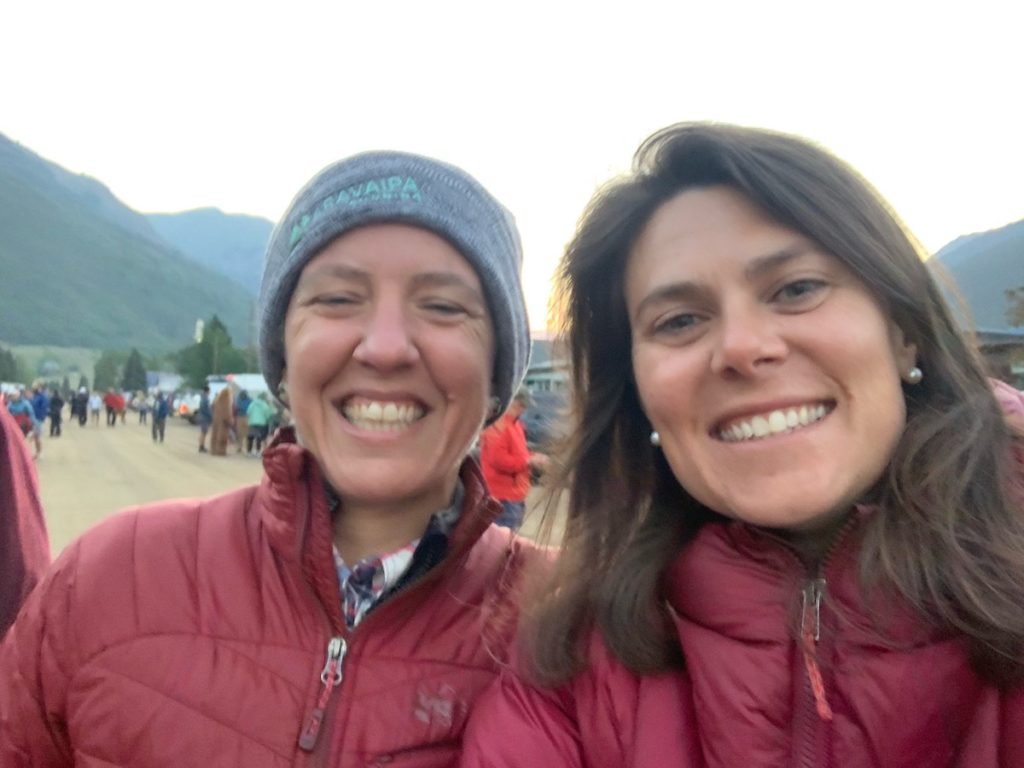 We had one runner who was advised to drop for medical reasons and cried as they cut off his wrist band. Another runner carried 15 thank you cards for the aid station captains in his pack and delivered one to our station. I saw Vlad who I had shared some miles with at Mogollon Monster 100 who was going after a 40 hour finish (I later found out he got it, carrying his Yoda backpack as always). One man told me about his first Hardrock where he DNF'd, and his pacer ended up pacing his friend to a finish. That friend had since passed from a heart valve infection, five races short of his one hundred 100s goal. Five of his friends took vials of his ashes and carried them at 100s to help him achieve the goal post-humously. There were runners who decided that the suffering wasn't worth the goal, and there were runners who were close to the cutoff but determined to keep pushing on until they were told they had to stop.
The final two runners into the aid station had missed the cutoff. We had started breaking down the aid station, but had plates of food and beer set up on a card table with a light for them and their pacer (Sherman is at mile 29, but runners over 60 are allowed to have a pacer for the entire race). As they sat at the table in the dim light, one looked across the table at the other and asked, "Rodger??" They knew each other and got up to stiffly shuffle around and give each other hugs. Our aid station captain provided them all a place to rest until their crew could make it around to them. My work for the day done, I crawled into the back of my car to sleep in the silence you only find in the middle of nowhere.
The next morning I hiked part of Cataract and then headed back over the pass into town. I grabbed some coffee and then alternated between watching runners come in, walking town, doing yoga, and stretching in the park. I saw some runners I recognized from the aid station who had to DNF, and there were hugs and stories from all of them. I also had a chance encounter with my teammates Tessa and Charli who were in the area for training. It was an awesome chance to catch up on the fly. Sunday morning I woke to watch the Golden Hour, stood in line at Coffee Bear for some caffeine pre return drive, chatted with Pam Reed, and then headed out in a dirty car full of dirty gear and a heart full of restored faith in humanity and hope for my return to running.