When I created Trail Sisters in April of 2016, I based the mission on three specific principles: education, inspiration, and empowerment.
Each is equally important, but my personal favorite and what serves as Trail Sisters' bedrock foundation is education.
I'm a firm believer that access to free information or educational resources is the key to growing one's confidence and opportunities. Education leads to empowerment and empowerment leads to confidence. Confidence can lead to a whole new outlook on life and what is possible.
With all this in mind, I thought what can I do to further educate the Trail Sisters Community? What else can I provide to community members to help equip and prepare them for the outdoors or their adventures trail running and hiking?
With amazing support from both HOKA and Life Time, Trail Sisters is able to launch a Resource Center providing free courses on various topics focused on the outdoors and for trail running and hiking. HOKA and Life Time also value the importance of education and the role it can play, and are excited to champion this new endeavor with the Trail Sisters Community.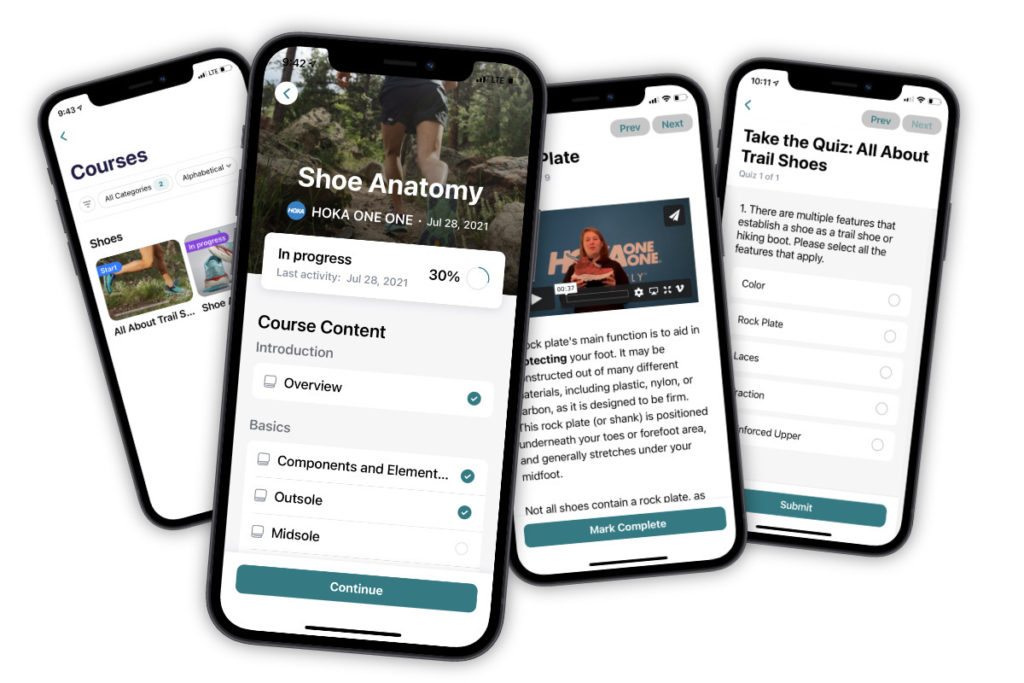 The courses are set up to include multiple lessons, breaking topics down into bite-sized chunks. The information is conveyed or displayed in video, photo, and text format. At the end of each course is a five question quiz. The quiz serves as a challenge for readers to digest and retain what they've just read…plus who doesn't like a challenge!
These courses are accessible on both the Trail Sisters Communities browser (desktop) and new Communities APP.
The first category I wanted to focus on is Gear. Having an understanding of what to wear, how it functions, and why it's important, is the key to an enjoyable experience on the trails. I was able to work hand-in-hand with the HOKA field experience reps (FER) in creating four amazing courses on footwear and apparel.
Trail Sisters first two live courses are, Shoe Anatomy, and About Trail Shoes. Coming out in two weeks will be courses on Fitting a Shoe and Apparel – Materials and Layering.
Other categories I'm currently working on include wilderness awareness and conservation.
I hope this Resource Center will aid and serve community members with the tools and additional education they may need to better their experience outdoors. There is always room to learn and grow, and with that comes new opportunities and endless possibilities!
Please enjoy this new feature, and don't forget to share it with your Trail Sisters!
Call for Comments:
What category or topic would you like to learn about?