It was 3:30 in the morning of October 30, 2021, when the alarm went off in my hotel room in Fountain Hills, Arizona. Despite the early hour, the alarm was unnecessary as I had already been wide awake when my phone started chirping. Truth be told – I had been awake, tossing and turning for most of the night.
What kept me awake that night were nerves and a growing sense of panic. The reason for my fright was not the upcoming Halloween holiday with its spooky shenanigans, but the realization that I was about to run my first 100-mile race.
Running a 100-mile race sounded like a great idea when I, inspired by a group of friends, signed up for the famous, Halloween-themed Javelina Jundred 100 Miler earlier in the year. It still seemed like a fabulous adventure when I logged an astounding number of miles over the summer, reaching weekly mileage totals I had never seen before in my training log.
But the closer race day came, the bigger my doubts and insecurities became. The amazing adventure for which I had trained so hard turned into an insurmountable mountain that was looming large on the horizon.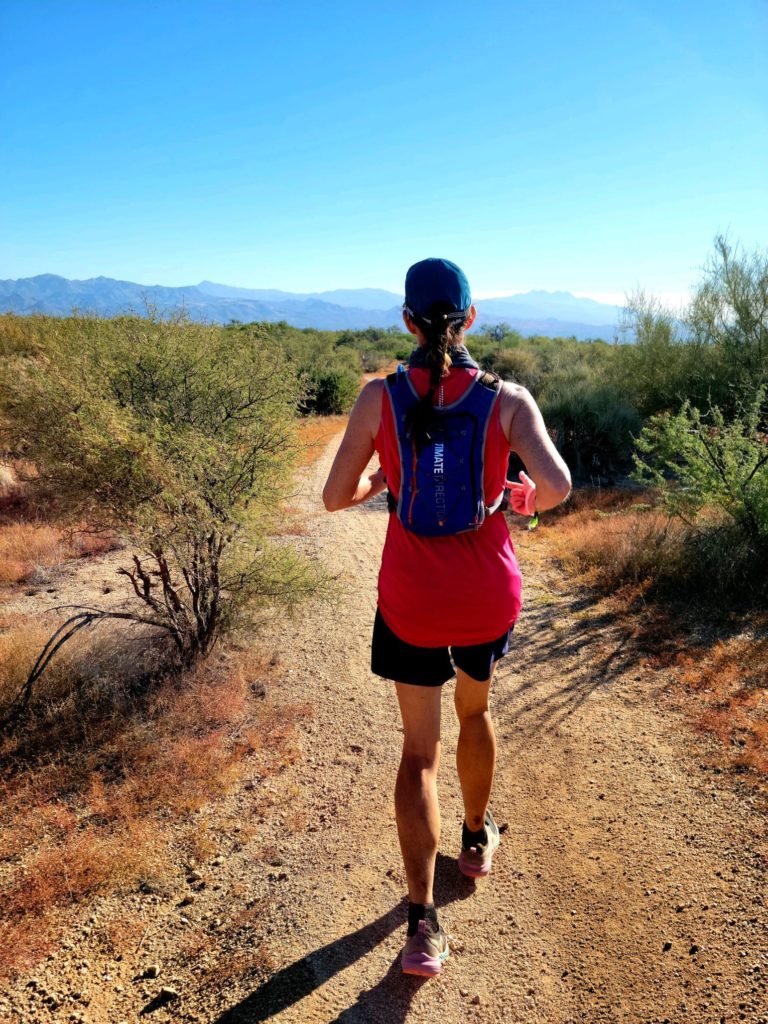 In that hotel room, my thoughts were running in circles all night long. How could I, an injury-prone, middle-aged runner and full-time working mother, think that running a 100-mile race in the desert is a good idea? Would my knees hold up long enough for me to finish before the 30-hour cut-off?
My knees were a huge concern going into this adventure. And for good reason. Ever since I started running more than a decade ago, I have been plagued by a stubbornly recurring case of IT band syndrome (ITBS).
Over the years, I worked hard at keeping it under control with lots of cross training. Spinning, yoga, and focused strength training were important components of all my training plans. But despite my efforts, in early 2019 my ITBS reared its ugly head in a way that forced me on the sidelines for most of the year.
In October 2019, just two years before I was to toe the start line of my first 100-miler, things got so bad that I could not run a mile without excruciating knee pain. None of the PTs and chiropractors I had seen throughout the year were able to help me, and thoughts of giving up running as a sport started to cross my mind.
But in true ultrarunner style, giving up easily was not an option and I decided to see one more chiropractor before the end of the year. And this time I got lucky – in one visit I had a diagnosis and a treatment plan. After a few weeks of targeted strength exercises and a round of painful shockwave therapy to remove scar tissue around my knees, I got the green light to get back on the trails and slowly increase mileage.
In the following two years I trained conservatively but consistently. Injury prevention was essential – yoga and strength training became part of everyday life. Despite a few setbacks, I was able to crank up my mileage to include a few 50k distances and even one 50-miler.
As the mileage grew, so did my confidence. And this led to my signing up for Javelina Jundred and ultimately to my restless night in the hotel room just outside Phoenix.
Now that I had come this far, backing out was not an option. I had driven my entire family to Arizona. I had successfully resisted the urge to switch to the 100K at the race expo. Four friends with whom I had trained all summer were running the race as well. And two of my girlfriends had come all the way from Southern California to crew and to pace me during the last 40 miles.
All I had to do now was take a deep breath, get up, get ready, and tackle the distance.
Race morning was quite hectic. I prepared in our small hotel room that was bursting at the seams with suitcases and boxes full of running gear and nutrition items.
To add insult to injury, the drive to the start line was a nail-biter because the narrow road to the race was completely backed up and I barely made it in time to the start of my wave.
A quick meet-up with my friends. A group photo. And before I knew it, the gun went off and I was on my way.
For anybody unfamiliar with Javelina Jundred – runners have to complete a 20-mile loop five times to finish the 100-mile race. After each loop runners pass through Javelina Jeadquarters, where the start/finish line is located along with access to their crews, friends, and family.
After days of nervous anticipation, it felt good to finally get on the trail, settle into a rhythm, and begin the work. The mood on the trail was quiet, almost reflective. Everybody knew the task at hand, and in shared purpose we calmly made our way through the first few miles of the race.
We started in the dark but the day quickly dawned. I finally had the opportunity to admire the harsh beauty of the desert and the scenic views of the surrounding mountain ranges. As far as my eyes could see were majestic saguaros standing out like giant stick figures dancing across the landscape.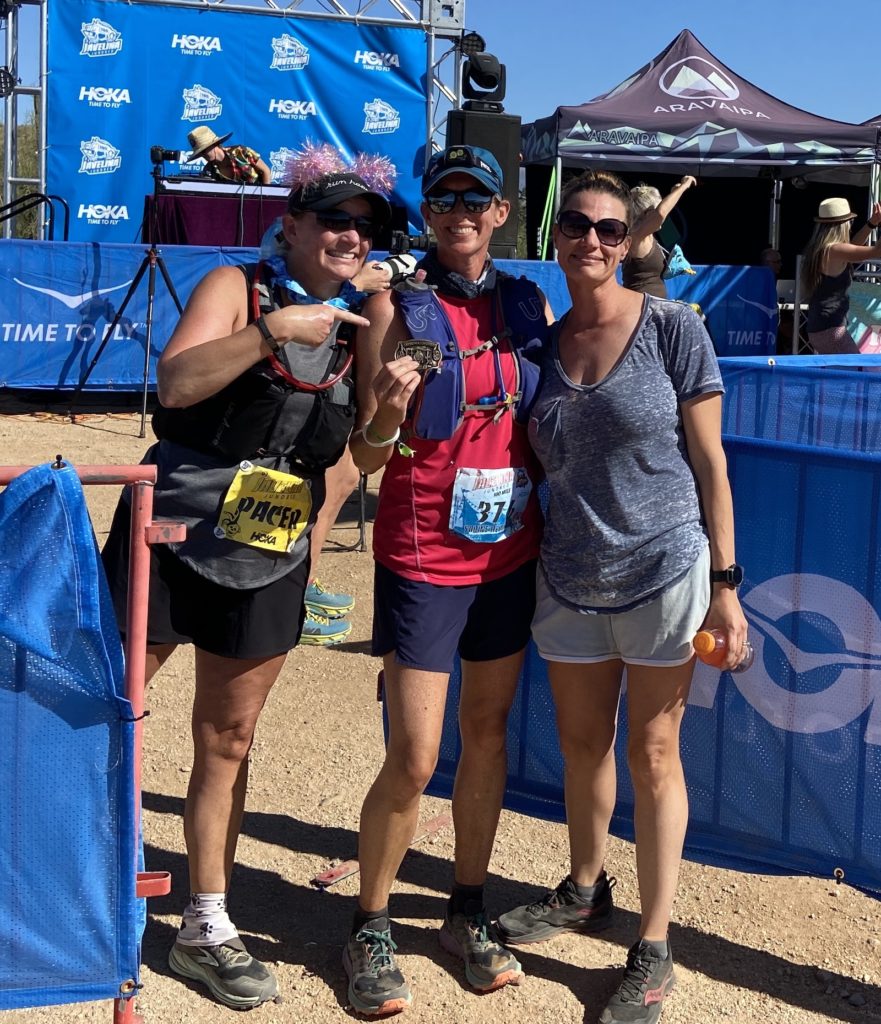 The first loop went well. I took it easy, got to know the course, and arrived at Jeadquarters for my first pit stop in good spirits.
Since I am a solid end-of-the-pack ultrarunner, I had planned to spend only minimal time at our pop-up tent and to quickly move onto the next loop to avoid any cut-off issues.
After a short hello, a refill of my hydration pack, and a bagel-to-go, I was on my way to loop number two.
Loop 2 was the loop I respected the most because of one element – the heat. If I had learned one thing from reading and watching Javelina Jundred race reports, it was to not underestimate the unrelenting desert heat.
By the time I started Loop 2 (mile 20 to 40), the temperatures had reached the high 80s and I had hours of running in punishing heat ahead of me. I knew I needed to keep the pace slow and to take full advantage of the cooling options at the aid stations.
At each of the three aid stations, I doused myself with ice water and stuffed ice wherever I could – in my hat, in my neck bandana, in my bra, and in my arm sleeves.
And the strategy paid off. I felt good for most of Loop 2, jogging along at an easy pace, while the ice cubes lodged in various pieces of clothing kept me reasonably cool.
Dusk was beginning to fall as I was approaching Jeadquarters for the second time. And at this point things started to change. I realized that I had a hard time getting any nutrition down, and the mere thought of food made me queasy.
Had I been I too focused on keeping cool that I neglected hydration and nutrition? Or did the heat of the day catch up with me after all?
Once I arrived at our pop-up tent it was clear that my stomach had turned. I checked in with my crew, loaded up my hydration vest, hesitantly grabbed another bagel-to-go, and headed back out to start Loop 3.
In every vision I had about the race, I pictured the third loop as my best and possibly fastest loop. At that point the heat of the day was gone, and it was early enough in the race to still have some spring left in my legs. My plan all along was to try to pick up the pace and make up for some time lost during the slow Loop 2.
Yet here I was on Loop 3 (mile 40 to 60) trudging along the trail at a snail's pace as the sun was setting, trying to force that bagel into my tummy.
Conventional wisdom says that when dealing with a bout of nausea during a 100-miler, the best thing is to slow down, walk if needed, and try to eat and drink. Chances are the nausea will subside on its own.
I followed this advice but it did not work. I walked for the entire first half of the loop. It took me six miles to finish that bagel and more than three hours to reach Jackass Junction, the aid station at the halfway point of the loop.
Once I got there, my nausea had become even worse and I knew I needed a new plan. And if this new plan did not work, I would have to make a tough decision. At this point, 50 miles into the race, I could not get anything down, and I knew that it was impossible to continue for another 50 miles without any fuel.
I stopped by the medical tent and explained my situation to the staff. They recommended to rest and try to settle the stomach with ginger ale and some bland foods.
I sat on a chair in front of the medical tent with a prime view of the dancefloor where the famous Jackass Junction Desert Party was in full swing with a crowd of costumed runners dancing up a storm. But I barely noticed any of that. I was completely immersed in my bubble of misery, hoping that I would be able to finish the race but at the same time talking myself into being okay if I had to drop after Loop 3.
Forty-five minutes, some bananas, pretzels, and an anti-nausea pill later, I started to feel better and I headed back out into the night. After about a mile of running, I started to feel surprisingly good. My legs, after getting an unexpected break, felt almost fresh and springy.
I arrived at Jeadquarters in a much better state than I had left it the previous loop. And my sprits were lifted even further by seeing my husband and daughter despite the late hour. And it was finally time to pick up my first pacer.
Against all expectations, Loop 4 (mile 60 to 80) was great and went by in a flash. I usually do not perform well late at night, and the 2-5am witching hour often gets the better of me. But this time around, maybe due to the relief of not feeling sick, I experienced a major second wind. Case in point – mile 74 was my second fastest mile of the entire race. I was chatting away with my pacer and enjoyed meandering through the desert under an endless canopy of stars.
We made it to our final pitstop at Jeadquarters in decent shape. My body was getting tired, but my knees were still cooperating and we were safely ahead of the cutoff. As I went through the turnaround one final time, I received the last-loop bracelet, a white rubber band that runners get before they embark on their final loop. This was a pivotal moment for me, because I knew that once I have that bracelet on my wrist, come hell or high water, I would finish this race.
With a new pacer in tow, I finally was on Loop 5 (mile 80-100). Although I was stoked to have made it this far, I was truly over the whole thing at this point. I had no desire to run anymore. I was tired of the rocky section between mile four and eight. I was not interested in any of the aid station foods anymore. And as the sun was rising again, so were the temperatures. I just wanted to be done.
My pacer did a stellar job at dragging me along, gently encouraging me to run, and reminding me to eat and drink. Slowly but surely, we traveled across the course one last time.
The four miles between the last aid station and the finish line went on forever. After what seemed like an eternity, we finally saw the tents and heard the finish line noise in the distance. We were almost there. This realization gave me a final shot of energy. I perked up and picked up the pace.
As we entered Jeadquarters, my friends and family were waiting at the sidelines, cheering us on. My daughter joined me for the last few yards so we could complete my 100-mile journey together.
Crossing that finish line was an experience like no other. Although my body felt like it had been ran over by a herd of buffaloes, I was on top of the world. The sense of accomplishment was overwhelming – I had done what seemed impossible in the days leading up to the race.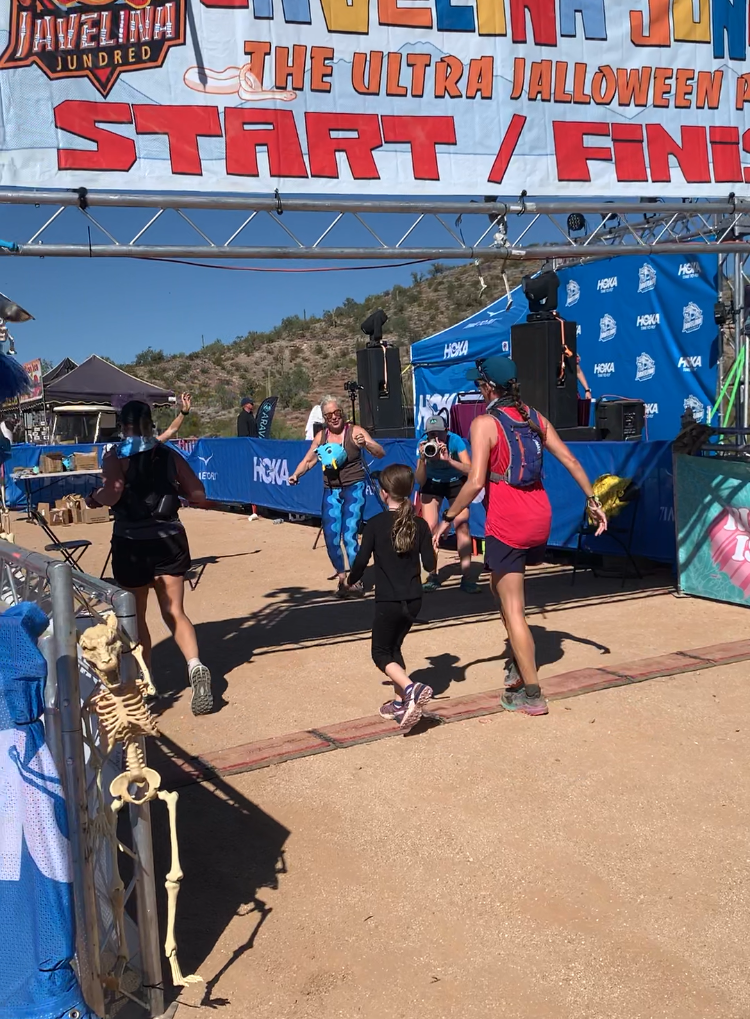 Besides the sense of accomplishment, I also felt a deep sense of gratitude for this humbling, yet empowering journey through the Arizona desert.
Grateful to learn that you can ride out the highs and lows of a 100-mile journey and come out stronger at the end of it. Grateful that I could show my daughter that there are no limits and you can accomplish hard things if you set your mind to it. Grateful that all my hard training had paid off and my body was strong enough to carry me through this adventure.
And above all, I was grateful to experience all of this in the company of family and friends, whose support made this accomplishment possible and so much more enjoyable. So enjoyable, in fact, that I will be doing it all over again this coming October.