I came to Antarctica for a marathon. I left with a profound appreciation of our Earth.
In 2016, my sister and I put our names and deposits down with Marathon Tours, the organizer of the Antarctica Marathon. Spots were limited to 150 marathoners per year, so we committed to the 2020 race. Unfortunately, a week before our trip began, Argentina (the country where we would board our cruise ship for Antarctica) closed its borders due to COVID-19. We postponed to 2021, and then to 2022 when the pandemic forced another year waiting. While meeting up with my sister at the Atlanta airport, I had this sense of surrealism. "Is this really happening?" I wondered. Yes, the trip was definitely happening, as I strapped in my seat belt for Argentina.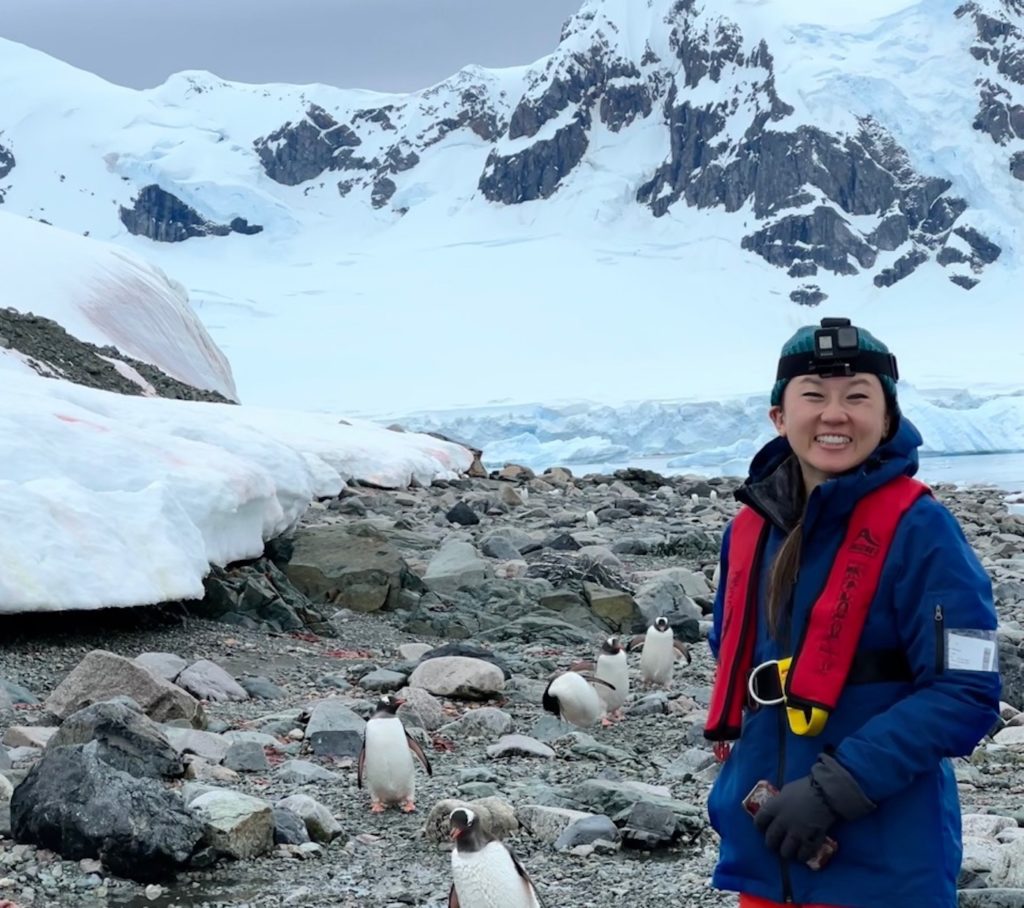 Going into this trip I had no expectations. After several years of waiting, I was simply excited to travel and cross off another continent. Probably a good thing since when we arrived in Ushuaia to board the ship, the captain immediately asked everyone to quarantine in their assigned cabins for two days. Mandatory antigen testing was required every morning to identify COVID outbreaks. If someone tested positive, a PCR would then be administered to confirm the results. Unfortunately, by the end of the trip we had nine confirmed cases and seven close contacts. These individuals were quarantined to their cabins for the remainder of their trips. I spent the two days in quarantine watching nature documentaries (think penguins, ocean life, etc.). As I educated myself, I gained a deeper sense of understanding for the wildlife to be encountered in Antarctica. It made me think about the upcoming excursions and I felt the first spark of enthusiasm outweigh the desire to run a race. Would I rather see a Gentoo penguin waddle through a snowy penguin highway, or run a muddy two mile out and back trail six times at an Antarctic research base? Penguins all the way, hands down.
On race day, I woke up to sunny skies and above freezing temps. It was a fantastic day to run. The race was split into two heats due to an international tourism agreement between certified Antarctic tourist operators. A two mile out and back course, full marathoners would have to run six laps. The course was on a Russian research base called Bellinghausen with dirt and hilly terrain. We heard tidbits about the course from some runners who came back from the first wave: "it's muddy"; "a couple of walkable hills but the rest is rolling"; and "beautiful views". As I boarded the zodiac, I couldn't help containing my enthusiasm. It was finally happening!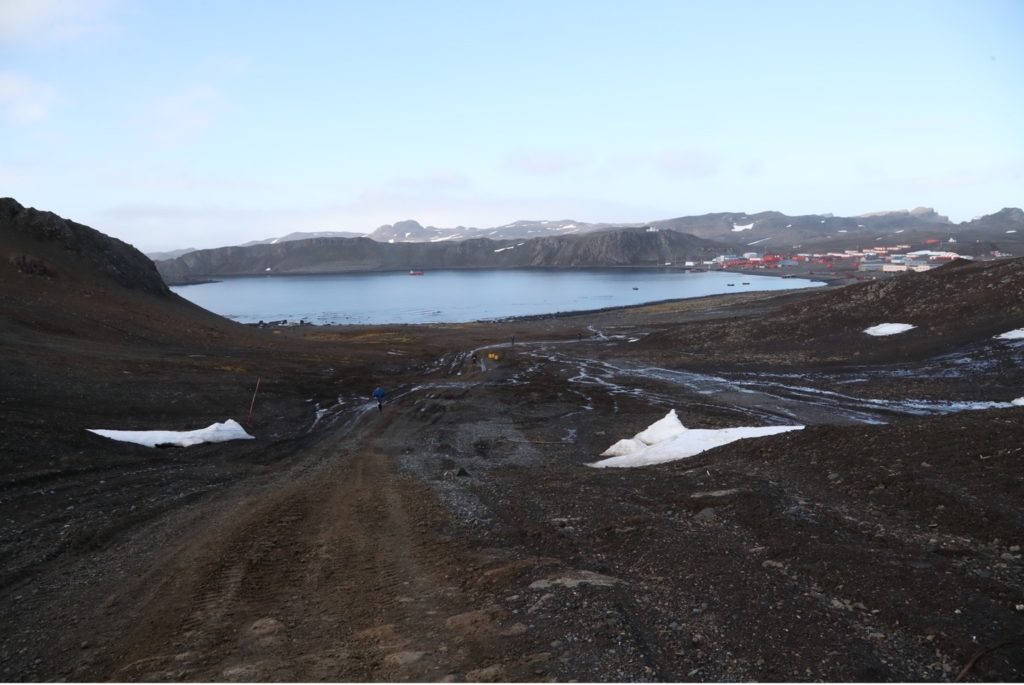 The positive vibes persisted throughout the race. I started with my sister until we dropped off our shared nutrition and water at the course halfway point. Thereafter, I quickly found myself in a pack of four ladies that broke up after the first lap. Although I was fully exposed to the 10-15mph wind, it did not deter me from catching up to the first female. From there, I started picking off the men in the race until I couldn't distinguish who was ahead or being lapped. I also took my sweet time walking up a couple of steeper hills and enjoyed flying through a flat/downhill section that had a great view of snowy peaks overlooking a foggy bay. Running the course six times gave me the opportunity to watch the women's race unfold behind me. My sister stayed back when I took off after the first mile. She maintained her pace, while the women who I briefly ran with began to slow down. By the 12th and final time, I crossed paths with my sister, she was sitting comfortably in second. I felt ecstatic for her – in the last few years leading up to the race, she dealt with a chronic IT issue that put her out of running. While I truly appreciate winning the women's race, to me, the real win of the day was the ability to hug my sister as she crossed the finish line in Antarctica.
As incredible of an experience racing was, what really blew my mind was the Antarctic excursions. They were led by experienced expedition leaders contracted through a certified Antarctic tourism agency. Through daily lectures I learned fundamentals about the Antarctic ecosystem. Antarctica as the continent is defined as a land of mass connected by permanent ice – this is what maps depict Antarctica as. However, the continent mass doubles during the winter due to the ice sheet, making up what is called the Antarctic Circle. Most of the days were spent around the South Shetland Islands (part of the Antarctic Circle) where my marathon was held. On the second to last day in the area, I made a continental landing on the Antarctic Peninsula at Neko Harbor. It was exciting to finally cross off my sixth continent!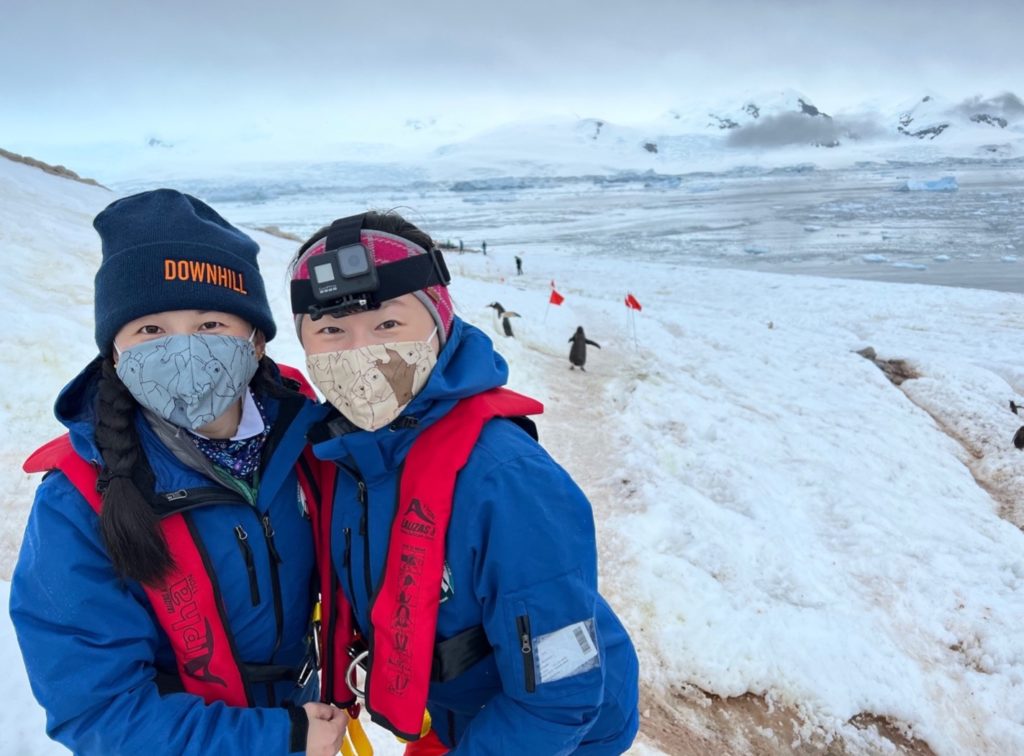 My favorite part of the trip was seeing the penguins. While graceful in the water, they waddled with their wings out to cool themselves off on land. I could watch them all day and never grow tired! The three penguin species I observed during this trip were Adelie penguins, Chinstrap penguins and Gentoo penguins. The Gentoo penguins are one of the only few wildlife in the region experiencing a population growth. This is due partially to their generalist diet and ability to adapt to climate change. The other two species primarily eat krill (which is overfished by humans) and have been unable to adapt to the earlier warmer season and ice shelf refreeze. Sadly, many of their penguin hatchlings have perished from unsuccessfully making it to the open water. I saw the impact of climate change firsthand, as I only saw the Adelie penguins on race day when a pair swam up to shore and decided to chill with us by the water station for most of the day. A few years ago, Adelie penguin colonies would have been spotted on some of the landings we made; today, most of them are resided by Gentoo penguins.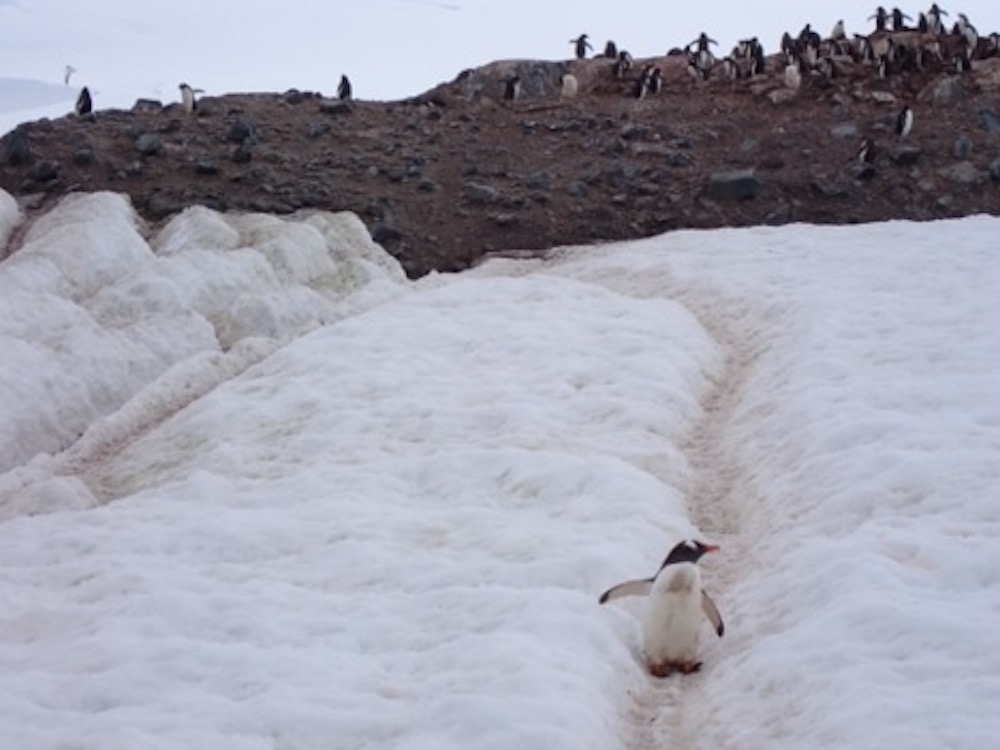 If I could sum up my trip in three emojis, it would be the exploding head, smiling face with heart eyes, and penguin. Photos don't do justice to the region's beauty: the sheer whiteness of snow, the icy blue glow emulating from icebergs, the deep thundering of an avalanche. There are truly no words to describe the spectacular views. While an iceberg may look small in a photo, they can be incredibly large and dangerous. Only 10% of an iceberg can be seen above water. In fact, while navigating through the Antarctic Peninsula to make our continental landing at Neko Harbor, we nearly hit an iceberg because the ice sheet had started to break and made it difficult to sail through.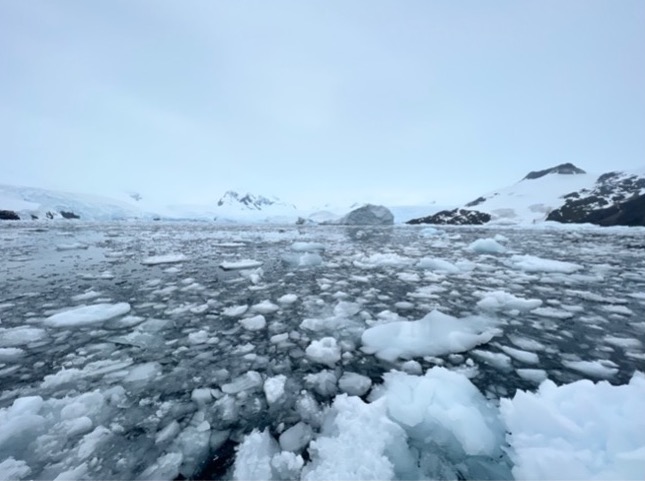 The expedition team that led the excursions gave a lecture on human impact in Antarctica towards the end of the trip. Although it takes a mass population to create change, I resolved to educate others on what I learned and practice more sustainable actions (for example, reducing plastic by using reusable grocery bags). In a recent conversation with a co-worker, we reflected on the accuracy of the saying "out of sight, out of mind". We see and hear about environmental disasters like oil spills impacting inhabited areas, yet we don't consider how our actions can impact a continent as remote as Antarctica. Many of Antarctica's environmental issues are caused by human impact. It includes increased fishing, marine pollution, and a warming climate change. The decline in certain penguin species is only one example of many impacts to the Antarctic region. Another example is ozone depletion impacting the phytoplankton system in a detrimental manner. Phytoplankton are the base of the Southern Ocean food web and is the primary food source for krill, which in turn are eaten by seals, whales, penguins and other animals. Despite the environmental issues, I do have hope that it will have increased visibility in the years to come. The Antarctic Treaty System signed in 1959 establishes Antarctica as a region of scientific research and is observed by 54 countries including the US. It protects Antarctic wildlife and regulates commercial fisheries, among other conservation methods. Additionally, worldwide efforts to reduce greenhouse emissions and lessen climate change are being adopted in corporate and governmental regulations. Arguably too slow, however it is progress.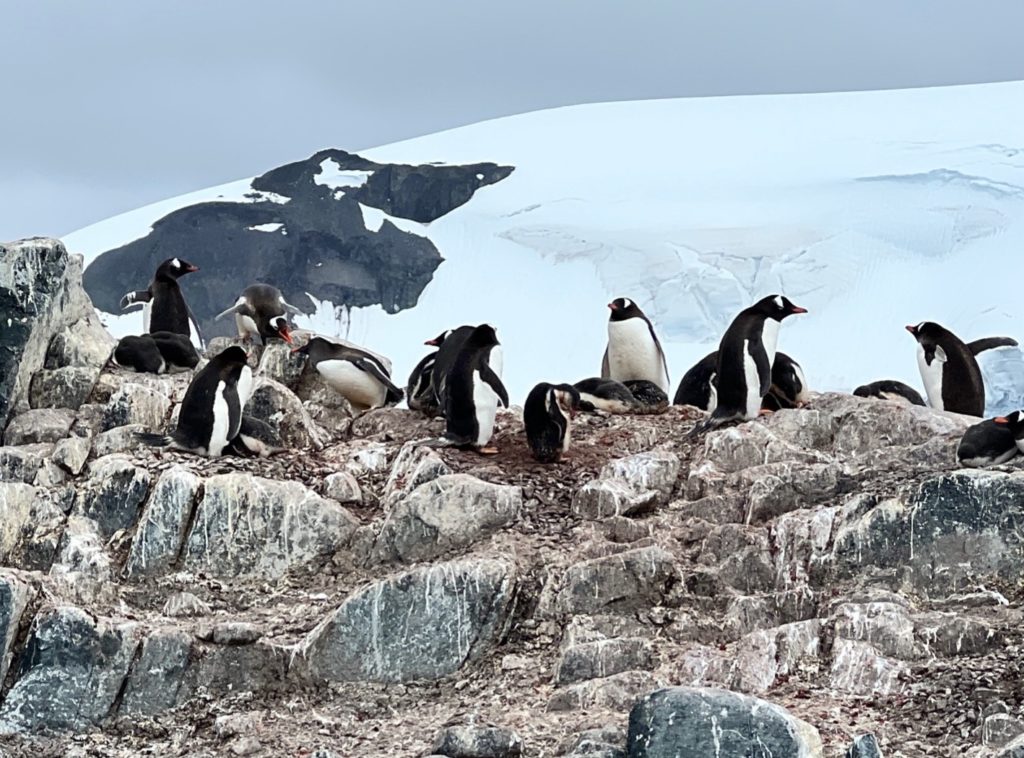 I feel fortunate to have experienced both a race in Antarctica and observe the wildlife in the area at the same time. This is a once in a lifetime adventure that I'll cherish and look back upon in the years to come. That said, I am looking forward to the day I can return and learn more about the animals firsthand. While I spent much of my time learning about penguins, there were several other species and topics such as seals, birds and Antarctic geology that I could have educated myself on. With this trip, I caught a glimpse of what Earth was like before human intervention. My hope is that it stays that way for a long time.