I never really had long trail ultras on my radar.
Not before the pandemic anyway.
And maybe it's like other endeavors I've seemed to jump into unplanned and underprepared for (not exactly the way I'd recommend doing it, by the way).
Like that time I ran my first marathon because a lady gave me her number the day before, and said I should run with my then-boyfriend as long as I could. Sure, I've never run more than 13 miles so far, and I have some race clothes I can wear, so let's see what happens.
Or that time a friend lent me their running snowshoes. Sure, I've never once snowshoed before, but I'll go test these bad boys out in a 10k snowshoe race in 19 degrees on fresh snow at high altitude in Beaver Creek because I'm nearby and need a long run this weekend.
So I guess it's not that surprising that when Sarah asked me to be her pacer for her first throwdown at Bryce Canyon 100, I didn't exactly know what I was in for. But sure, that sounds like an unforgettable experience, we've been doing long runs together, it's only 25 miles not 100, and I'd love to be a part of it.
It's weird though. I'm pretty risk-averse thanks to my running injury history and my learning-all-about-injuries history as a PT. I tend to say no to a lot of risky-sounding things.
Until some rando moment comes along, at just the right time, when I must be in need of a swift kick in the pants or a meaningful life lesson or something.
Then, after contemplating all the risks and rewards, realizing there is no way to know until I know, I reluctantly say yes to the grand adventure, the great unknown. Something is pulling me toward it, and I'd like to find out what will happen, even if it scares me.
And it's that one measly-seeming decision that somehow sets me on a new course (like racing marathons thereafter for the next several years), or shows me what a bad idea it was (like slipping so much in deep snow in light snowshoes that I slowed down, froze my hands and feet off, and couldn't untie the bolted-in running shoes for 2 hours after suffering through the finish line).
Or becomes an experience that touches me, moves me, shows me something I didn't yet know, in the deepest way imaginable.
This was my first experience with an ultra.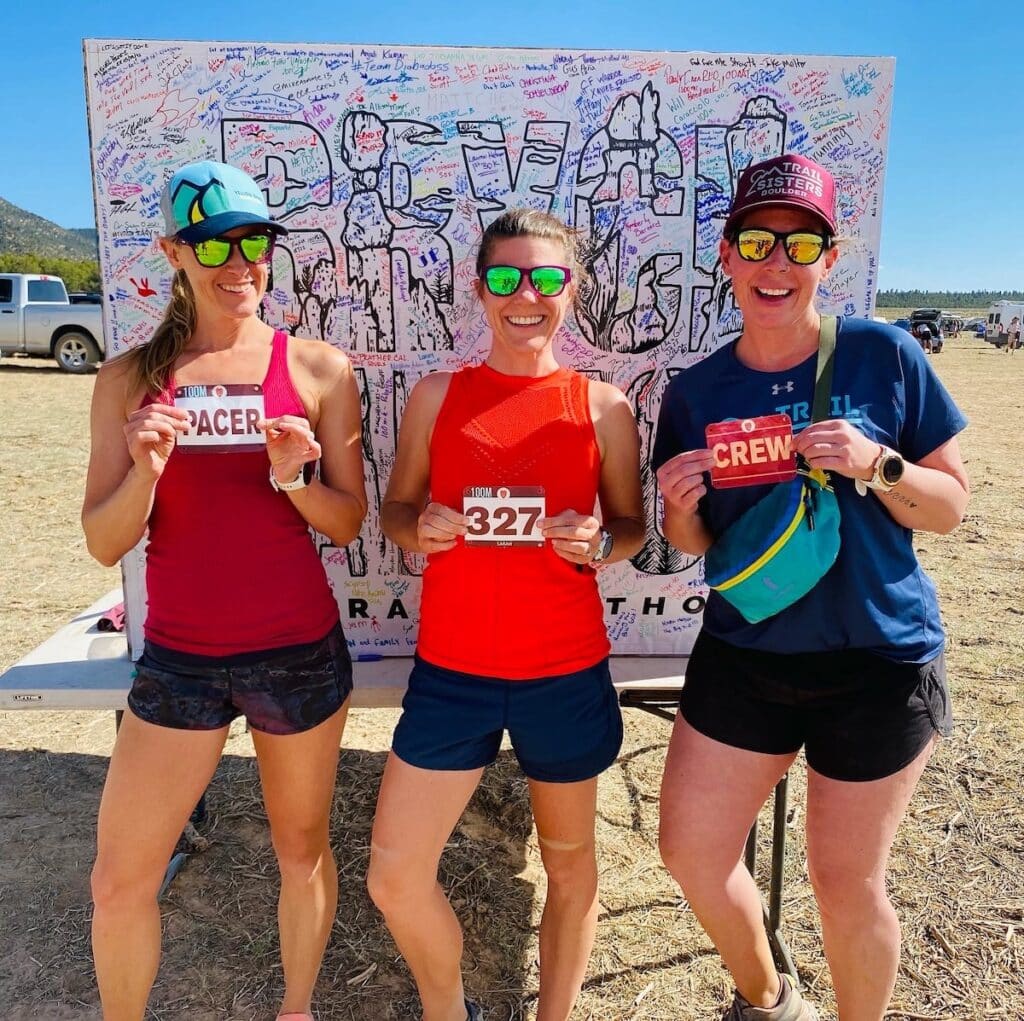 Rookie Pacer
I think I was the rookiest pacer if there ever was one.
Sure, I could go the distance. I'd raced lots of marathons in my day. But mostly as fast as possible. And not requiring lots of eating along the way.
And I live in the trail mecca of Boulder, but it took me approximately 9.34 years to let down my ways of the speedy track- and roadster to take to the trails, and really really enjoy them.
One of the best things that came from post-2020 re-entry into social situations was discovering that I'd been in the Trail Sisters Boulder facebook group for the past 7 years, but didn't seem to know it.
Suddenly, I had a core weekly Wednesday group unofficial run, new friends who picked various trails, many I'd never seen, and an endless supply of new crazy runners to meet for long runs on the weekends and who used the word "vert" like it's milk in their cereal.
This is exactly how I met Sarah. And thus, how it all started.
In true miraculous Trail Sisters fashion, I said yes to a long Saturday run up at the famed rolling 8,000-ish-foot-high Magnolia Road. Sarah and Bri and I had never met before, but quickly fell into a groove. We were a well-matched trio, and we had plenty to talk about along the way. I left this particular run feeling filled up, accomplished from our double-digit feat on the dirt roads in the mountain air, and inspired by the brilliant and capable women in my life.
It was just a few months down the road, after many a weekend long run, that Sarah asked me, and I thoughtfully and with reluctant excitement said yes to an endeavor I'd heard about but not ever saw myself doing.
Here's a lesson: Isn't life interesting? This was something I wasn't training for, wasn't working toward, wasn't building up to with shorter races, and I'd never been a pacer before, but here it was. And I guess I had what I needed. The miles under me, a pristine hydration pack, and the plan all laid out (by her). All I had to do was say yes, show up at mile 75, and get her to the end.
Like life, you just don't know, can't control, and can't plan for everything that will happen out there. You come in prepared (she definitely was, and I only if you count running a lot lately on trails), and do your best.
"Pacer," I also discovered, had nothing to do with time or tempo like on roads and tracks, and had everything to do with keeping someone going when the going gets really really rocky.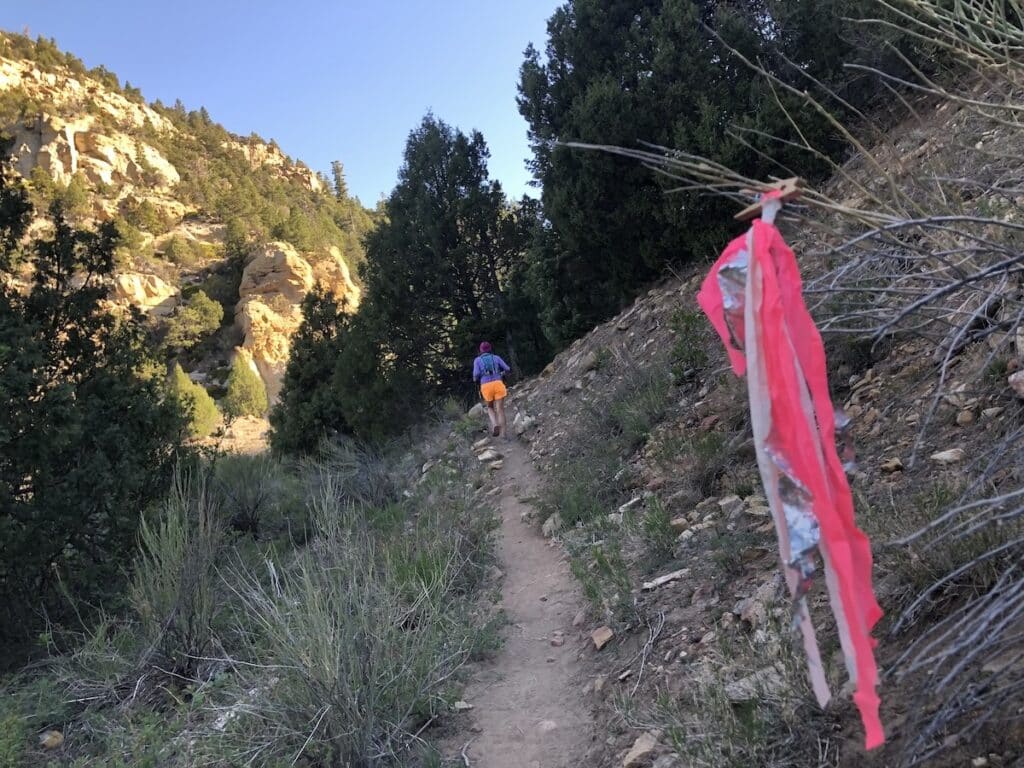 Little Pink Flags
I happen to think ultra running, and well, running in general, is a lot like life.
The best parts of life. Like those big moments where you face your fears, the small ones where you put in the consistent work, where you celebrate your wins and your people, and even face yourself. All of you.
You might already know this. Especially if you've run an ultra. But I didn't quite get it. I didn't quite know why people subject themselves to non-sleeping hours running, bodily pains, blisters, and gashes, dark woods in the night full of creatures. I got it with running for 3 hours, sure. But 24? Or more? I had heard of the appeal. And plenty of badass people do this sort of thing. But how can you know something, really, until experiencing it? Especially something both intense and enduring, like giving birth. You just can't understand. Not until you're in it.
I joined Sarah at the mile 75-ish mark around 1am, and she was crushing it. Well on her plan, and actually in women's 3rd place, except she didn't know it yet. I was excited for her already. Marcella, her exceptional crew-woman was also crushing it– crazy-well-prepared, and anticipating every need that Sarah could possibly have. I was learning a lot about ultras– and exceptional women– already.
I set off with her in the dark, and like she had assured me 2 weeks prior, it was a lot like a typical long run together: we talked, we laughed, she told stories of women breaking barriers in rock climbing and ultra running that no one thought possible, and shared empowering quotes (which I totally dig) like: "relentless forward progress," and "the only way out is through." 
It was just like regular runs, except it was the middle of the night, she was working on not puking, and we were skirting the rim of Bryce Canyon National Park in Utah in Springtime instead of Waterton Canyon in Colorado in the emptiness of winter.
When the sun emerged from the dark, we marveled at the light on the red-orange hoodoo rock spires and relished the fresh energy that lightened our skin and our steps. We took playful pictures, attempting to capture the feeling of adventure, of moving through a place you've never moved through before.
The last 10-15 miles was where the true challenge arose, mentally and physically. Both of our watches dead, it became a race to each next water or aid station. Then, as it got harder, each step became an even smaller move through the deep forest, with only a proverbial end in our minds.
The course was marked with little pink flags tied to trees. As the day heated up and Sarah got more tired, she started hallucinating hand sanitizers on the trees (so Covid-timely) and frogs in the rocks, snakes in the roots. I came up with whatever I could to help her keep moving. Keep it light, I thought. I'd say weird stuff, tell a joke, and started to say over and over, "just get to the next pink flag." That's all. That's the only thing you need to focus on. Just the next little pink flag. When we get there, we'll worry about what's next.
Which brings me to a second life lesson:
When the going gets especially tough, when you're worn down and beat up and just don't want to do it any more, just get to the next little pink flag. That's all.
Life gets hard. Especially if you want to grow. If you want to challenge yourself and move forward. In business or career, in relationship, in hardship or grief. Maybe Sarah and I got along so well because of our perspectives in health, she as a mental therapist, me as a physical therapist. There is a lot of crossover, as I'm sure you know, between the body and mind. Any experience that stretches us, expands us, whether we choose it or not, will also come with fear, doubt, pain, and loss, joy, insight, intensity, and satisfaction.
When you're deep in the woods with the sun beating down, and thirsty for respite, break it down and just keep moving. With relentless forward progress. Present to this moment, this day, this week, and just moving toward the very next little pink flag.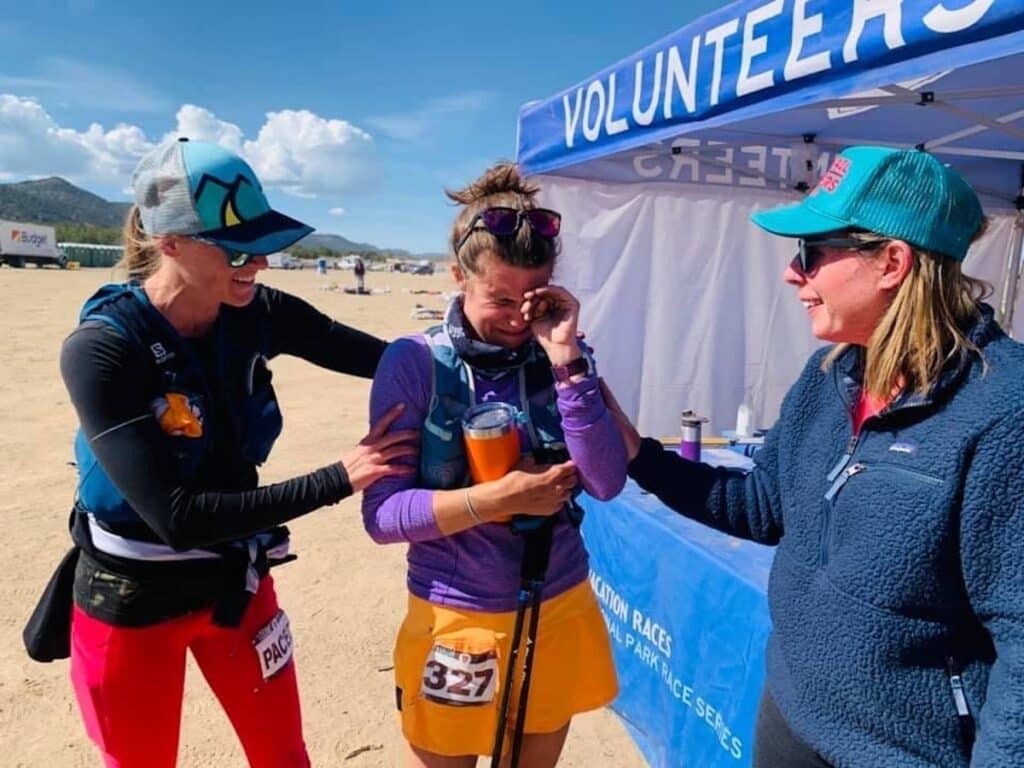 The Only Way Out Is Through
As we were down to the last few miles (or maybe 6), all of it felt like 20, even for me. The sun was hot, we feared we'd missed the way at times, and we were in it together. Sarah had just one or two true breakdowns late in the race. She didn't want to keep going. But the truth was stark: no one was around, there was no easy exit, cell service was out. At the lowest point, I repeated her own wise words back to her, "the only way out is through."
And we carried on.
Out of the trees and into the clearing of a dirt road, the finish felt like it must be just around each bend, yet it kept stretching farther and farther away.
Knowing the end was near, a newfound push came, and Sarah had pep in her run, and knew it was almost here.
We finally saw the dirt parking lot below, the people milling about, and how close the finish was. It seemed so small and arbitrary, yet monumental. We approached the finish archway, and I stepped aside to watch her throw her pole-carrying arms in the air, and with a huge bright smile and tears of joy, cross through the threshold, victorious. She'd made it. She'd done it. And with a 3rd place prize as sweet icing on the dirt-and-blister-earned cake.
As I watched her sail through this thing she'd been working toward for so long, I teared up. Just as I do every time I reflect on this moment. Just like I am now.
I am moved. I am touched. I am inexplicably broken open. And I don't even understand why. My heart is a burning bright fire, open and alive. There is something it loves about barriers busted, steadfastness, a person's own inner and outer victory, her victory. And I love her. Not for it, this feat. But because I know something deep and vulnerable. I saw her. I did it with her. I helped her.
I love her.
It's a lot like when I helped my sister give birth to her first baby. It was intense, messy, hard, painful. I had to be there for her in ways I didn't know I had. And I loved her more for it. And loved my baby nephew in ways I didn't know I could.
I witnessed another woman do something very hard. Run over 100 miles, in one shot, because the darn course was long, hit high points, hit low points, and get through it.
And I learned something about myself.
Here I was, after all these years of racing cross country, track, roads, marathons, trail half marathons. All of which was for me, and for my pursuit of accomplishment and breaking my own barriers. To find out what I was made of and what I'm capable of.
Never did I suspect I'd find out more of what I'm really made of by being there for someone else.
This race, this run. This had absolutely nothing to do with me.
It was all about her. All about Sarah. And her accomplishment, her experience, her getting there. Her seeing what she's capable of.
I had been there for her. Fully, completely, in every way I could think of, every way that came out of me.
It's like all of my experience as a runner from age 14 to 40 had come together in a brand new mature and altruistic way, and I didn't see it coming.
And seeing her cross that finish line, victorious, showed me something I didn't know about myself.
I hadn't realized how I do this in my profession as a PT. And didn't yet know the pure satisfaction and true significance of helping someone else do what they do, move through their challenges, achieve their successes, both inside and out. But the satisfaction I had in seeing this friend do what she set out to do, and do it so well (not that she would have had to), leaves me searching for the right words. 
Stunned. Moved. Surprised. Deconstructed.
I was changed. I knew something more. I see more truth. I see more of myself and more of humanity. I love her, I love me, and I love the humanness of doing hard things: trail running, ultra races, moving through an injury or setback, and the ups and downs of life itself.
Ultras, like any challenging endeavor, are a metaphor for life. They show us the beauty in the breakdown. The sacrifice in the success. The meaning in the mundane.
And the magnificence of doing it together.
It still amazes me how much this moment moved me, and how much a long trail run can really put the words "trail sisters" into the clearest light.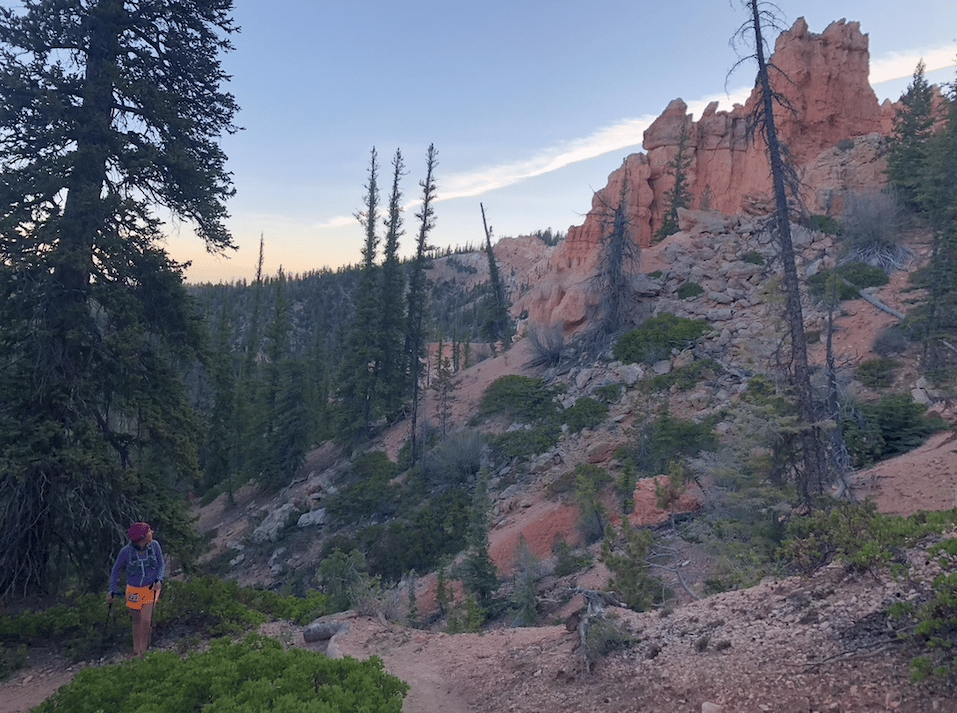 Life lessons from an ultra:
1. It's okay to be a rookie. You don't need to have everything sorted out, planned out, or fully prepared in advance. You don't need to be the smartest, the fastest, or even the bravest. You don't need to know where life is taking you, and you are fully capable of learning along the way. Sometimes the most significant experiences just seem to come along all on their own. And the thing to do is not resist it.
2. When you're growing, expanding, challenging yourself with any project outside your comfort zone, just get to the next little pink flag. Just take the very next step, or even as Anna sings, "just do the next right thing." It will probably be scary. Because it's new and unfamiliar. Have relentless forward progress toward being the most you.
3. You just don't know what's going to come along and bust your heart wide open, breaking you through your own unknown barriers to show you what you're made of or who you really are. But what I say is let it. We don't need more hard rigid hearts in our culture these days, we need more soft open ones. And even when the going gets most rocky and dark for that beautiful little heart of yours, just remember: the sun is always shining, and the only way out is through.