It had been a lousy day.
I was tired of feeling frustrated and positive affirmations had failed me. So, despite my better judgment, I was standing in front of a floor length mirror, scowling at my reflection.
For the first time in a decade, I am properly nourishing my body—tuning into my mental health and turning away from the incessant striving. This refocus is long overdue, and exciting.
My body isn't accepting the olive branch though. Shortly after I adopted this new mindset, my muscles retaliated. First, there was a back injury. I begrudgingly took it as a sign that my body needed rest. But two weeks became four and I was out of patience. "I've rested you," I snapped. "Now let me run!" My body acquiesced, but only slightly. As soon as my back improved, my calf began throbbing and left me unable to run for nearly a month. I was mentally and physically drained.
Instead of planning my next mountainous run or washing muddy trail socks, I was scrolling Strava and foam rolling like a champ. The pain, coupled with a cyclical failure to launch, was deafening and defeating.
"I hate you," I spat into the mirror. But how could I not? My body had betrayed me. It only seemed appropriate target it with my anger. My calf (and the other, co-conspiring body parts) needed to feel my outrage.
In reality, my body hadn't betrayed me. But I was spiraling nonetheless. Fortunately, I have a support network of individuals who gently suggested I replace self-hatred with self-compassion. It seemed worth a try, but I have a lifetime of self-hatred ingrained in me so I knew that switching tactics wouldn't be easy.
To help, my dietitian came up with a plan. She asked me to start having daily conversations with my body–specifically focusing on listening. It seemed cheesy, but I skeptically agreed. Each morning, I began asking my body what it wanted me to know. Then, in the evening, I reflected on how well I had received that message throughout the day. Within a few days of affirming my body's needs, I noticed a change. The practice had opened a door for uninterrupted dialogue between my body and I, and it was the first civil conversation we'd shared in decades.
While there was a backlog of messages to catch up on, one in particular gave me pause. On the fourth day of my experiment, I was struck by a need to recognize my body's resilience. I recoiled at the suggestion. Resilience? What about throbbing pain and tightness was resilient? Racing a college cross country meet on two misdiagnosed stress fractures—resilient; recovering from severe anemia–resilient; running a half marathon with the flu—stupid and miserable, yes, but also resilient. This body has powered up hills, nailed race splits, and recovered with ease. Those are examples of resilience. Sitting on the couch with an ice pack, though? That screams pathetic.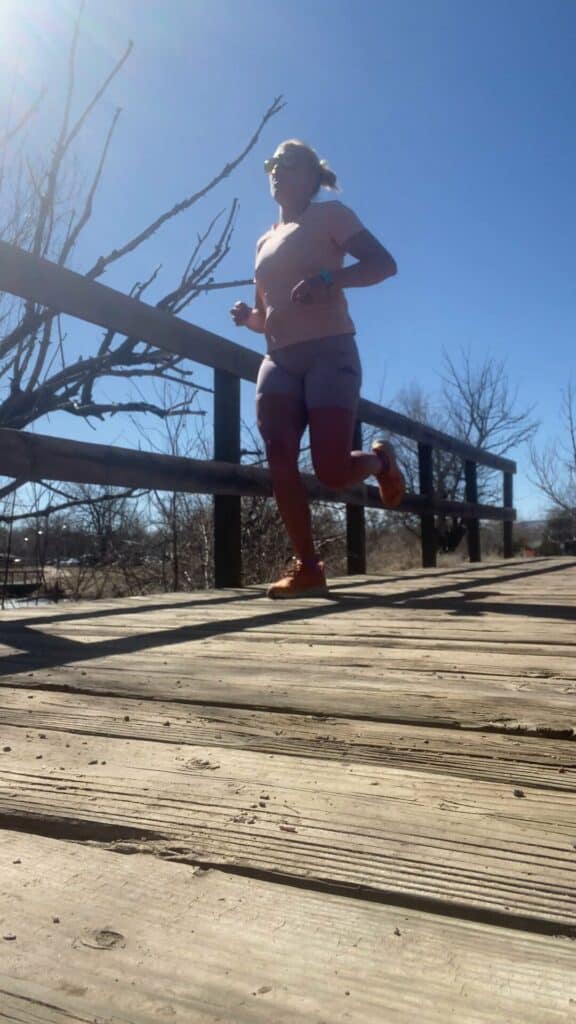 Still, it wasn't hard for me to connect my rigid view of my body with my ever-tumultuous body image:
A speedy, running body = a good body
An injured or slow body = a bad body
This simple lullaby has comforted me for years, and… it's also wrecked me. It glosses over the bumpy anecdotes of my being—the nuanced beauty, the growth, the personality. Instead, this lie leads me—leads us— to crowdsource our worth.
Now, though, I wonder:
What if the body's ability to sustain us through trauma is evidence of its resilience?
What the provision of pain is a form of resilience?
What if resilience, in totality, has nothing to do with how fast the body goes but rather how relentlessly we endure the human condition?
These are posed as "what ifs" because, if I'm honest, I don't fully believe them yet. I am working to get there though and, as I do, I am experiencing greater joy in life and sport. 
My journey, like yours, is complicated. Your body, like mine, is valuable. Those are important facts. Yet, they don't stand alone. See, our bodies are valuable, yes, but make no mistake: our bodies aren't the source of our value. Our weekly mileage (performance) or the size of shorts we run in (aesthetic) don't make us "better" or "worse."
Often, I catch myself blaming my body for falling short of my expectations. While those moments are less frequent and less debilitating, they still happen. My guess is that they happen to you as well. Those are the battles that help build us, though. They are opportunities to confirm that our worth–as athletes and women–is far deeper than performance or appearance. We ought to speak kindly to our bodies, listen to them, and boldly proclaim that our bodies are good. They are, and my hope is that as we remind ourselves and each other of that truth, we can help redefine what resilience means in a world that desperately needs to look beyond the mirror.