DNF. Did Not Finish.
This is such a powerful statement, an abbreviation that as athletes that none of us want to see. I remember one race, my last half-marathon where I came so close to DNF. My body was fine, but mentally I was collapsing. I was crying on the course, tears pouring down my face uncontrollably. I could not tell you what was wrong then, nor could I now. I simply knew I was unbearably upset. Other runners ran alongside me, supported me, offered me tissues, and simply wrapped me in the love of the running community. My running partner ran back to finish the last few miles with me. I crossed that finish line with my worst race time ever, a body beaten to nothing, and a mind completely shattered. I survived and finished that race because of the support of the running community, without them I likely would have walked off course and found my way to the finish, defeated in mind, body, and spirit.
In all my time hiking and backpacking I never would have thought to apply DNF. A hike is walking at its base. How do you not finish a hike? We all know stories of people unable to complete a thru-hike, but rarely have I heard the terminology DNF applied to this type of athleticism. I found myself backpacking the Black Forest Trail in Pennsylvania Memorial Day weekend. It is a 42 mile loop trail with significant elevation changes. I knew it would be a stretch for me, but I also knew that it would be doable. I set out alone, in my happy place with my pack on back, shoes on my feet and a map on my phone. A few miles into the hike I met a park ranger who graciously gifted me a paper map. At that moment I did not understand how significant that paper map would become in my weekend adventure.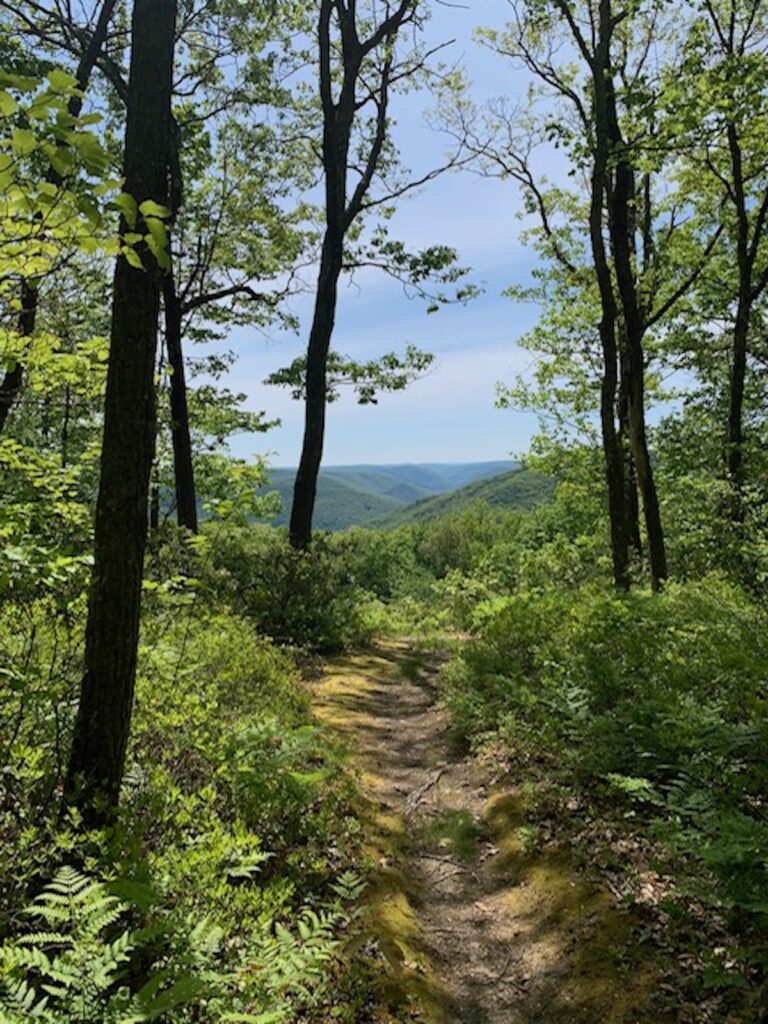 I made camp Friday night 7 miles into the trail, happy with the mileage made given the very late start. Saturday was a lazy morning and late start, but I reviewed the maps, looked briefly at the elevation changes and set-off, a smile on my face and a goal of 12-13 miles. That mileage, even given elevation, was well within my grasp and level. A well marked trail made it easy to follow, but I soon found the elevation more challenging than expected, and noticed my body struggling more than I anticipated. I did my best to stay positive and found myself smiling at moments in ways that I had not felt in months. It was finally a chance to be free of the burdens and crushing changes that were occurring in my life. As the day passed my pace slowed and I began to struggle even more. I met a fellow solo female hiker just after lunch and we hiked together. The miles and climbs became easier with someone else, yet I knew I was struggling. We made camp that night, miles short of my goal, but my body was so fatigued that I could not continue. As she and I sat at the fire and discussed plans for the next day we looked at mileage. I needed to make more miles than I really wanted as I needed to be back at my car on Monday at a set point to make the 3.5 hour drive home. It was disheartening.
A passing comment was made about not having to do the entire trail, that there were alternate options. We perused the map and I saw that I did have other options, that I could easily find alternate marked routes in and around this trail with minimal backtracking. Yet I struggled, my goal had been to complete the entire 42 mile loop. It was something I really wanted, something that I felt I needed to do for me. Saturday night I went to bed with the grace of knowing I had options. I left Sunday morning energetic and ready to push hard on my miles, trying to get as far as possible. One mile into the morning and my energy fell apart. I cried hiking up the steep ascent. Tears pouring down my face, my body protesting the movement, all it desired was to be still. All of the trauma and changes and disappointments of the past 2 months came crashing down as I pressed onward. Every climb became more challenging, it was a few steps, crying, and repeating until I reached the peak where I would then sit and try to compose myself. Within 2 hours of hiking that day I knew it would be a DNF. I used the abbreviation in my head and my body and my spirit sagged. I was quitting, I was giving up, yet I knew if I tried to make the miles I would be hiking until midnight and then waking at 6am to complete the hike to my car. I knew I would be miserable and sad and angry.
I found a quiet stream, stripped off my shoes and socks and soaked my feet while I studied that paper map. I designed an alternate route, and while I sat with the knowledge of a DNF and was sad, I was also at peace knowing I would still continue onward. I made an early camp Sunday. I enjoyed time sitting in a stream reading my book, making a lazy camp dinner, and simply relaxing around camp, solo. It was peaceful, restful, and exactly what my body and spirit needed. It did not need the relentless push of miles and elevation seeking something intangible. Monday arrived and another lazy, slow morning was had. I hiked slowly back to my car, enjoying periods where I sat and read my book along the trail, and simply hiked so slowly so as to immerse myself in my surroundings. In my car I reflected on my DNF. I did not finish the trail, I missed a large portion of that 42 mile loop, but I did finish my backpacking trip. I did complete my hike, and in allowing myself the DNF I allowed my body to acknowledge what it needed at the time while still accommodating my desires.