So, you've spent a fair bit of time in the trails that snake through the forest or mountains in your backyard. You know them well, yet you still manage to trip on that same rock, every single time. It's a wonderful thing, being able to head out onto the trails knowing exactly what to expect with very little chance of getting lost but…is there more out there!?
Of course!
The challenge isn't in the lack of trails available to you, they are everywhere. The challenge is in finding the ones that fit your needs…then, convincing yourself to leave behind the comfort of knowing when you'll hit mile 6 and where you can find a trickling stream at mile 18 to refill your water bottle it. Don't let that stop you, get yourself out there to discover new trails!
Join Local Groups.
Whether the group is on Facebook or at your local running store; join them! Head out for a group run, ask for trail recommendations, make new friends + discover your new favorite trail. Getting involved with local groups will give you access to so many things with new trails being only the beginning.
Personal Tangent: I discovered speed work and went on to PR nearly every race for a year because I discovered a local running store with weekly group run. I got into ultra running because I was part of an online community when someone needed a last minute crew at a 100miler. It won't happen overnight, but put yourself out there!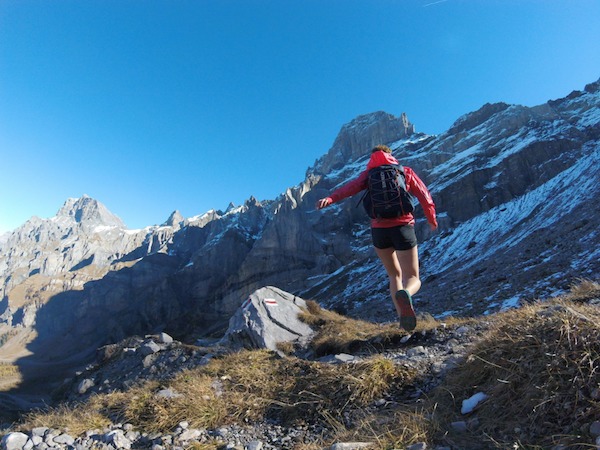 Leave Your Expectations at Home.
You probably already know this from your own experiences out on the trails but it's even more important when you're exploring new trails — keep your expectations in check. Even if someone raved about this trail go in with just one expectation; to have fun! Get excited about getting out there but don't build up the trail too much. Instead, let the trail do its thing and woo you on its own, you'll find something to fall in love with the minute you stop looking for it. Nothing ruins a trail-venture quite as quickly as busted up expectations!
Find a Trailhead.
If you're able to really leave behind your expectations and pull on your adventure shorts, finding a new trail is easy. Simply pull up a map, scroll through the area you're hoping to explore and pick a parking lot! Or, better yet, just pull up to that trailhead you've driven by multiple times and throw the car into park…then head up the trail!
Just remember to fill your pack with a few basic trail essentials (like water, snacks + layers) because who knows when you'll get back…probably because you'll be having so much fun exploring you'll forget to turn around!