Photos: Ian Corless and Prozis Trail Running
I only had 5.5km left, all downhill. I told myself to focus for thirty more minutes, extra time never hurt. This course was brutal, a 55km race bragging 4000 meters (13,000ft) of gain. Technical, steep, hot – just what I like. It was a very competitive race and I had pushed into 2nd place. As I rounded the final corner to push up one final hill I finally let myself feel it as chills ran over my skin. There was excitement, relief, accomplishment, a need for more water and to take off my shoes. I had made the podium and I had fought for every single second of it. I was proud, happy to be done, and pleased with my strength and patience throughout the race.
After some rest and recovery the athletes and volunteers gathered for congratulations and dinner. It was great to celebrate. We relived the race, our ups and downs, the views, and the terrain; assuring the organizers they had put on a tough race.
Everyone kept telling me how strong I was, how hard I pushed on the uphills, that I was a machine. Then one of the local runners had a question for me:
"How much do you weigh?" he asked, comparing me directly to Gemma Arenas, the winner of the race, who was standing next to me at the time. She's about 5 feet tall, and petite. Not only am I 9 inches taller than Gemma, but we have completely different builds; I, being, the more muscular of the two. Then, another question, "How is it you can run so fast when you weigh so much more?"
Strength, machine, powerful, animal – those were the adjectives used to describe me. Not fast, skilled, talented, or even the word 'runner'. Was it because of the way I looked? I couldn't help but be slightly offended, hurt, and extremely self-conscious. I had just finished second amongst world-class competition, and I was asked to explain my performance and myself.
Immediately, the first thoughts in my head were "Why am I here? How did I run that fast? I don't look like I'm supposed to look?" I let those comments and doubts interfere with the celebration of my achievement. In fact, that night I let myself stagger in confusion and self-deprecation, crying and wishing I could change how I looked to avoid future speculation from others and my own critical eye.
Like many women and men runners (and non-runners), I have dealt with an eating disorder. However, trail running is what motivated my recovery. When I started running, that is when I decided to take care of myself, to listen to my body, and to respect it. Although I am recovered now, it's a dynamic process and one I can never ignore. That fact made clear by my shear devastation brought on by a comment about my weight.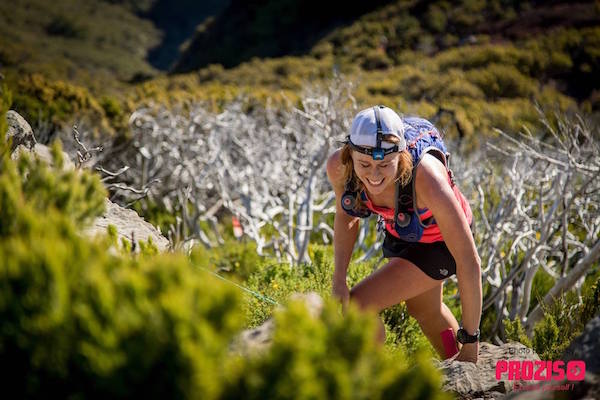 So I challenged that doubt and fear. I don't need to look different to be considered a runner.  I am one. I challenge that thought in all of us. Take a breath, and decide to take action. Maybe the action is an out loud declaration, quiet introspection or venting. For me it's an all out battle inside my head to accept those uncomfortable thoughts that are urging me, convincing me that I 'don't look like a runner' and that I must change my physical state to match a certain standard. They're bullshit. Complete. Total. Irrational. Bullshit.
I can run. I can move. Uphill. Strong. Fast. Running. I am a runner.
What is a runner supposed to look like anyway? I am a runner and so are you, no matter the size and shape of our bodies, no matter the distance covered or the terrain encountered.
I was made to run. My soul feels it, my body knows it, my heart longs for it. These are the thoughts I listen to. I am a runner. I choose to run toward that truth.