I ran my very first 100 mile race in Leadville 2010.  I ran this race in order to create closure with my run-in with breast cancer.  I was diagnosed with breast cancer in 2005 and in 2009.  Back then, I was running marathons 3-5 times per year before my cancer episodes.
I was crewing a mountain bike race for a friend and it was then I discovered that people run 100 miles, and in Leadville, Colorado. I thought this was crazy! Since then, I've always wanted to run the Leadville 100 Mile Run.
My cancer came back in 2009 for the second time, and I had no choice but to get a mastectomy and chemo therapy.  While I was going through the major surgery and then during recovery,  I decided to just sign up and do the Leadville 100.  Why wait?  Life is too short and precious! I had nothing to loose but to try and see if I could do the race! I made an announcement to all of my friends and they were fully supportive. I made this huge lifetime athletic commitment as a charity event for the Susan G. Komen Breast Cancer Foundation. This is how I started my journey into the ultra 100 mile race distance.
I am now 52 years old and have been creating a new challenge for myself each year since my breast cancer recovery.  I love to challenge myself to push my athletic limitations. In my most recent challenge, I completed 2 ultra series within the same season – the Grand Slam of ultra running (4 x 100 mile races every few weeks apart) and the Leadville Leadwoman (marathon, 50 mile mountain bike, 100 mile mountain bike, 10K run, and 100 mile run in Leadville).
Apparently, I was the first person to complete both series in single season! I feel blessed to have good health and a strong mind to do these challenges, and am also fortunate for all of the support from my teammates, Team Junko, and others.  I've learned and gained mental toughness from every race I've completed.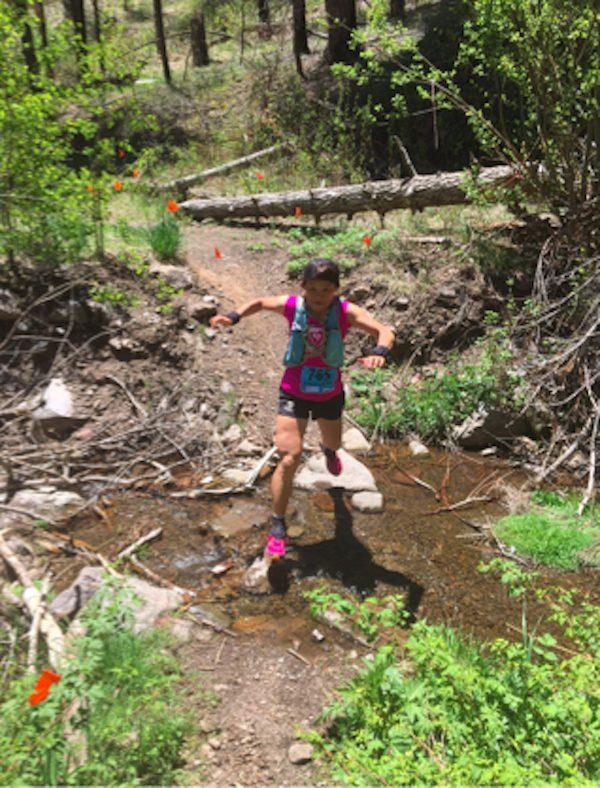 As I mentioned, I am 52 years old and my body probably can't handle the heavy training weeks like many other ultra runners put in. I am not an elite runner by any means, maybe an age group winner if I get lucky! I love to make it happen by creating my own training plan, and by working hard. I focus on cross training by riding a bike, teaching cardio/strength class during the week days, and do 2 long distance runs back to back on the weekend. I used to stress about not being able to run many miles due to my work as a trainer which requires many hours of physical work in a day. However, I found this training method works very well for my body. I assess my weaknesses during my performance while running, and then work on making my body strong. With determination, rest, and passion, I feel alive to run and to challenge to my athletic goals. And I will continue to do so as long as I can!
Through running, I've met incredible people, the running community is amazing. I am so lucky to have these opportunities and to get to know super nice people who share similar passions. Competing in races, joining the Runners Roost Running team, and off course, getting involving with Trail Sisters has been a great way to connect, learn, and influence. These wonderful life experiences make me feel alive.
One of my passions (along with pursuing my own running goals) is to help others accomplish their goals.  If I can pay it back to anyone needs a little guidance or inspiration, especially people who are recovering from cancer (or any horrible illness), I would be more than happy to coach them in their individual pursuits. I would love to send a message to the community that "we are not alone, don't give up, stay positive, lets work together!"