West Valley (Phoenix), Arizona
When my family and I were looking to move, one of the things that drew me to the Phoenix area was the trails. There are a wide array of trail options in the greater Phoenix area, from flat desert loops, to climbs up steep rocky ascents. While we sit on a flat desert just above 1,000 feet, it feels like someone cut the tops of mountains and littered them around the city. Plus, great adventures to the Grand Canyon or Flagstaff, with some real elevation, are only a day trip away. Since there are so many options to choose from, I'm going to focus on the West Valley where I live to give some suggestions on where to run.
Trails
These happen to be my home trails, and I feel really lucky to have them.  White Tanks is part of the Maricopa county regional park system, and while there is a $7 daily gate fee you can get an annual pass for $85 that gets you into any of the 13 regional parks. The White Tanks are named after hollowed out areas in the white rocks that acted as reservoir tanks for the Hohokam tribe. As with all the regional parks, White Tanks offers a nature center and interpretive programs, and this park has the added bonus of a regional library. There's a range of trails, and those closest to the nature center and parking areas are flat and relatively fast. The further out you go, the steeper and rockier it becomes.  My favorite is the 18 mile loop that circles the park and includes the high remote trails of Ford Canyon, Mesquite and Goat Camp. In the spring you'll find blooming cacti, and there's also a range of wildlife. I've seen snakes, lizards, chipmunks, jackrabbits, coyotes, and javelina. I know there are mountain lions out there somewhere as well, and I am simultaneously disappointed and relieved that I haven't encountered one.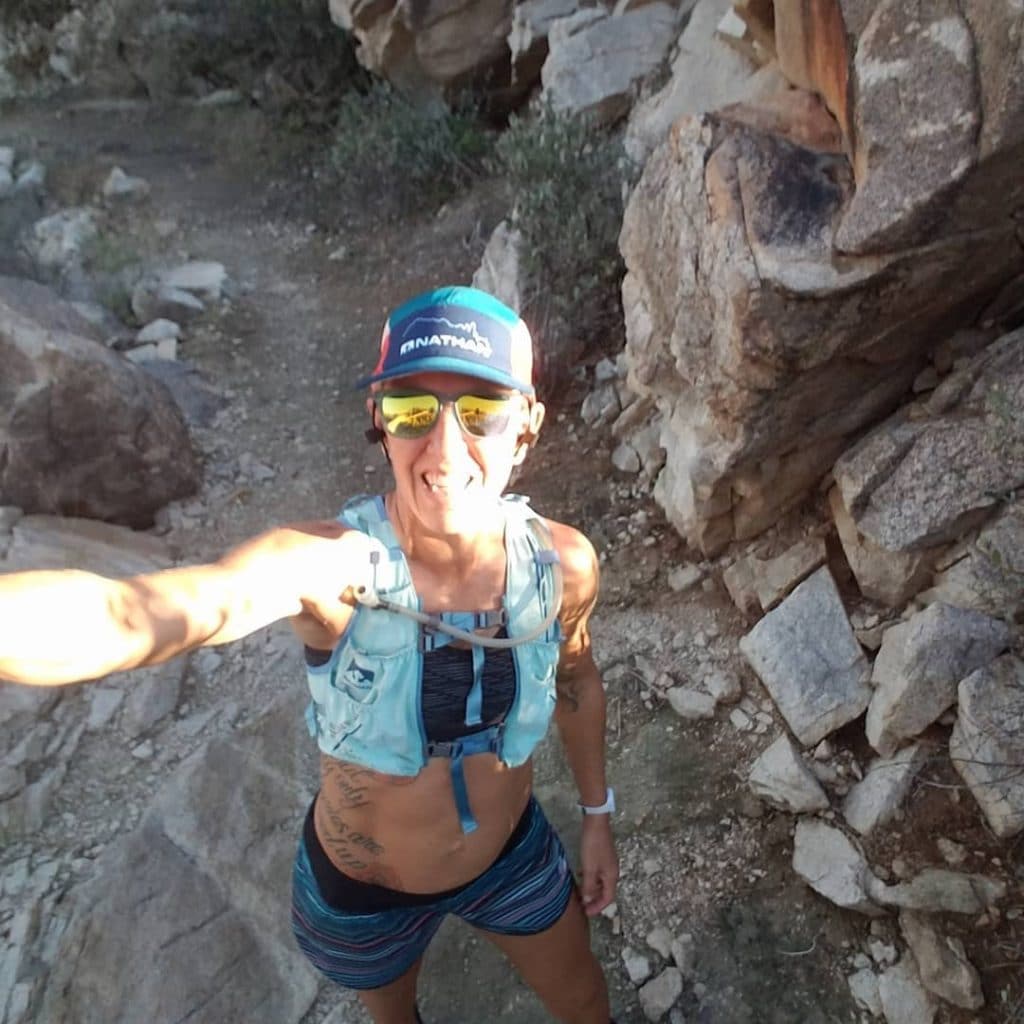 Where to eat
In Waddell there is the Out West General Store that serves breakfast and subs as well as local and non local snacks.  It now also houses the Java Trolley.  Plus, it's a cool place to look around.  In Surprise, the closest city, there is some pretty good Asian food.  Our favorites are Saigon Kitchen and Fresh Wasabi.
Trails
One of the big draws of Lake Pleasant park is the fact that it's a lake in the middle of a desert.  This means cool-ish breezes, and a place to take a post-run dip if you'd like. There is a nice trail system connecting one end of the park to the other, although this does not wrap around the entire lake.  Yavapai point provides a great overlook of the lake. There is also Wild Burro trail, named after the burros that seem more plentiful here than in other areas of the west valley.
This is also a regional park with an entry fee, visitors center and interpretive events.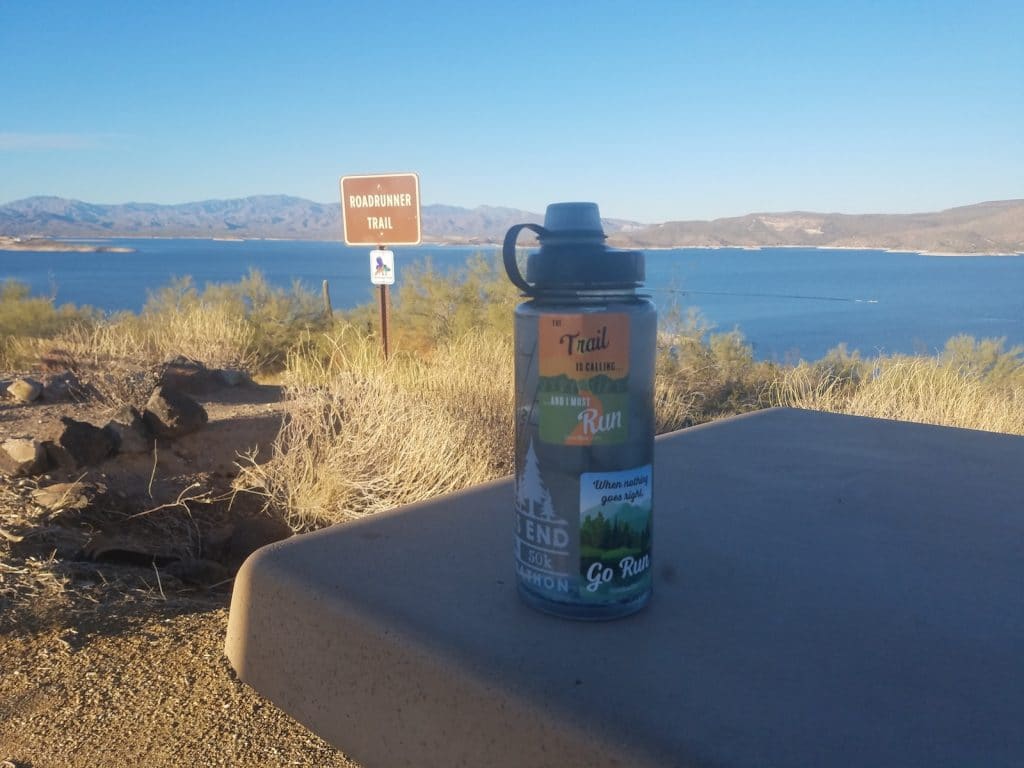 Where to eat
There isn't a lot near Lake Pleasant, and if you drive to the closest civilization you'll likely find a lot of chain restaurants. My favorite of those is Even Stevens.  It's a sandwich chain in the Phoenix area that donates 1 sandwich for each one they sell.  They also have some really good vegan and gluten free options. Also, on the way between Lake Pleasant and town there is Wild Horse West.  If I was into burgers and beers, that is definitely where I'd stop.
Trails
Skyline park is locally owned, and does not have an entrance fee.  It is located at the southern part of the White Tank mountains. My favorite thing about Skyline is that you can leave your car and very quickly be doing some nice climbing.  There are currently four overlooks summits in the park, and they are continuing to expand the trails. The trails are set up in loops, so it's easy to choose your distance and get in some decent mileage without too many repeat trails.  My favorite trail right now is the one leading up to Javelina Summit which has a nice steep climb rewarded with some awesome views.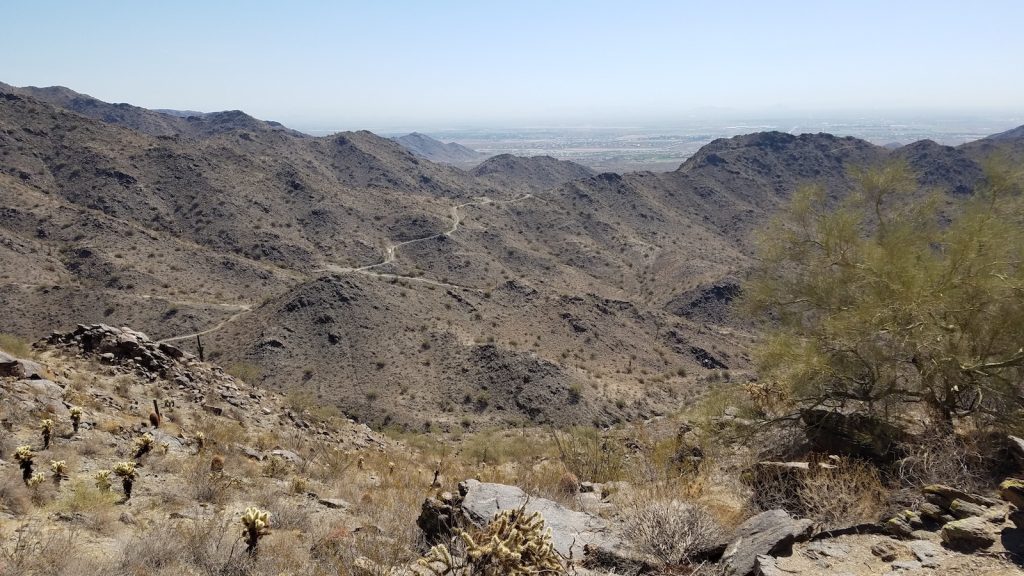 Where to eat
Verrado is very close to the park.  My favorite stop post run there is the Verrado Coffee Company.  They also have a variety of restaurants within walking distance of the downtown area, and if you're there on a Sunday they have a farmers market which includes local food trucks and vendors.
There are lots of other places to explore in the West Valley and the greater Phoenix area, more than I could possibly cover here.  It's definitely worth the visit for trail runners. Remember too that June-September is hot in this part of Arizona, and even some locals don't run during the day at that time.  Make sure you're properly acclimated and prepared for the weather. Even in the winter the climate is dry, so extra water is a good idea. If you do make it to the area, feel free to hit me up on social media, and as always, happy trails!