A friend introduced me to a running group. I agreed to try it, even though the prospect of making small talk while wheezing and struggling to keep pace with a group of former iron-women sounded frankly awful.

First of all, I am not a joiner. I don't like meeting new people. I don't like to participate in new clubs or groups. And I am not an athlete. I'm a recovering asthmatic with terrible feet and "a little extra" around the middle.
While I may not be a joiner or an athlete, I am an obliger. Which means at the risk of disappointing others or appearing lazy, I show up. Accountability (or guilt) is a powerful thing.
As predicted I am, by far, the slowest member of this group. I have to push myself to at least stay within sight of the very back of the pack – lest I get hopelessly lost on the dusty trails of San Elijo. But I am also completely hooked.
On any given day there are 5-12 women running together. There is a kickass coach who helps you work through your limitations or injuries and sets goals for new races and times. She decides the miles and terrain, which keeps it interesting with new routes. Pushing you to do more hills, intervals, and way, way more miles than you would do on your own. And there are only a handful of times I've given her the finger behind her sprinting back.
It's also therapy. The coach encourages you to take your emotional trash and dump it out on the trails. We get and give advice about e​verything​: Relationships. Work. Kids. Gossip. Book recommendations. TV show debriefs. Medical quandaries. We prattle on and on, and the miles go by faster. It's even… fun?
It's a sisterhood. We cheer each other on. We celebrate success and challenge each other to keep going. Keep coming back even when life continues to get in the way. I've broken down in sobbing tears (not just because the hill was extra hard) and pulled into sweaty hugs. We've peed ourselves with laughter. We've literally picked each other up after falls.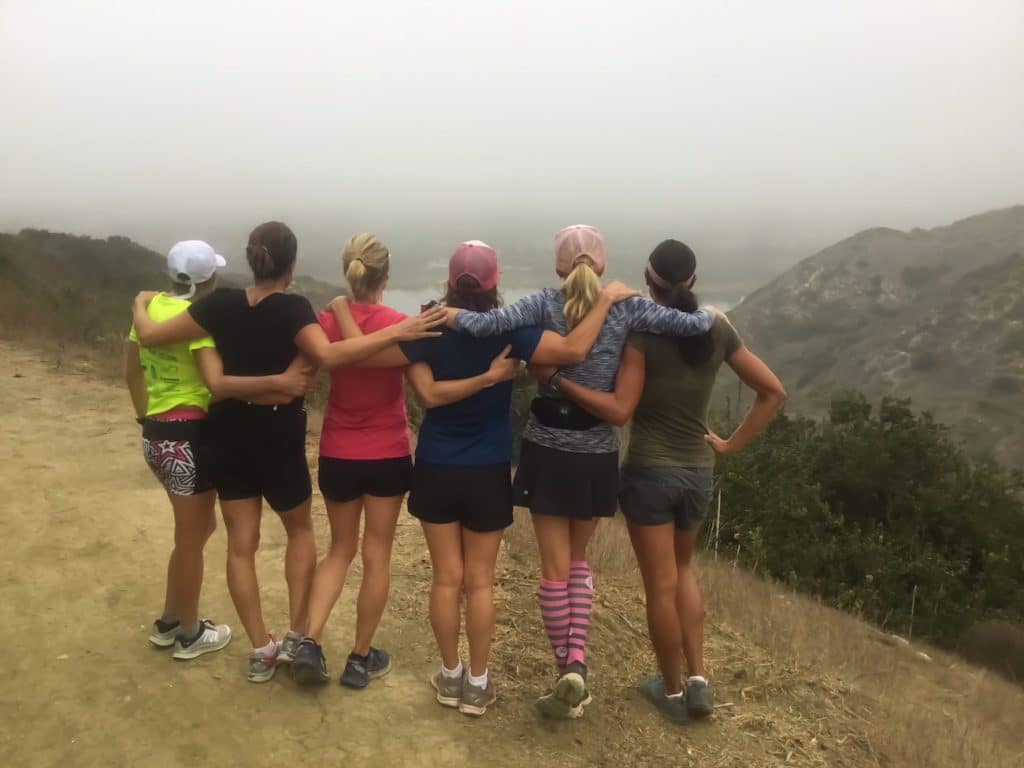 We do several runs during the week, but that's sometimes harder with my work schedule. But Sundays are sacred for the long runs, starting early enough to beat the heat in summer, or just after sun is warming the hills in the winter. We run for a couple of hours (which yes, i know, is completely ludicrous). I sneak out of the house where my kids are sleeping – and are often still asleep when I get home.
We run in fog along the coast just as our beach town is waking up and everything is quiet. The air is fresh, the views are stunning. Or we scramble up trails – switching back higher and higher until the valley stretches out in front of us. And at the top of the hill the sun is rising, we sweat and pant but our smiles spread. An outdoor communion.
I've been running with the group for over a year now – through all the "seasons" in Southern California and several changes in my life. Running has become the constant rhythm that underscores my week. When I am unable to run I feel the wheels coming off – physically, mentally, emotionally – until I can get back to the trails. I'm all in.
I've even tried to spread the gospel to recruit others to join the group. If I can do it – anyone can.