*Becky is a 2019 Merrell and Trail Sisters Trail Run Adventure Grant Awardee.
The forecast could not have been worse. A 100 percent chance of rain in Utah's Buckskin Gulch, the world's longest slot canyon: the very last place on earth you want to be when it's raining.
Buckskin Gulch to Lee's Ferry is the 45-mile bucket list adventure of a lifetime, with creamsicle-colored slickrock walls soaring 500 feet above the oasis-like Paria River. It tops many lists of "most dangerous hikes" in the world, but I was relieved to find that no one has actually died in Buckskin…yet. That's because if there's any chance of rain in the forecast, even 10 percent, you just don't risk it. In the Zion Narrows, a more popular but shallower slot canyon to the northwest, canyoneers have died as recently as 2015 when tiny amounts of rain from miles away rushed downhill into the coffin-like confines of the slot. If you're unlucky enough to get caught in a flood like that in Buckskin Gulch, you're just a bug in a firehose.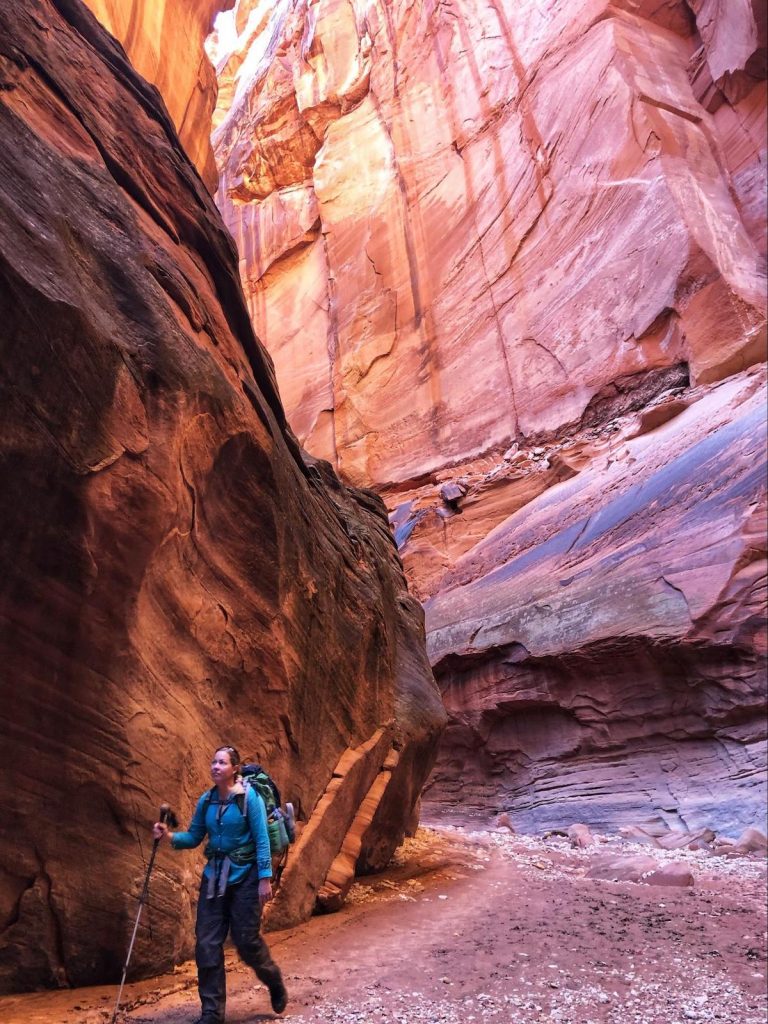 We decided to try avoiding that fate by doing our planned route backwards, starting at the traditional endpoint at Lee's Ferry and working our way upstream to the beginning of Buckskin Gulch near Wire Pass. This way, we hoped, Buckskin's narrow slots would have a couple days to drain out after the downpour. We'd save the best part of the trip —or the worst— for last.
When we picked up our permits from the Paria Contact Station, a sign warned us that the waters were already up to chest high in parts.
"Chest-high for who?" I laughed. I'm 5'2" in trail runners and my friend Tracy just 5'4", so "chest high" for the average traveler is more like eye-high for us. I wondered if we were getting ourselves in over our heads, literally and figuratively, by attempting the trip in these conditions.
But after months of prepping and planning, driving 13 hours to the middle of nowhere, Utah, and the sweet anticipation of this once-in-a-lifetime adventure, I knew we had to try. "We'll make it to Buckskin Gulch," I thought, "come hell or high water!" Turns out we got a little bit of both.
GOING UPSTREAM
It's hard to get truly lost in Paria Canyon: when in doubt, listen for the river. The trail often is the river, meandering up to sandy benches and rocky cliffs above only to plunge back down to the water below. Several times we scrambled up a "trail" on the riverbank only to realize it ended in a sheer, 40-foot drop-off, crusty footprints at the edge showing we weren't the first to make that mistake.
An unusually wet Utah winter sprouted more colorful carpets of wildflowers than usual, with evening desert primrose, cholla, lupine, red barrel cactus, and fields of prickly pear (that matched my pink-and-blue Merrells) brightening the beige desert floor. Tracy, a professional fish biologist, stopped for frogs like I stopped for flowers, admiring long chains of incubating eggs and clouds of newly hatched, sperm-like tadpoles wriggling their way upstream.
The wet winter sprouted more quicksand than usual, too. Oh, yes – quicksand! Maybe I read too many adventure novels as a kid, but I was terrified of getting stuck in quicksand and not being able to yank myself free. Thankfully, I learned, quicksand is rarely that dangerous. Like most obstacles in life, it gets worse if you panic (thrashing around will only mire you deeper,) but if you get yourself into it you can almost always get yourself out. We got good at poking pools of mud with a pole and identifying their characteristic quiver. By the end of the trip we were having childlike fun with it, purposely letting ourselves sink up to our knees before jumping out at the last second.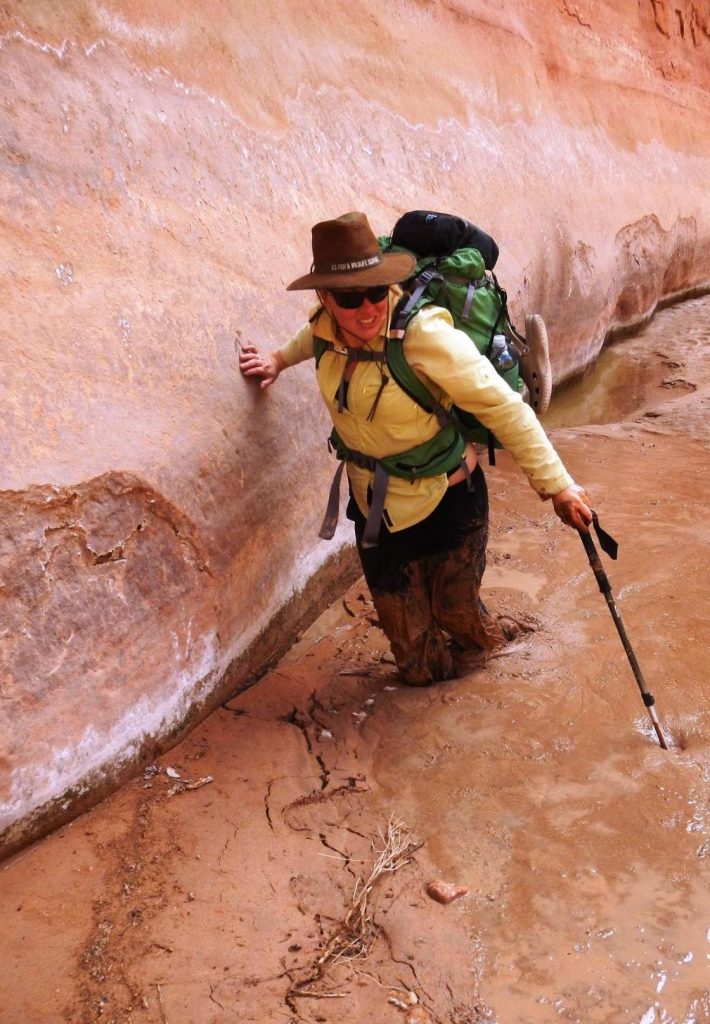 We crossed the Paria hundreds, thousands, maybe even tens of thousands of times on our way to Buckskin Gulch. It's impossible to keep your feet dry, so I was thankful that my lightweight Merrell Antoras drained water quickly while protecting me from rocks. I paired them with neoprene socks to keep my toes warm in the icy waters.
What began as playful, ankle-deep splashes soon grew to murky brown, waist-high surges as we made our way upstream. Tracy read the river in ways I couldn't and judged the safest spots to cross, away from boulders that make drag-you-down eddies and shifting waves that suggest unstable sands beneath. We weren't expecting to need Tracy's swiftwater rescue skills on this desert trip, but they certainly saved us from being swept away. When we linked arms and hit the water at just the right angle, crossings were difficult but doable.
Near mile 18, exhausted from hours of crossing and re-crossing the Paria, we stopped for a quick snack break on the beach.
PLOP. Something dropped onto my shoulder. I jerked my head fearfully skyward, searching for deadly clouds, but it was just a fuzzy blue caterpillar dropping in to say hello.
We laced up our still-soggy shoes and turned back to the river, but this wasn't the river we'd crossed just 15 minutes ago. 20 feet of angry waves stood between us and the other side. Tracy looked nervous, and Tracy never looks nervous. We had no choice but to sit back down and wait for the waters to subside.
I passed the time watching caterpillars and singing a half-delirious parody of a Sound of Music song I called "How Do You Solve a Problem Like Paria?" my notes echoing off the high canyon walls. (Paria rhymes with "see ya" or "Maria," from the Paiute words "pah ria" meaning "house of rock" and not the English word "pariah").
We'd expected some water on this trip, but nowhere near this much. The Paria River drains a watershed hundreds of miles wide, so even a small amount of precipitation can send a wall of water rushing downstream. The bone-chilling runoff now soaking us from socks to sports bras might've been snow on a Bryce Canyon hoodoo just that morning.
We later discovered that on that particular day the Paria River's peak flow was a whopping 350 cfs (cubic feet per second), which is more than 350 times the median flow for that time of year. In comparison, ultrarunner Jay Aldous' FKT of Paria Canyon saw the water running at just 13 cfs. Where he'd had trickles, we had torrents.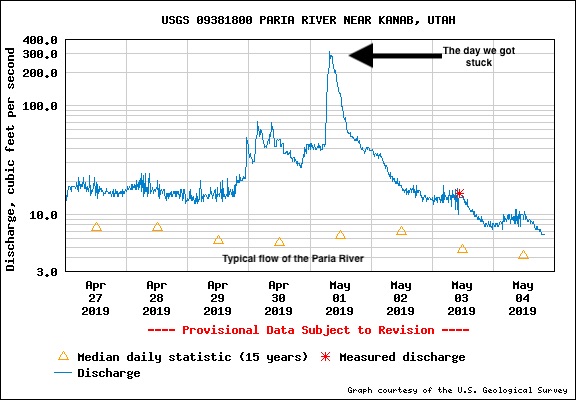 Two hours later, the river was at last calm enough to cross, we made camp in a fairyland fantasy canyon beneath a rosy alcove. Miniature blue Christmas trees dotted a grassy meadow, with magical moss that sprung back after you'd stepped on it as if to say, "oh, I didn't see you there!" The pink walls curved in so close it felt like you could stretch out and touch them, when they were really hundreds of feet above our heads. We fell asleep to the roar of the river, staring up at a perfect little slice of starry sky.
DOWN INTO THE DEPTHS
On the first day we'd passed a few small parties near Lee's Ferry heading in the opposite direction, all of whom had bypassed the narrowest parts of Buckskin Gulch by starting at the White House trailhead farther downstream. By the time we got to Buckskin Gulch the next morning, we were utterly alone. Everyone else must have given up their permits due to weather. The spooky darkness of the canyon was rendered even more eerie by the silence, the only sound the splash of our feet echoing off the narrow walls.
"The Buckskin is normally bone-dry, with an occasional pool of water or mud to wade through," reads the definitive guidebook of the Paria River region. But on this trip the Buckskin was one giant pool of water and mud, with only an occasional patch of dry-ish sand.
Sheer vertical walls soared above us on either side, with huge logs tossed 50 feet above our heads and wedged there like toothpicks by previous flash floods. I was glad we hadn't been here on Monday, or our bodies might still be wedged up there, too.
"HOLE!" Tracy yelled as she sank to her chest in a murky pool that looked shallow from a distance.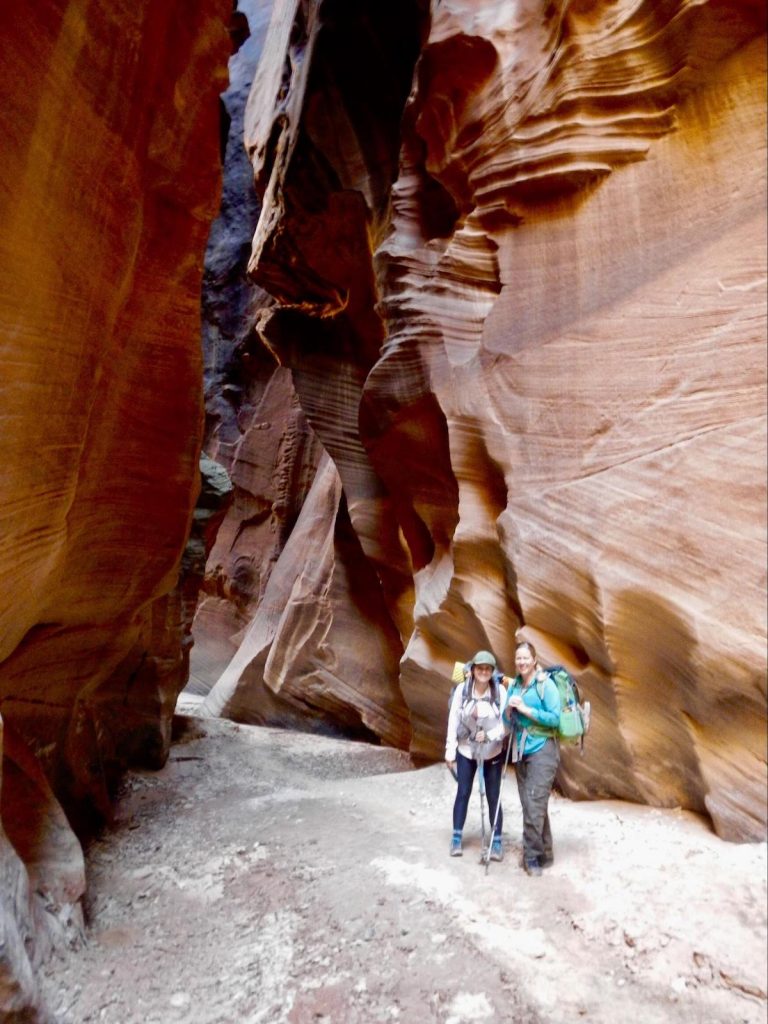 "Stay to the left!" I groaned as I slid right on a hidden slope of sand. 31 miles from our starting point and 14 from the finish line, we'd passed the point of no return. The pools would only get deeper and darker, the walls narrower, the stakes higher, and we had little choice but to press on.
I knew from maps of the route I'd studied beforehand that there are two main obstacles in Buckskin Gulch itself: The Rockfall and The Cesspool.
The Rockfall is a treacherous chokepoint of house-sized boulders with rough-hewn steps cut into the sides and, often, an unofficial rope with which to hoist yourself up. We saw the rope hanging and immediately ruled it out as too dangerous. I imagined us swinging Tarzan-like from boulder to boulder, trying not to imagine what would happen if we fell. Thankfully, we managed to squeeze our way between the boulders instead. (This time, size was an advantage.)
Then, there was The Cesspool. The very name inspires fear. In the deepest, darkest part of the canyon, where light only penetrates the narrow ceiling for a few minutes a day, there's a swimming pool-sized section of stinky, sticky frigid water. We never found it, though, because that day the entire canyon was The Cesspool.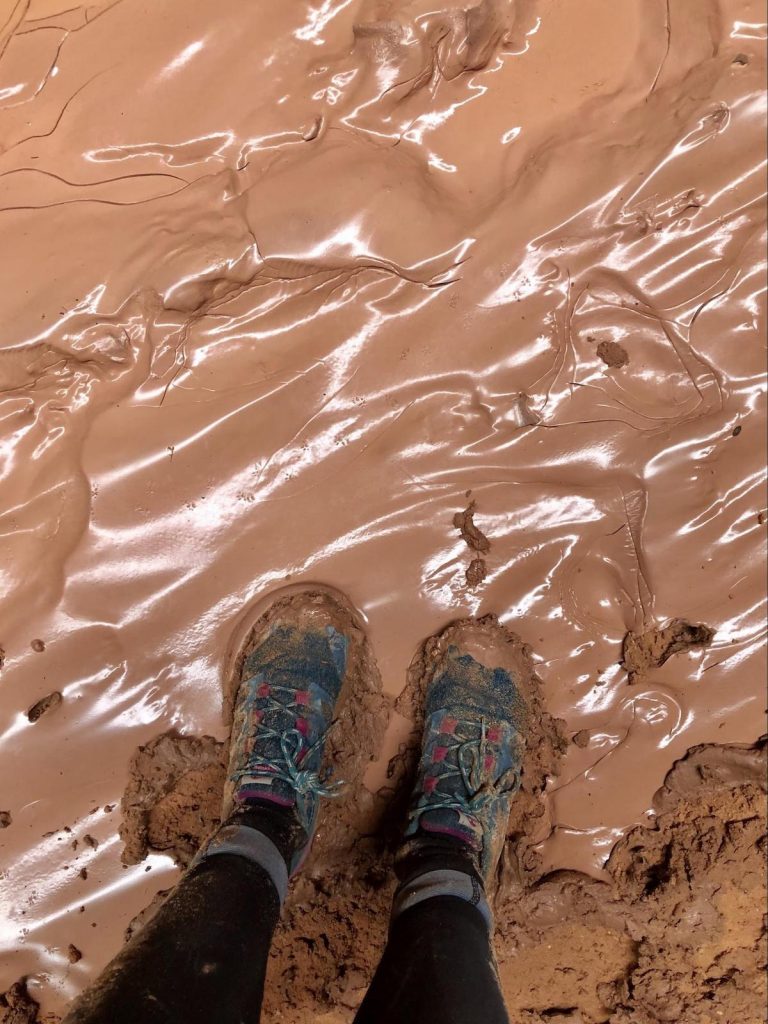 A dead mouse floated by. My foot found a sunken cactus pad, sharp spines still attached. Submerged logs of all shapes and sizes snagged our ankles. I sliced my knuckles on the Navajo sandstone while bracing a fall, adding splatters of red to a shirt already flecked with several shades of rusty mud.
But as we trudged through what felt like a 14 mile-long slip-n'-slide of iced caramel frappuccino, I couldn't help but stare at the towering beauty above. Smooth, sensuous curves of orange sandstone glowed in the early morning light. Blue sky shone between the cracks 300 feet above our heads as we shivered in the dark below. The salmon-pink walls surrounding us bathed everything in a permanent golden-hour glow. It felt like hell, but looked like heaven.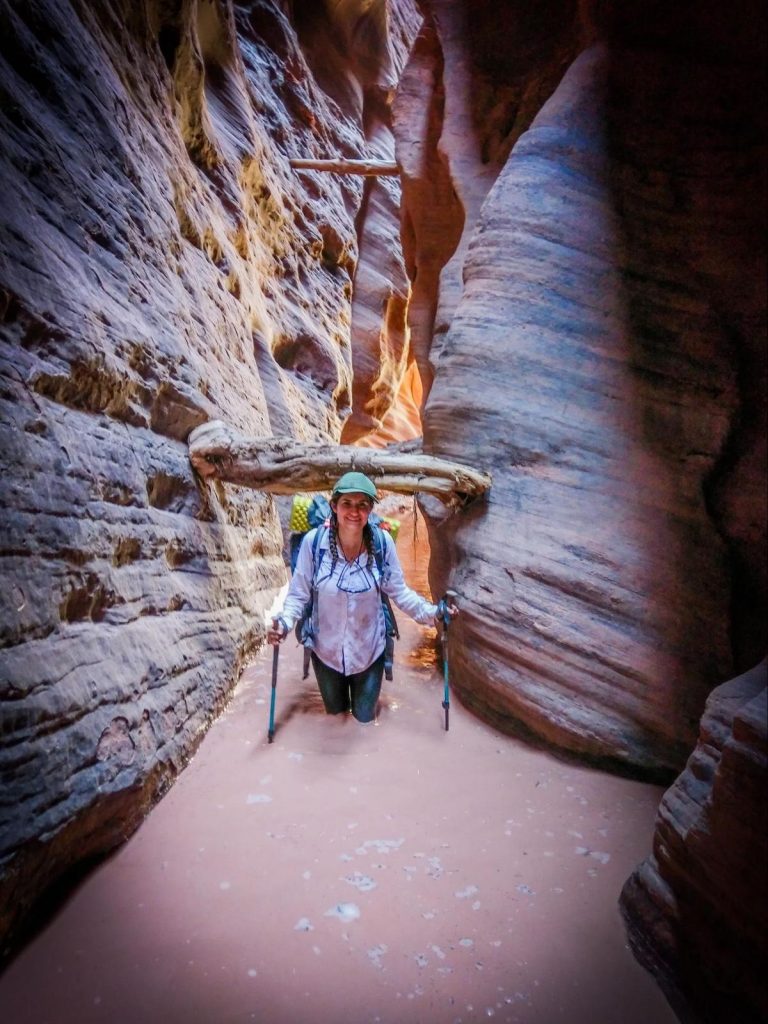 At long last, Buckskin Gulch disgorged us from its depths. 14 cold, wet miles of the longest slot canyon in the world: complete.
We skipped along happily on dry land, blinking in the sudden sun, the canyon walls widening with our grins. The last 2 miles to Wire Pass trailhead were an easy trot along the wash, our pace quickening with the sight of every day hiker in flip flops — and the promise of still-cold beers we'd left in a cooler in the back of the truck.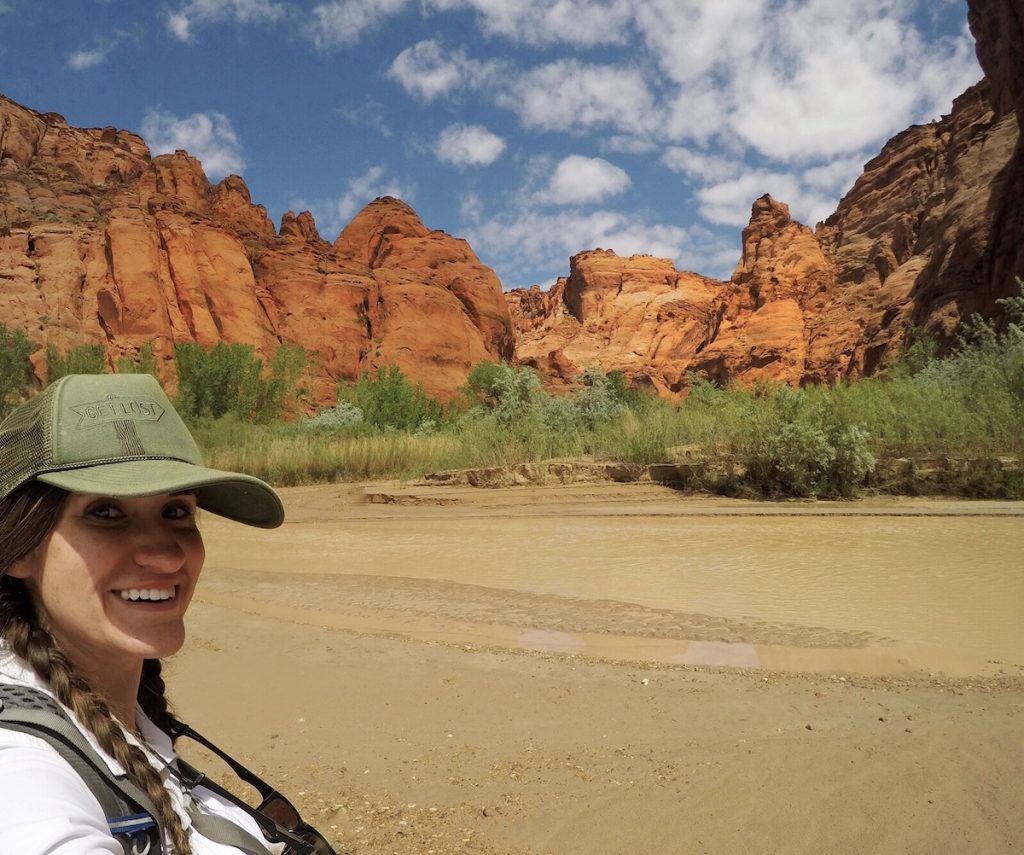 Near "Last Reliable Spring." Or in our case, "First Reliable Spring," since we did the trail backwards.
An hour later, we sat down for a celebratory carb-heavy meal at Cliff Dweller's restaurant at Lee's Ferry, the same restaurant we'd stopped at the night before our trip. The same server we'd had that night rushed up to greet us.
"Oh, thank god!" she yelped. "I was SO worried about you when I saw the rain on Monday!"

"We were worried about us, too!" we laughed. "But it was the best trip ever."
And it really was. The ultimate soggy sufferfest of type-2 fun. Tracy and I may have braved routes with crueler climbs and more bone-jarring descents, with longer days and more hostile weather, but we agreed that those last 14 miles of Buckskin Gulch were some of the toughest miles (mentally, physically) we've ever done.
I ended the trip shivering, sore, and scraped up, but when it was over I wished I could do it all again. We came through hell and high water to reach the dark, wild beauty of Buckskin Gulch. We made 45 miles of memories in the golden glow of Paria Canyon. And best of all, we did it together.
Thanks to Trail Sisters, Merrell, Tracy, and both of our dads for making this trip of a lifetime possible.
Want to try Buckskin Gulch-Paria Canyon for yourself? Here are Becky's top tips:
Reserve your permits 3 months in advance at BLM.gov. Only 20 people are allowed to begin trips in Paria Canyon per day, so space can be competitive.
Aim for the shoulder season (April-May or September-October) for the best chance of reasonable temperatures and lower risk of flash floods.
Flash floods can happen any time of year, but are most likely during the summer months. Check the forecast and don't plan to be in Buckskin Gulch if there's any chance of rain.
Bring alum powder, a settling bucket, and purification drops to treat water from the Paria River, as natural springs are few and far between.
Wear lightweight trail runners like the Merrell Antoras that can drain water easily. With those, a few applications of Monistat, and a pair of neoprene socks for warmth, I managed to finish blissfully blister-free.
Look around for petroglyphs! Paria Canyon is absolutely studded with them, but we missed most because we were going backwards and all the guidebook's directions were for facing the other way.
Since this is a point-to-point, you'll need to self-shuttle between Lee's Ferry and Wire Pass. (Or arrange one, which can be expensive.) Leave some cold drinks in a cooler at your ending trailhead — you'll thank yourself later!
If you fall into quicksand, don't panic. Throw off your pack to make yourself lighter and SLOWLY lift your legs out one by one. Trekking poles with powder baskets can help, as can a friend on solid ground. (Just don't pull them in, too!)
When in Buckskin Gulch, don't forget to look up and behind you often. It's easy to focus on your feet in the tough terrain, but you'll miss some of the greatest earth on show.