Many runners train with dogs on trails, but not so many actually race with their canine friends. We usually have PRs on our minds or distance goals and sometimes it doesn't enter our thought process that our pups would like to be a part of that journey on race day too. Then the question arises, how do I even race with my dogs, especially on technical trails? Since running with my eight year old Australian shepherd Stella on the trails of Clinton Lake, Wyco, and Fancy Creek here in Kansas, I've developed a list of important information for racing trails with your dogs!
RACES
First off, how do you find a trail race that is open to dogs? There is a searchable database at RunRepeat that includes both road and trail races all over the country open to dogs. In my area, two race directors are very open to well-mannered trail trained dogs for their races, unless it is the summer months. There usually is a small entry fee for the dogs to enter these races, but the dogs or "canine pacers" are awarded medals and/or swag, as well as given their own bibs. I always double check with the RD before entering to make sure my dog is welcome, especially if there is nothing stated on Ultrasignup or on the race website about dogs being allowed. I do not ascribe to the "ask for forgiveness instead of permission" theory, mainly because some RDs have their hands tied with insurance rules or with park regulations. Also remember some RDs prefer that dog runners start and stay to the back, especially on single track trails. I don't mind as I am a back of the pack runner anyway, but make sure that if you do want to start closer to the front that you have the blessing of the RD to do so.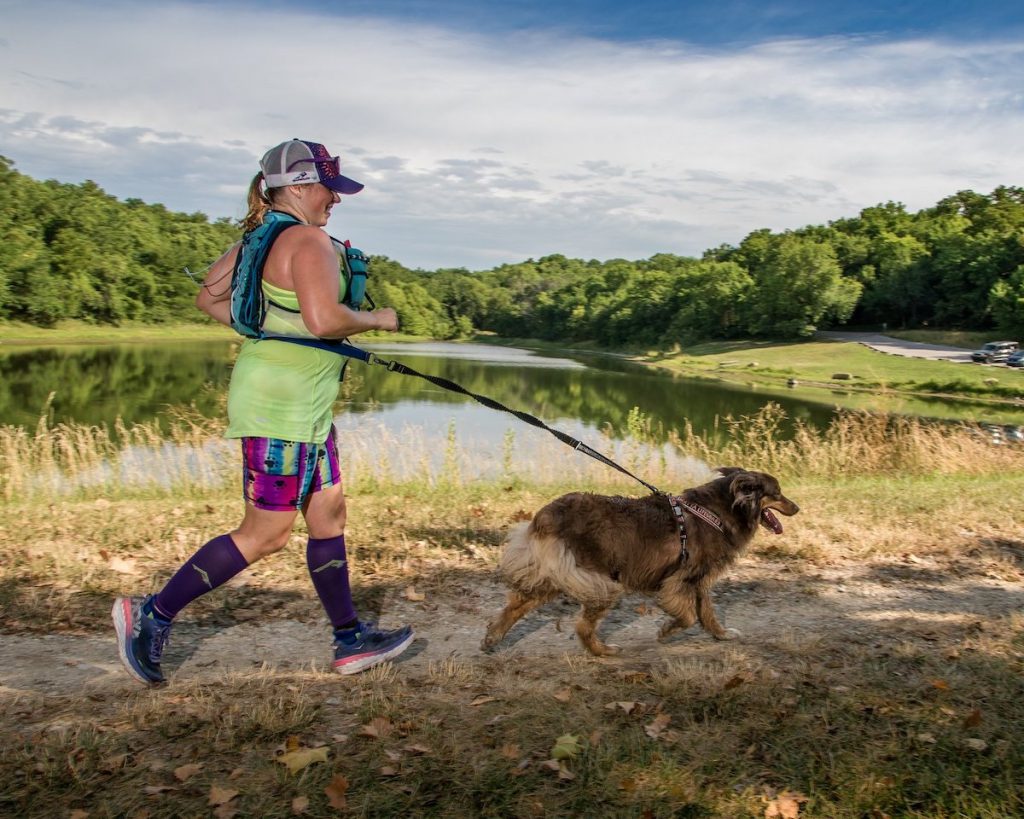 AID STATIONS
Know the rules for aid stations. Don't assume that your dog will be welcome into tents or buildings being used for aid stations. I carry an extra water bottle for Stella in my pack for on the trail use and then I have a collapsible water bowl for aid stations. Most ultra aid station workers will fill her bowl for me, but I never assume. If you have contacted the RD to ask permission for your dog to enter, they will sometimes have water bowls at aid stations and or treats specifically for your dog. Do remember, dogs do not use carbs for fuel like we do, they rely on fat for fuel, so unless you are going to carry a fat source for them to nosh on, skip feeding aid station goodies in large quantities. A small bite now and again won't hurt them, but large carb goodies can cause GI distress in dogs, and no one wants to be dealing with diarrhea on the trail.
POOP
This leads us to the next issue, poop. I have taught my dogs to go on command before the race when I am near a garbage can and I can easily bag it and throw it away. But let's face it, as we runners know, poop happens. Know the rules of the trail system you are on. If you have to bag and take it out, please do so, even if carrying a bag filled with poop doesn't sound like a fun idea. Many runners have their dogs run with packs so that the dog can carry their own poop. If you are leaving the poop behind, make sure it is far off of the trail, as to not be easily stepped on. Please follow the rules set forth by the trail system, park, or RD on this issue and always carry supplies like poop bags for cleaning up.
AWARENESS
Remember, even if you are running a dog themed race like a Canicross race or just a good old trail race that allows dogs, have courtesy for faster runners. When I trail race or even train with my dogs, I do not wear headphones so I that can hear faster runners coming up behind me, but also so I can hear my dog's breathing and footfall. Stella commonly likes to run behind me on trails, and I need to be able to hear what she's going through, especially if the humidity is creeping up or the sun is out full force and it's getting hot. I'm always prepared on loop races to have to step off the trail to let faster runners get by quickly and efficiently.
Know your dog's ability to handle heat/cold/humidity/ice/snow, or whatever the race throws at you. Trail races are usually shaded as the trees block out the sun, but sometimes that shade and tree cover can trap humid air making it harder to cool off. Remember, dogs cool differently than we do, they don't sweat like humans and so water sources on course that are available for a belly/foot cool down are a must when running/racing in hotter weather. If you train with your dog, which you should do if you are racing with them, you will know how they handle different types of weather. Just as we have the rule for ourselves of trying nothing new on race day, the same goes for our pups. Try training with items like boots for snow, or cooling vests for heat before race day. You will want to know how your dog responds to and handles those items early on. Be prepared at any time to have to DNF for the sake of your dog's health and safety if the weather takes a turn for the worse. Heat stroke is deadly in dogs and can come on quickly so be aware of the signs and symptoms.
GEAR
Find gear that works for you and your dog for training and racing. I have gear that I love, but you might love something completely different. I prefer a harness versus a collar for my Stella and I prefer a hand's free leash that has a waist belt versus something I hold in my hand. I like harnesses over collars due to the pressure that is put on the throat when the dog pulls on a collar versus spreading the pressure over the chest/back. I'm also a fan of the freedom that a waist leash gives me as sometimes I need for my dog to be behind me and sometimes I need her in front of me. The waist leash gives her the ability to move in a position that is comfortable for her and me. Gear can be as simple as a stunt puppy hand's free leash or as technical as a full Canicross system with super light line and special release for emergencies. Some belts and leash systems have storage on the belt for water/poop bags/treats and can free up your pack for your own needs.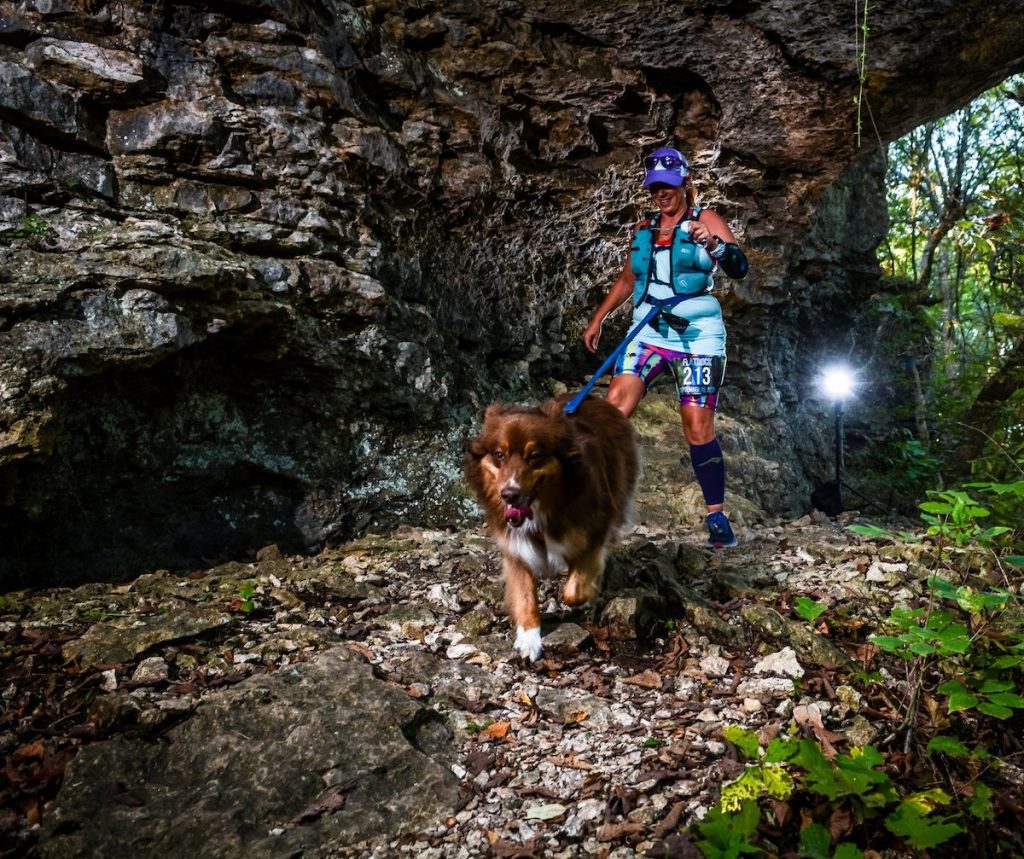 FIRST AID
Lastly, remember to account for canine first aid. I run with my phone always, so I can call if an emergency arises. I also carry an extra buff for making compression bandages or covering wounds till I can get to an aid station for help. Snake bites on the trail can happen in the spring and summer racing months, so be prepared with liquid Benadryl in the car to help with swelling reduction while you get your canine racer to the vet quickly. Please talk to your vet about dosage. Many companies make slings that are super lightweight and packable for getting your dog off of the trail easier than carrying them without assistance, so if you are on a super technical trail, this may be a must to bring with. As always with trail dogs, stay current on heart worm and flea and tick medicines, since exposure to all of these bugs are possible on the trails. Keep a copy of current vaccinations, especially rabies, in your vehicle in case you do need to make an emergency trip to the local vet. In areas where Leptospirosis is common, vaccinations might be needed to protect your trail racing dogs but remember, Lepto is a six month vaccination unlike most others that can be one to three years.
I have competed at most if not all of my trail races from ten milers to heavy marathons with my Australian shepherd Stella and am currently training her and I for a 50 miler. She has been great to help steady me during muddy runs and to keep my morale up on super tough runs. With proper training and attention to nutrition, body conditioning, and race day conditions, racing with your trail dog can be quite enjoyable and rewarding!
Feature Photo: Rocking K Marathon PC: John Knepper
Editor's Note: Though the author has a degree in animal science, please consult your veterinarian for advice and instruction when running or racing with your dog.