About a quarter mile up Three Gulch, a local semi-technical single-track trail here in Carbondale, Colorado, the rhyme, "Jack be nimble, Jack be quick," kept playing over and over in my head. My subconscious eludes to the reason being that's exactly how my body was feeling. Though I prefer the usage of Jill vs. Jack (hello, Trail Sisters), nimble and quick were perfect descriptions for my pace, strike and overall sense.
Taking inventory of why today's run felt more exciting than most, is easily chalked up to the new gear on my feet. I received a pair of the new Nike Air Zoom Pegasus 36, and couldn't wait to see how they would perform on the trails at Red Hill.
Upon taking them out of the box, the Pegasus 36 clearly received lots of thought and attention. The design, shape and details were created with care and purpose.
Starting with the upper, the material is smooth and breathable. Laminate overlays are kept to a minimum and are not placed over traditional flex points or hot spots. The tongue is slightly padded for comfort, and is actually a bit taller in length, providing added protection and helping to keep trail crumbs out of your shoe!
The lacing system and structure on the Pegasus 36 is probably my favorite feature. This is the area on a shoe that really controls the comfort and fit. It uses four independent cordelette loops, on both the medial and lateral sides. Since they are all stand-alone (and not fused together with an overlay), it allows for variance in lace adjustability overtop of your foot. Being able to adjust the "huggable-ness" from my toes to my heel is what provided me with that nimble and quick feeling on the trail. There was no slippage of my foot within the shoe when I'd bound from rock to rock or when I tested it on banked turns. The Pegasus 36 provided a secure, yet comfortable glove-like fit, which resulted in my eagerness to give a little more giddy-up to my pace!

Moving lower down the shoe to the mid-sole. Personally, I'm one of those runners that feels quite "thunderous" when I strike the ground. These American thighs know how to put a hurtin' on trail shoes, as I'm not a prancer, but instead a pounder. I'm generally sensitive to the underfoot feel, as I don't enjoy pokes from pointy little rocks. The Pegasus 36 employs a generous amount of their Nike Zoom mid-sole cushioning. Not so much that you lose underfoot feel or proprioception, but enough that you still have spring many miles in.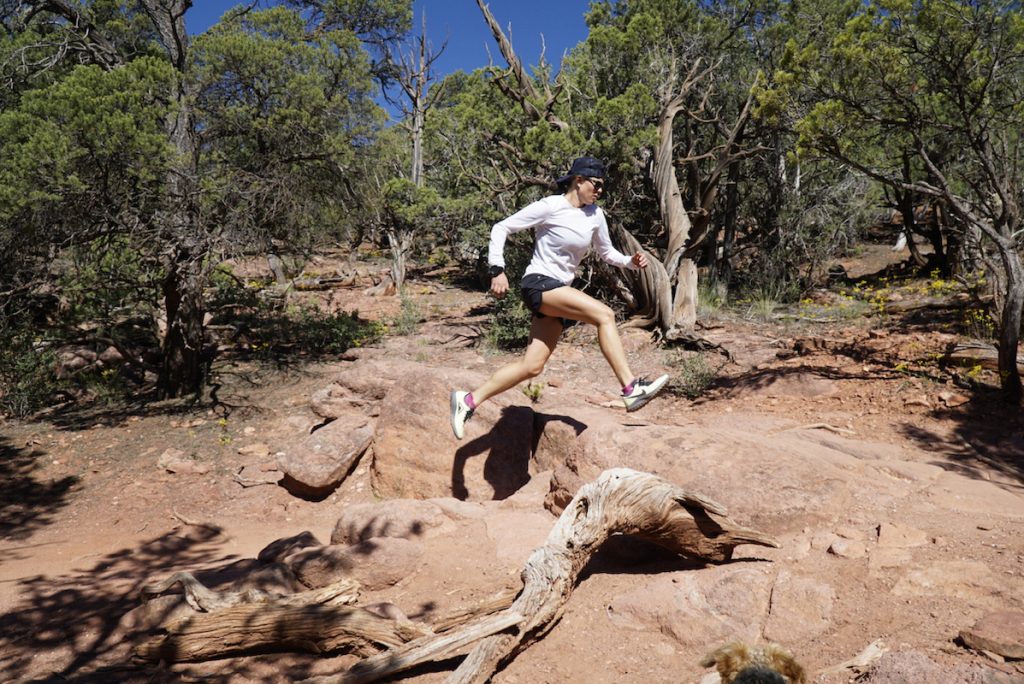 Shop Nike.com for Trail Running Shoes
Lastly, we reach the outsole. Being honest, I'm one of those people who love extreme tread patterns. The bigger and more aggressive the lugs, the better. I developed this attitude thanks to training on lots of loose and slippery terrain. The outsole is a perfect combo of both depth and aggressiveness for a variety of trails. Not too intense, but yet providing enough security that you don't have to think about your grip (lugs are 4.5mm). Red Hill contains multiple surfaces to play on, including buffed and buttery, technical rock and loosey-goosey ball bearings. I'm happy to report that I stayed upright and still have all of my teeth, thanks to the outsole traction.

It was a treat to test out the new Nike Pegasus 36. Though a shoe is a shoe, that piece of gear is vital in creating an experience that will either have you jumping at the chance for your next run, or instead looking for a new activity. I can definitely say that Nike's Pegasus 36 has stoked my motivation for tomorrow's run, and the upcoming weeks after!
Editor's Note: This content is in partnership with Nike.