Standing on the edge of Grand Canyon at 4:00 am, shivering in the chilly pre-sunrise air, we took one last quick breath before plunging down the start of the Bright Angel trail. It was happening. We were actually doing Rim to Rim to Rim. 48 miles round trip, with 22,000 ft of elevation change along the way. I had never attempted anything of this magnitude before, and I still wasn't sure if I was actually ready. I'd never even run an "official" 50 mile race and only one 50k. Maybe I was biting off a bit more than I could chew, but there was no turning back now.
As we made our way through the sweltering belly of the canyon, I couldn't help but think back to where I had been a year ago. Last May, I had been nearing the tail end of my training for my biggest race of the year: the Eagle Up Ultra 24 Hour race. It was my first "big girl" race since entering the ultra scene, and I felt like I had a lot to prove. I had spent countless hours slogging through my training, desperately trying to ignore the signs my body was sending me. I had been so focused on living up to my own ridiculously high expectations that I couldn't see the damage I had done until it was too late. I reflected on what that DNF felt like; the dark places my mind went while I was stuck in the med tent, unable to walk or even lie down without crying from the pain in my hip. The expectations I had put on myself, and the sheer amount of joyless training I forced myself to do in order to meet those expectations, had caused my mind (and subsequently, my body) to break down.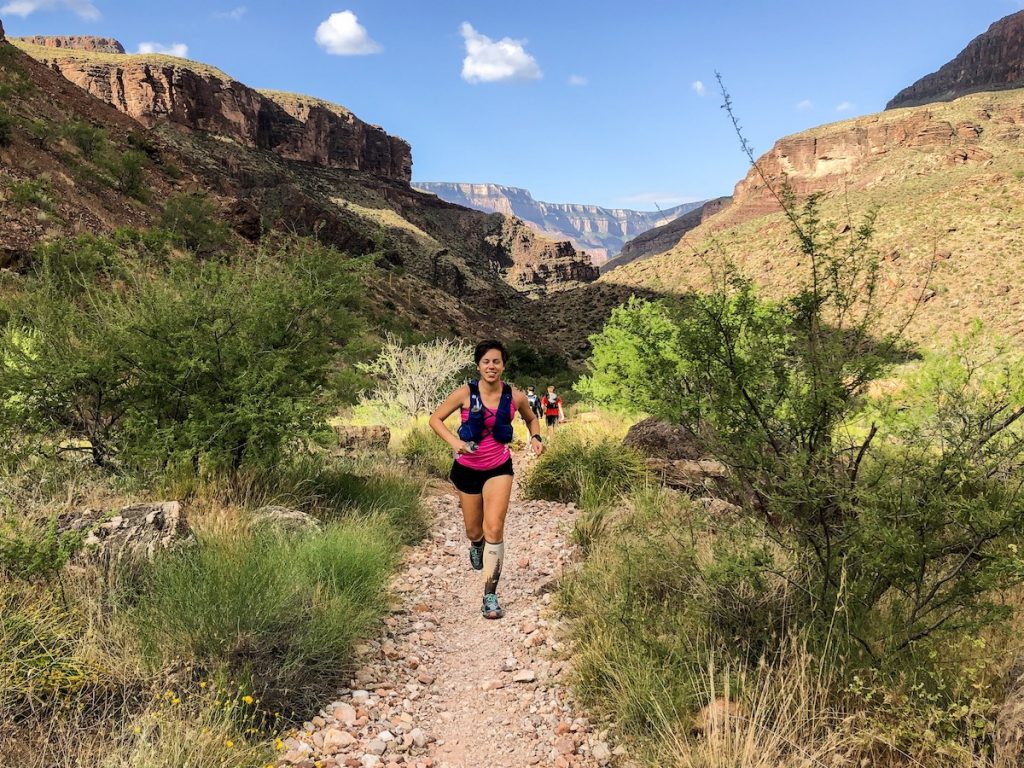 In preparation for this attempt to run the Grand Canyon Rim to Rim to Rim, I had done a complete overhaul of my previous training. My intense preparation for Eagle Up had all but killed my love for running. I was no longer running and racing because it was something I loved to do, but because I felt that overwhelming need to prove myself. After my catastrophic letdown at Eagle Up, I took some time to try to reconnect to the joy of running. I spent time hiking in the mountains, not worrying about my pace or Strava kudos but just focusing on enjoying the experience and marveling in the beauty of nature.
I returned to running by training for a road marathon, with one of my lowest mileage (and lowest anxiety!) training cycles ever. I avoided getting too serious about racing, focusing on using races as a way to interact with and appreciate the community atmosphere present at trail races. Instead of obsessively checking and re-checking my meticulously laid out training plan for the Grand Canyon and dreading each upcoming long run, I ran by feel (and incidentally, had more successful long runs than ever before).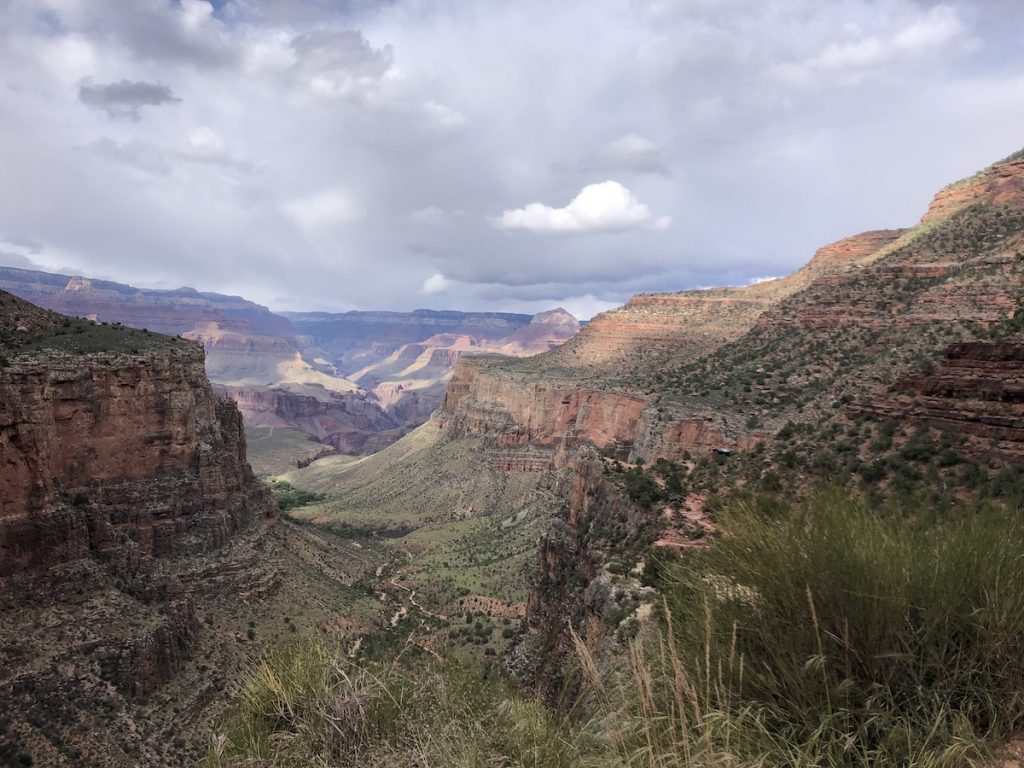 Attempting the Rim to Rim to Rim was the first time I could finally let go of all the pressure to perform and do something absolutely terrifying just for myself, to test my limits with no expectations. There was no medal, pint glass, or belt buckle waiting for me at the finish, and no competitors for me to worry myself sick about. There was no one at the start line telling me they expected me to win or podium, and no aid station volunteers updating me on how far ahead or behind the next woman was. It was just me, my boyfriend, and the canyon. Shedding the weight of all those expectations and pressure to perform was liberating. Doing a self-supported adventure run or any sort of big non-race endeavor is exhilarating in a way that no race can truly replicate. You can't rely on the motivation that comes from competition with others, and there's no one there to cheer you on when you want to drop out with 10 miles left to go. It's all on you and how badly you want it. There is no safety net, but that just means you need to learn to fly.
The canyon is a crucible. It will melt you down to your core, and strip you free of all your excuses. Doing Rim to Rim to Rim is difficult, no matter how fast or talented you are. By making the choice to attempt something that seemed so far above my capabilities, I was able to break past those self-imposed limits. All throughout my life, I've always felt like I was someone who would "wimp out" when things would get hard, and that I was a "quitter." My Eagle Up 24 Hour DNF had been another nail in that coffin, further proof that I was too weak for this sport. By completing the Rim to Rim to Rim, I was able to prove that voice in the back of my head wrong. I am not a quitter, and I can power through the pain and suffering and come out the other side successfully.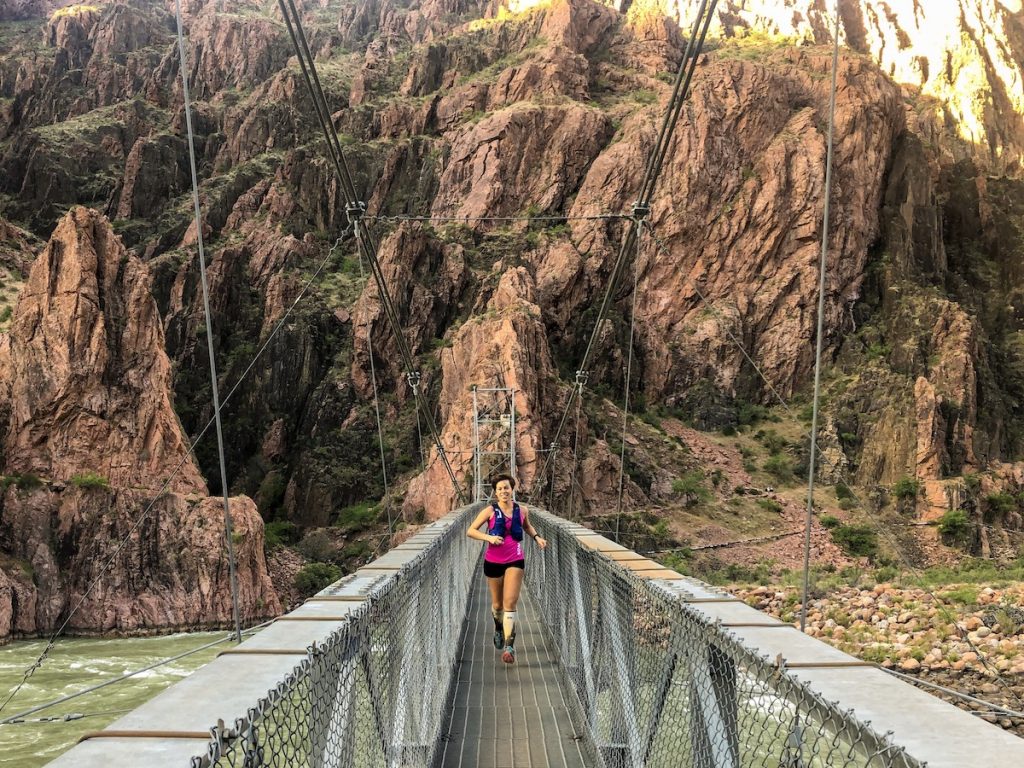 While taking a trip out to Arizona may not be feasible for everyone, I'd encourage anyone to attempt something similar if you're dealing with performance anxiety, race burnout, or just need an opportunity to reset everything. A personal challenging self-supported "adventure run" can truly be a catalyst for positive change, in running or just life in general. Making the conscious choice to step outside of your comfort zone and challenge your limits without relying on the motivational "crutch" of the race environment is incredibly empowering. Being able to push yourself while no one is watching or cheering will do wonders for your mental and physical capabilities, and will pay dividends at the start line of the next real race.