The eighteen year old me would never recognize the woman I have become. She would have scoffed at me. Too obsessed in her own life, to what others thought of her and where the next party was. These days, at 32 years old, the only line I care about is the one that will get me down the mountain. The shoes I covet most aren't heels, they're filthy smelly trail shoes. I live in worn out running shorts, my hair is tangled from being tucked under a hat for hours upon hours (days even!). I'm usually covered in mud, blood from a fall, and SWEAT…so much sweat! I'm not going to lie…I might've even peed down my leg! Let's get real here people, it happens!
This is my third year as an ultra trail runner, something that I obviously didn't expect myself to say, ever really. Not only am I a trail runner. But I've just finished my second hundred mile race. I also am currently living out my dreams abroad, in New Zealand of all places! Even my twenty nine year old self wouldn't recognize who I am now. You see, I am a small town Colorado girl, I've traveled but I've never moved away from home. I've never really been into sports. I've never really looked to achieve my own goals. In desperation, I began trail running to dig myself out of this pit of despair.
In failing at my first ultra attempts, I made some valuable friendships and sparked something within myself that I grew to love and knew I wanted to keep exploring. I came back around the next running season with a vengeance and finished what I had started. In the depths of the darkness of my hundred miles at Run Rabbit Run, I had a little secret. I had applied and been granted a visa to come to New Zealand for a year. It was in the middle of the night, looking up at the stars, that I realized I had to go.
Now it's always easier said than done. Life finds a way to…you know…get in the way. It's a significant other in your life, a work promotion, a death in the family, a broken car (for goodness sake's, just put oil in your car!). It seemed like I would never pull the trigger and make my dream a reality. Time was running out, I either used my visa or let it go. There was never going to be a right time, I was never going to have enough saved, the car might always be broken, and I would always be nervous and scared to do something for myself. So I decided to put it all out on the line, tell the negative voices to hush and take the chance! I bought my one way ticket on my 31st birthday.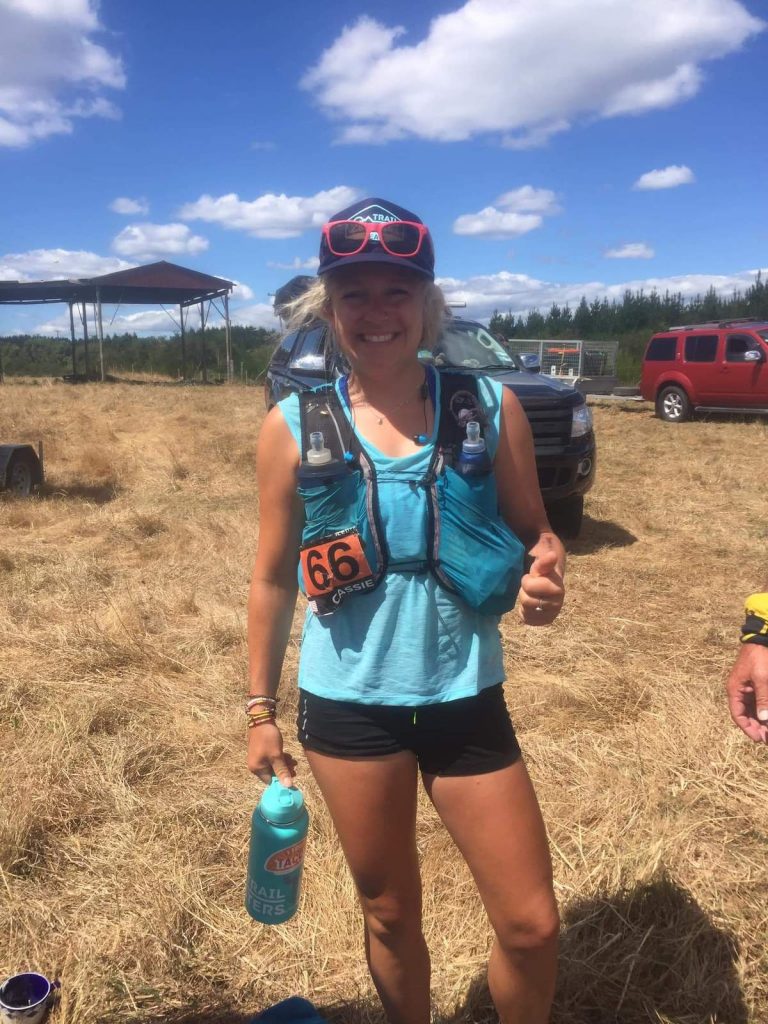 Now, I'm not the best planner. Most of the time I've been winging it. I knew I wanted to come to Wellington to do this race, the WUU2K. And that was as far as I got in planning to come down here. I really hadn't ran since my miler, I had lost interest and was too stressed to care. But I knew that by committing to a race down here it secured some sense of reality and goal. I probably could have secured a place to live first…but ya know, priorities! Thankfully, my friends had got me out on the trails again, and had supported me in my decision to leave home.
On the flight into Wellington, I knew I had made the right choice! I had a couple of weeks of free abandon, where I'd lace up my shoes and just run for the sake of running. I had no car, no job, no time frame, nowhere to be. It was amazing! I actually loved running again. Maybe it was all the extra oxygen…nobody knows! I figured the race would be a gateway to meeting people down here. Frankly, it wasn't that easy. Go figure! I needed to use Meetup and actually, you guessed it…met people!
It's always scary putting yourself out there, but I highly suggest you do it. I knew the WUU was connected to the local group, Wellington official Running Meetup (WoRMS). We all internet stalk people and groups, so don't lie cause I know you're going to do it later. It was joining WoRMS that made my unbearable lonely nights better with a sense of social-ness! It also connected me to lifelong friends, locals with all the trail knowledge and of course led to joining other run clubs…here's looking at you BSR! Ultimately through networking with these groups, it was also how I landed a job down here.
With the help of my new comrades, I had conquered things I didn't even know I could do. I started doing more local grassroots races and adventures. Usually involving me in waist deep rivers, trying to spot the next orange triangle trail marker. News flash: the New Zealand bush is crazy with its rooty forest covering the trails. Everything blends together in a shade of green. The mountain tops are exposed to the intense southern hemisphere sun and legendary wind. The backcountry is pretty remote. The weather is unpredictable! And the mud of the Tarauras, is unlike anything I've ever encountered. It's sole destroying. Literally. (See what I did there).
What I didn't expect to find by coming to New Zealand was a new sense of self, community and home (for real). I guess I figured I'd come down here, do all these crazy adventures, get those Instagram photos we all "see" and move on. However, as my time here is coming to a close, I get a little misty eyed thinking about all the things I've accomplished and how far I have come since I first landed. Of course, I have done a lot of adventures, and I have the photos to prove it, but what you don't typically show behind the social media channels is the struggle to get there. Golly has the struggle been real! The heartache of missing home, family and friends. The cold damp winter days and nights being alone when I first got here. The stress of not knowing your next move. Starting a new job that's not your version of normal and starting from the bottom, again. There's been plenty of tears shed. What a journey! But in all that, there's the good.
In a way I feel like I have been Benjamin Button(ing) my life the last year. I feel younger, lighter, more free even! I've never just stopped in the middle of nowhere and hugged myself more and danced around than I have here. Whether that's on a deserted beach, a tourist trap involving Hobbits, a trail that leads to nowhere or walking up the dreaded hill to my flat under a full moon. I give myself a squeeze and think I AM DOING IT!!! In all the struggles, I have grown stronger. I have learned to love the moments of being alone. I've laughed while silently crying as I put a rental car in a ditch that one solo road trip. I've been silently judged when I've been lost by sheep and cows, but by being lost I found a trail I didn't expect to find. By not having a plan, I've let that Wellington wind blow me into the unknown.
I always have a mantra for my races. This year for the Tarawera 100 it was of course from a Disney movie, my favorite, Moana…(fitting I know). It was also pretty hilarious screaming the theme song at the top of my lungs at 4:00am as the elites were warming up! Anyway, I digress! I always permanent marker the mantra onto my arm to look at when I've hit a low point. It read "Sometimes the world seems against you, the journey may leave a scar, but scars can heal and reveal, just where you are." I firmly believe this sums up my journey here. Through all the high ups and down downs, I know I am exactly where I need to be. Someone asked me when I first got here if I was running away from something, after a chat, the statement changed. Maybe that I wasn't running away from something, but maybe I was running towards something.