When we hit the trails and take in the miles of beauty and nature around us, we are in our happy place. Those steep climbs, fast straightaways, and speedy descents can feel like you are on top of the world. Sometimes it can also take a toll on our bodies. Muscle fatigue and joint pain can keep us from enjoying what we love. As a trail runner and a licensed massage therapist, I am familiar with this all too well. Massage is not just for recovery though; it is also a maintenance tool. There are some amazing benefits for trail runners and hikers through massage therapy:
*Increases flexibility
*Improves range of motion
*Helps get blood circulation back to compressed muscle tissue
*Reduces muscle pain and fatigue
*Reduces DOMS or delayed onset muscle soreness
*Speeds up recovery
*Reduces inflammation
*Promotes mental relaxation
*Lowers blood pressure
*Improves sleep
Sometimes as women we can put ourselves on the back burner when it comes to self care. We can let our role as mother, wife, daughter, student, or our career take center stage. We naturally want to be care takes to others, but how can we be good care takes if we don't take care of ourselves? How can we continue to do what we love without proper recovery and maintenance? Adding massage therapy regularly is a great way to take care of yourself and allows you to continue to do what you love with less pain and eased mobility.
There are many different modalities of massage therapy. How do we know which one is best for us? Here is a breakdown of some different types of massage that would be beneficial to trail runners and hikers:
Swedish Massage
The intention with Swedish massage is to improve relaxation and promote better circulation. Within Swedish massage there are five techniques used- effleurage, petrissage, vibration, friction and tapotement. These are all kneading and steady rhythmic strokes to encourage better blood flow to the muscle tissue and relax the body. It also reduces stress and helps relax the mind. This allows cortisol levels to drop and boost your immune system.
Deep Tissue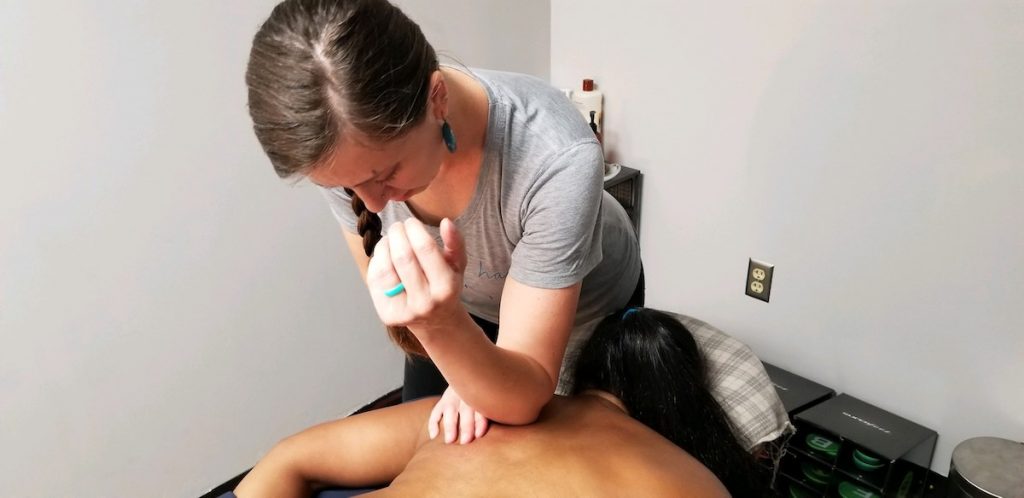 With deep tissue, it's all in the name! This massage goes deep into the muscle tissue to break up adhesions where muscles can tighten up and restrict blood flow. As runners we are always pounding our legs over some crazy rocky and rooty trails. This can cause adhesions in the muscle to form resulting in muscle pain and fatigue. The deep pressure breaks up the adhesion reaching deep into the connective tissue surrounding the muscle. This results in faster recovery, healing muscle tension and better range of motion.
Massage Cupping
We have all seen athletes in the Olympics and movie stars on the red carpet with large purple or red circles on them and thought, "What is that?" Massage cupping technique has been used in Middle Eastern and Chinese medicine for thousands of years. Traditionally glass cups are used and placed on the body over acupressure points to help with blocked chi. More commonly used now are plastic cups with suction applied using negative pressure to lift the tissue up and bring a healthy blood flow to an area of stagnation in the muscle. The increased blood flow helps repair the muscle fibers and releases tension. They also work great around hip and shoulder joints to promote better range of motion. This can also help relieve pain and discomfort from things like IT Band Syndrome, shin splints, and sciatica.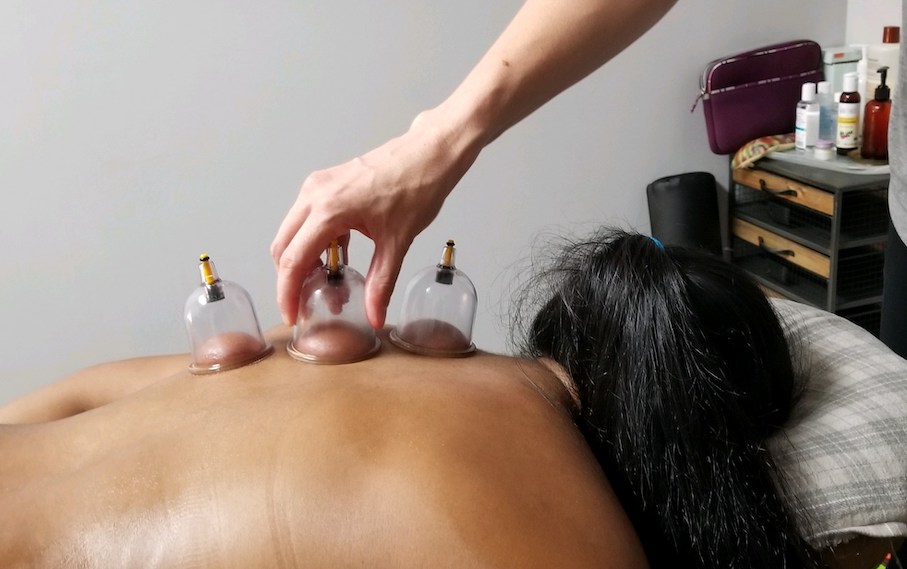 Sports Massage
Sports massage is a combination of both Swedish and deep tissue massage, plus added stretching to loosen joints and lengthen muscle fibers. This technique is a great maintenance tool while training for a race or for pre-race prep or post-race recovery. For event pre-race it's important to warm up the muscle tissue and make it more pliable, encouraging better stability and balance. Post-race sports massage is great for keeping DOMS or delayed onset muscle soreness at bay and reducing metabolic buildup in the muscle tissue. It can be a little intense, but you will feel like a new person at the end.
We all want to continue our passion of trail running for as long as our bodies will let us. Even when we are not taking in the beauty of nature when we hit the trails in our "happy place," we need to take care of ourselves. Massage is a great way to both manage joint and muscle pain and fatigue and to be more mindful. Self care is so important. You should do what you love free of pain, relaxed and ready to take on some serious terrain.