*Leigh is a 2019 Merrell and Trail Sisters Trail Run Adventure Grant Awardee.
It was 6:05am. The coffeemaker hummed as I scrambled eggs and my Mom quietly ate her usual yogurt and fruit. I heard a deep exhale as she poured herself a cup of coffee. She was nervous, but the healthy kind of nervous you get when you're are about to go outside your comfort zone. That feeling when you aren't sure if you can do it but you're ready to give it everything you've got.
It all started last spring when I saw Trail Sisters and Merrell had teamed up to offer adventure grants to six women. A burst of inspiration hit me immediately. My Mom and I must do this! We'd been dreaming of doing a mother-daughter adventure for years, and this was our chance to share an athletic goal, travel somewhere beautiful, and more than anything celebrate our mother-daughter sisterhood.
Our proposal was to hike the iconic 11 mile Crested Butte to Aspen route, up and over the 12,500 feett West Maroon Pass. We picked this route because Colorado holds special meaning for my Mom. To explain, I need to go back to 1966. My Mom was a freshman at Syracuse University and dating her high school boyfriend when she unexpectedly got pregnant. She decided to go through with the pregnancy and give the baby up for adoption, which in those days meant living in a maternity home. The cultural shaming and grief of giving away a child was heartbreaking for my Mom, as it was for many women of that era. What I learned from my Mom is this was not something you ever "get over," but instead process through forgiveness, self-love and resilience.
In the fall of 1967 at the age of 20 my Mom bravely began anew, enrolling in the University of Colorado in Boulder. She was drawn to the beauty of the mountains and went on to spend the first half of her 20s skiing, hiking and backpacking throughout the Rockies. (Eventually she moved back to the East Coast, started her social work career, met my dad, and had me, but that's a story for another time.) For my Mom, Colorado has always represented new beginnings, adventure, and possibilities, and we wanted to celebrate this with our mother-daughter trek.
Our adventure proposal was one of over 200 that were submitted so when we found out we were selected we were shocked and proud and overwhelmingly grateful. To put this all in perspective, when my Mom was growing up in the 1950s she wasn't even allowed to play sports like the boys. At that time none of the girls were. This was before Title IX. Before Kathrine Switzer at Boston. Before Billie Jean vs. Bobby. Before the 1999 Women's World Cup. And most certainly before Venus and Serena. Now, at the age of 72, a global athletic brand like Merrell was investing in her and Trail Sisters was giving us a platform to share our story. It felt like we were all reaching new athletic heights together.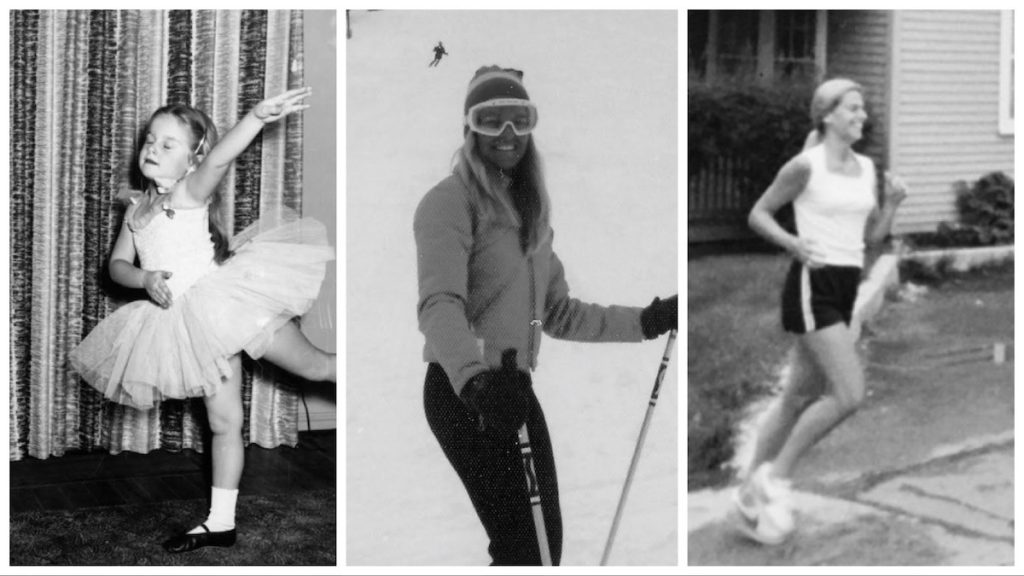 And so began weekly calls with my Mom where we went over all the ins-and-outs of training, gear and recovery. Because here's the thing – my Mom's very tenacious. When she sets her mind to something, particularly a physical challenge, she's determined to see it through. Her life is peppered with athletic accomplishments in hiking, running, triathlon, dance, tennis, yoga, you name it. My Mom loves to move! At the age of 72, she approached training for our Colorado trek with the same enthusiasm and determination as always. Training began in April, slowly building up mileage week by week. She hiked through rain storms, toe blisters, and East Coast mud season, all the while discovering the healing powers of a good foam rolling session.
Several months later, we arrived in Crested Butte ready for our big hike. But unfortunately the trail wasn't ready for us. The area was hit with record levels of snow over the winter and much of the trail was still covered in avalanche debris and snow. Our original plan would require many hours of post-holing and route finding in the high country. I'd had enough experience with type 2 fun to know that I did not want to sign my mom up for a sufferfest. So, after scoping out several alternative routes, we decided to go with Plan B – a glorious 10 mile loop near Crested Butte that offered a tour of the mountains and wildflowers. The trail was at 10,000 feet so we called it our "10 for 10."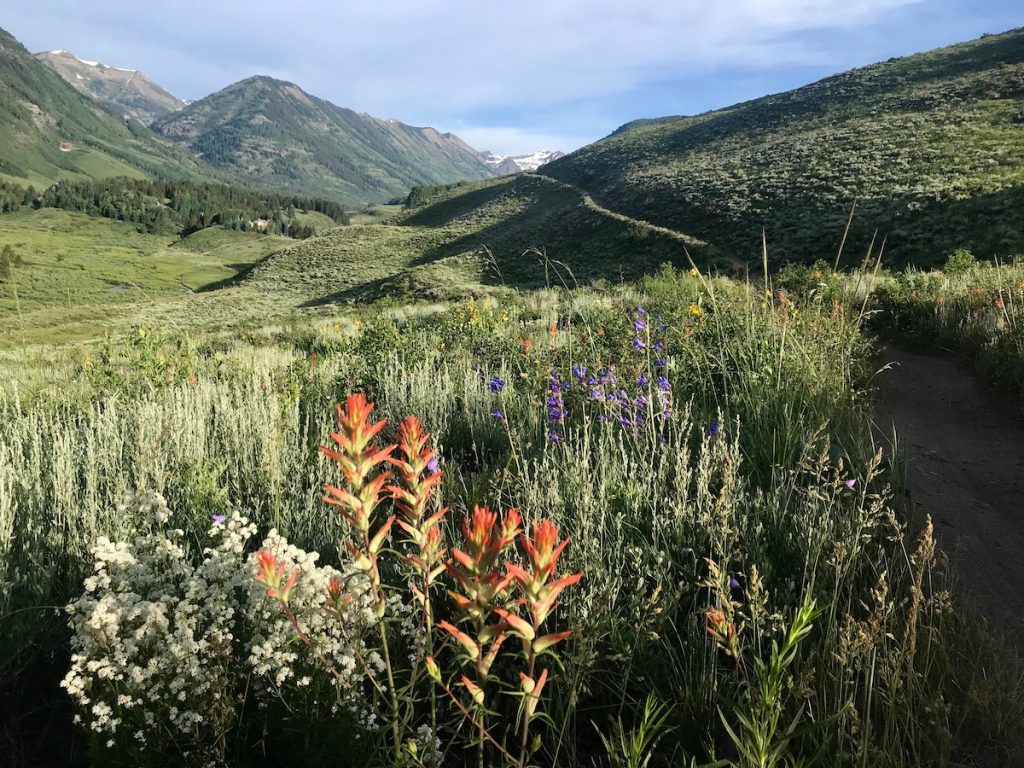 We began our trek shortly after 6:30am on July 25. My Mom's nerves had settled, and as we took the first few steps I could feel our joint excitement and anticipation. The sun slowly began to rise and flood the valley with golden light. For the first time all week a sense of ease and confidence set it. We were doing it!
Ask any of my Mom's many friends or loved ones to describe her and I guarantee fun-loving will come up quickly. She isn't shy about enjoying life. She pursues it playfully and whole heartedly. In other words, she's exactly the kind of person you want to spend six hours with alone in the forest. As we made our way along the ridge we laughed, shared stories, played word games, and of course commented endlessly about the gorgeous scenery.
The first few miles featured spectacular wildflowers and single track trails I could happily hike on forever. About four miles in we entered a grove of aspens and began a steep switch-back filled descent to the river. At the river we celebrated our more-than-halfway point with PB and honey sandwiches and my Mom started a conversation with a woman nearby. Give my Mom five minutes, and she'll make a new friend. As they chatted, I soaked my feet in the river and watched my Mom in her full glory.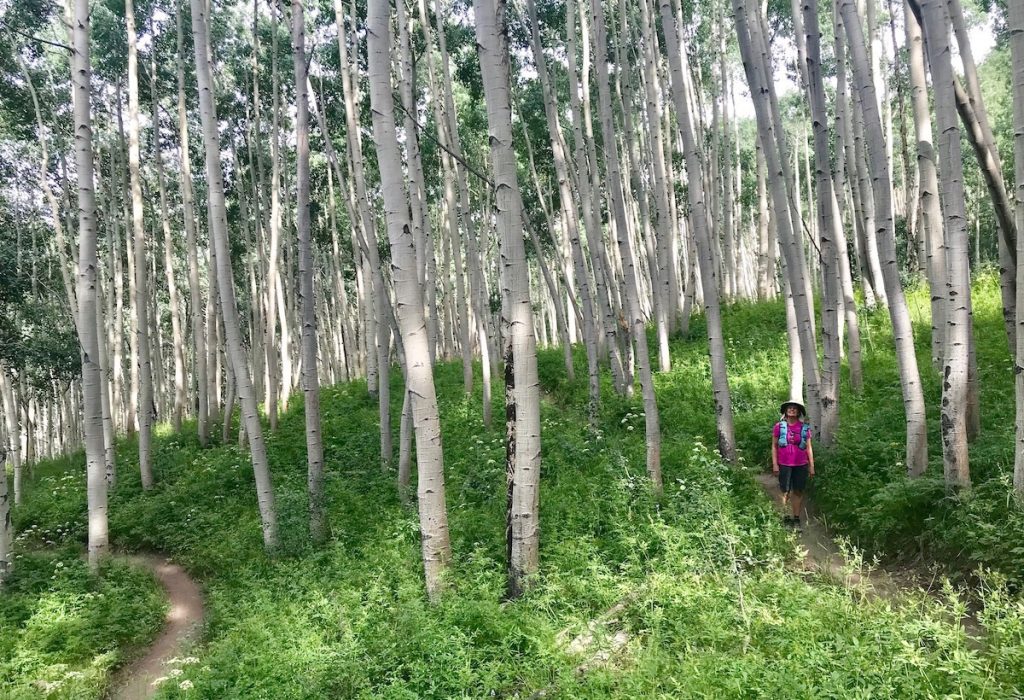 Over the years I've learned most from my Mom just by watching the way she's lived her life. She ran weekly for 50 years, showing me how to have a healthy, lifelong relationship with running. She surrounded herself with strong, compassionate, fierce women, showing me how to nurture female friendships. She built a career of helping people through the toughest moments of their life, showing me the impact of doing work that matters. And of course, she knew how to dance like no one was watching, showing me how to love the skin you're in. I could spend all day relaxing by the river reflecting on many more cherished lessons but we had a hike to finish.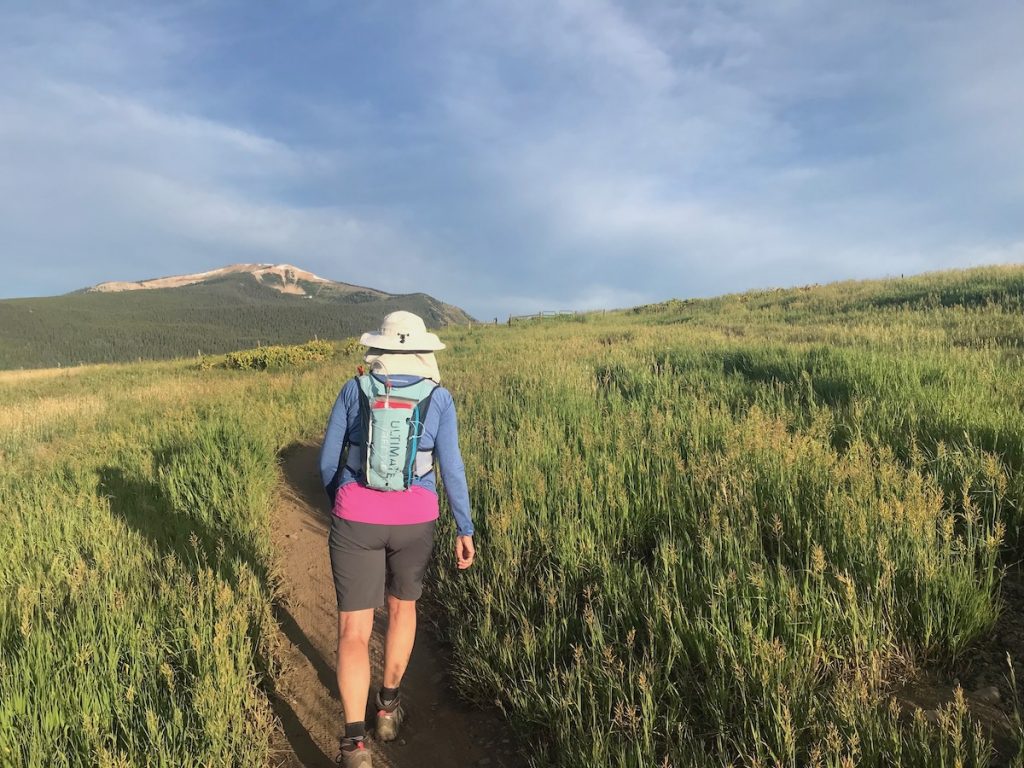 Our energy was low as we made our way back to the trail and began the climb up. Climbing at 10,000 feet takes a heavy toll on the body and at this point all the adrenaline from the morning had worn off. I could sense fatigue was setting in for my Mom. I offered words of encouragement and reminded her this was the toughest climb of the day. Later she would joke this was literally the last thing she wanted to hear 7 miles in! As the sun beat down on the exposed trail I looked for any bit of shade where she could take a quick rest. We began alternating – 20 minutes hiking, 5 minutes rest. A determined yet still joyful look was on her face and I knew we would finish the route. The spectacular views and wildflowers continued to pull us forward along the trail. One mile to go!
As we made our way down the final descent into town, I felt a familiar sense of shock, pride and gratitude that started this journey months ago. Shock for how lucky we were to be healthy, have each other, and be surrounded by so much natural beauty. Pride from how bravely my Mom had completed this physical challenge. And gratitude for our relationship and all that she had taught me today and every day. One thing I know for sure – I'll never be too old to learn from my mom.