Winter is on its way, and the elements have already arrived for some. Rather than hibernate through the season, let me give you some ideas on winter traction that will hopefully motivate you to get out there and roam around before the spring buds begin blooming.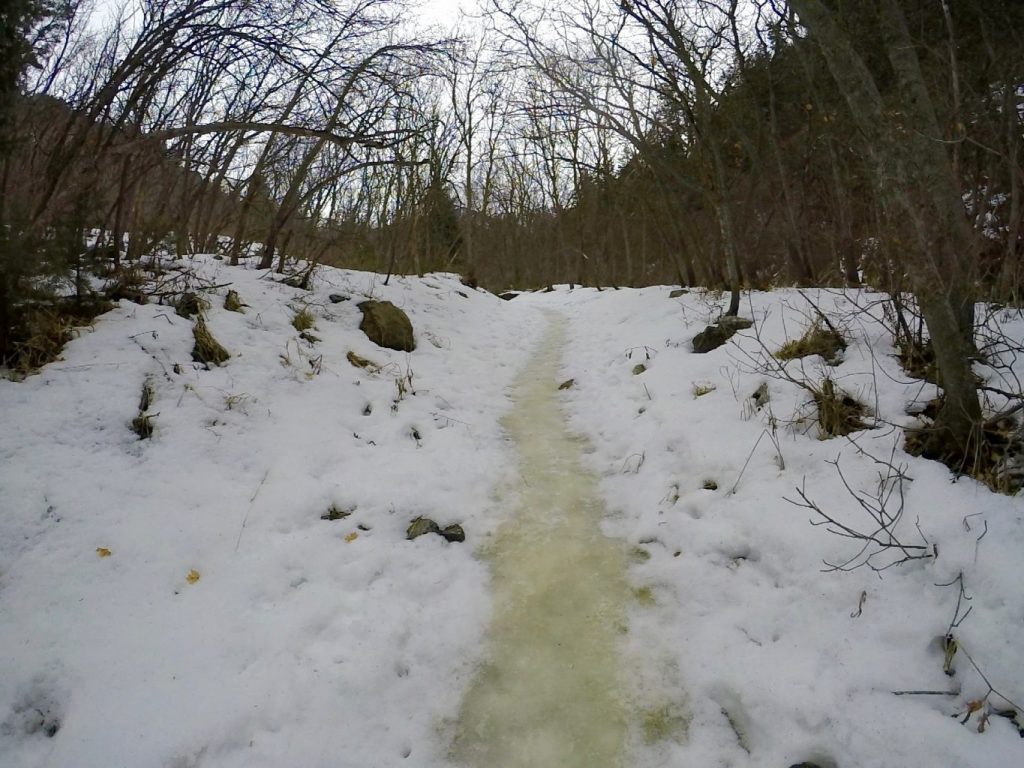 I am gonna lay out a few things to think about when running in mixed terrain: lugs, screws, spikes and love. Please keep in mind that these things I'm sharing are based on my experiences and opinions only. You need to be mindful of the places you go, changing weather and maintaining the proper equipment.
How are your LUGS?
This time of year, we are all pretty familiar with the type of soles we have on our shoes. Another word for the grippy bumps on the soles are lugs. Good trail shoe traction begins here. With trail shoes, you want to look for diverse lug patterns that can provide solid grip and stopping power at any angle. Usually the lugs will look shallow and will offer traction on packed soil. I can say confidently that most mainstream trail shoes will offer these benefits without the need for too much analysis.
I think where we lose the magic on our lugs, is wearing our shoes for too many miles. Have you inspected the bottoms of your shoes lately? Turn them over and give them a quick check. If those luggies are worn down with obvious wear or appear uneven from the other lugs, it's time to put your money in a new pair of kicks. Most trail shoes should be re-evaluated between 250-300 miles of use. The cushion in select brands can sometimes last a bit longer, but we are taking about lugs. Those will rub down considerably regardless of the inside cushion. This is important because you need to have equal reinforcement with each stride/step and most importantly, good traction.
What are shoe SCREWS?
Many people can run all winter through snow, ice, and crusty junk without any traction at all. That's just fine. Not me. I like to continue to push my training, which in my comfort zone, creates the need for extra grip. When I started trail running and the fall turned to winter, I remember a few friends sharing their love for various shoe brands that actually had screws in them for winter training. I was always too cheap to buy a "winter running shoe" and I did not want to change from the brand or model I was already very comfortable running in. Another concern, how in the world could I run miles and miles with screws poking in my feet? How completely uncomfortable would that be? All those thoughts and questions just sat in the back of my head that year while I slogged out through the snowy months in coiled traction. Coiled traction was fine, but I almost felt like I was convincing myself to like that option because I didn't know about anything else. Then, about three years ago, I found answers to each of those questions.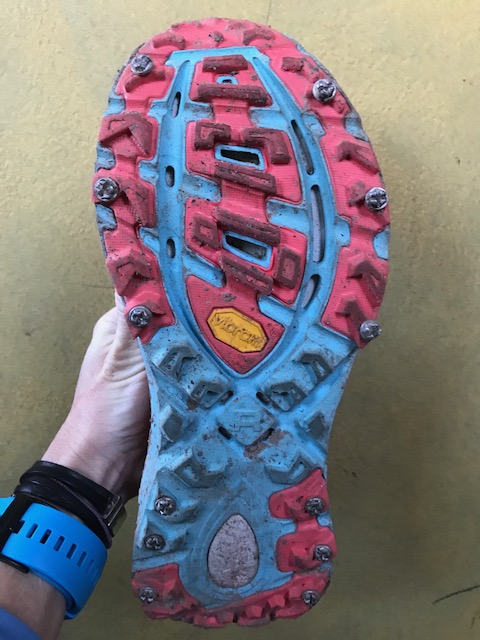 Shoe screws are more commonly known as sheet metal screws and can be purchased at most hardware stores or Amazon. Buy the 3/8 size screws. You don't want them too small – they won't grip, or too big – you'll get poked in the foot. These have a "hex-head" with a lip on them that allows for easy gripping on the ice and snow. More importantly, keep in mind that the sharp end is inserted into the bottom of the shoe and this "hex-head" is what will then be the stable traction. There is no right or wrong pattern to placing the screws. Apply the screws generously in the top and bottom part of the shoe. (I tend to have 14 or so in each shoe.) These can be added with a screwdriver or drill. Just put them in until the head of the screw meets the rubber. Sometimes these will fall out over time or use. I typically just add a new one in right where the old one fell out. Some people pre-lube the screws with super glue to ensure that they stay put for the long haul. Great idea, however, as the snow melts, I like to keep my options open to continue to use the shoes again without screws.
You can add screws to whatever shoes you are wearing. They are cheap and effective on ice, snow and crusty melted junk. Directly screw into them into the outsole lugs, not beside or in-between the lugs. You can climb up snow packed terrain with confidence and even better, run DOWN. And, the most important feature for me, you cannot feel them and you are not carrying extra weight in your shoes. Personally, on packed snow and mixed snow/dirt terrain, I feel very comfortable and can go at typical "training pace" wearing spikes.
I buy my shoe screws from goatheadgear.com. These 3/8 "sole spikes" come in a container of 30 with a insertion tool for around $25. Use the code TRAILS2018 for 20% off. These screws do not only have the one lip for traction pick up, but several to ensure a tight grip.
You Want Me to Use MICROSPIKES?
Me: Yes, I do.
You: But, you just said that shoe screws would do?
Me: That's true, they will… almost all of the time.
You: You're saying that I should have both?
Me: That's correct!
I am going to specifically talk about Kahtoola MicroSpikes. These handy traction devices have ten spikes for each foot all connected by a series of chain links. Then, these links are connected to a rubber "shoe harnesses" that you very easily stretch over your shoes. You just keep these in your pack for when you encounter challenging terrain, and off you go.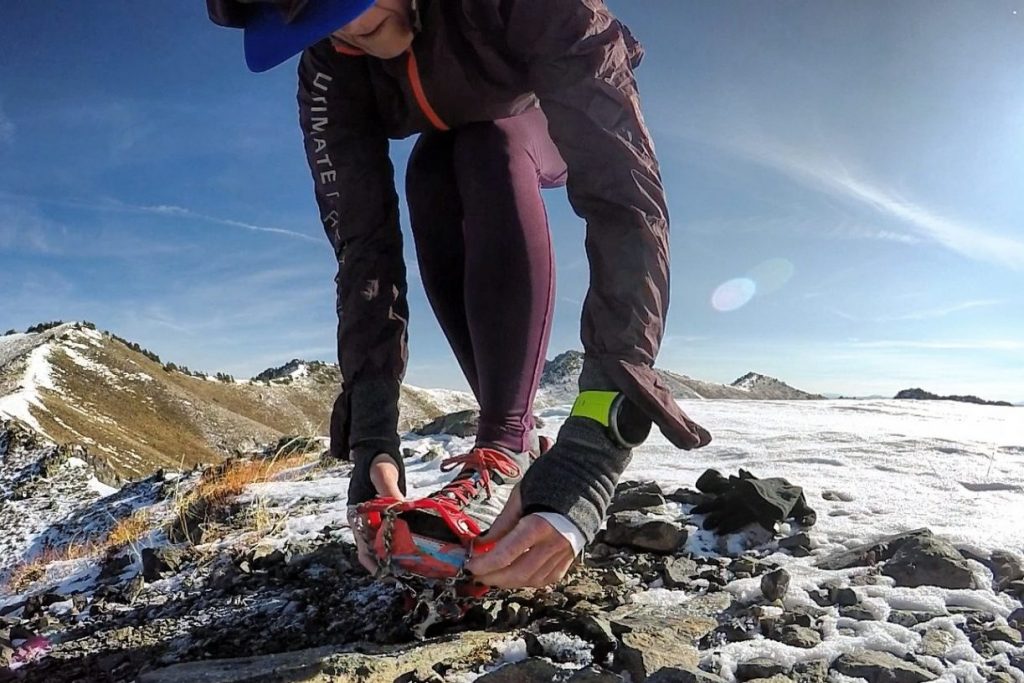 These are a must for the "shoulder" seasons or in-between weather. For example, I went running up a local peak this morning. The trails were mainly dry and clear of snow around my home, so I had no need for using my shoes with screws. Not knowing the condition of the mountain where I would be running, I threw my spikes in my pack in case the trail got dicey. When that time came, I simply put on the Kahtoolas and continued to move easily over super icy slopes. Sometimes, I will carry them and place them on OVER my screws if the conditions warrant that extra traction. They are a little heavy on the feet, and sometimes can collect soft snow and build up a little bit in-between the chains and the sole of your foot. Overall, they are the best solution to a running shoe cramp-on.
You can buy these in multiple sizes and either red or black. They are available at REI for $69 and are easy to find at other online retailers or local gear/outdoor stores.
Love
This should not be a surprise to you, I really love running. Before I even thought about testing and trying out all these options, I felt banished to the treadmill for the cold months. Slowly, I began to learn the little tricks of the trail and figured out how runners could keep at it year round. This information I am sharing might be a lot to take in, but I assure you that you can run safely through the drab months and see that they are not so bad at all. Bring back that loving feeling to your runs and find the traction that suits you. Please feel free to reach out with any questions or concerns you might have. I would love to help. Hope to see you out there!