*Amal is a 2019 Merrell and Trail Sisters Adventure Grant Awardee.
Defining "home" is no simple task, with its seemingly transient fabric in the modern age that leaves many of us with a deep-rooted yearning for belonging. I was raised in Dubai to Syrian-Lebanese ex-pats who later immigrated to the US in support of a more secure and thriving future for my sister and I. I ultimately found home in the picturesque city of Seattle, juggling a passion for alpine adventures, biomedical research, and coffee-fueled conversations. Seattle had all the elements I longed for in a city, and while it by and large fit my current identity, it fell short of unveiling all aspects of my personality. The dramatic behavioral change upon relocating at a young age had encumbered my ability to distinguish between traits ingrained early on from those merely acquired over time. Are my motives and actions in life inherently biased by my genetic makeup, upbringing, and life's copious inflection points? And underneath all of that, is there anything left behind that is just "pure me?" Do I have a say at all, and if so, to what extent? I felt lost, like many others out there, continuing to reenact different identities per circumstantial needs.
I ran. I ran on concrete and asphalt, reveling in the trance of the monotony that magically made it feel all better. When that wasn't enough, I just ran some more. I gorged on the rush from the ever-increasing mileage and speed. Running had regressed into an emotional sprint away from a reality that had, for a while, felt far from real. The escape was ephemeral, physically and emotionally, and was soon after thwarted by overuse injuries, fatigue and depression.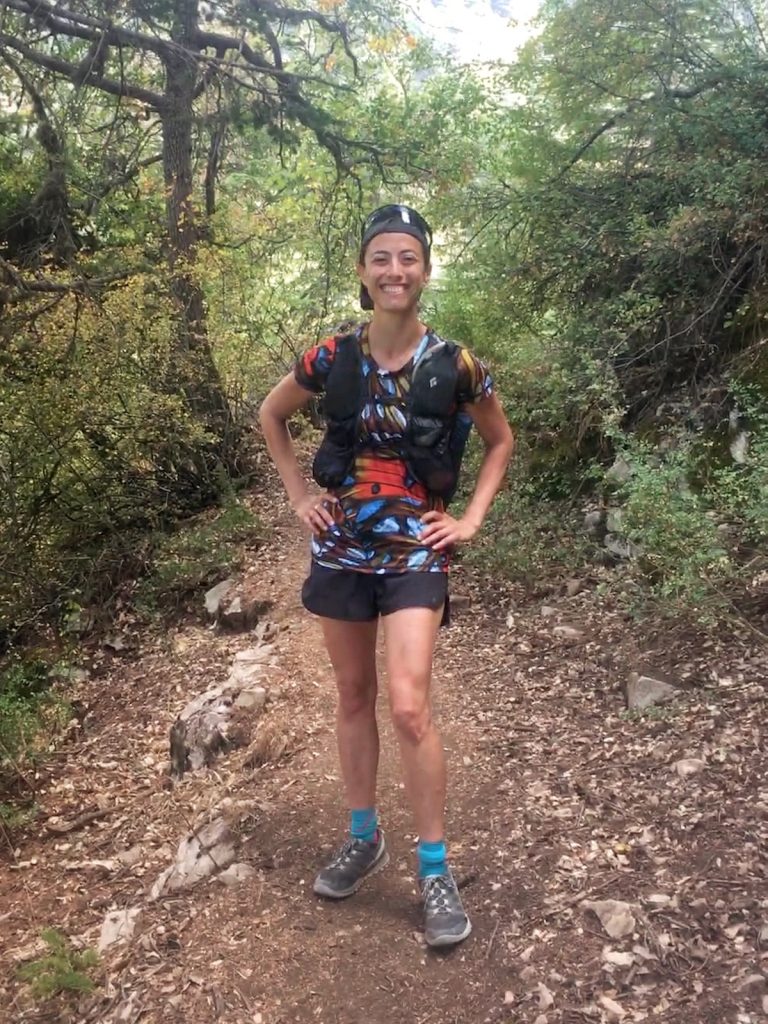 So I hiked. I hiked along Narnia-like trails, sifting my hands through tall lush plants and flowing mountain streams while smiling to the chirp of hoary marmots, the prance of mountain goats, and the giggle of passing humans. The goal-free solitary adventures in nature helped me re-contextualize running—now a powerful means of connecting with myself, others, and surroundings.
I picked up trail running. I trail ran because it readily unfolded all aspects of my personality—known, concealed or simply forgotten—thereby helping me resume my one true identity. Emancipated from this inner turmoil, I had grown more capable of fully relishing the moment at present. The futile escape through running was no longer an option.
With this newfound appreciation for running, I began contemplating a running pilgrimage in the Middle East—a place that brings in an extra dimension to the experience with its intersection of time and culture. It is also the place I had always viewed as my true home. I had heard of a 470-kilometer trail in Lebanon that was designed to showcase the region's rich natural and historical features while traversing along rural mountain village routes. The Lebanon Mountain Trail (LMT) was the trip of my dreams. And with TrailSisters' support, I was able to live it.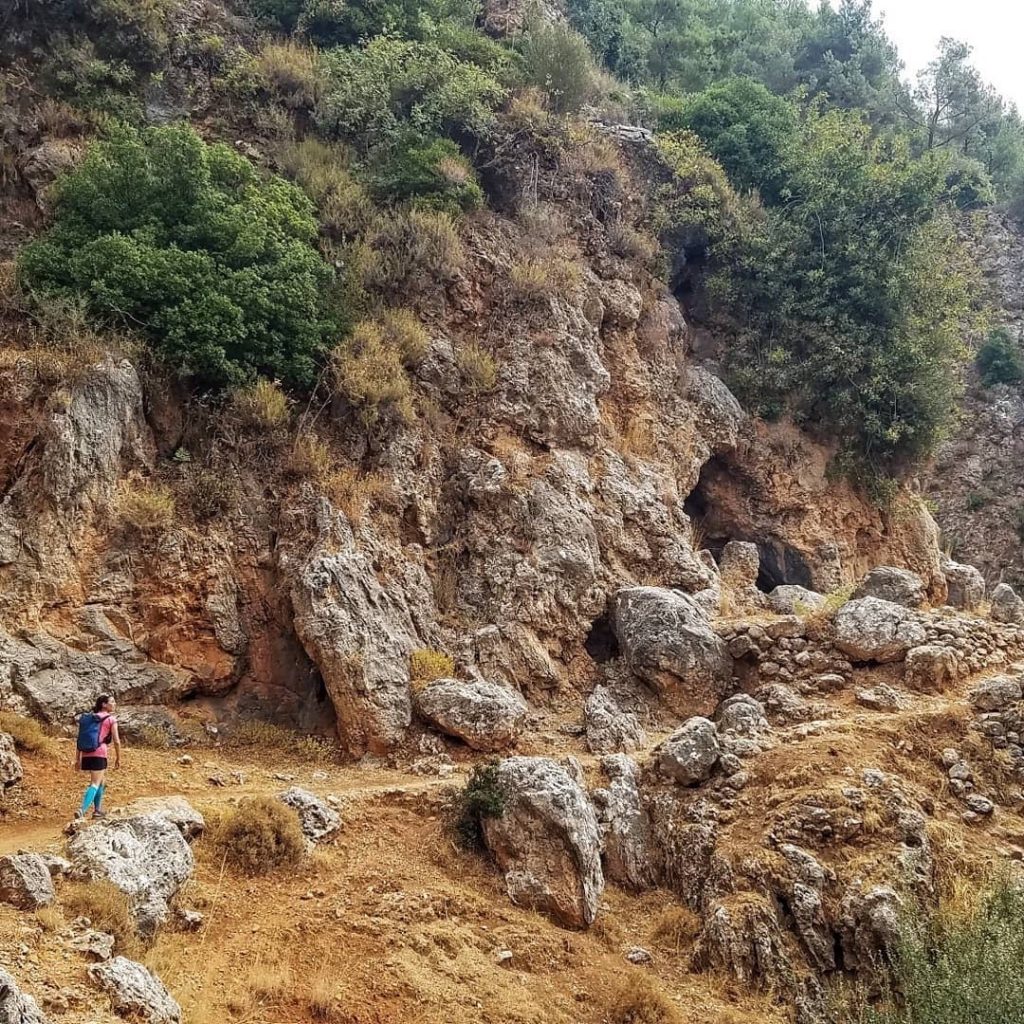 The plan was to run the whole way. And run is of course code for "assume whatever jog, shuffle, and crawl form to make it through." I began training with Megan Roche so I can physically prepare for the 27 trail segments of varying terrain and 20,000 meters of gain. I trained "smartly," carefully increasing the frequency and length of my runs in hope of getting back to the 55-70 weekly mileage I abided by before the dissertation madness began. My asthma, however, worsened over the summer and the numerous clinical visits made it clear that running would yield more damage than good, at least for the time being. This was not my first rodeo, so the change in plans was not as difficult to adapt to. After all, the trip was beyond a simple run. I talked to loved ones and decided to continue on to Lebanon so I can get a sense of the overall experience, scout out the route, and work out the logistics for a near-future return. I got especially excited when I found out that my dear friends Kathleen Egan and John Fiddler were also headed there. We decided to meet in Beirut in October so I could join them for the first few sections of the LMT.
Day 1 — Off-trailing when on-trailing isn't an option.
After a 3-hour cab ride from Beirut, we made it to Andqet and were ready at the trailhead for an early afternoon start. The first few sections of the LMT were mostly unblazed (unmarked), so we heavily relied on the GPS track we had gotten from Avedis Kalpaklian, an avid outdoorsman renowned for the LMT's first documented run. The trail passed through wide valleys of dense pine forests and cultivated lands. Unrelenting in our focus on precisely aligning with the track, we ended up doing a lot of bushwhacking. It was stickers, prickles, thorns, or sprines… take your pick! John giggled most of the way, as this brought back memories from his recent circumnavigation of Mt Baker. The off-trailing made for some bloody sexy scratched up limbs, perhaps more so in my case with my sleeveless top and skorts and inexplicable eagerness to aimlessly climb up and down rocks.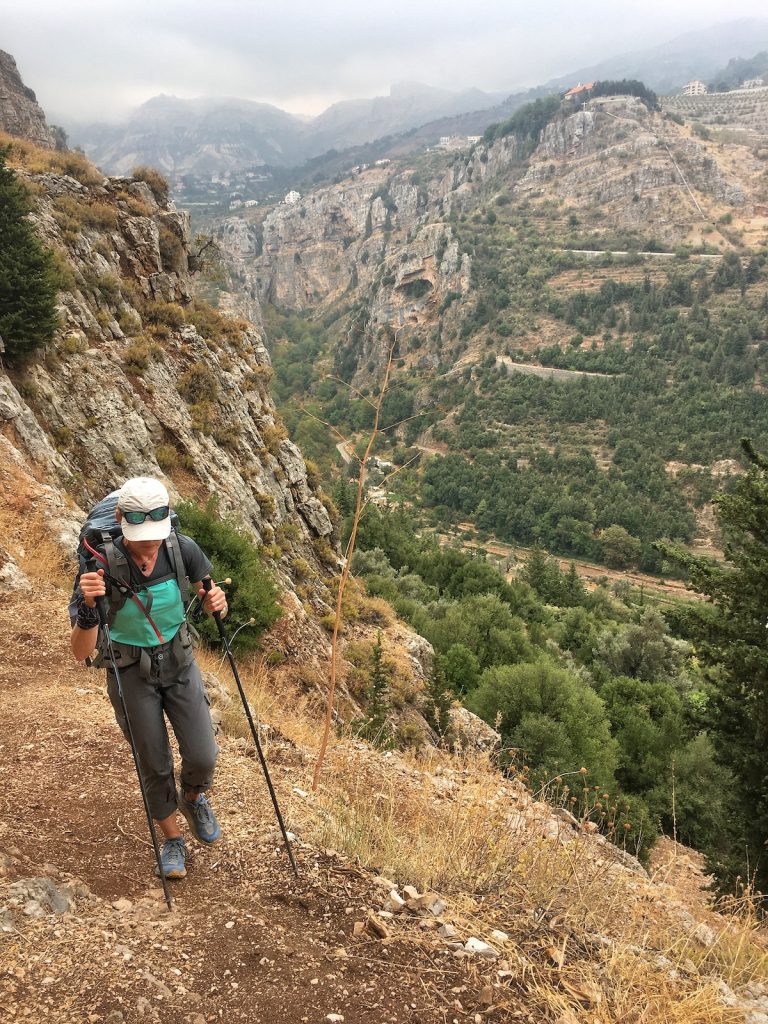 We eventually managed to make it back onto the main path but in the process had run out of daylight. We stumbled upon the Jabalna Ecolodge and discussed potential next steps with the owner and other Syrian tourists while sipping "gahwah," a regional coffee traditionally served to welcome guests. We could either spend the night bundled up outside with the little clothing we had on or catch a short ride down to the one local hotels with available accommodations. Unphased by this nomadic setup, we decided that the latter option was a bit more appealing. So we dropped by Hatbe W Nar for some delicious clay oven-baked tannour bread and barbecued "mashawi" and then crashed in our room in El Qoubaiyat.
~15km in…
Day 2 — Experiencing the genuine hospitality of The Levant.
We headed out early next morning, making our way through forests of pine and fir with the occasional church ruins. The exposed trails and broad swath of open land that followed reminded me of my trail running days in Southern California. That's where my trail running love affair had truly begun. We lost a couple of hours to navigational errors but inevitably found our way to the village of Tashea. Cruising along the final stretch of pavement, we overheard a family shouting "hawlo," or come on over, from the balcony. Their overly excited cheers were hard to resist, so we agreed to join them for afternoon tea and fruits. This quickly led to open-fire cooking and a lovely sunset deck chat about life in the village, the Yaghi kids, and a future trip to the US. They insisted on us sleeping over, clearing up all beds and leaving us figs to nibble on as they headed over to the neighbors'. Their unconditional trust was something we don't often encounter in our lives and was absolutely refreshing.
~35km in…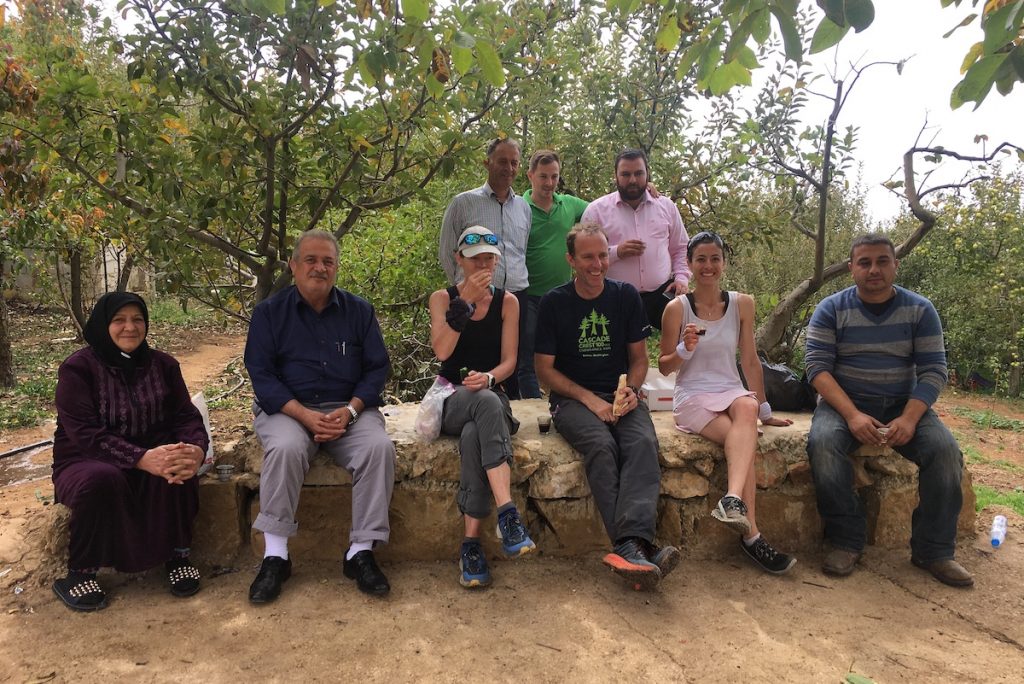 Day 3 — When there's never a dull moment.
We woke up early, just in time for a lovely breakfast spread made of "zaatar" (a flavorful spice blend), "kishk" (cracked wheat fermented in yogurt), and "akkawi" cheese. After saying goodbye to the family, albeit with heavy hearts, we headed back to the trail. A short cliffside hike was followed by a flat stroll along the plains of El Qammouaa. Every household we passed urged us to grab apples from their land to fuel with. Shedding weight from our backpacks was not an option, but the overwhelming love we encountered throughout made that less of a priority. With rapidly increasing temperatures, we opted to break right before a construction site on the trail. We were joined by one of the workmen, but the casual conversation shortly revealed his ulterior motive. Kathleen and John were able to quickly react and limit the extent of his physical interaction with me. While no real harm was done, this incident reminded us of the need to stay attentive to warning signs regardless of how safe our surrounding environment was or appeared to be.
We continued on to El Ouyoun and then began a downhill hike, overlooking dramatic cliffside vistas, towards Wadi Hakl El Kherbe. Experiencing this was surreal, as we stumbled upon a less frequented terrain that remarkably remained unscathed by developments of our modern world. We went through the lush green valley and after a few river crossings made our way to the picturesque village of El Qemmamine. We briefly hung out with Abu Mustafa, a village elderly who was keen to share more about the off-grid setup and the peaceful life of solitude they get to embrace in this desolate mountain region of Lebanon. With only one paved road connecting it to the rest of the country, El Qemmamine is certainly a village to romanticize about. Seeing our famished state at the time, our hostess at the family-run Wadi El Zouhour guesthouse served us "makdous" (pickled stuffed eggplant in olive oil) and "batata w bayd mfarakeh" (Lebanese version of potatoes and eggs). We ate, cleaned up, and headed to bed straight after.
~60km in…
Day 4 — When a hiking path includes any and all surfaces.
It was a pre-dawn start, with two sections ahead of us this day. We began our steep climb out of the wild and rocky Wadi Jehannem, the Middle East's deepest Valley of Hell, traversing verdant old-growth forests and discussing prime life topics (yes, coming up with suitable regional trail names counts). We had now surpassed the unique and unadulterated region of Akkar. We slowly made our way to Wadi Sirri, coming across a flock of goats joyfully prancing around a natural spring of flowing cool water. The climb continued on to Tallet Hankoufa and we couldn't help but revel in the ever-changing topographic canvas that was garnished with an equally varying and rich history. We maneuvered through clusters of abandoned ruins and then headed towards Kfar Bnine to wrap up the first half of today's hike. This was our first mini-market encounter, which of course made for a great excuse to load up on yummy sugary snacks.
The following section of the trail mainly consisted of mountainside irrigation canals and minor cable crossings. Guaranteed soaked feet, we still had the freedom to pick our preferred traverse strategy: either do the occasional slip-n-slide or hold on to nearby thorn-bearing plants. The laughs were unceasing, along with the celebratory and welcoming trailside encounters with locals. We finished off this section of the LMT with breathtaking sunset views of Bqaa Safrine and then hitched a ride to our hotel in Sir El Danniyeh. We were the only guests in an otherwise abandoned multi-story hotel, so I had a perfect setup to leverage for catching up on work. Obsessed with research work, perhaps unnecessarily so, I had managed to stuff my laptop in the little fastpacking vest I had on.
~85km in…
Day 5 — A striking and unexpected dichotomy of barren land and lush greenery.
A short ride back to the trailhead and off we go. The frequent sighting of shepherds herding livestock was accompanied by the ferocious barking of guard dogs ready to lunge at a moment's notice upon sensing an intrusion. That's when we discovered an alternate use case for trekking poles—to fend off unexpected dog attacks! I was pole-less and admittedly scared as we headed out towards the remote desert fields. The midday blazing sun was implacable, beating down on us as we clambered along in search of shade and natural springs to refill from.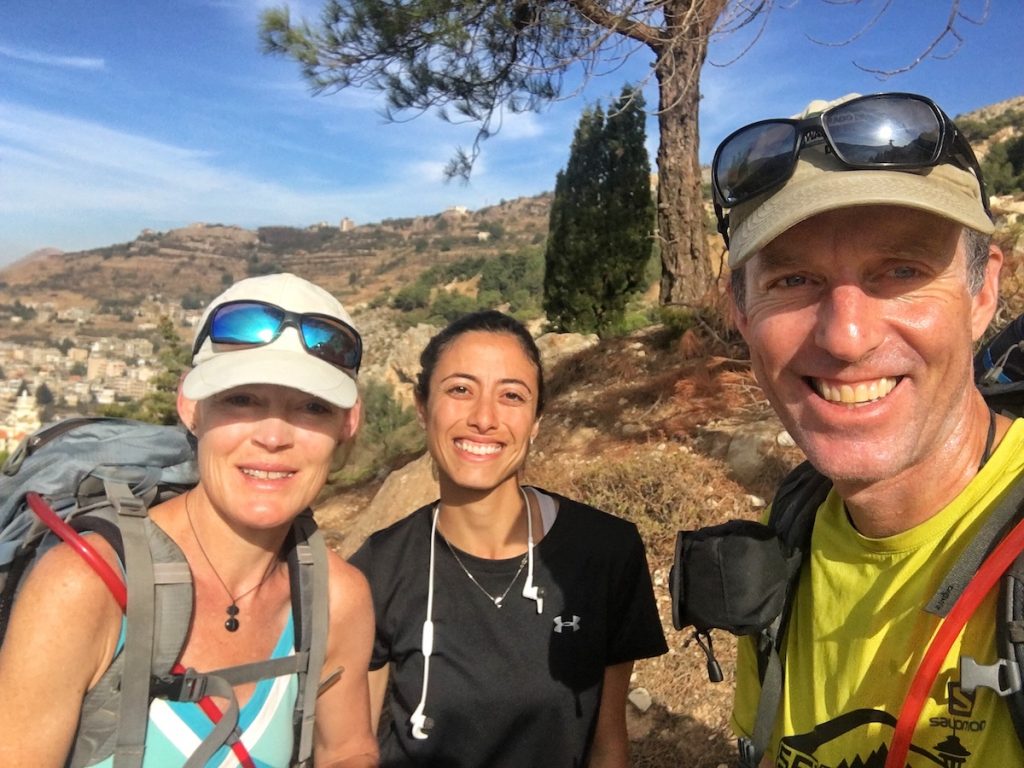 Hours later, the exposed arid terrain gave way to a mosaic of mixed hardwood forest with limestone rock formations bordering the majestic cedar trees of Horsh Ehden. The nature reserve, with its rich assemblage of endemic plants, undulating trails, and secluded location, made for a deliciously intoxicating and memorable experience. Our excitement blotted earlier concerns of having to cover six extra kilometers to get to our final destination. The trail then followed upper ridgeline, with unobstructed views of an amphitheater of lofty mountains romantically encircling the town of Ehden. We were now in Maronite heartland. A thunderstorm was edging closer, so we picked up the pace, slaloming down the mountainside as raindrops began to trickle. We dropped off our bags at the Airbnb and finished off the day with an evening stroll through the rustic town square.
~110km in…
Day 6 — Journeying back in time.
The day started off with a steep slippery descent down the deep gorge of Wadi Qadisha. No length of description or picture can capture the timeworn yet timeless splendor of this place. Monasteries and hermitages dating back to the earliest centuries of Christianity were hewn into the rocky cliffs that towered over the Valley of the Saints, overlooking pine- and cypress-covered hillsides. We tried to soak it all in as we meandered through lush forests and passed by restored convent sanctuaries including the Monastery of St Anthony Qozhaya and Mar Serkis. And right there, perched atop an escarpment of the deep valley, was the fairytale mountain village of Bcharre. A fine mist wafted through the air as we began our gradual ascent along the rugged chain-secured path to the top. Bcharre, stuck in time and mostly untouched, had an endearing old-world charm to it that was undeniable. With its modest quaint facade of winding cobblestone streets linking houses of alternating brick and stone, it was the idyllic mountain escape I had longed for. It was time to wind down with dinner and a glass of wine at the River Rock Restaurant to commemorate this journey and my last day with Kathleen and John.
~130km in…
Day 7/8 — A truly multifaceted kind of adventure.
I briefly joined Kathleen and John as they headed out for the rest of their trip. We walked through the main square and passed the GIbran Khalil Gibran museum on our climb up. At that point, we were able to spot the Middle East's highest peak, Qurnat As Sawda, boasting an expansive desert that stretched to all sides. I then said my goodbyes, turned around, and went back to the hostel to pack for my flight back from Beirut. This was October 18th, the first day of the revolution, when the Lebanese stormed out in protest of a corrupt government, the deteriorating economic state, and a recent tax on Internet-voice call services. With the roads blocked off everywhere, there was no making it out, despite the many concocted escape plots. I ended up missing my flight and was told to lay low for a while until the situation abated. Early the next morning, however, my dear friend Bachar Khattar decided to courageously drive over the 3+ hour distance to rescue me. Thanks to his incredible roadside acrobatic performance—driving in all and opposite directions and jumping over sidewalks—we managed to make it to the airport for another flight. I gave him a big hug and headed to the gate.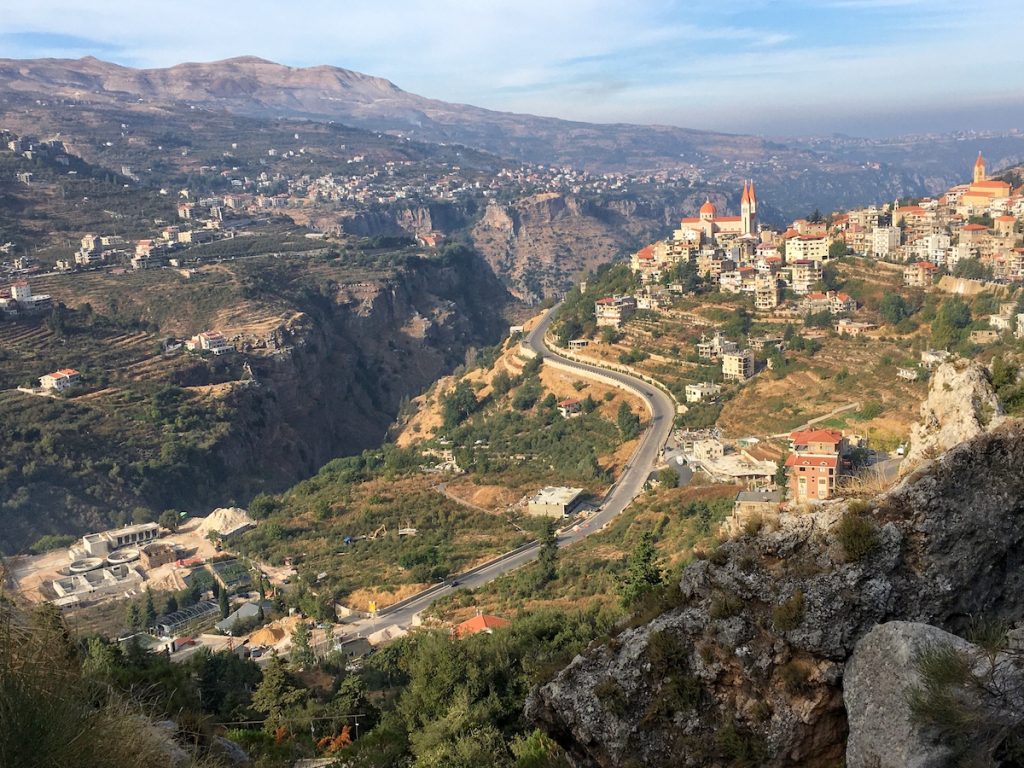 Sitting there, all smiley and teary, I began reminiscing about this once-in-a-lifetime journey that, on many levels, far exceeded my expectations. I felt a surge of love towards Lebanon, a place that truly felt like home. I was grateful for the many genuinely caring individuals we came across that reminded me of the joy one can get from the simple act of connecting with others and our natural surroundings. And I was very fortunate to have experienced all of this alongside Kathleen and John.
Thank you Trail Sisters for helping me realize this dream! I cannot wait to return back to Lebanon to run the entirety of this lovely trail.
As I wrap up this post, I want to leave you with a quote that I believe encapsulates this adventure:
"March on. Do not tarry. To go forward is to move toward perfection. March on, and fear not the thorns, or the sharp stones on life's path." Khalil Gibran