Growing up I was an incredibly active child. I spent my summers hiking and my winters skiing. When I wasn't in the mountains, I was either running, playing soccer, basketball, or really any sport I could find. Up until the time I was 18 I never thought much about fitness or its relationship with food, it all just came naturally.
However, during my first week of college, I went in for an MRI since I was experiencing some intense back pain. An hour later I was being told I need to be admitted to a hospital…ASAP. I was young, confused, and scared. It wasn't until a few days later that the doctors discovered that I had osteomyelitis (infection of the bone) in one of my vertebrae.
I was told that this was common in 60-year-old males who had recently had back surgery…obviously I didn't fit the description. Because of the severity of the infection, and the dangers of it being in my spine, I was loaded up with antibiotics. I had a PICC line in my arm for about 6 weeks followed by 4 months of oral antibiotics. During this six-month period, I was also told that I wasn't allowed to work out in any way, let alone sweat. And for the following six months after this period, I was still incredibly limited in what I was allowed to do.
My entire world was flipped upside down. I had gone from being an active, upbeat, and carefree girl to not knowing what to do with myself. These 12 months were some of the hardest of my life. This complete lifestyle change left me feeling lost and overwhelmed. Because I wasn't able to be active, I soon gained weight.
By the end of the twelve months, I had developed a poor relationship with food, fitness, and ultimately with myself. I was constantly critiquing my body, overanalyzing and stressing about what to eat, and struggling to find motivation and consistency with fitness.
After many months of carrying on like this, I decided that enough was enough. I wanted to get back to the woman I knew I was deep down. I tried fad diets and fitness trends but this only led to more feelings of frustration and setbacks. Finally, I decided to switch things up and began focusing on my mind.
I dived deep into all things self-love and mindfulness; journaling, positive affirmations, meditation…you name it, I started doing it. Slowly but surely these practices began to transform my life. I had discovered the power of a healthy and positive mindset. As I healed my relationship with myself and rediscovered my worth, I began to heal my overall health.
I started being mindful when it came to food, which for me meant transitioning into a plant-based vegan lifestyle. I suddenly found that a better relationship with food, improved digestion, and an immense amount of energy.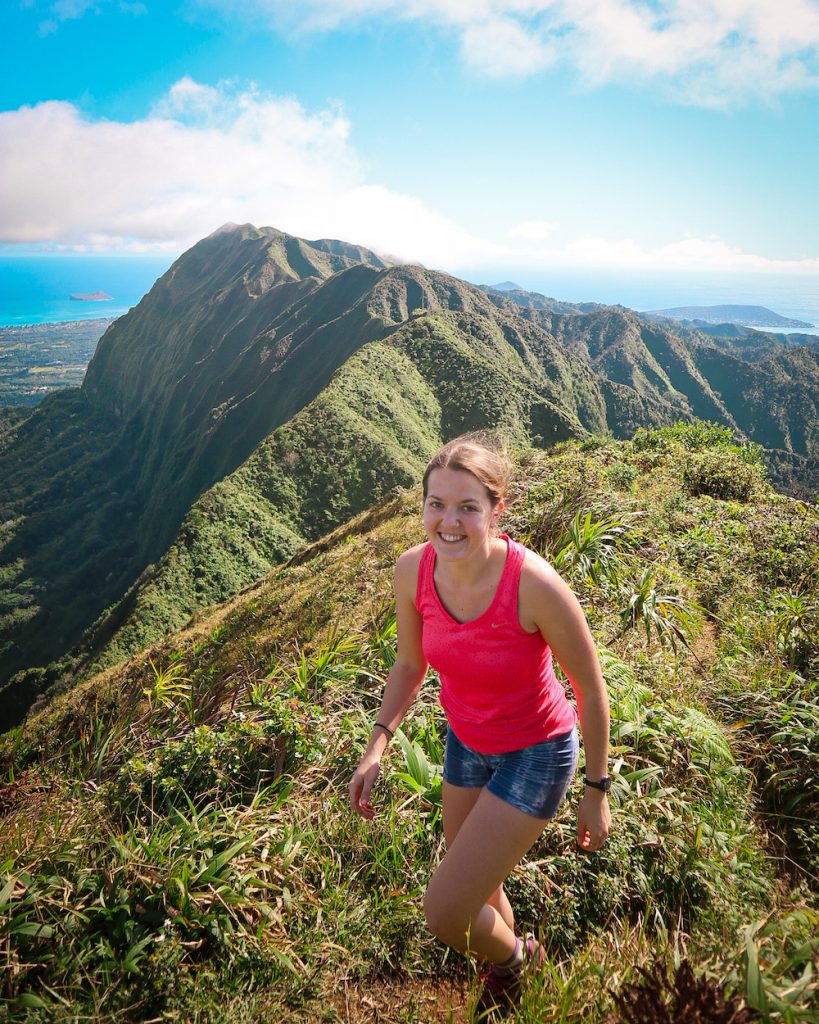 I began shifting away from gym workouts that were trendy at the time, and went back to my roots. I began hiking, biking, rock climbing, skiing, and most importantly, I returned to running. This alone required an immense amount of patience and acceptance. I was nowhere near where I used to be. But rather than feel defeated, I used my mind to focus on the small accomplishments; the journey rather than the destination.
I ran a half-marathon, then a marathon, then a 50k, and then a 50 miler. Before I knew it, I was hooked on trail running. I had found myself once again, amongst the mountain tops and pine trees, I was finally home.
I was back to the woman I was at my core and I was the healthiest I had ever been. It was this transformation that led me to where I am today, working as a Health Coach and helping other women reach peak health. I know what it feels like to struggle and to be overwhelmed by the journey ahead. But I also know how to get to a place where you feel strong, worthy, and empowered.
If I've learned anything from distance running, it's the power of the mind. Our mind tells us to give up long before our legs and our lungs want to. Our mind can be our greatest weapon or our worst enemy. It is the necessary first step when it comes to reaching peak health. Our limiting beliefs and negative thoughts are what hold us back from reaching our full potential. How many times have you thought, "I could NEVER do that/run that/climb that", and guess what? When we have this mentality that's what happens because we don't even try.
When you train your mind, just as much as your legs, you begin telling yourself, "I CAN do this, I am strong, I am capable." This mindset leads you to reach your peak, both figuratively and literally. We are only as capable as our mind tells us we are. So why not begin training your mind just as much as your legs and lungs?