Lighten Your Load (and carry double-duty items ): The biggest "hack" you can do to make life on the trail easier is learning to do without or use multi-purpose instead of single-use items. And, getting the best quality, lightest version in your budget. These will save your back and feet and help you see more and enjoy it with less soreness! During and after every trip analyze what you're using and if there are things that can do two tasks that enable you to leave one thing home.
A few ideas to get you started:
Take a small amount of duct tape (or your repair/first aid tape of choice) and wrap it around a piece of gear you always carry, such as a trekking pole. This saves you from carrying a large roll, and it's always handy.
Repackage your food! This one is huge. The amount of packaging on food is incredible. When my husband and I resupply on long-distance trips we usually remove outer boxes, oxygen absorbers, plastic trays (cookies), etc., and either leave the items in their inner bags only or put them into the reusable bags that we carry. This compounds the more days you're out, but even a few ounces on a day hike is worth it! The best thing you can do is shop bulk bins or buy packaged food that has less packaging. That's a win all around.
Carry one utensil. No need to have a fork, spoon, knife, pot, plate, bowl, teakettle…etc. I've successfully hiked thousands of miles with a spork (a perfect example of 2 in 1!) and a pot. One time I even carried chopsticks on a week-long trip (ok, I lost my spork and used two sticks…but, it was light!).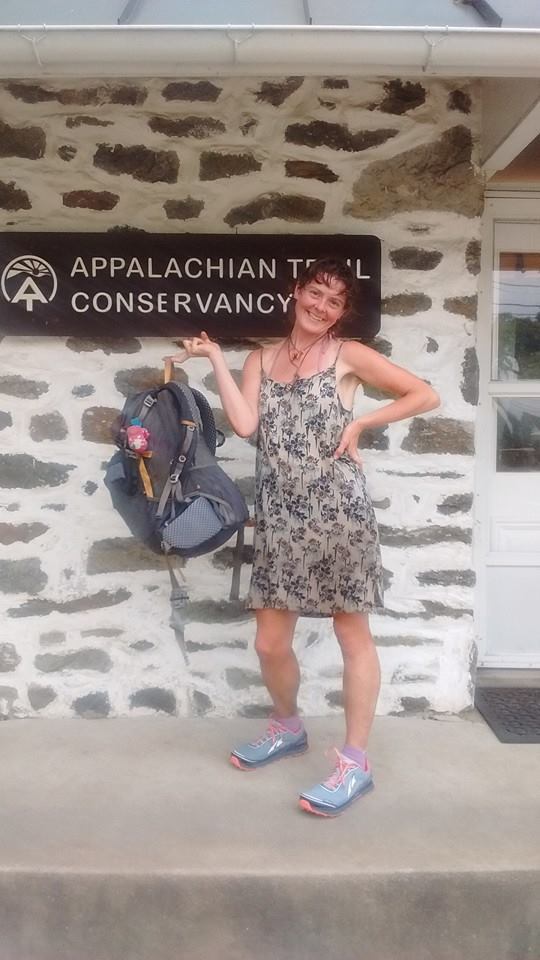 There are a lot of ingenious ideas out there for making your time in the backcountry more efficient and less stressful. Aside from lightning your pack, here are a few other hacks you might find useful:
Make a mini spice kit either out of empty small containers, small resealable bags, or do what I do and just carry a universal spice blend (like Herbamare) that you can put on anything. I use the mini-plastic baggies that you store buttons in and send one in each resupply box. This will dramatically increase the palatability of some dried meals!
Bear Cans are required in some backcountry areas and, while they are a pain in the back, on extended trips they can also double as a washing machine! Some people use soap, but I recommend using plain water. This is much safer for the environment. Fill the cannister, throw in some dirty clothes (one or two at a time) close the lid and get your upper body workout in! Shake, shake, shake…. Wring the clothes out (at least 200 feet from a water source). Repeat as many times as you want. You can also use a large resealable bag for this. Bonus tip: If your canister requires a coin for opening, tie a small string through a washer and tie it to your pack inside a pocket. This ensures you'll always be able to open your can when you need to without searching for something to use!
If you carry a tightly sealing water bottle (like a Nalgene) you can fill it with hot water on cold nights (make sure it's sealed tight!), wrap it in a dry sock, and put it at the foot of your sleeping bag for toasty toes.
Fairy lights aren't essential by any means, but the tiny strands that run on a watch battery are a nice addition to your tent. I found that I could save my actual headlamp batteries by using these on a thru-hike because dinner and camp chores could be done by the little twinkle lights alone.
You can use any kind of fried corn chips as emergency fire starters. You're welcome.
Trash compactor bags make great pack liners! Just be sure that you are buying compactor bags, regular trash bags tear. And, in bear country, make sure they are unscented!
You can tell time with your hands. It's approximate, but I use it on nearly every backcountry trip. In the evening, if you want to know how long until dark—it can vary a lot depending on terrain—hold your hand up horizontal to the sun and the horizon. Your pinky should be aligned along the horizon line, the sun should be just visible above the index finger (stack your hands if you need to). Each finger is about 15 minutes (each hand is about an hour). This can really help you figure out how much light is left and when to start looking for camp.
Last, but not least, always leave something yummy, some water, a change of clothes and sandals in the car! The ride home will feel much nicer.