Columbus, Georgia sits about 1.5 hours southwest of Atlanta on the Chattahoochee River. The city borders Alabama and is near Fort Benning. An impressive array of paved running paths abound, most notably the Chattahoochee River Walk and Fall Line Trace. Across the 14th Street Pedestrian Bridge in Phenix City, Alabama, another river walk awaits. All are great ways to get road miles in. Fleet Feet of Columbus is the epicenter of its running scene. After group runs, runners flock to next door Iron Bank Coffee for iced coffee and lattes. If you do not arrive early, the outdoor seating will likely be completely full.
On Broadway, a few doors down from Iron Bank, Ride on Bikes offers not only a lovely local bike shop, but also a small smoothie, juice and coffee bar. Their matcha lattes are the best in Columbus. They offer the only unsweetened matcha powder I've found, and sweeten it with honey. Their smoothies are delicious too, and the service is great.
Flat Rock Park
Within Columbus, Flat Rock Park offers immense recreation. The Fall Line Trace skirts its border, and fishing, frisbee golf and mountain biking are all available activities. While the paved loop is a great option for a quick run, a series of trails are available to get your shoes dirty. Although the trails are designed for mountain biking, hikers and runners are welcome. The trails are designed for maximum length, weaving around and around within small areas. There is relatively little elevation change throughout the park. Flat Rock Creek runs through the park and into a large pond. Near the entrance, the creek is often filled with families and dogs splashing in the water. It almost looks as if the creek was designed for such play. Before or after your run, head back to downtown Columbus for coffee at My Boulánge. My Boulánge is designed as a French bakery and offers great quiches and cappuccinos. I also recommend picking up an iced coffee, bringing it to Flat Rock and sipping it near the pond or creek after a 5k.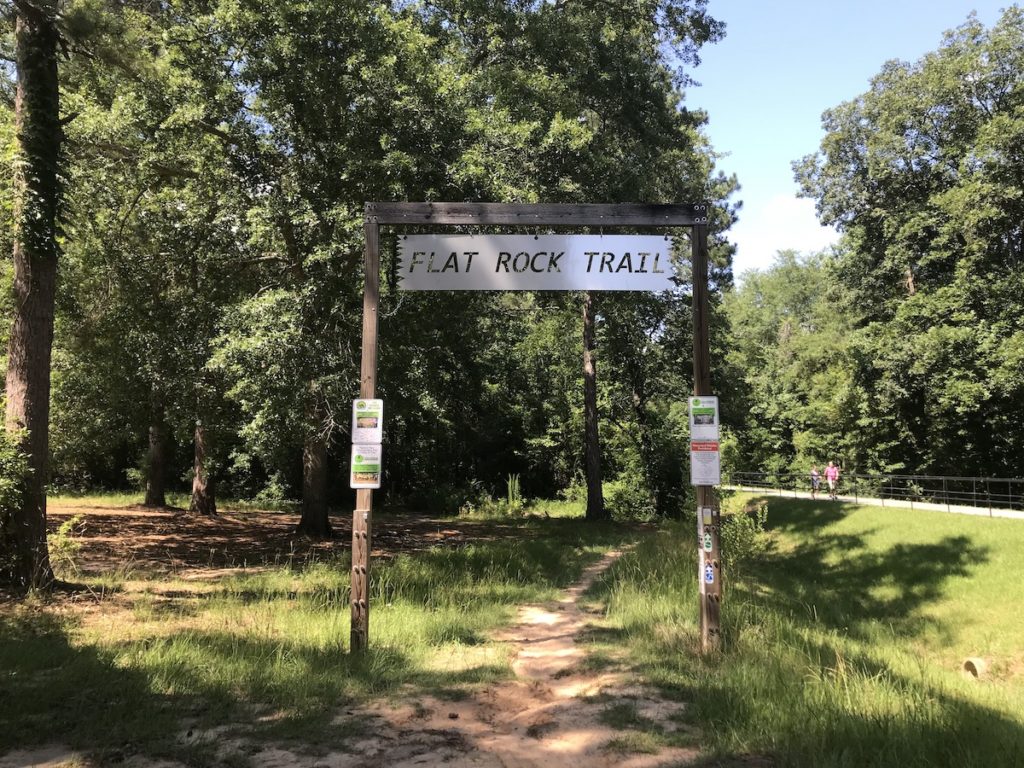 Providence Canyon State Park
About 45 minutes south of Columbus is Providence Canyon State Park. The park is advertised as the Little Grand Canyon of Georgia. Although "Grand Canyon" is definitely an overstatement, the red walls of the canyon are fascinating, especially for the southeast. The park offers a "backcountry loop." Advertised as an advanced hike, the average hiker can easily handle the route in a half day. To and from the parking area, the run is 5.3 miles and over 700 feet of elevation gain. A significant portion of the elevation gain is the ascent from the canyon floor back to the parking area. This is also the most trafficked, so be prepared to slow down if you are running for time. Be sure to use bug spray before hitting this trail, as the wet canyon floor means mosquitos and flies are populous. As always, use reasonable caution running; I've seen a copperhead on the backcountry loop. Of course, take time to explore the canyon before or after the run. Unfortunately, you'll have to head all the way back to Columbus to grab any coffee or food, so come prepared. Nearby Lumpkin has a few restaurants, but they are quite small.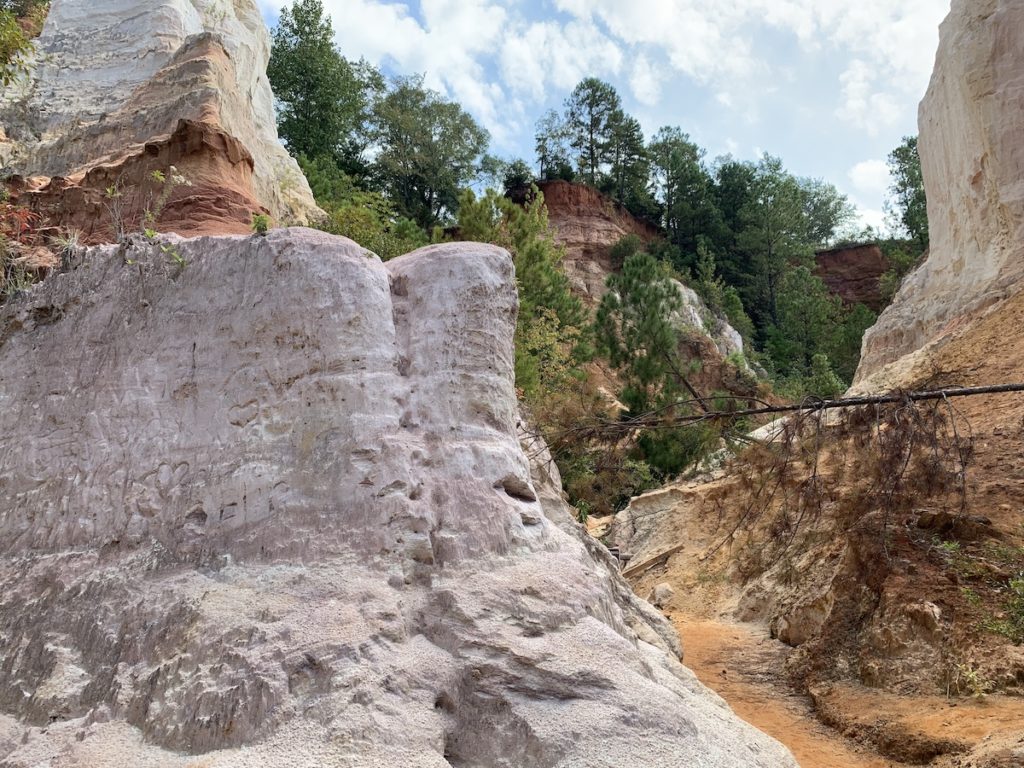 F.D. Roosevelt State Park
F.D. Roosevelt State Park is easily the premier running area near Columbus. The park is home to out-and-backs and loops for athletes of all abilities. Pine Mountain is also higher than much of the surrounding landscape, so scenic views are in abundance. The park is also home to natural features like Cascade Falls, a great place to cool off mid-hike. The best trail run is the Pine Mountain Trail, a 23 mile route with over 3,000 feet of elevation gain. Typically backpacked over 2 to 3 days, the Pine Mountain Trail is an FKT route. The trail is well maintained and mile markers are consistently present, a pro or con depending on your running mindset on a given day. The terrain varies immensely, from rocky outcroppings to muddy canyons. Like Providence Canyon, Columbus offers the nearest coffee and dining options, so remember extra snacks. The nearby town of Pine Mountain does offer an ice cream shop, which is popular in the summer.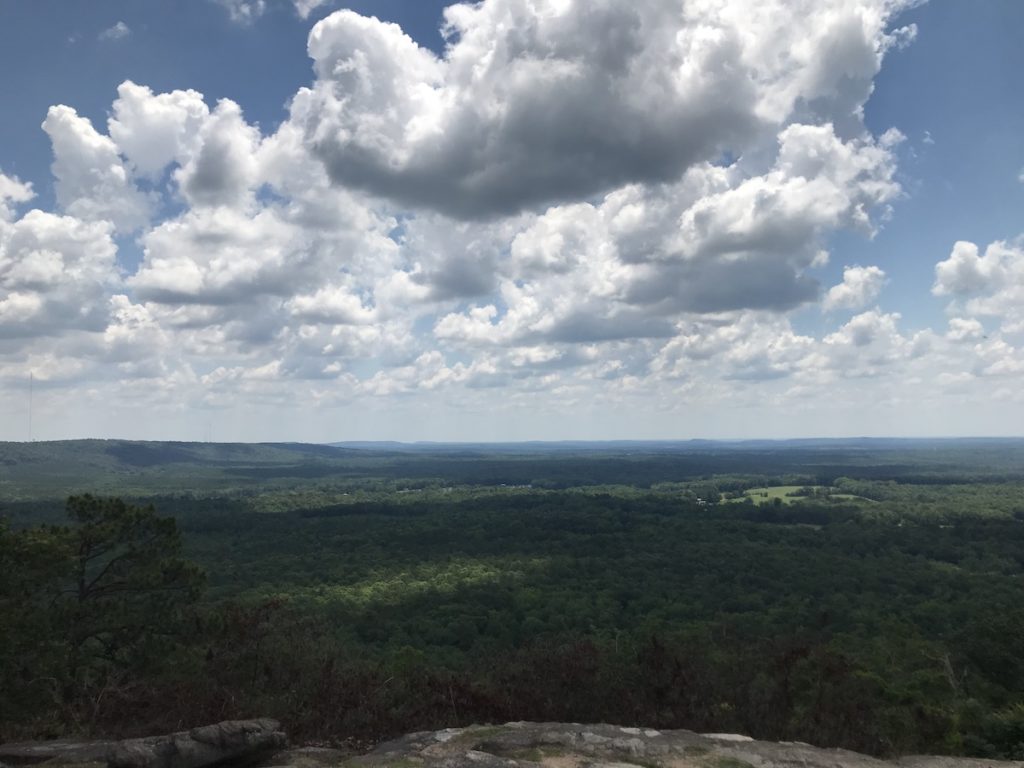 If you're not a fan of humidity, definitely head out before 8am in Columbus. Long runs are available without repeating any part of a course. For example, runners can combine the Chattahoochee River Walk and Fall Line Trace for over 19 miles. Of course, the 23 miles of the Pine Mountain Trail are also impressive for the relatively small number of surrounding state parks. If you have time for a weekend trip, head to the North Georgia Mountains. Not only is north Georgia home to the badass Mirna Valerio, it also hosts the southern terminus of the Appalachian Trail. Regardless of what you're looking for, you are sure to find something great.