Women interviewed for this series are dedicated runners who consider trail running and training for competitions to be a part of their lifestyle, whether they're elite athletes or back-of-the-packers. These women have a passion for competitive trail running, set and exceed personal goals, and live the mission of Trail Sisters by inspiring, educating, and/or empowering other athletes.
Name: LeAnn Gotshall Martinez
Sports: Running
Age: 42
Occupation: Benefits Analyst
Location: Harrisburg, PA
LeAnn and I met at an ultrarunning panel event at our local Fleet Feet running store where we bonded over our mutual goal of one day completing the Ironmaster's Challenge 50K in Michaux State Forest. Later we solidified our friendship when she invited me to stay the night in a cabin in Wellsboro, PA before running the 25K Green Monster Trail Challenge in Tioga State Forest. She is the epitome of a Trail Sister: she shares her trail adventures daily on social media and encourages all the women she knows – and some of the men, too! – to join her on the trails. When we met, neither of us had raced more than a 25K, and running a 50K was a distant dream. But since then, LeAnn has completed multiple 50Ks, 100Ks, a 100-miler, a 72-hour race, and more. Not only did she introduce me to my first rattlesnake, downhill boulder field climb, and hitchhiking experience (those were all in the same day!), she continuously impresses me with her positive attitude and her dedication and love of vertical challenges. Here are some of her stories.
How did you get interested in competitive sports?
At first, I really wasn't interested in being competitive at all. I was just interested in losing weight and running a 5K. So, I started out with Couch to 5K. I honestly didn't even know how long the 5K was. I had to google it before I started training for it. My first race was actually the Ironmaster's Challenge 15K. I mean obviously I ran the 5K distance while training, but my official first 5K race wasn't until marathon training. Fred from Fleet Feet kept talking about your 5K pace and I'm like, I don't know. So, I had to go run a 5K and then when I did run my first 5K, it was the Hardest Cider 5K. There was this huge hill at the end of it and it was horrible. It was on a cross country trail and it was sort of like on an angle the whole time, like my footing wasn't even properly…it was a typical me race for the first time.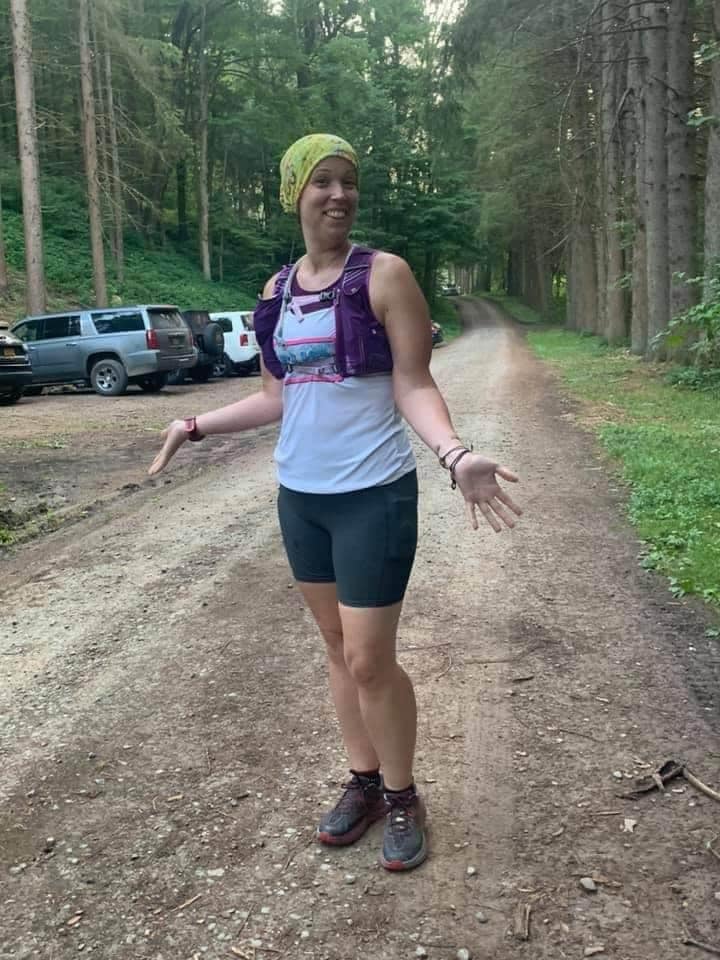 Can I just tell you how oblivious I was? My first race, again, was not a 5K. It was Ironmasters 15K. I had no clue. I just thought it would be this flat trail that would have a loop. I thought I was all prepared. I'd run at least 10 miles. I'd gotten that under my belt. I didn't know anybody, and everyone's showing up with like a husband, a boyfriend, or a friend. I'm by myself, I was like the slowest person because everybody else has done this before and everybody was talking about all these races that they've done, and I'm like, yeah, I haven't even done a 5K. I didn't want to tell anyone that because I didn't want anyone to think, what the heck are you doing here, you know? That was the day that I learned that oh, they have elevation charts and everything. I'm like why are there even hills in this? I had no clue. You know, I just thought it was a flat trail. Like I honestly thought, who would do that? Why would you have to run up that hill? That's just terrible. I was shocked that day. And I remember when I sat there at the end and they announced that hey, our first 50K person, the guy should be coming through, and in about 10 minutes he just comes in like he hadn't even run. He was all muddy and I'm like that's so insane. I could never ever. I said I'm beat up now just these nine and a half miles. And there I was, a year later cracking the 50K that I was never going to run.
What is your most vivid moment as an athlete, as a runner? What stands out to you?
Oh gosh, there're so many.
What's the first thing that comes to your mind?
I've run different distances and every time I've finished it's meaningful in some way. Crossing the finish line is always like the greatest feeling ever. But when you start doing a new distance, it's always like you're nervous in the beginning but then you finish. I'd have to say my marathon finish at Harrisburg is the most memorable because my family was there. My kids ran me into the finish line. So that was the most memorable. Definitely the 100-miler. I mean all of them were memorable, especially those big ones, but the marathon is the one that stands out.
And, of course, the 100-miler was great. I had people, you know, from all over on Facebook texting. My feet were torn up. I honestly didn't want them to take my shoes off at the finish line. I didn't think I'd be able to get them back on. I couldn't get them back on. I'm like you're gonna have to help me on this path out at the finish line. Because I was done, my body, like, 29 hours and in the dark. It's sucks in the dark.
What makes you keep wanting to run and compete and race?
Oh, the challenge of it. The better you get, the more things you accomplished and you just want to accomplish more. I hit this pace; now can I hit this pace? Or I went up this mountain at this pace. It's just the challenge of it, like how far can I go, how far can my body push itself, you know? Even when you think you're done, your body still has more, like you'll never actually get to the point…most people won't actually get to the point where the body can't take it anymore. I really believe that because even after doing the 72-hour race, I guess we took breaks and everything, but on the third day I felt like a new person. I ran another 50K that day. That was just nuts!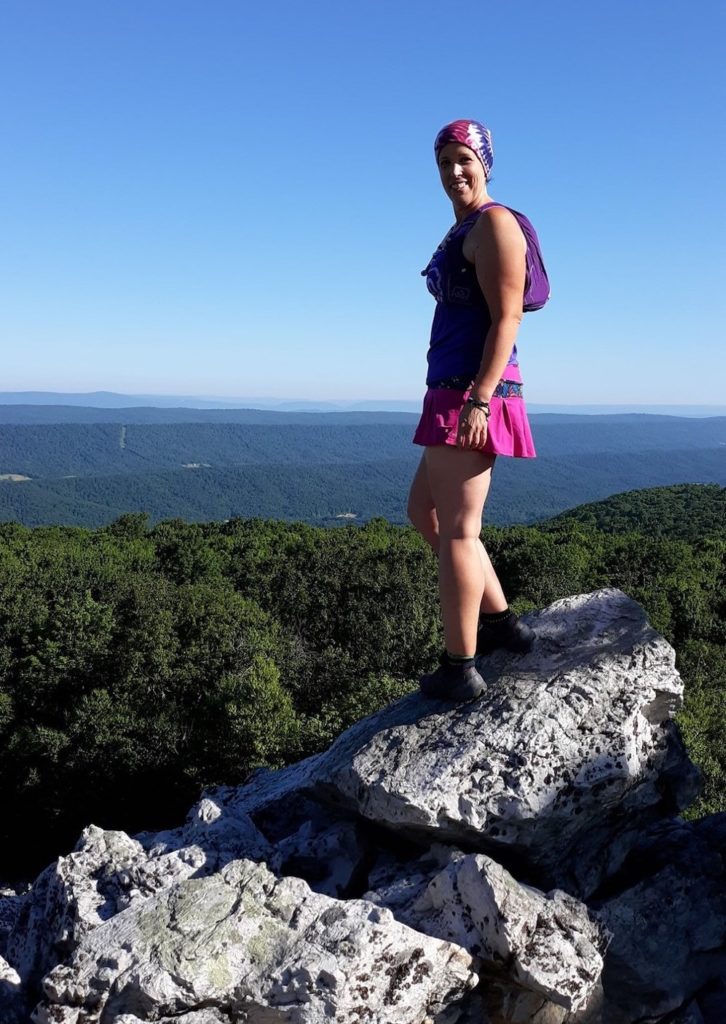 What are your running goals and/or what are you working towards right now?
I'd like to someday…I wouldn't mind the Last Vol State Run Across Tennessee, the 500K. I'm doing it virtually right now. I mean, it's like a lot of road and I'm not a big road runner but the fact that it's a point-to-point, it's not an out-and-back and you just keep going, I think that's something to strive for, but there's other ones I wouldn't mind. I thought about, you know, once I become strong enough where I feel where I could achieve this, the Triple Crown in Pennsylvania, which is, if you're not familiar with it, Hyner 50K, Worlds End 100K, and Eastern States 100-miler all in the same year, within a couple months of each other.
Who are the people who have most supported or influenced your athletic career and how have they influenced or supported you?
In the beginning, I would go up to Little Buffalo and I would just be on my own. There'd be nobody up there, very rarely I'd see anyone running, and I didn't really think that many people ran, I just thought okay let me just do this. Then I got into Fleet Feet training. I was kind of intimidated to do that because I thought these people were going to be really fast and buff and you know, that was my first actual support. Jen had me put me into the Harrisburg River Runners group and I remember – Jen and I have been friends since elementary school – seeing her posts about running, and her marathons that she's done and I'm like, you know, kind of inspired to get started with the Couch to 5K even if I didn't know how long it was. And she put me into River Runners but I'd say Fleet Feet, River Runners, and then it just sort of evolved and now I have Clayton as my coach, and I have met other people throughout the sport, you know, just from traveling to Wellsboro and Pine Creek and all of those other events that I do. So, it's been a long journey, I've met a lot of very nice people. I have a lot of, you know, family, you know that I consider family now. Not just friends. We go on a lot of stupid adventures together.
What are three words you use to describe your athletic body?
I'm very hard on myself as most people are, but definitely strong. It took a while to even realize this, it took a lot of mental coaching for this to happen because it's not something that you think about overnight, like about yourself, but definitely strong. Strong, powerful, unstoppable.
If you'd like to nominate yourself or another trail runner or hiker for an interview, contact Anne at [email protected]. For more athletes' narratives, check out Anne's project Thigh Flashers.