Fastest Known Time(s) or FKT records are falling during this pandemic. With the vast majority of races canceled, FKT attempts are a great way to test one's fitness. I, like many others, followed elite athletes setting bars higher than ever this year. I never thought setting a record was my cup of tea or that it was in my skill set. I am a middle-aged midpack runner. While I often choose events that push me out of my comfort zone and test my limits, I know that speed, winning races, and setting age-group records, are definitely not things that come easy to me unless the field is small. I always used that as a justification. I did win a couple small, local events, and I would always apologize: "Well, yes, I did, but only because there weren't many women," or "There were women that were way better than me, but they got injured during the race and had to drop."
A couple of my friends pointed it to me, but I brushed it off.
I am the leader of a Trail Sisters group in Ohio and empowering other women, encouraging them to push their limits through trail and ultra running, is one of my biggest passions. The mom in me gets such a joy every time one of our ladies does something new, challenges herself, or accomplishes her running goal.
A few weeks ago, I looked at the Fastest Known Time website and saw that there wasn't a single Female FKT set on any trail in Ohio. I started talking to others and encouraging them to go and set the bar in our area. One of my friends went and set an FKT on a Southeastern Ohio trail. I was ecstatic. The first female FKT in Ohio!!! Another friend pointed out "Nettie, you run some of those FKT trails all the time, why don't you submit your time?" Me? I am not fast enough. I ran those routes taking my good time, chatting, eating snacks, texting my daughter's coach, responding to emails. It does not count. It is too slow. And it would be an FKT because it is an OKT (Only Known Time).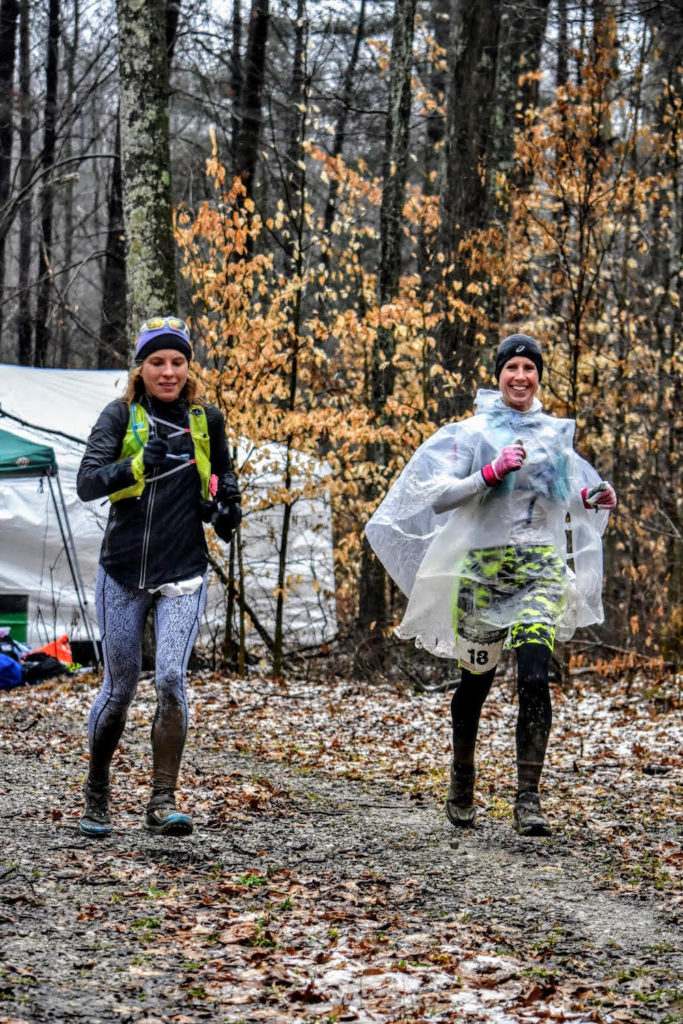 The seed, however, was planted. Maybe I should do it? I asked my dear friend to join me, a woman with whom I have run a countless number of miles and who truly is like a sister to me. She paced me for 52 miles at my first 100-mile race, drained my blisters, and drove my daughter to school when my husband was in the hospital.
Carissa Derr was excited about the idea of running 50 miles on local trail Double Twin: two passes on the Twin Valley Trail, about half an hour from Dayton, Ohio. The route is a mixture of trails with rolling hills and famous Ohio mud, creek crossings, suffocatingly humid meadows, and shorter sections of bike path and road going through the middle of a small town and by the side of a busy road near a construction company. A little bit of everything.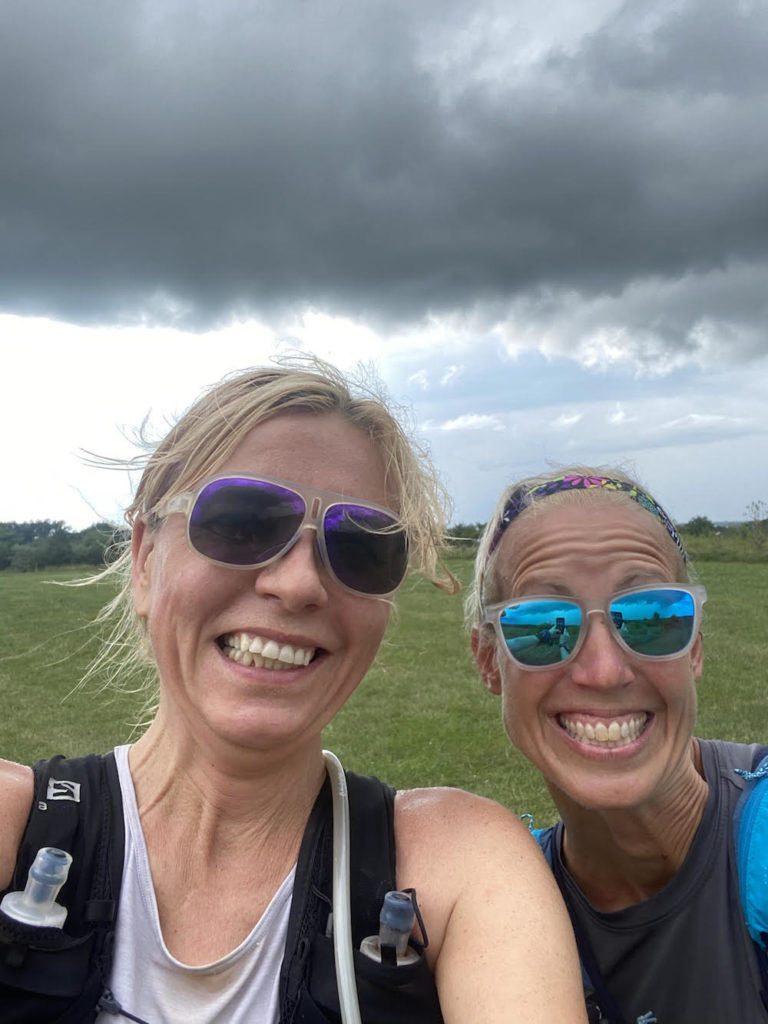 The weather forecast for the day we decided to run looked less than promising: severe thunderstorms, rain, a possibility of flash flooding. We decided to go anyway on Saturday, August 1st, the only day that worked for both of us. The weather forecast held true; although there was much less rain than we expected, but tornado sirens went off while we were about 9 miles from the finish. Going back towards the car meant going right towards the big dark clouds. We decided to continue with the run, jokingly making comments that hopefully our car will still be there when we are done.
We finished the run in 13 hours, 4 minutes, and 12 seconds. The men's record is about 2 hours faster. Our run was approved and published on the Fastest Known Time website. I posted on social media saying, "Carissa and I set an Only Known Time for Women on Double Twin. Haha." Then a friend pointed out: "There are no OKTs, only FKTs. Fastest or First Known Time".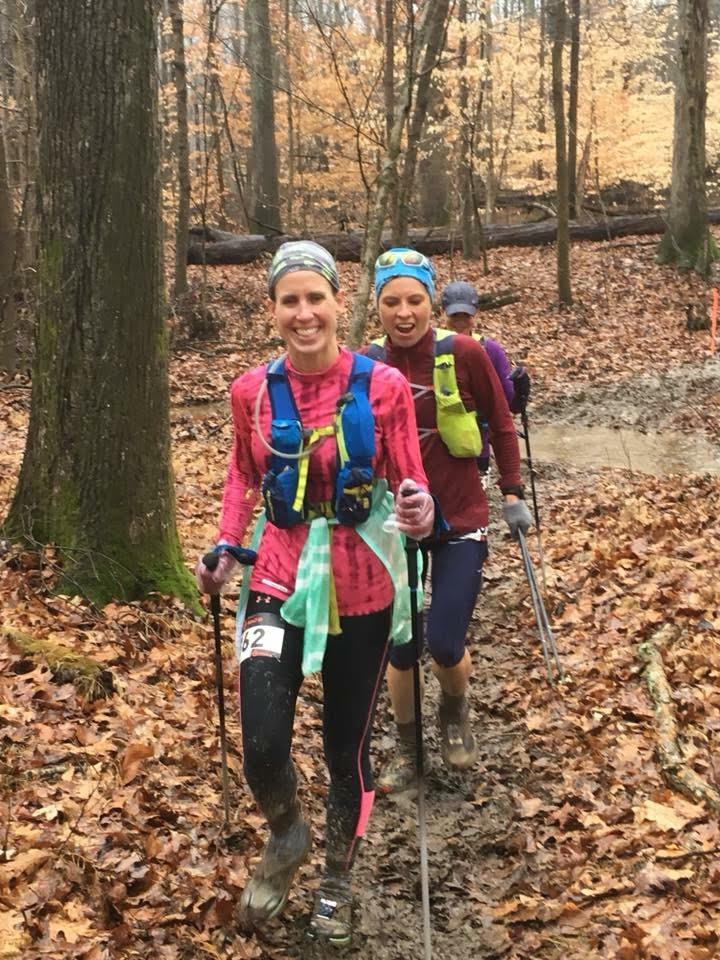 First Known Time. I like that. I am changing my language. I am not longer downplaying my achievements. I will be calling it F(irst) K(nown) T(ime), because I hope many other women will go after our record and bring it down. "Only" is limiting, "first" is encouraging. By calling it "first," I give myself and Carissa credit for being brave and for trying hard things, for going out and spending the day on the trail, for pushing our limits on a less than ideal day, for not quitting, for celebrating our friendship, and for being there together.
There are many trails out there that do not have Female FKTs set. Look them up. Go out, explore, don't feel that you are not fast enough, that they are only for elite-level runners. Be brave to be first! Don't downplay your abilities. If you ever win a race, age group, place on the podium, please do not say it was because the field was not deep, or others had a bad day. You do what you do because of what is within you. And maybe because you have a trail sister like I do who will support all of your crazy adventures.