The sky is blazing pink and blue as the sun starts to sink behind the canyon walls. Danielle, even though she has been running for almost 40 hours reminds me to take my headlamp out. We both know the darkness is coming. In the desert, the darkness is almost immediate once the sun sets. And, suddenly in one last burst of brightness, it does. The sky is black. The strangeness of being awake for such a long time seems to turn my sister from reality to unreality as we trek on. "Is it really this dark?" Danielle asks. "Yes," I tell her, "it is." There is no moon, the stars which had burned brightly the night before are gone and in every direction, there is only darkness. We switch on our headlamps and two narrow beams of light shine in front of us. One foot in front of the other, we move forward towards an end that seems impossibly far away.
Danielle is running the Kokopeli Trail. It is a brutal, 142 mile snake-like trail that winds its way from the southwest corner of Colorado into southeast Utah finishing up in Moab – land of strange, otherworldly rock formations. She is attempting an FKT or fastest known time on the trail. After being on track to demolish the record for 90 miles, she is now off the goal by hours.
The idea first came to Danielle while we watched the west burn together from the relatively safe haven of Boulder, Colorado. It seemed that the whole west coast of the country was on fire and that global climate change, in part, was responsible for the devastation. Colorado was declared to be in a state of 100% drought. Fires burned through California, Oregon and Washington. Billows of smoke from wildfires in Colorado darkened the sky. You could taste the smoke in the air. In fact, smoke from all the fires was seen as far east as New York. Needing to do something, Danielle and Portland-based glaciologist and climate scientist Kali Abel, came up with an idea to raise money for women climate scientists.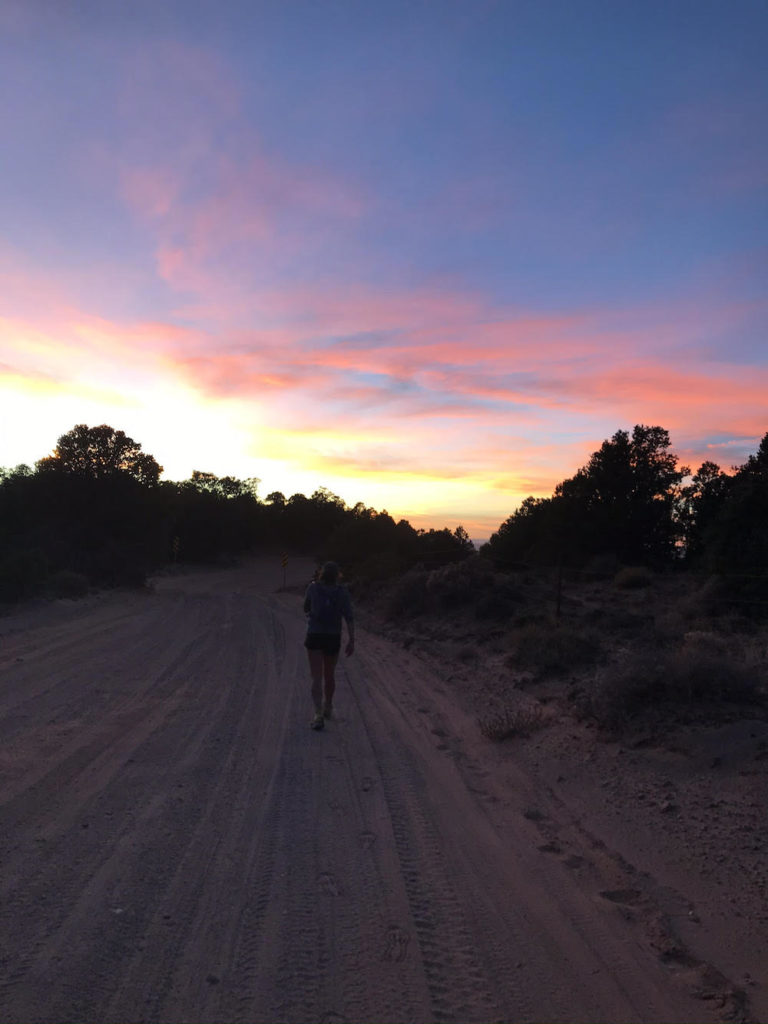 The Trump administration, known for heavy-handed cuts to climate science research, has had a particularly devastating impact on women scientists. Coupled with the dramatic impact of COVID on women in academia and science research, Danielle saw a need to make meaningful change. Kali believes from her research and experience that hope fosters small changes in people's lifestyles – using less plastic, minimizing your footprint, making eco-conscious choices in your personal life. This, in turn, has a positive impact on global climate change. Yes, governments must enact sweeping reforms. But, Kali explained to Danielle, it is the small, individual changes we make in our lives that will bring about these reforms and ultimately make a difference. While hope is the first step in creating change. Money follows closely behind. With this encouragement, Danielle created a fundraiser around her goal of running Kokepeli – supporting women making critical changes in the field of adventure running, in science, and in climate change.
Danielle is my sister and my running coach. When she invited me to pace her for the last leg of the trek, I jumped at the opportunity. It was my first chance to join her on such a big adventure and I was thrilled to be part of such an important project. Together with a crew of strong, competent women, I waited for Danielle at mile 115. High in the canyonland outside of Moab, we sat on camping chairs, watching the horizon for the approaching team – Danielle, her pacer and a friend on a bike with extra food and water. The sun rose into the sky and chased the chill out of the air. Wind whipped at our hair and dust settled into our shoes and eyes. We didn't know what was going on yet, but it was clear that the overnight miles had not gone as planned.
When Danielle crested the hill, I ran up to meet her. Our eyes briefly met and I knew that the time had been lost and an intense pain had settled in where previously had been hope and excitement. Danielle is an experienced ultra-runner. She holds multiple FKTs and is a top competitor in longer distance ultras. Last year, she took the FKT for the Pacific Crest Trail – a 580 mile stretch of trail running from the northernmost coast of California through Oregon to the southernmost tip of Washington State. Intimately acquainted with the suffering of running extreme distances, something dark marked her face while her crew fed her and cleaned up her blistered feet. The original plan was that I would run in from the end and meet her for the last ten miles. But when we saw that inscrutable look of suffering that extended beyond the physical, it was clear that the last leg was not meant to be run alone. I pulled on my running clothes and shoved more food than we could possibly need into my pack. Food, batteries, water. Then, even though she hadn't slept in more than 24 hours, by some intense internal strength, Danille stood up and we took off down the road together.
A pacer's job is simple. Stay behind your runner, keep them moving and keep them fed. What started off as a gentle downhill soon turned into a brutal climb up that lasted for hours. With Danielle having run over 120 miles, I guessed at my sister's exhaustion, but marveled at her steady pace up into the last mountain. Propelled by a combination of power and determination that seemed beyond human, I stayed just at her heels and listened as our breathing mingled with and was lost in the wind.
We talked, sometimes laughed and sometimes cried and ate. Mostly, we just moved forward together. I was struck by the metaphor in my sister's journey. It was 2020 on the trail. Most things didn't go as planned, it was painful and sad and terrible. Yet, it was marked by intense beauty, compassion and strength. I watched her struggle and hurt and there was no way to make it better. All I could do, all any of us can do, is just keep moving.
When the sun went down, I felt a sinking despair myself. I lost track of how many hours Danielle had been awake for. It seemed unclear how far we had run and how far we had to go. The only thing that remained clear was that we had to keep going. And we did, until we turned into the parking lot that marked the end of the trail.
I left the next morning to go home to my family in Boulder. I drove through the portion of I-70 that had been burned in one of the early summer fires. Trees blackened by fire stood stark against the bright, blue sky. In the two days I was gone, more fires had started in the mountains near my house. Another fire, burning since July, grew tremendously in size earning the title of largest fire in Colorado. A third fire closed Rocky Mountain National Park as it tore through the mountains, devouring any available fuel, sending terrifying clouds of smoke up into the sky and down into the Front Range.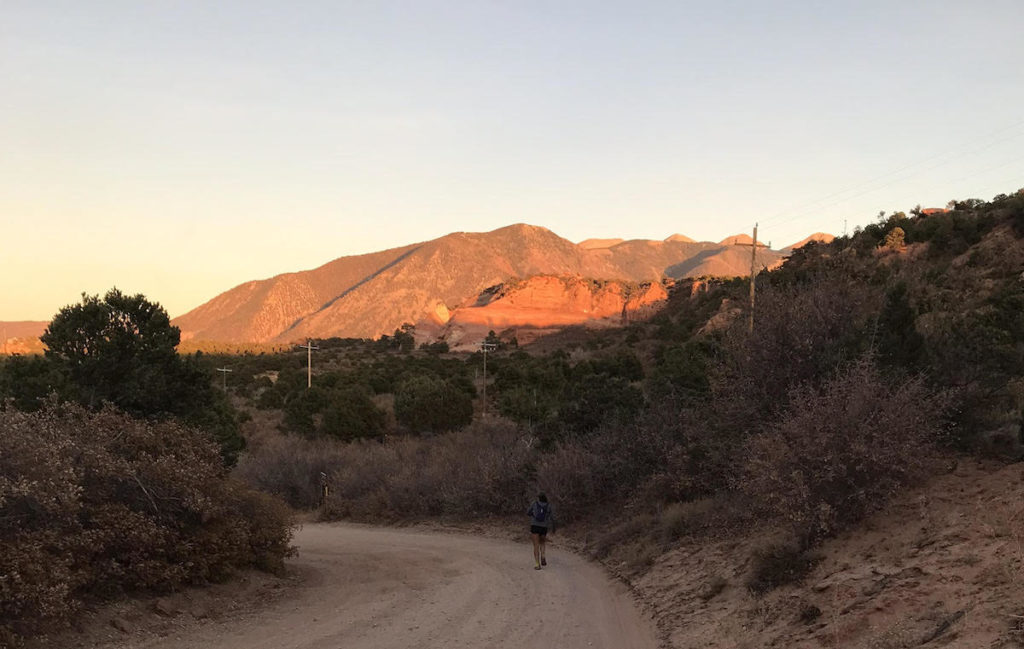 We sit on the verge of an election that holds so much darkness: illness, climate change, deadly racism, deep political divides that threaten our rights. It seems we have been plunged into that darkness, around us fires burn out of control. It is easy to want to stop and give up. I think back to the Kokpeli Trail and the insurmountable hope that must propel us onward. Sometimes it is only the thinnest beam of light that guides the way. Hope can be robust, but it can also be as simple as continuing to move forward despite the pain, the obstacles and the fear.
Though Danielle did not get the FKT, what came out of that run seemed much more far-reaching. Finishing was a huge triumph. It reflected back onto the purpose of the run itself, maybe on all runs. We don't know how they will turn out, and often they hurt, disappoint us, teach us ugly things about ourselves, but it is an unyielding hope that things will get better that drives us. A hope that we must hold onto even as darkness falls and the light thins. Even as the fires burn and illness rages and the outcome of the election is unclear. Hope that our individual actions will be enough to shed light on the way forward.