Women interviewed for this series are dedicated runners and hikers who consider trail running and training for competitions to be a part of their lifestyle, whether they're elite athletes or back-of-the-packers. These women have a passion for competitive trail running or hiking, set and exceed personal goals, and live the mission of Trail Sisters by inspiring, educating, and/or empowering other athletes.
Name: Aarti
Sports: Trail Runner
Age: 44
Occupation: Corporate Executive at HP Enterprise
Location: Melbourne, Australia
Aarti found solace in trail running after a mountain biking accident prevented her from continuing to ride. Trail running has been her natural cure for depression and she loves her trail running community. The sport resonated with her so strongly that she made the leap to running her first ultra race – a 100K – after running her first 5K. While writing her memoir, she realized that life is a lot like ultrarunning: "You just have to keep going." As one of few women of Asian-Indian origin who runs trails, she's very passionate about being a pioneer and inspiration for other women who are hesitant to try the sport.
How did you begin participating in sports?
I was never athletic. I was very nerdy, and part of my issue was that I was never very good at sport or I thought I wasn't very good at sport. But then I reached my 30s and I had massive depression. And I almost hit rock bottom. I knew I needed something. I was also very overweight. Prior to that I used to do a lot of hiking, but it was just that I loved the outdoors. But I never made the connection and that I could make into a sport because I always dismissed my ability to be sporty or an athlete. I was schooled in India where there are few elite athletes included in every activity, but the potential of the mediocre to the below-average ones are never explored. And, so, you sort of dismiss yourself.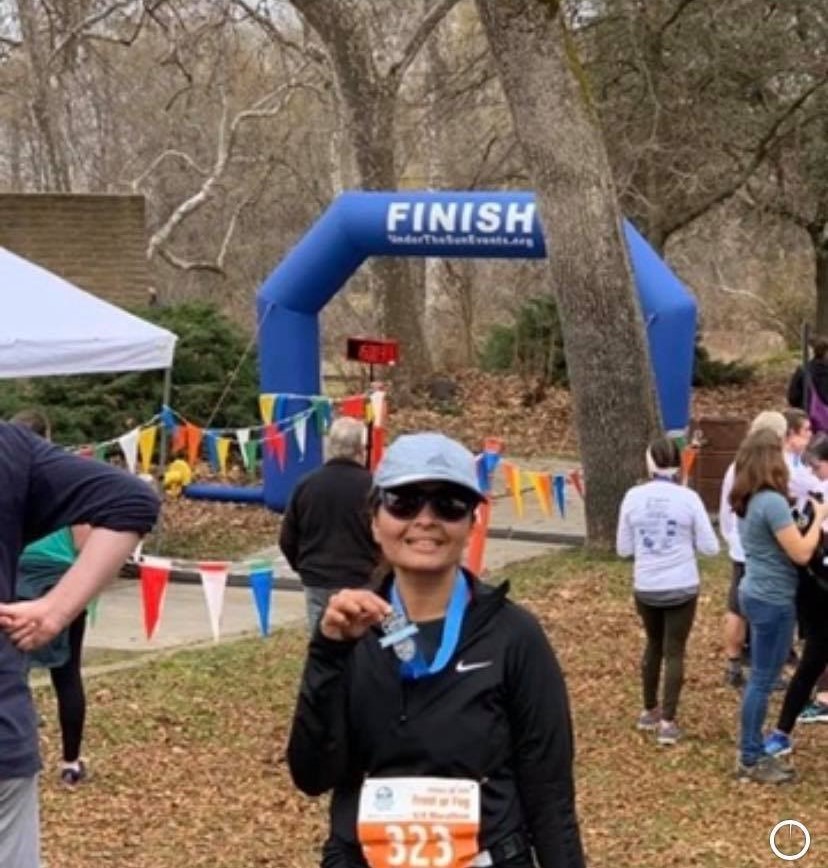 I was doing a lot of mountain bike riding, and then I had a really bad bike accident where I had a concussion, and, to this date, I don't recall what happened. The ambulance took me, and I have thankfully recovered. At the time, mountain biking was like my running. My husband used to tell me, "Running is something you can do anywhere you are – you just have to put your pair of shoes on and go."
So, when I reached my 30s, I was like, okay, I'm gonna start bushwalking. I started doing that a little bit and I was like, I love this. My daughter did competitive cycling at the time – she was only 10, and she was very sporty. She said, I'll run a 5K with you. We trained for that and it was just amazing. I was like, wow, I just needed two and a half to three weeks to do this. That was easy! So, the next thing I did was I signed up for 100K, which is not a very logical progression.
I needed something because the 5k didn't seem to take as much effort as expected, and I wanted to keep at this. I loved it so much that I wanted to keep at it. We have a team endurance event, which is sponsored by Oxfam, a nonprofit that raises funds for impoverished countries. All four team members need to do a 100K. I built a team for that and then we did that. It was lots of lessons learned, but mostly I realized that I just love, love, love the trails.
When I moved to California, I got involved in a couple of groups in what we call the endurance capital of the world, around Auburn where Western States Endurance Run finishes. I've also done a few half marathons and I know I'm not a road runner. I love to be out in the bush just running. I realized, too, that's kept me, for the most part, out of my depression. It's just done so much for my mental health. My routine when I was in California was Monday to Friday full time at work, and I was doing [classes at] Stanford as well, but I always dedicated the first half of my Saturday, six hours, to training. It let me reset for the week.
What is your most vivid memory of your sporting career?
Completing the 100K.
I didn't give myself enough time [to train] so don't do that. I accelerated the training, so, at the 94th kilometer, I was coping with a knee injury. And the last six kilometers, the undulation was just insane. It's the highest peak you have to climb. I was sort of running out of steam. I had the paramedics and the physios look at me and they were like, you really should not be doing this, and I was like there's no way am I gonna do 94K and not finish this! But also around that time, it was just pouring down, and you know it slows you down, and the pain was excruciating. But man, getting through that finish line. It was the most exhilarating moment of my life.
Why do you continue to run?
For me it's a few things. Firstly, it's my physical and mental health, which are both very, very obviously interconnected. I feel like it gives me that time alone in nature where I'm moving. And the combination of all of that just absolutely keeps you at the highest level of productivity.
The other thing, too, is the groups, and that's one of the things I'm really passionate about. In California, I was involved with a few really good late women's running groups, and I've just made so many, many, many friends. The camaraderie. That sense of belonging. There's no judgment. We were always cheering each other on and it was the sense of community, which I think is just amazing. The sense of community and for my physical and mental health. You get to experience parts of nature that you would never ever be able to do if you weren't out there running.
What are three words would you use to describe your athletic body?
Adaptable. I think we often underestimate the power of our body. The body will actually cooperate with most things the mind sets itself on.
Stewardship. You have to steward your body. You will still have to listen to the body, you've got to fuel it well, you've got to recuperate, you've got to stretch, you've got to give it rest.
Respect. You have to respect your body.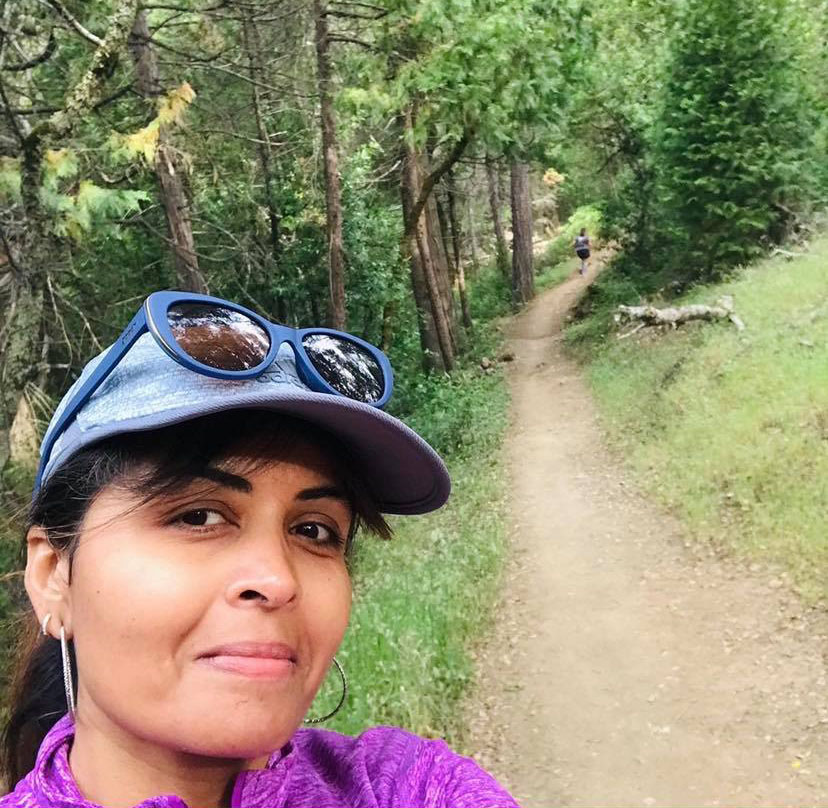 Do you have any running goals or anything that you'd like to accomplish with running in the future?
Yes, I have two. I do want to participate in one of the toughest endurance events. I have not already narrowed down where, in which part of the world that might be in, but I'm looking at that.
When I turn 50, I want to I want to climb Mount Everest.
You told me in a message that you are writing a book, and your experiences about running keep coming up.
It's not so much a running book, it's my life story, but I realized that a lot of my life has its parallels to running. The name of the book is The Race of the Robust Woman. I have a lot of running analogies and I feel like life in itself is this long endurance marathon. For some of us, it might be a more linear process, but certainly for me that's not been the case. I say that the best way I defined my life is this ultramarathon. You just need to keep going. You have the highlights, you've got the wins, but you also have to train, there are moments when you have injuries. I've drawn a lot of parallels to real life as it happens and as we interpret it as runners.
The goal of the book is to inspire and motivate women on life-related, mindset, psychology and all of that, but also to get other girls running. I think a lot of women like myself included, were intimidated about running. My husband used to be a runner and I always thought I could never run like him. So intimidating! He'd call me and be like, "Let's go for a run," but I'd say no, you're so fast, I could never run like you, so I'm just gonna get on my bike and do my thing. I know a lot of women, even when I say I've just run a 10K, they'll say, "I can't even do a 5K, how did you just go into a 10?" or "I could never do that." It's just about encouraging women to get out there and once you're there, it's like you'll never turn back. I'm very passionate about advocating.