I got into trail running in my mid-30s after having two kids. After practicing classical ballet for the first two decades of my life, I immediately recognized the focus and agility required on the trails and was hooked. As a bonus, the endorphins easily rivaled the feeling of a standing ovation at the end of a performance! Trails became my happy place and trail running is now critical to my emotional well-being. Ironically, I've never considered myself a runner since my runs are almost always in the single digits and only a few times a week.
Living in Boulder, I worked toward running the Boulder Skyline Traverse for my 40th birthday; an 18 mile, 5800 foot traverse over 5 peaks from South Boulder to Mt. Sanitas. I grabbed a "yes friend" and decided to try out Sanitas, Flagstaff, and Green as a trial run. I was feeling ever-so-jubilant after summiting the first peak and decided to jump and click my heels together when I, of course, landed on my left ankle and heard the acrid sound of a pop which produced a really bad sprain and put me in a boot for a few months. The recovery period taught me to pay a lot more attention to what is around me and to be more patient with myself. It also spooked me a bit and made me question whether I could really hang in this sport.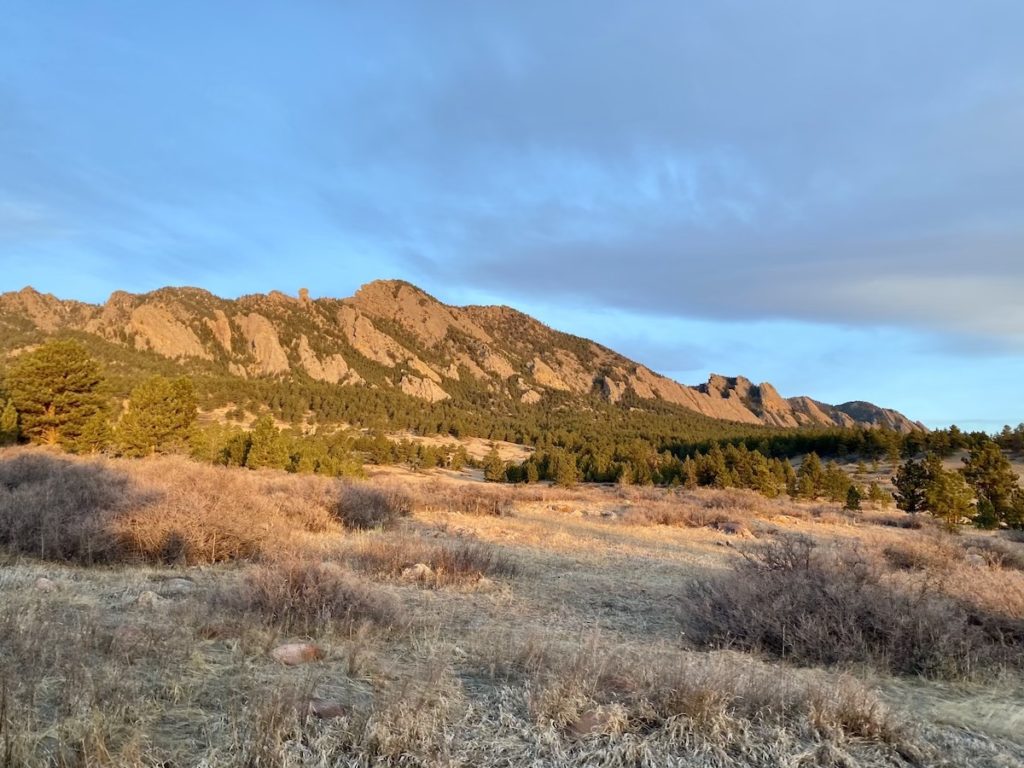 Several months and a pandemic later, my left ankle is still a bit swollen from the scar tissue but I've been easily running 20-30 miles/week with 2-3K feet of gain on my longer runs. I saw that a few local Trail Sisters rocked the Traverse on a rare 60 degree day in March and I again found myself wondering if I had what it took to do it myself. I haven't run 50s or 100s like they have and my weekly mileage is a LOT less than theirs. But still, I was curious to see how it would feel to even try. I texted the same "yes friend" as before and jokingly asked if she wanted to try it a few days later and, as expected, she accepted. Of course she asked for my time goal and I had to laugh because I had no idea how to answer that other than to say I just wanted to enjoy it. This could have easily been a 10 hour adventure and I was okay with all potential outcomes including bailing. She didn't like that latter part. (She's one of those 50 and 100 people.)
I slept with butterflies in my stomach and was happy to just get out of bed and get started. The sunrise greeted us with a stunning display of color as we headed north up the Mesa Trail to start our ascent. It felt like we were flying up Shadow Canyon to the fork between the two peaks and then all of a sudden we'd climbed the first mountain, South Boulder Peak. We had been anxiously chatting and laughing the entire time; I couldn't believe how great I felt. We were actually doing it!
Next was Bear Mountain and then a slight bit of work to hike up Green where we allowed ourselves a short stop at the summit to refuel and hydrate before running down to Flagstaff. It was on that descent that I allowed myself to believe that I could really finish; I was healthy, strong, and was having a blast! I didn't feel sore, nervous, hot, or stressed. I don't know if it was the positivity and stamina of my amazing "yes friend", the glorious weather, or the fact that I knew most of the trails like the back of my hand, but I felt energetic and exuberant for the entire run.
Unfortunately, my partner had an appointment in Denver at lunch so we knew we'd most likely need to say goodbye before finishing at Sanitas. We ran down Flagstaff to Panorama Point which she pointed out was exactly where my husband picked me up after I'd sprained my ankle coming from Sanitas on our first attempt last June. It was a perfectly fitting place to say goodbye to her although this time was much more cheerful than the last.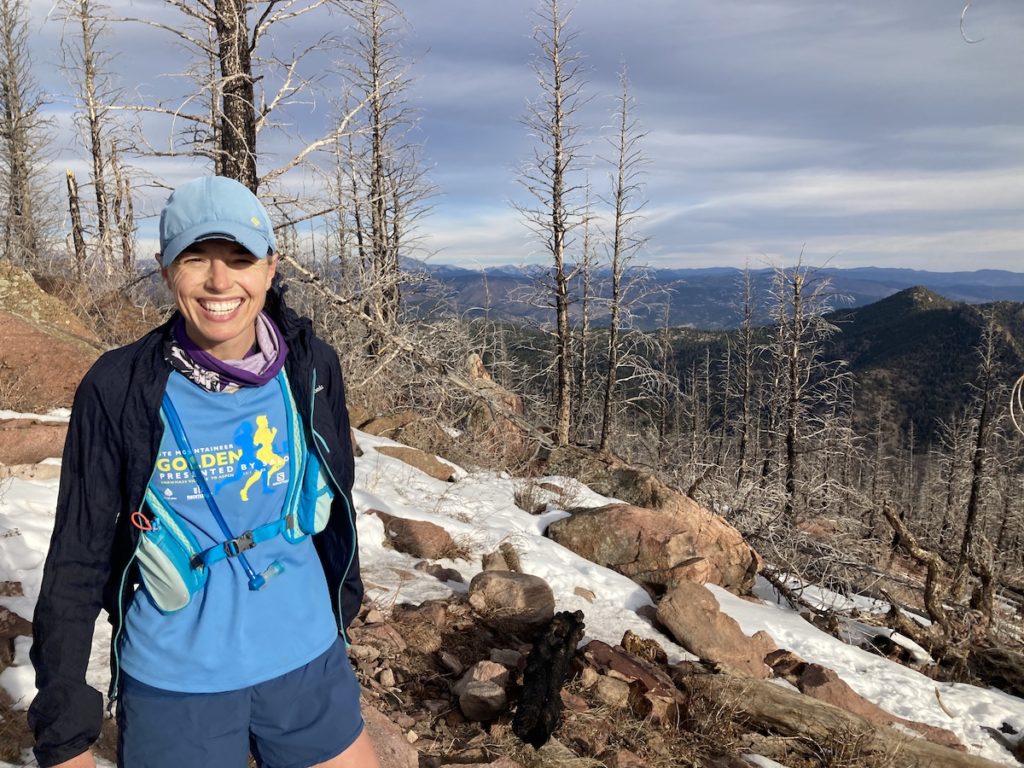 I gained some strength from not having to talk and plowed down to Eben G. Fine Park to bathe in the water fountain (it was getting hot!) and refill my water bladder. From there, I was feeling euphoric and knew that I could finish in less than 90 minutes. Sanitas felt hard but I knew it was short so I used my arms to push on my legs (thanks Trail Sisters for that tip!) all the way to the top. Looking south from the top to count all of the summits I'd stood on that morning left me feeling a bit weepy and proud. I grinned like a giddy toddler all the way down the Sanitas Valley Trail and even tried to FaceTime my dad, also a runner, to include him in my victory.
This small feat was actually a big deal for me as it made me realize that I AM a trail runner and probably have been this whole time – I just didn't realize it. And I can't even tell you how accomplished I feel every time I am driving and can see all five peaks in the same view!