Trail Sisters founder Gina Lucrezi takes over as race director of iconic Lake Sonoma 50 joining Keira Henninger who heads up the 100K
Press Release: Lake Sonoma Race Series
The Lake Sonoma Race Series and Trail Sisters, the leading women's trail running community whose mission is to increase women's participation and opportunity in trail running, will join forces to inspire, educate and empower not only women, but also BIPOC runners in the ultra-running community. With this new partnership, Trail Sisters founder Gina Lucrezi will become the new race director of the iconic Lake Sonoma 50.
"As an organization that believes in the value of equity, diversity, inclusion and leading a healthy lifestyle, we're pleased to bring Lake Sonoma 50 into our Trail Sisters family," Lucrezi said. The ultra-running community needs everyone's voices to be heard and to build a network of supportive races that lead with partnerships, communities and resources to widen opportunities for all."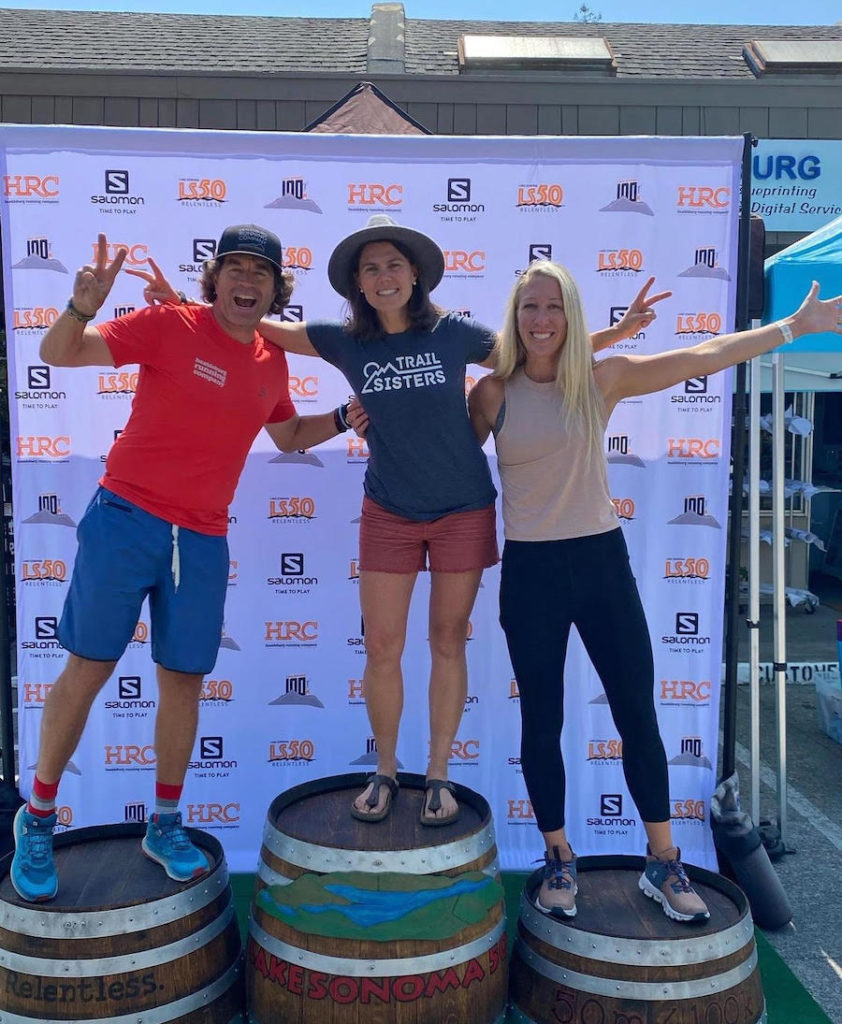 Since its founding in 2016, Trail Sisters has championed a more equitable and inclusive outdoors community, both recreationally and throughout the ultra-running industry. Through its journal content, local communities, grants and resources, Lucrezi and Trail Sisters have had a powerful impact on how ultra-running events are being envisioned and executed.
As evidenced by Trail Sisters' partnerships with industry heavyweights like Lifetime Fitness, HOKA One One, Under Amour and The North Face, as well as elite events like the Western States Endurance Run and Hardrock Hundred Mile Endurance Run, the whole industry looks to Trail Sisters for leadership and a path towards equity. The new frontier for ultra-running is evolving quickly to increase the quality of events through diversity, whether it be internally, externally, or organizationally. As the ultra-running world sees new entrants like Spartan Racing, IRONMAN and others joining its community, strong, experienced voices like Lucrezi's will be critical to continued momentum and investment in diversifying participation.
"Gina has cultivated unbelievable confidence and energy in her Trail Sisters' community," current Lake Sonoma 50 race director Skip Brand said. "The Lake Sonoma 50 is excited to hand the reins over to her to see how she can continue to evolve the race into a truly equitable world-class ultra."
As the race series expands, Keira Henninger, the director of the brand-new Lake Sonoma 100K, is excited to head up the elite race that is a Western States qualifier, while Lucrezi will direct the community-focused 50-mile event which will be built around the values of inclusion, equality, and diversity.
Lake Sonoma Trail Series Partners with Salomon for All-Female Field for New Trail Half-Marathon
In addition to Lucrezi's appointment as race director for the 50-miler, the Lake Sonoma Race Series is excited to partner with Salomon to announce the inaugural WXN's Trail Half Marathon in April 2022 at Lake Sonoma. Brand, who heads the Lake Sonoma Race Series, is enthusiastic about the prospect of the new distance event: "The future of the running community can be rooted in inclusion, equity and diversity and a women's-only field for the new half marathon ensures that more women can feel the magic of trail running without the frustrations and complications of a mixed field. The Lake Sonoma Race Series is thrilled to bring this new race to life in partnership with Salomon."
The Lake Sonoma Race Series believes that ultramarathons are the ultimate leveling ground. Half of the top 30 finishers at the 2020 Western States were women and recent studies have found that the performance gap between men and women narrows as the race distance increases. As the number of female ultra-runners continues to grow, the Lake Sonoma Race Series now aims to foster greater inclusion and diversity in endurance events among other underrepresented communities. The WXN's Trail Half Marathon will be a tremendous opportunity for female athletes to get their first taste of the trail running scene.
"Greater diversity often sparks greater quality and ultra-running should not be any different," Brand said. "Women are leading the charge to diversify endurance events and we hope that inspires the involvement of people from a wide range of social, ethnic, gender and sexual orientation backgrounds."
About Lake Sonoma 50
Founded in 2008, the iconic Lake Sonoma 50 Miler is known for having one of most competitive fields in the United States according to UltraRunning magazine. The beautiful wine country 50-miler consists of nearly 90 percent single-track trails weaving through relentless rolling hills, testing runners with three big climbs and traversing more than a dozen creek crossings. Ultrarunners travel to Sonoma from over 20 countries to experience one of the globe's most popular and distinctive ultrarunning events, one that includes a trail movie festival, gourmet athlete dinner, multiple industry panels and a lively finish line celebration featuring award-winning wine country chefs, multiple breweries and celebrated wine from Wilson Artisan Wineries. Participants as well as their families and friends will enjoy Lake Sonoma and Healdsburg's small-town charm at an event where 100 percent of the proceeds support the Children of Vineyard Workers Scholarship Fund that expands educational opportunities for local students.