Marlene is a 2021 Trail Sisters and The North Face Adventure Grant recipient. This is her adventure story!
I love running. I love the simplicity of moving one foot after another and seeing the places your body can take you. I cherish the bonds you form when you spend hours at a time frolicking up and down trails with treasured friends. I am giddy in the moments of type 1 fun and grow the most in the moments of type 2. I am a better version of myself when I run. And so amidst the chaos and uncertainty of this summer, I ran.
Receiving a Trail Sisters and North Face Adventure Grant provided the impetus to keep running. I have long thought about training for the Ruby Crest Trail – a point to point 35 mile/9k vert trail that winds its way up and down the Ruby Mountains in eastern Nevada. The Ruby Mountains, aka the Duka-Doya Mountains of the Te-Moak Tribe, are Nevada's hidden gem. They span rugged peaks, sagebrush meadows, and crystal cool alpine lakes. This summer, I gently coerced some wonderful women (Patty aka the Geo Queen, Oz aka Big Mama, and Ashley aka Calves of Steel) into training for and suffering through this wild ride with me. Thank goodness all my friends are masochists.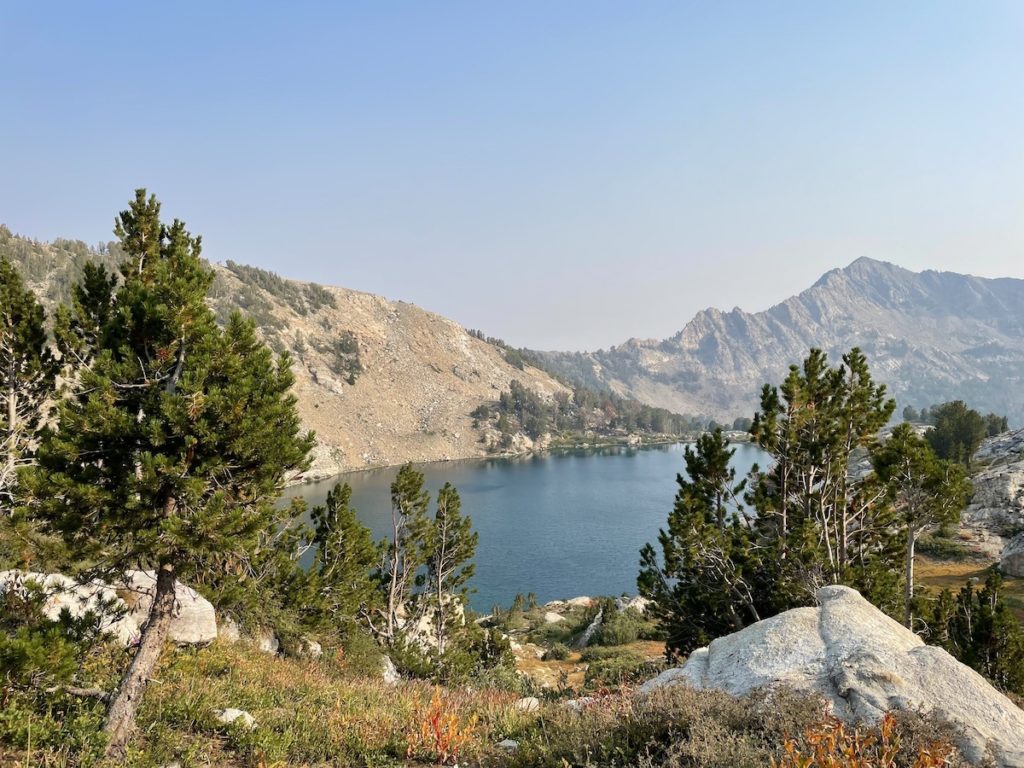 THE ROUTE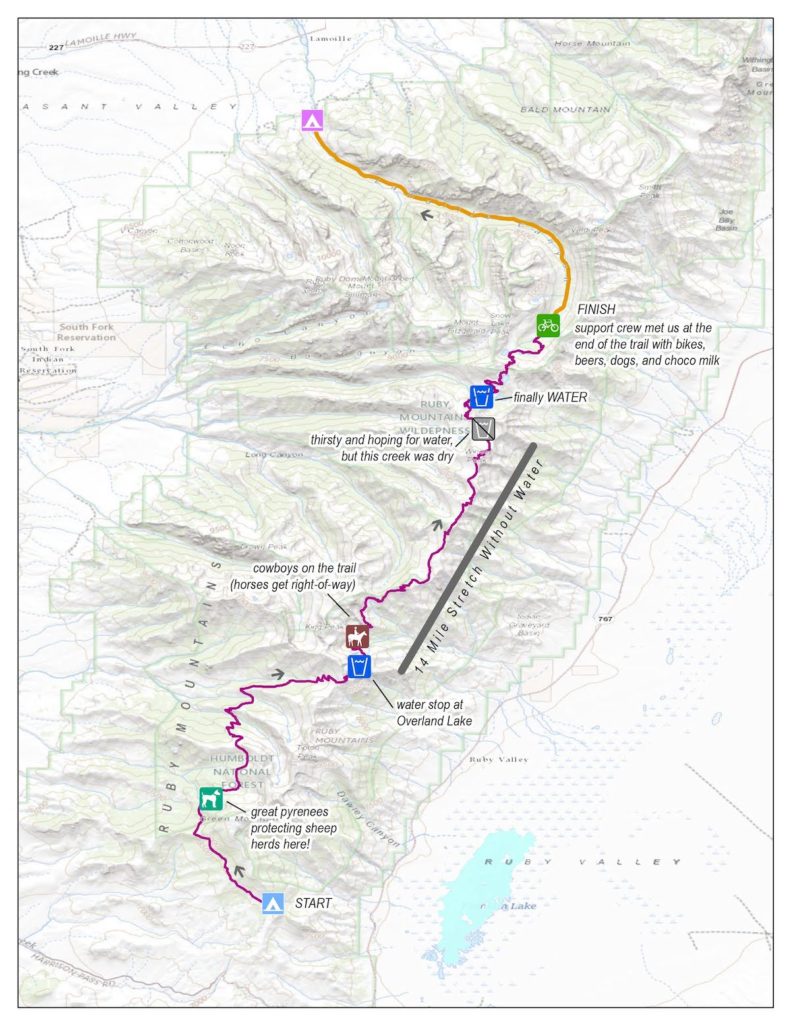 THE RUNNERS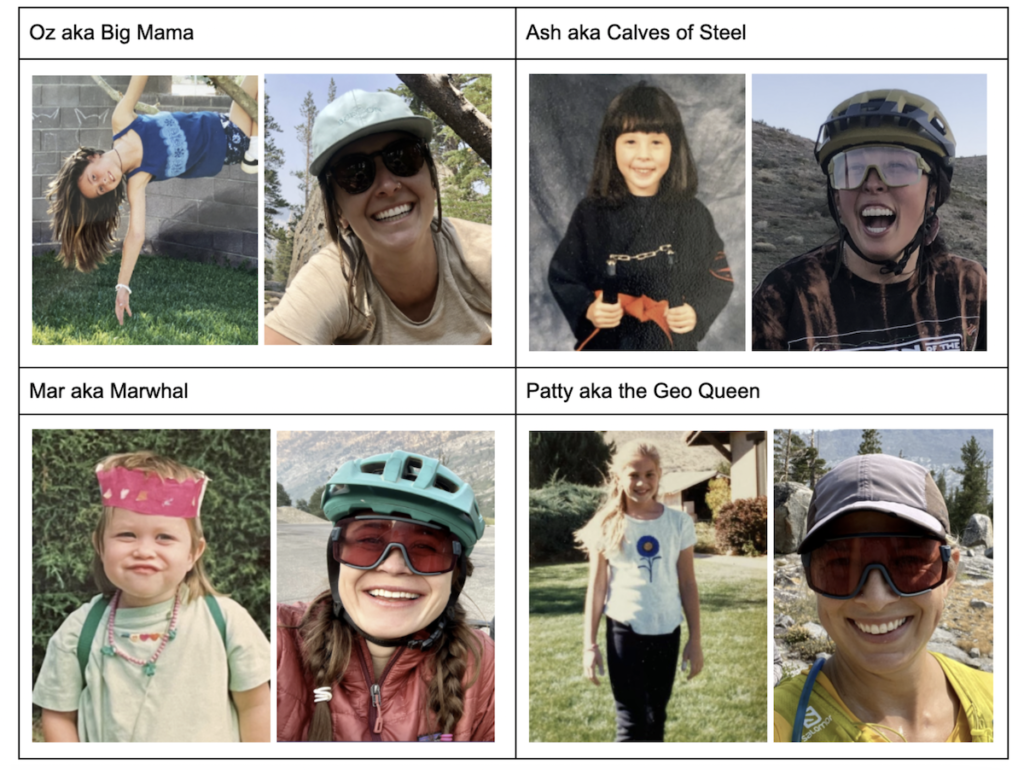 THE ROAD BUMPS
The run itself proved to be a logistical challenge. Tumultuous wildfires ravaging the West caused smoke and ash to infiltrate the Sierras and surrounding landscapes. The smoke made training difficult and sometimes unsafe, requiring us to train between fires (when possible) or far from home. It also left us wondering in the days leading up to the run, if we could realistically pull it off. Additionally, three weeks prior to our set run date, a freak 500 year storm severely damaged the Lamoille Canyon Road. Over 6,000 yards of debris (rock, gravel, and dirt) littered the last ten miles of road that we were supposed to use to set our car shuttle. They closed the road to motorized vehicles, forcing us to get creative. Multiple brainstorming attempts later we landed on a plan. It involved good friends, a composting company, and a plethora of bikes.
Oz owns Down to Earth, a bike powered composting company in Reno. Luckily for us, they graciously let us borrow their small fleet of e-bikes and bike trailers to help facilitate our shuttle scheme. With some astute Tetris skills we fit our mountain bikes, our dogs, and our post-run celebratory snacks (choco milk, beer, and cheetos) onto these trailers. The plan was set: while the four of us ladies ran, our generous friends would shuttle our bikes, through and around Mother Nature's debris flow, to the top of Lamoille Canyon!
THE RUN
Despite the challenging logistics leading up to the run, the weekend itself went off without a hitch. The night before the run we camped with some sweet friends – how lucky are we to have such a supportive community? We braided our hair, watched the dogs wrestle, and ate ramen. The following morning we woke up around 4 am, stripped off our sweatpants, and started shuffling up the Ruby Crest.
Practicing intentionality, we each dedicated the run to a special individual in our lives. Oz dedicated the run to her mom, an independent and strong woman who raised her daughter with the same resilience. Patty, also thought of her mom, and more broadly dedicated the run to a generation of women who weren't afforded the same privilege and access to outdoor recreation opportunities. Ash dedicated the run to her niece – inspired by and hoping to inspire future generations of young women. I dedicated the run to my spunky and sweet grandma – my family's aging matriarch who has always encouraged me to live and love fiercely.
The run itself took us twelve hours – roughly nine of them running, and three of them resting and refueling (and in my case, pooping). We ran through aspen forests, on rocky and exposed ridgelines, and by turquoise lakes. Mostly we ran together, and occasionally we ran alone. Sometimes we ran in silence, and often we chatted or sang Shania Twain. We talked about placentas as an organ, why lichens exist in different colors, and the impending threat of climate change. We each took turns thriving and surviving – naturally trading positions as leader and follower. Slowly but surely, one foot after another we finished our 35 mile quest as golden hour started settling in, greeted in Lamoille Canyon by sweet pups and pals!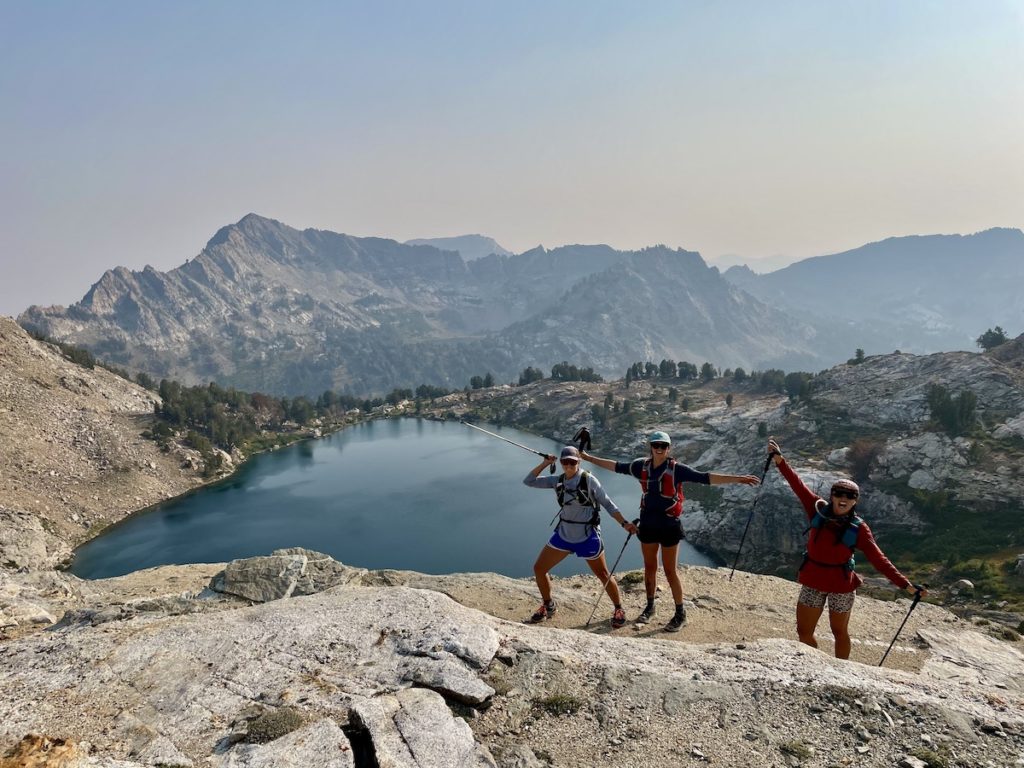 THE RIDE
In a very non-traditional exit, after completing the run our fleet of mountain bikes, gravel bikes, e-bikes, and pups rode off into the sunset back to camp to celebrate and eat quesadillas. While coasting downhill we hooted and hollered, ecstatic that this run that we'd been dreaming of finally happened!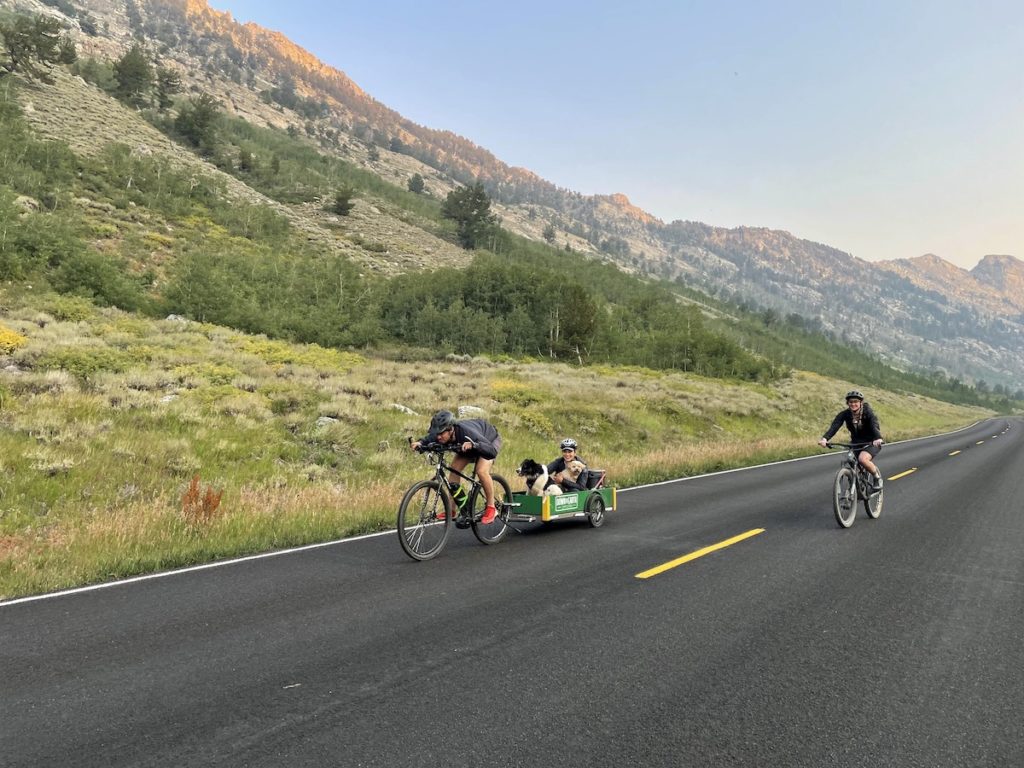 REFLECTIONS
Running provides time and space to reflect. Reflecting on this run we are reminded that women have strength beyond measure. Our grandmas, moms, nieces, and multitude of badass lady friends continually inspire us. We have deep gratitude for our gracious, thoughtful, and uplifting community (especially our support crew: Amy, Chris, Jack, Jill, Morgan, Murphy, Rob, and Simon) who went out of their way to help us achieve this goal. We are so lucky to have such a tried and true support system. We also want to acknowledge that we have immense privilege, affording us the time, energy, and capital to chase these pursuits.
Last but not least, we want to acknowledge that this run would not have happened without the motivation and support from Trail Sisters (thank you Gina!). We would not have looked as sleek or felt as cool if not for our gear kits from the North Face. And we would not have been able to facilitate our shuttle without help from Down to Earth (we owe you new brake pads). This run is the culmination of a lot of sweat, laughter, work, and people helping people. Life is messy, the world is literally on fire, and running reminds us to breathe deeply and think clearly – even if just for a brief moment.