Feature Photo by Sierra Gerringer
I'm running through the woods. Horses and riders pass me as I slog through the mud. I turn a corner, and see my horse, Comet, standing on the side of the trail, tied to a tree. He whinnies, either to tell me to hurry up or to call out to the other horses passing him. I untie him, hop on from the high side of the trail, and we're racing through the woods, chasing the others. In half a mile, I catch my partner, Alison, and we quickly switch places – I hop off one side and she climbs up on the other. I watch as Comet's tail retreats down the trail.
This is the sport of ride and tie. In races of any distance up to 100 miles, two humans partner with one horse to get down the trail. Some race to win, and some just want to complete the race. The race works this way: horses and humans line up at the start. One human team member is on the horse, one team member is on the ground. When the race starts, usually with a hearty, "The trail is open!", the horses race off and within about a mile, are tied to a tree and left. Then the team member who started running, unties their horse when they get to it, and catches the other runner. At that point, the team can either switch (a flying tie) or the rider can pass the runner and tie the horse further down the trail. Teams have to switch a minimum of six times, but there is no set place where they have to tie. Horses are checked by vets at the beginning, end, and during the race. Strategy includes pacing and how far to go in between ties. If the horse comes up lame, or does not pass other veterinary parameters, then the team gets a DNF. For those who may be hesitant riding a horse, there is also equathon. Competing as a team means one member rides the horse a certain distance, and then, once the horse passes the vet check, the other team member, the runner, goes out to run a loop. Like a triathlon, this can also be an iron person event.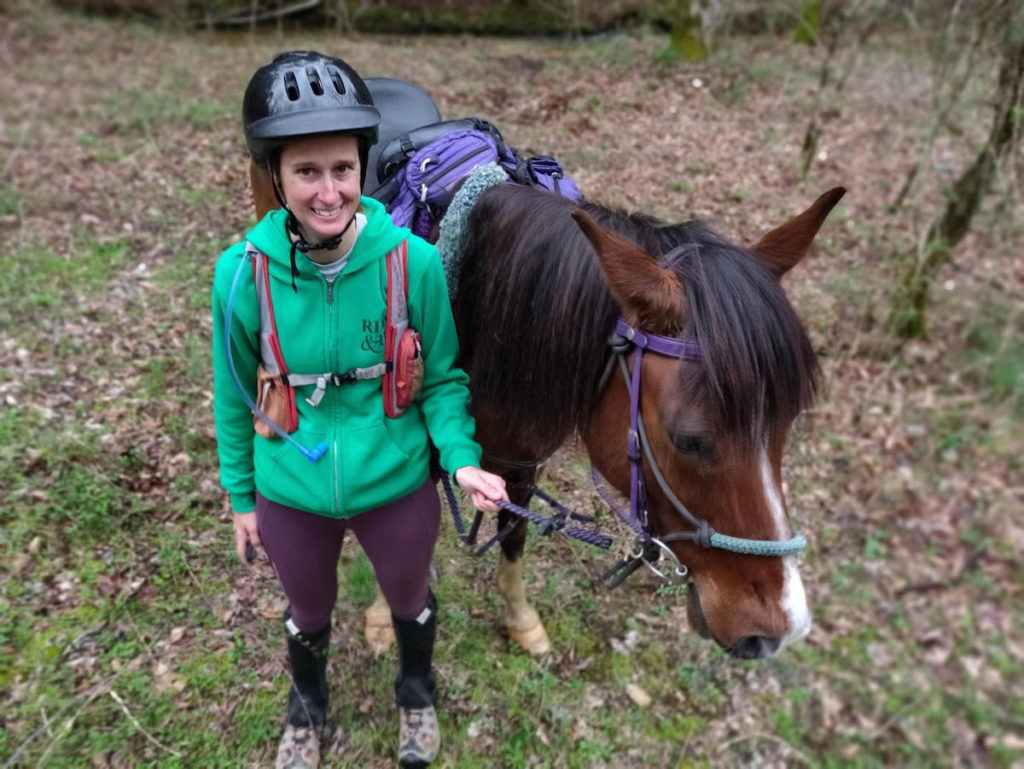 Ride and tie combines ultrarunning and endurance horse riding. I compete in all three. I work to train my horse, Comet, and myself, to cover distance on the trail. Both endurance horse riding and ride and tie are female dominated sports. Go to any endurance ride or ride and tie (often the two competitions take place at the same event) and you will see a majority of women. And these women are truly tough. They haul horses around the country in large rigs, control these 1,000 pound excited animals, and ride competitively on tricky terrain. When I stumbled upon these events, I knew I had found my people.
Like ultrarunning, these are small, close knit communities. Even in a competitive race, people will stop to help a struggling runner or horse. Usually, we're chasing our friends down the trail, and then telling stories over food at camp afterwards. Tales of people running past their horse (it happens – just think about a darker colored horse that moves to stand behind some trees the same shade of brown), someone taking the wrong horse (some people have truly done this!), and people taking the scenic route (aka going off course). The horse world is a small one, full of love and compassion, for each other and for animals. We share horses, and switch ride and tie partners frequently, depending on who is available to travel to various races.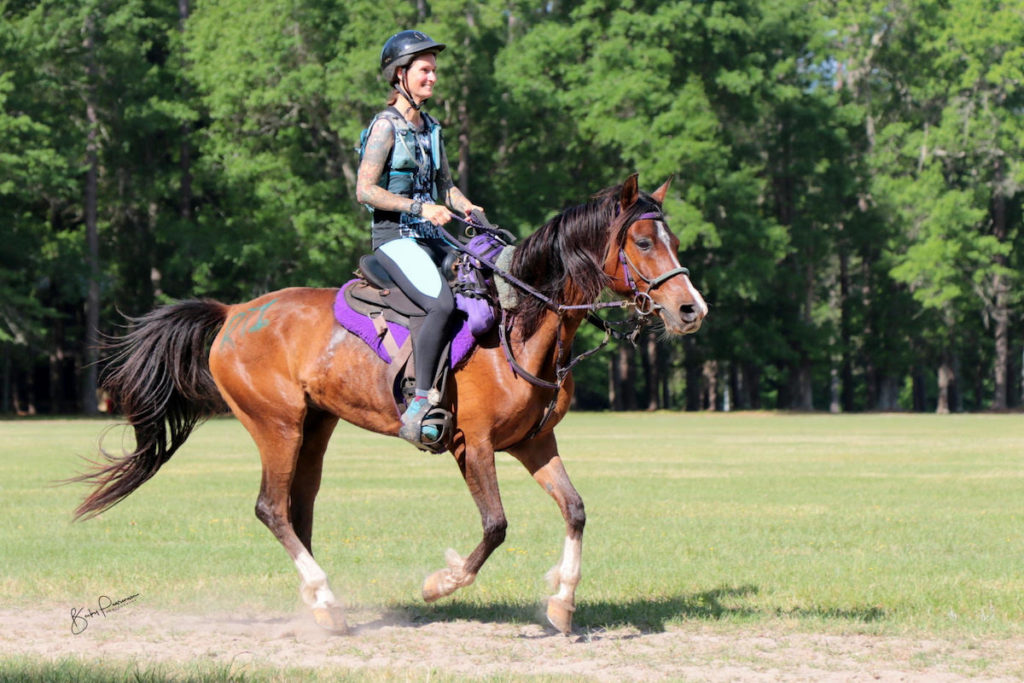 Horses have been a part of my life since I was a little girl. My older sister took riding lessons, so I had to try that too. Coincidentally, my older sister got into running, so I did too. Now, we are both ultrarunners and own horses. One of my first memories involves a cranky Shetland Pony named Queenie, and my instructor staring at me on the ground asking, "Now, what did you do wrong?" Falling off was my fault, not the pony's fault. Fast forward to the year 2018 – my husband had just passed away suddenly, and my horse people arrived almost immediately to take care of me and offer their love and support. My friends kept me busy in the best way they knew – by getting me out on the trail to ride and to run. It's easy to fall into grief, but they steadfastly and quietly kept me from doing so, entering me in ride and tie races, and asking me to compete on their horses.
Women and horses may be a cliché, but these women are strong, yet compassionate, and supportive of each other. In trail and ultrarunning, we discuss how to get more women involved and feeling comfortable out in the woods. Horsewomen are already doing it, and constantly outperforming men in both endurance riding and ride and tie. The thrill of riding, and running, on trails is both joyful and freeing, and I am here for it, either on the back of a horse or on my feet.