When the nurse told me you were going to be a girl, my heart stopped for a moment. This world is not always particularly kind to women, and there's certainly much work to be done in our society to level the playing field. When I caught my breath, the prevailing thought was sheer joy at having the opportunity to be part of raising the next generation of Trail Sisters.
Being a Trail Sister will teach you many things. I know that when I bring you along to group runs, to hikes, or to volunteer and cheer at races, you'll be surrounded by incredible women who will show you that you can do the hardest things. You'll see that with a little bit of tenacity and support from your Sisters, "impossible" is just a word that you can conquer.
Growing up in this community you will learn that your Sisters will love and support you through the peaks, and help you climb out of the valleys. They'll cheer you on through your finish lines and fix your feet at mile 88. Your Trail Sisters will remind you that in life, as on the trail, the hill will eventually end and that the view at the top of the climb is well worth it.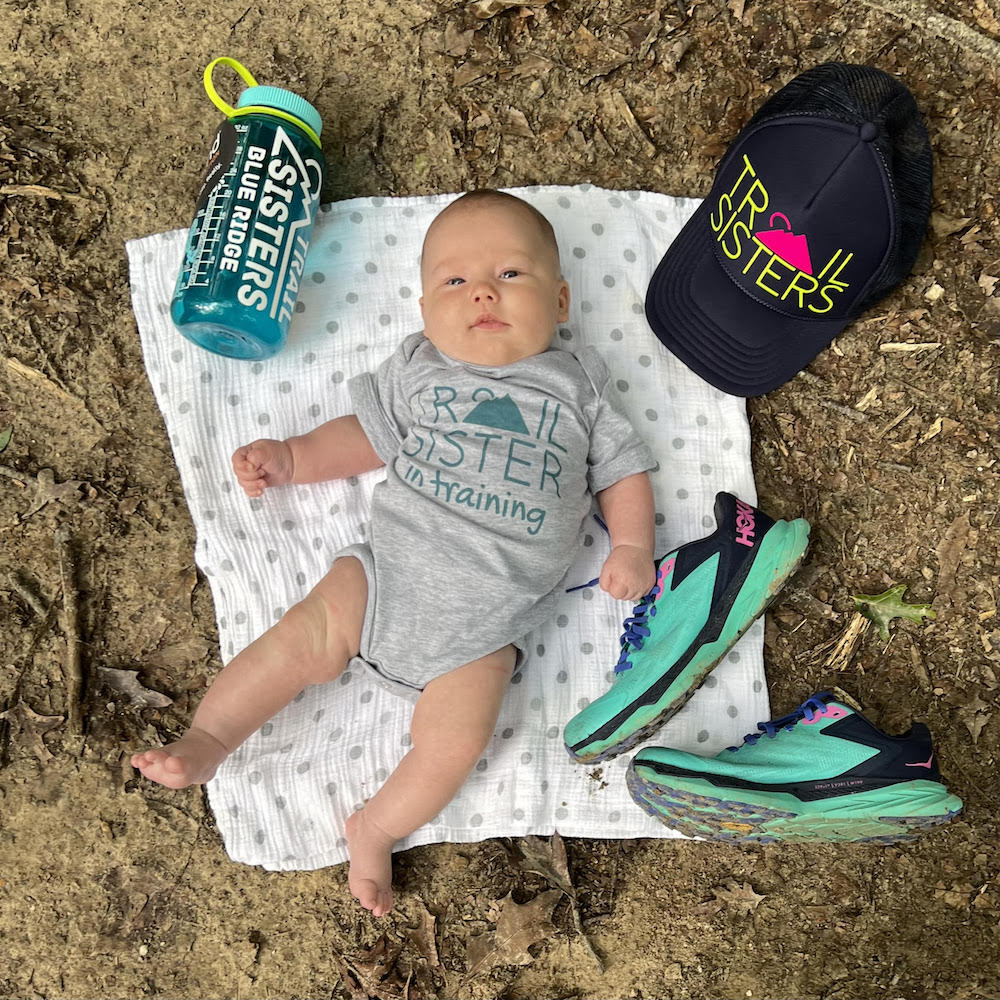 When you put on your Trail Sisters shirt, you'll be reminded of all of the badass women who have broken barriers both on and off the trail wearing the same logo: from crushing every distance imaginable to fighting for equal representation of women at starting lines of races. You'll learn that your mama and her local Sisters started group hikes because not everyone can run and they wanted to be inclusive to all women and encourage every sister to put feet to dirt.
Your Trail Sisters will teach you about recovery; about giving yourself and your body grace, appreciating your strengths, and strengthening your weaknesses. They'll show you that it's okay to cry, and help you dust the dirt off when you get back up. With your Sisters by your side you'll learn the value of slowing down and resting when you need to.
Your Trail Sisters will become some of your very best friends. The ones you share your good days and your bad ones with; lots of miles and smiles, and yes, even some moments deep in the pain cave. The bonds of sisterhood you'll build will stay with you for a lifetime.
Tiny Trail Sister, I promise to foster a sense of adventure in your heart, to let you grow wild and free, and to follow your lead when you start to forge your own path. I can't wait to be with you every step of the way.