Editor's Note: This article was written by both Cassy Campanella and Jeannine Ho.
The Javelina Jundred a.k.a. the "original costume 100-mile (and 100K) trail run party", which took place on 10/29 – 10/30, is an experience like no other for anyone with the opportunity to run this desert ultra near Fountain Hills, Arizona. Two trail ultra-runners and HOKA employees, Cassy Campanella and Jeannine Ho, share their experiences running the Javelina Jundred.
What is your background with trail running and ultra-marathons?
Cassy: "I started trail running after I moved to GA in 2013, I fell in love with the local community here. I started running smaller local trail races and found out about ultras through my *now* husband when we started dating. I paced him for one and said out loud "This is so dumb- why do people do these??". A couple years later I wanted to see if I could complete a tough race here in Georgia (Georgia Death Race- 74 treacherous mountain miles), so I signed up. I did a few 50k's leading up and trained my ass off and was shouting "BEST DAY EVER" throughout that entire race day. That was it, I knew from that point on – I was an ultra-runner. I felt strong, powerful, and capable and that has helped me become who I am today!"
Jeannine: "I have very little background running on the trails. I started running on the road at community run groups. After training and chasing times at the marathon distance, I needed a change of scenery and started to explore the trails. The more time I spent on trails, the more I appreciated the space. So, when the pandemic hit, it was an opportunity for me to train for longer distances I've known, on a terrain I've learned to appreciate. I completed my first 50K back in May 2021 at Bryce Canyon Ultras. I told myself if I survived the 50K and was still in high spirits, I'd go for the 100K. I'm new to the ultra-scene but loving the journey thus far."
What makes Javelina special to you?
Cassy: "An amazing group of friends (Ripped tents crew), my husband, and myself all signed up to run this race in 2019 – before one of the wildest years of our life – 2020. We grew closer to this group throughout 2020 so as things started to open and we found out the race would indeed happen, and feel safe, we were stoked. Having to wait an extra year for something is hard, but it was great to have something to look forward to. I found myself in some pretty serious depression for some of 2020 and this race held me accountable in a lot of ways. The race itself turned out to be even more than I could have asked for, I ended up running a majority of it with my husband Jared and had the privilege of my co-worker Alex pacing us for our last lap. Javelina is so special to me because it was a day I will cherish forever."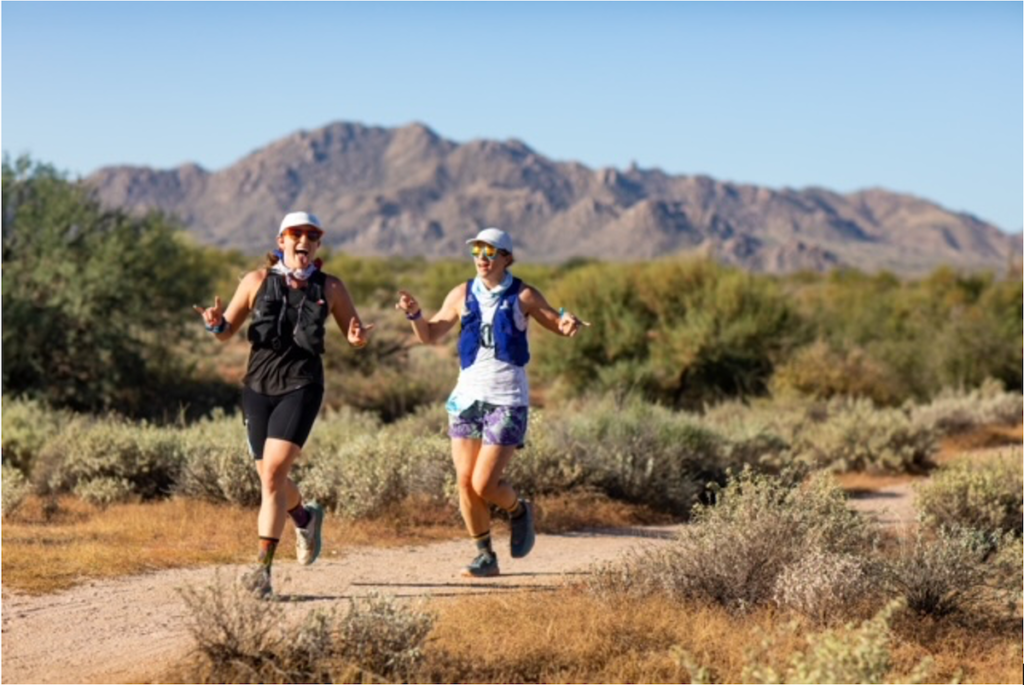 Jeannine: "The journey leading into Javelina was unforgettable and probably the hardest to date. The journey consisted of 50% training on my own. I couldn't train 100% to the capacity I wanted to, with family hospitalizations and passing leading into race week, and peak season at work. To go through all of that, run the race to the best I could and finish with my Goal A (of completing the race in one piece) and Goal B (finishing before midnight), Javelina will definitely have a special place in my heart. The goal was to run the 3 celebratory loops, for where this journey has taken me, where I am now, and where I may go from here on out."
What was the energy like on the course? How was the crowd support?
Cassy: "Energy was bananas at HQ all day- honestly such a party every time we would roll in! Each aid station was amazing and everyone there treated us like royalty. We had an *ultra-brain* food request at 2AM and this kind aid station volunteer hand crafted the most amazing avo/hummus wrap for us – Jared and I will never forget you sir! The crowd support throughout the entire race was incredible, but the best part was seeing all my HOKA family throughout the day!"
Jeannine: "Energy from the runners was very uplifting and the feeling of community, that we were going to be out here for hours with each other, and to appreciate the surroundings. The crowd support did not kick in until the 3rd loop for me when the night race started. The only crowd support was at the Javelina Jeadquarters, it was a quick pass through to your aid support and back on the trails so little support or energy from the crowds and more about your teammates or personal aid station."
What advice would you give to someone running Javelina for the first time?
Cassy: "ICE ICE BABY!"
Jeannine: "Enjoy it. Consume as much solid food early as you can, hydrate during the week leading into it and during the race, indulge in the food and snacks at the aid station, bring a crew that is energetic and helpful (it will help even if you only see them for short period of time), embrace the space you are in even if it is the desert. Prepare to be alone in your thoughts. Embrace the training journey and run the race as a celebration."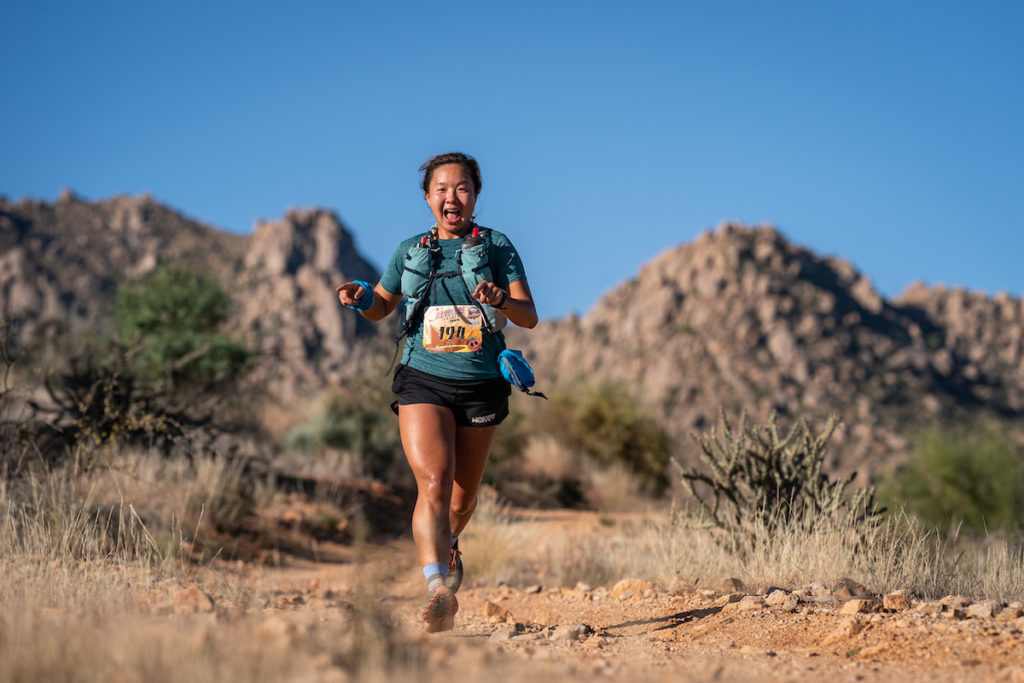 What was your favorite memory from the race?
Cassy: "Honestly two stand out in my mind: First loop I got to frolic with two of my favorite friends Carissa and Chantal! Last loop had HOKA Alex join Jared and I and watched the desert sunrise together. Overall, the entire day was EPIC."
Jeannine: "Definitely crossing the finish line. Knowing I didn't have another loop or be out in the dark or continue the distance. Mainly seeing my loved ones at the end that were there supporting me, crewing for me, waiting for me when they didn't have to, believing in me when I didn't believe myself, cheering me on every time they saw me pass through, reminding me of the reality that I just did that, when it didn't hit me (still hasn't hit me). It was a sigh of relief that the training is done, the race was a celebration of all the hard work and time put in, the finish was a reminder that anything is possible, but also a joyous occasion of achievement."
What challenges did you face during the race, and how did you overcome them?
Cassy: "The heat killed me – I swear a part of my soul is still out there in the desert. I thankfully had taken everyone's advice and brought an ice bandana and that helped. Lap 4 I started getting some gnarly blisters and ended up having to stop at the med tent a couple times (I've never had this issue before). I did my best to doctor the wounds but putting my foot back in my shoe each time was pretty awful. The first few steps out of aid after mile 80 was intense – but I told myself "You didn't come here to quit" and "Enjoy every second – even when it hurts."
Jeannine: "Proper fueling. I didn't train myself or consider how much I needed to eat during these long distances/time on feet. Once I realized I was not consuming enough calories, I snacked on the PB&J sandwiches and boiled potatoes at every aid station possible to ensure I'd finish my third lap strong."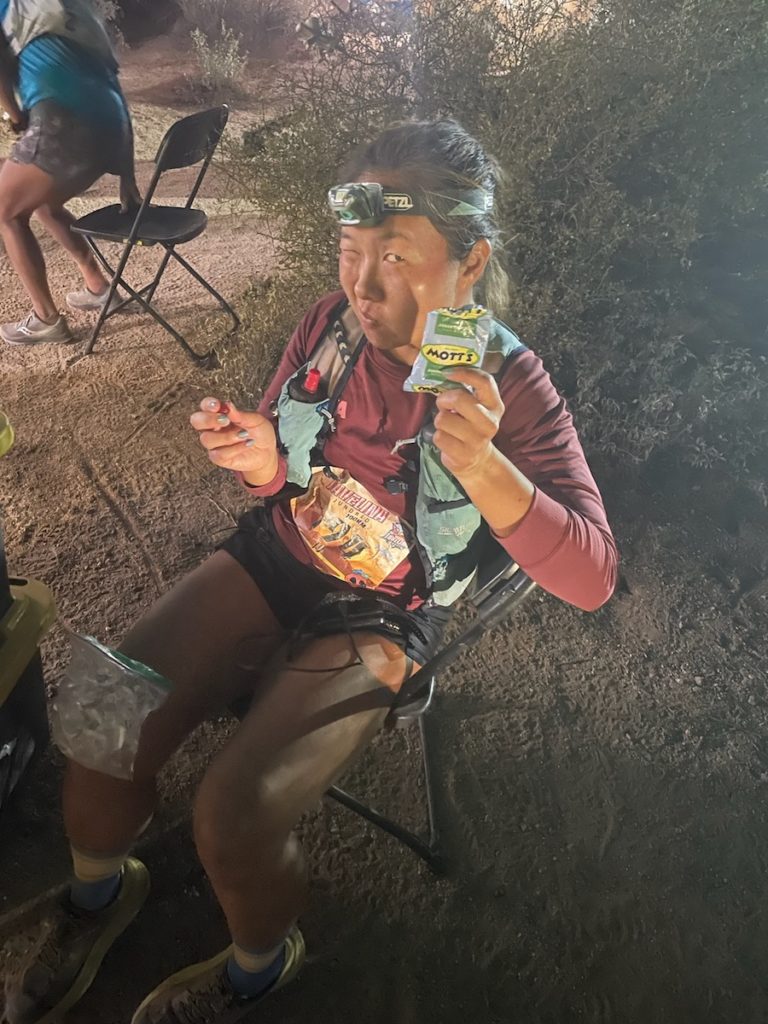 Which HOKA's did you wear?
Cassy: "Speedgoat 4 and Speedgoat 4 wide!"
Jeannine: "Speedgoat for the first 2 loops and Evo Speedgoat for the last loop."
Anything else you'd like to share?
Cassy: "For anyone considering running an ultra-marathon or doing something that feels uncomfortable, please follow your heart and do it. I've had the privilege to race and do a lot of wild things and it's not the race or activity itself that will change you. It's the people you meet, things you overcome, and memories you will always have that makes it so incredible. Go learn – be awkward and possibly fail at first – then grow and be extraordinary!"
Jeannine: "It was a transformative experience. I learned a lot about myself during this journey and on race day. It can be overwhelming to think about the distance, it still is even after I actually completed it."