The majority of my life I've been lucky enough to earn a few belt buckles here and there. Until this year, all of them have had a horse on the front. Growing up my family supported a lifelong passion for horses that turned into a career as a horse trainer. A few years back I retired from the horse business and with that life change came a new passion for running. It started with 5ks, which then led to marathons and now ultras.
A few weeks ago I had the privilege of running Black Canyon 100k in Arizona earning another buckle to add to the wall. All of the buckles I've earned have taken a village to get me there and this one was no different. Black Canyon training was tough, emotionally and physically. I underestimated how hard it would be to train for a desert 100k race through the snow and cold of a Michigan winter. Many days I did not want to get out the door or I felt guilty for leaving my family for a long training run, but they bundled me with hugs and sent me on my way. They made signs for me to hang by the treadmill in the basement, cheering me as I ran, giving me motivation whenever I looked at them.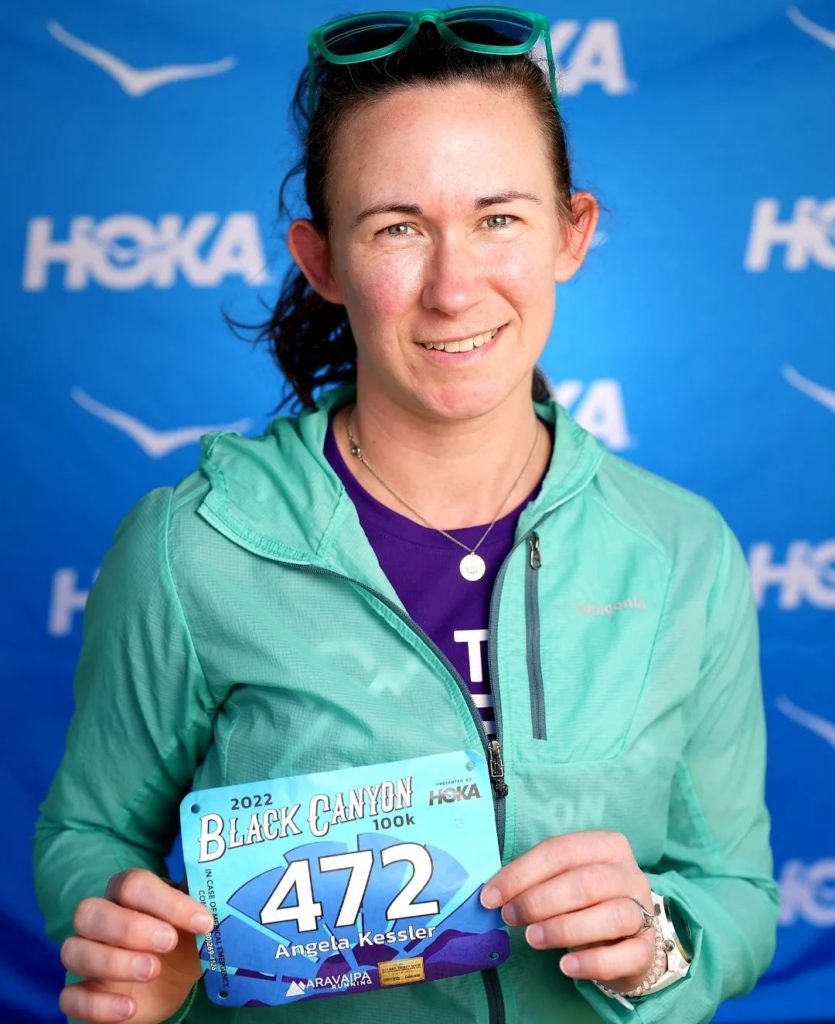 We dodged Covid bullets as the race drew nearer, until the last minute, when my rock, my husband, fell ill and couldn't travel to the race. We were devastated, but, selfless as always, he quarantined himself so my son and I would still be able to travel. Our good friends Caitlin and Andrew agreed to come along and crew.
Race morning was a cool 34 degrees and the excitement of the race with its drone footage and live broadcast added to the intensity and eased some emotions knowing my family back home was watching it all unfold. The elite runners showed up in full force vying for the Golden Tickets to Western States awarded to the top 3 male and female finishers. I'm a huge fan of all things ultra running. So to toe the line with Clare Gallagher, Devon Yanko, Addie Bracy, Yiou Wang and Lottie Brink added to my bundle of nerves. As the sun rose against a perfect desert backdrop the countdown started and then we were off!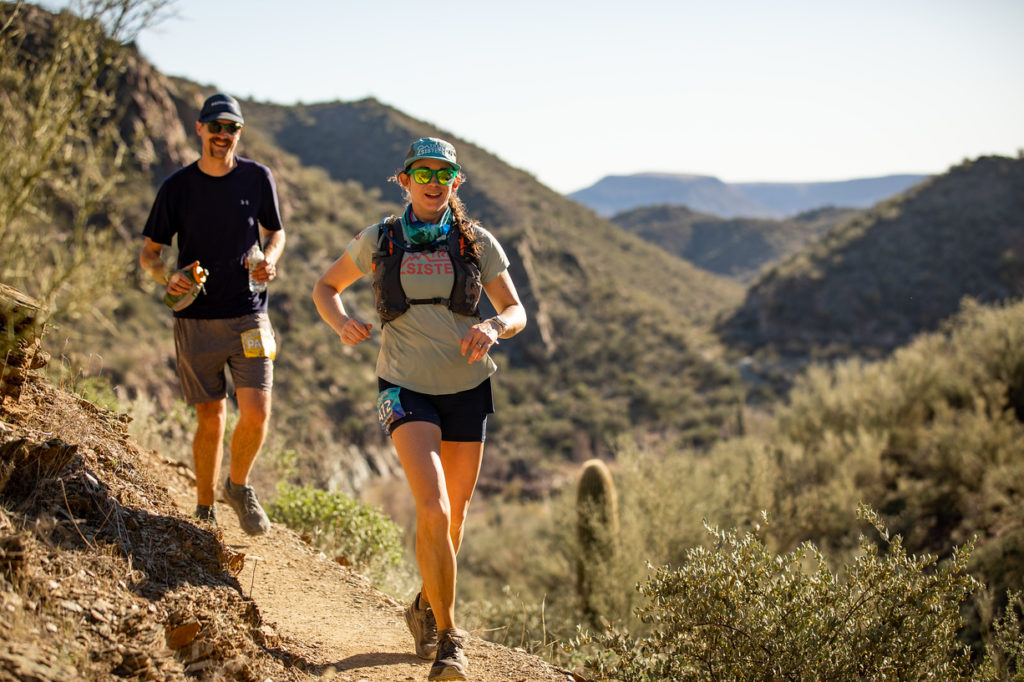 The first 20 miles were pretty fast and flowy with a ton of sneaky, fun, downhill running, slowly and quietly sapping the life out of my quads. Around mile 24, after the Gloriana Mine Aid Station the 80 degree heat began to catch up with me. The entire trail is exposed, with no shade and no relief from the sun. The footing became trickier with larger rocks to trip me up. I slowed my pace trying to keep my heart rate down. At each aid station I stuffed every inch of clothing, bra, hat, buff and bladder with ice to cool myself down but it was still slow going.
Finally around mile 30 I hit a low point and called my husband for a pep talk. As always he told me what I needed to hear. I could do this. It's hard but I can handle it. Keep moving my pacers are close. He told me that our friends were all glued to the live feed cheering for me. So on I went.
Mile 37 at Black Canyon City I picked up Andrew to pace for 16 miles through some of the most gorgeous land I've ever seen with the sun setting as our backdrop and colors fit for a painting. The rocks took on a shimmering hue, sometimes red, sometimes crystalline, with saguaros the size of trees towering above us, and sunlight reflecting off the receding water in the canyon below us. This section had a good deal of climbing which I was grateful for after all the downhill running earlier in the race. The miles felt like they flew by. The air began to cool and renew my energy. Andrew's enthusiasm about the course revived my outlook. We talked about how lucky we are to have running in our lives, bodies able to carry us to these beautiful places and about what our race and training plans looked like for the rest of the year.
In the dark at mile 51 I picked up my second pacer. My secret weapon, my 12 year old son Nolan. For 12 miles we shuffle-jogged and power- hiked through the night. We listened to owls, burros, coyotes, and snippets of conversation from other runners as we leap frogged our way along. We stopped to wonder at the brightness of the stars in the sky. He told me cheesy jokes, asked me if maybe I should run here, don't let that group behind us pass, and we talked about how much we appreciated each other until I thought my heart might burst.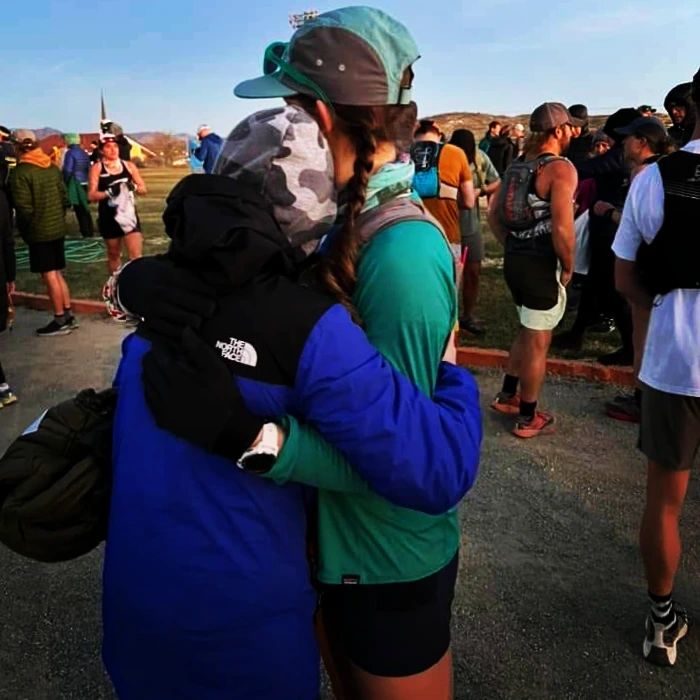 And then… Nolan saw the finish line. I swore it was a mirage but he was right. We had made it. Amid the hugs and cheers awaiting us, my phone rang, and I was able to talk to my husband, who had watched the live stream the entire day and was able to see us cross the finish line. A wash of emotions came over me. Relief, happiness, sadness, but mostly gratitude for everyone involved in that day. Some were there with me physically, filling my vest with ice and drink, shoving snacks in my face, saving me from a near disaster after forgetting my headlamp at Black Canyon City. Some were there in spirit, an entire day spent in front of TV and computer screens, and I could feel their support the whole time. I may not have finished in the time goal I had set for myself but I finished in time to qualify for Western States! We didn't waste any time at the finish line since the temps had dropped considerably. We grabbed a delicious pizza from Freak Brothers and scarfed it down while waiting for the bus to shuttle us back to our car.
I have so many emotions about the gratitude I feel for my crew. For friends that will take vacation days to fly to Arizona, stay up ALL day for a crazy long time, in the crazy hot sun, and wait on me literally hand and foot, only to have to deal with my salty, stinky, tired self on the drive home. Caitlin even endured a cactus jab to the butt cheek while on crew duty. Now that's a real friend! I may have covered the miles that day, but it was really my support team that made it all happen.