Feature Photo by Jesse Kokotek
DFL or Dead F*king Last…As a road runner the prospect of this absolutely terrified me. I am not quite sure why, since I am most certainly a mid to back of the pack runner. However, roads, unlike trails, are usually about speed…or at least that's what they make you believe. Trail running is an adventure out in the universe between you and your soul. You want to stop and smell the flowers so to speak, and occasionally do this quite literally. I am convinced there is no better way to see the world than with your trail shoes on. 
The word "last" as defined in The Merriam-Webster dictionary defines the word "last" as "after all others, or in conclusion" it does not define it as "failure." Yet so many of us in the running community view it that way. I am not sure where this correlation of being last and being a failure comes from. Although I am sure we can all relate to being embarrassed by coming in last in a footrace or being picked last on the playground. With running, "last" becomes a source of shame instead of what it should be, a source of pride, because no matter the struggles to get to that finish line, we got our badass selves across it.
In 2021 I had the honor of being dead f*cking last in my first and only 50 mile ultra to date. I call it an honor for many reasons and to understand you need to know a bit of background. In 2018 while training for my first road marathon, my then two-year-old son was diagnosed with leukemia. My joy of running shifted to a need to run to cope. I continued to run roads for a few years with the occasional frolic in the woods. In 2020 a friend introduced me to a nearby trail and I absolutely fell in love. This small five mile loop became my breathing ground, my stress reliever, and my training zone. It was then that I signed up for my first ultra. I ran my first 50K in October of 2020 and immediately wanted to do it again. The community of runners was like nothing I had ever seen before. A hundred people hanging around in the woods. Runners, supporters, and race directors…all just hanging out and doing whatever needed to be done for any runner who came through. I had never seen complete strangers take care of one another like family until I made it to the trail running community. I distinctly remember the RD's of Happily Running (who I am now lucky to call friends) offering to pop blisters for complete strangers.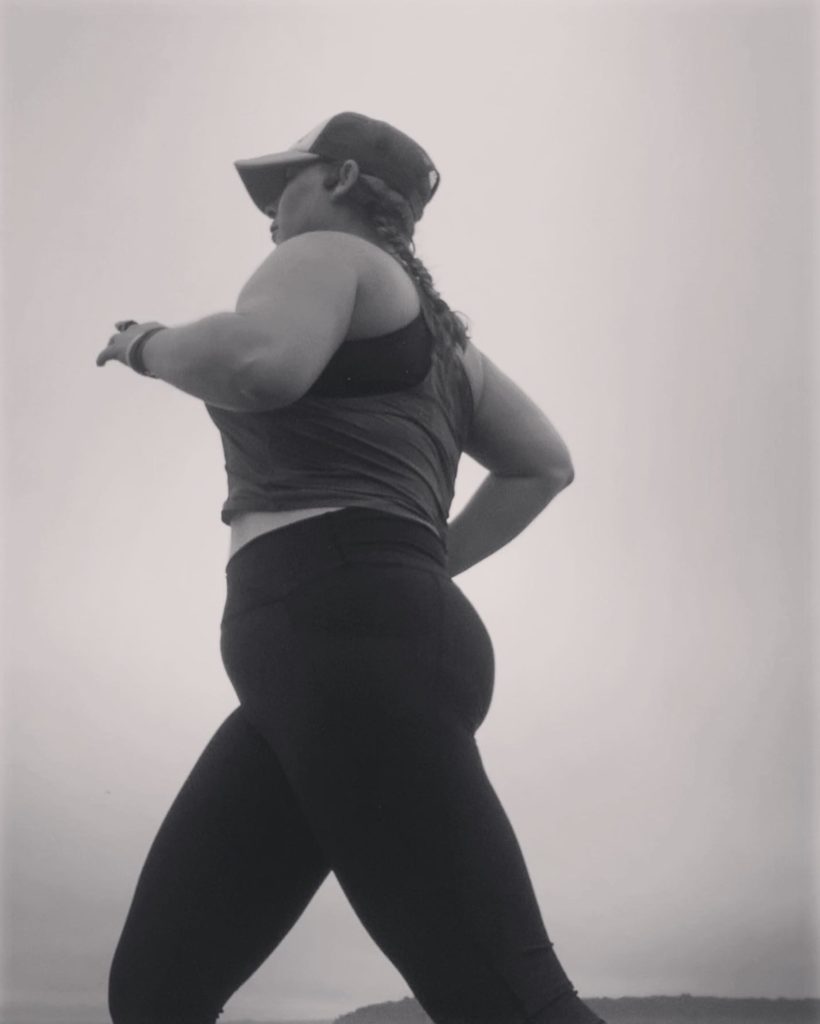 With my newfound love of the ultra, I set out to find another race. I have no idea how I stumbled upon the Yeti Trail Runners but I am so glad I did. I was looking for a race somewhere drivable but that would put me outside my comfort zone and boy did I hit the jackpot. For this Long Island, NY girl who spends most of her life living at sea level the Appalachian Mountains in Virginia is a world away. I joined the Yeti Trail Runners Facebook group, thankfully made a quick friend who literally schooled me in all the things I never knew I needed to know about trail running in the Appalachians of Virginia.
In June 2021 I ran the Dam Yeti 50 miler, and by "ran", I mean, ran, walked, shuffled, and maybe cried a little. I had a deal with my husband, who also happens to be the best crew and medical team around. If at any point in his medical opinion I needed to be pulled from the course, then game over. Other than that, he would let me continue until I got pulled from the course or completed. Let's just say thank God for the salt fairy around mile 26 because if not for her I may have been pulled at next sighting. And this is where the idea of possibly being DFL starts to change, where the mindset begins to shift.
As I stumbled into the aid station walking a bit drunkenly as I recall someone asked me if I had taken any salt. My fingers looked like sausages, and I was feeling not so hot on this 104-degree day. Another runner offered me her Base salt, instructed me on how and when to take it, and left me the tube explaining that she was only running the 50k this year and she was good to go. She is my salt fairy. While I never got to know her name I have tried to pay forward her awesomeness at every event I have been at since. With my new salt in hand (and not caring about the fact that I just took salt from a stranger who had licked her own finger and put int on the same tube I was now using) I was off.
At the 50k turn around I decided to keep on shuffling deciding that either I would be pulled from the course and DNF or I'd shuffle into town. I met two lovely women at the turn around and we decided to hustle walk as far and as fast as we could for the next 20 miles. And so the possibility of being DFL continues to become far less scary. I am not alone, we have similar goals, and we are having the most ridiculous conversations possible to survive the sheer exhaustion and pain we are all experiencing. We're living in the pain cave together. It is this togetherness that changes the game.
We all made it to the finish line that day. As we turned the bend and saw the balloon arch and heard the people cheering my place on the board didn't matter. The fact that there was no one behind me didn't matter. The journey of the past 13+ hours is ALL that mattered! There was a tunnel of runners with their arms in the air for us to run through, a race director waiting to hug every runner, and my husband with the look of absolute pride as he watched his crazy ass wife complete her first 50 miler.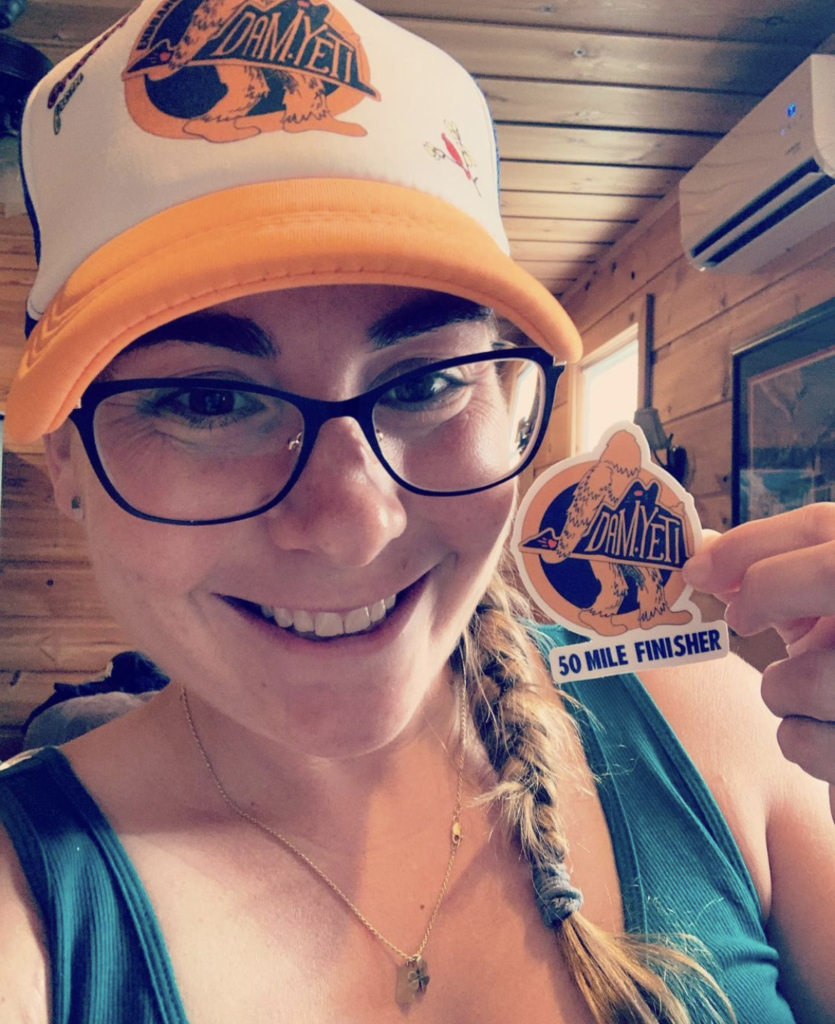 In the trail running community the consensus is that the goal is to just finish and have a blast. Let your crazy out a bit. We have parties at aid stations, eat some gross mixtures of food and take some whiskey shots (well, some of us). This community, these fellow runners and supporters are what makes a DFL not so scary. In fact knowing that there is a group of people waiting at the finish line with hugs no matter what time you shuffle in is where being dead f*cking last becomes an honor. An honor to be the closer of one of the best days many of us will have…to be the caboose of an epic adventure!