My #vanlife dreams were spurred by a romantic vision of waking up to a different trail every morning. A beautiful and simple life, where I have some coffee while enjoying my view out the back windows, do some work, run some trails. A life with stinky armpits a side of remote working. To be honest, it looks like this a lot of the time, and I'm endlessly thankful for this beautiful earth and the privilege that has led me to this place.
After 1.5 years on the road, there are a couple of notable things that have changed. When I set out, it was just me and my old lady dog, Hazel. We were a couple of fierce women on the road in a pink van taking names and numbers. I've since brought another stinky trail loving human and his dog aboard my now dark green 2013 Mercedes Sprinter. 2 large dogs, 2 humans and limited storage space.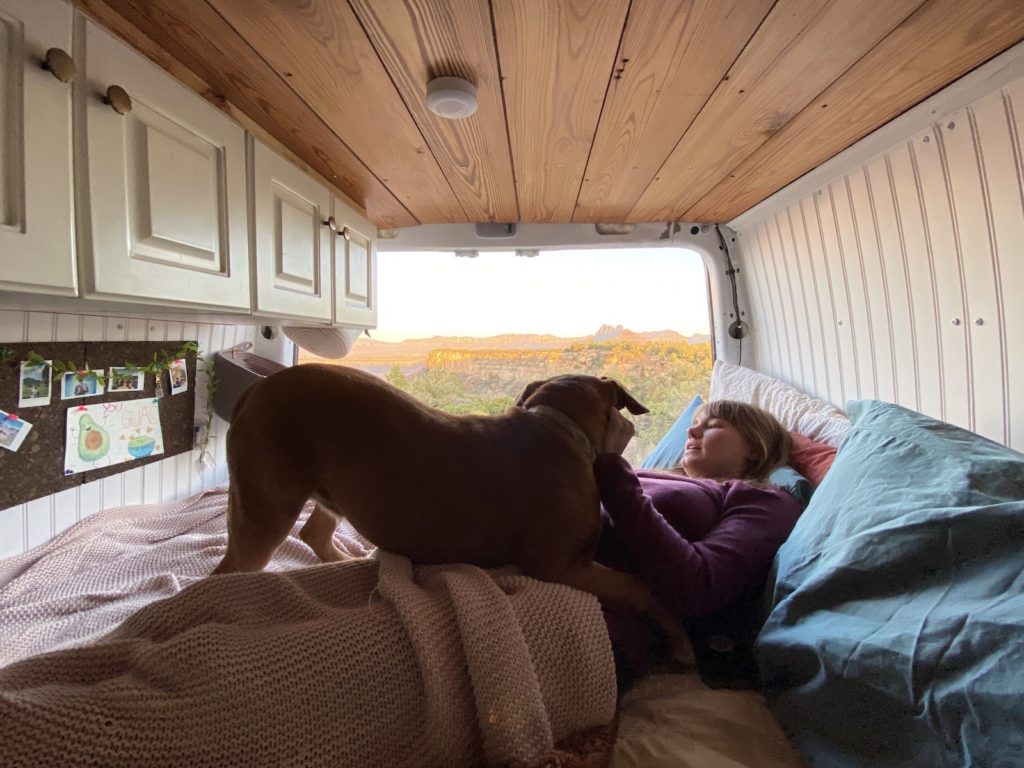 I'm still living the vision, I just have less storage space. Therefore, I have dialed in my trail running kit that allows me to hit the trails whenever my heart desires. There's a spectrum of comfort you can have on the road as an active, aka frequently sweaty, human being, and I think it's important to show that you can get out there and live your dream with some bare bones and reasonably affordable necessities.
I'm going to mention the 10 essentials that you should bring out on the trail because those aren't specific to a nomadic way of living. Please be smart and bring the things you need to stay safe on each and every run. This list is an overview of items and resources that are unique to living a comfortable trail running life on the road.
Running shoes: Okay we're going to start out with the obvious, but since van life storage is limited, you might have to narrow down your shoe collection. I keep 2 pairs in the van at all times, one pair of road and one pair of trail shoes. While my dream was to always be in nature with access to trails, that's just not practical. (And quite frankly exhausting to me.) Visiting friends and family is one of my favorite parts of life on the road, and well… not everyone lives near amazing trails. This is when the road shoes come out and we find urban adventures. And well if you found this article you know why I keep the trail runners.
Dirtbag status: trail shoes only.
Waist belt + Running Vest + Hand held: Maybe these are too obvious but I wanted to share my stripped down gear carrying list. Before I hit the road I found I had 3 running vests, 2 of which I used occasionally. Like most things when transitioning to living in a smaller space, you have to reduce redundancies. I've got one solid running vest now, pick your work horse, one that will work for your shorter runs and one that will work for your longer runs. For shorter runs and city runs I'll throw my phone, ID, a credit card and most importantly the van key in my waist belt. Side story: I once got lost out on a dirt road on a run that was intended to be an out and back. I had left my phone in the van. My 6 mile run turned into a 12 miler… It shook me up, I was scared and, admittedly, a little embarrassed. From then on, I vowed to bring my phone on any run that I wasn't intimately knowledgeable about the route.
Dirtbag status: phone duct-taped to your hand, berries & water found on the trail.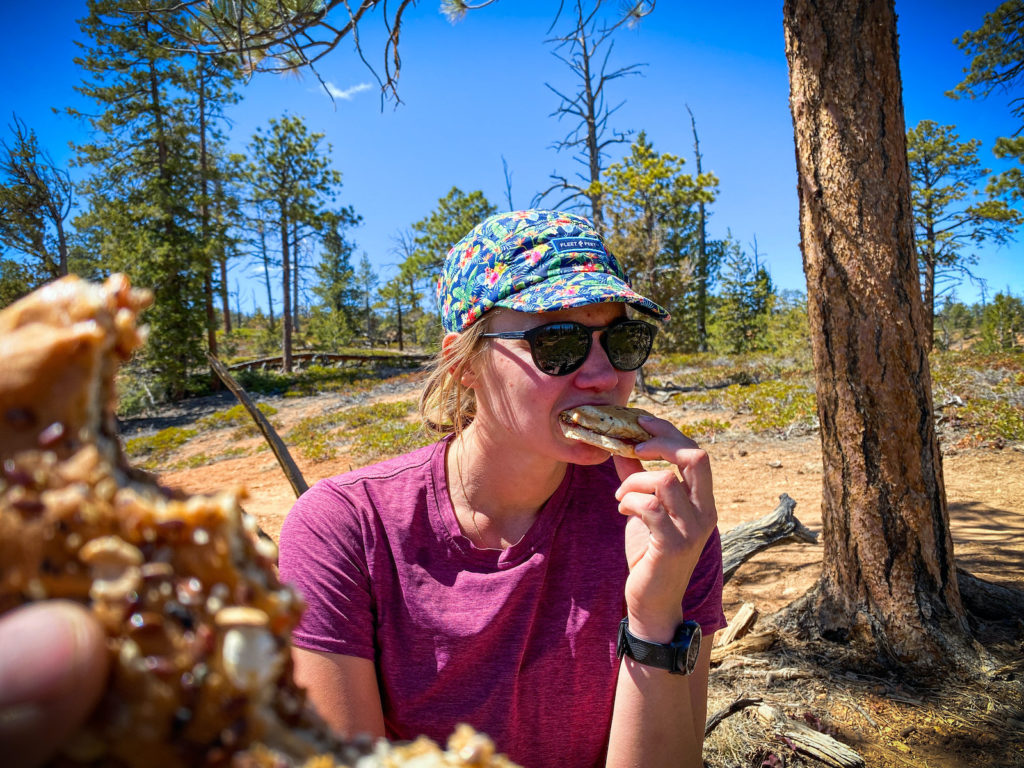 BIG stash of run snacks: My stash includes Spring Energy gels, luna bars, cliff blocks, trail mix, and electrolytes. It's best to keep a large quantity of your favorite items, because running into town during a peaceful weekend in the middle of the woods to re-up isn't ideal. I'll typically place a big order online for more specialty items like Spring Energy gels you that you can't find in grocery stores and get it shipped to a local Post Office or to an Amazon pickup location.
Dirtbag status: PB&J for brekkie, lunch, snacks and dinner
Wash station: We're going to work from most primitive to most luxurious. For the first year of being on the road, if I was cleaning off in the van, I'd be taking a horse bath. Grab a pot, Dr. Bronners, and a rag. Heat up some water on the stove (assuming you have one – if you don't you can use cold water!), add a few drops of Dr. Bronners, toss your wash rag in the pot, stir it around. Wipe down your whole body. Repeat. Air dry. Washing your hair is overrated when you prioritize being in beautiful and remote places. When you're ready to wash your hair, see #5. If you're wanting to have a shower, your next best option is a solar shower, super cheap and easy. You can find these on Amazon. The next best thing is a hot water on-demand shower. I've got one of these set up out the back doors of my van, and its an incredible upgrade from horse baths without having a dedicated wet room inside of the van. Depending on the amount of people around I'll throw up a tarp bungee corded to my back doors, shower in my bra and shorts or just go full nude (preferred, of course).
Dirtbag status: river baths
Planet fitness membership: The membership is about $30/mo and the ability to have a spa night anywhere in the country (that PF's are located). In 1.5 years, I have only actually worked out at a PF three times… I've visited Planet Fitnesses all over the US probably over 100 times. I scan in, walk to the locker room, shower, enjoy the endless running water, and return to my life on the road. I felt weird about it at first but now I feel at ease going to the gym just to shower. Don't forget a towel! (Yes, I've done this a few times.)
Dirtbag status: completely unnecessary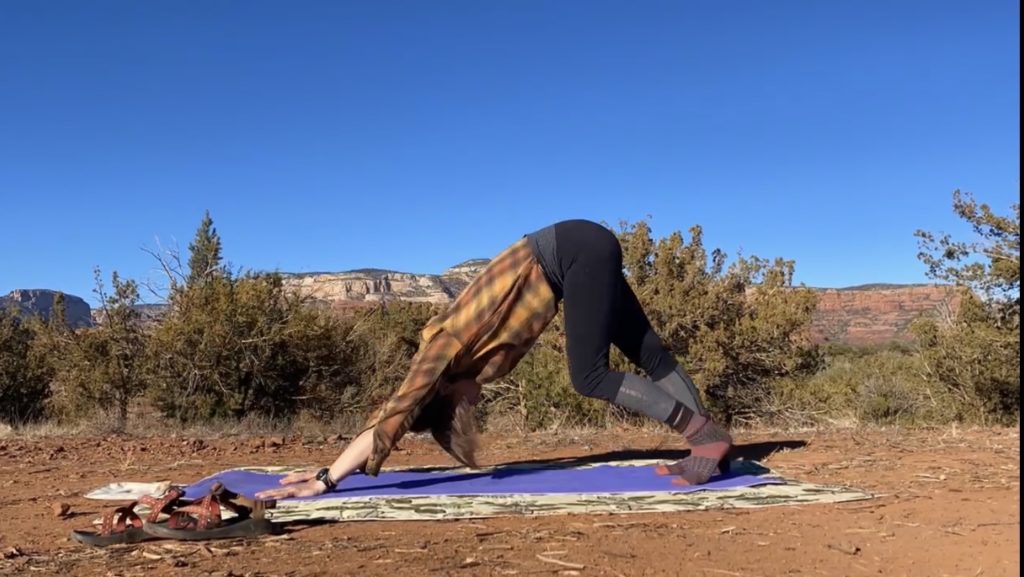 Yoga mat, and a sandless mat. My yoga mat is embarrassingly dirty, but you gotta do what you gotta do on the road. My reality is unrolling my yoga mat for pre/post run stretch in the dusty, dirty, damp ground. If you want to keep things a little cleaner, I'd recommend a sandless mat to minimize the dirt funk. It's essential to get out and do some stretching after a long day of driving! I'll probably soon add some yoga mat cleaner to my gear list and finally give my trusty dusty purple mat a wash.
Dirtbag status: barefoot on the ground.
Phone Apps – iOverlander + TrailForks: There are a plethora of camping and trail apps, but these are my favorites for a few reasons. I'm often out of the realm of service and both of these apps offer offline maps. As a TrailForks pro member, you can download entire states of maps similar to Trail Run Project (I also use this, but find more trails to be listed on TrailForks). iOverlander is completely free.99 and will change your life if you like camping for free and don't already have it. Whenever I'm heading to a new-to-me location, I'll pull up TrailForks to scout the trails I'll be running and iOverlander to find where I'm camping.
Dirtbag status: intuition, word of mouth, paper map, the stars.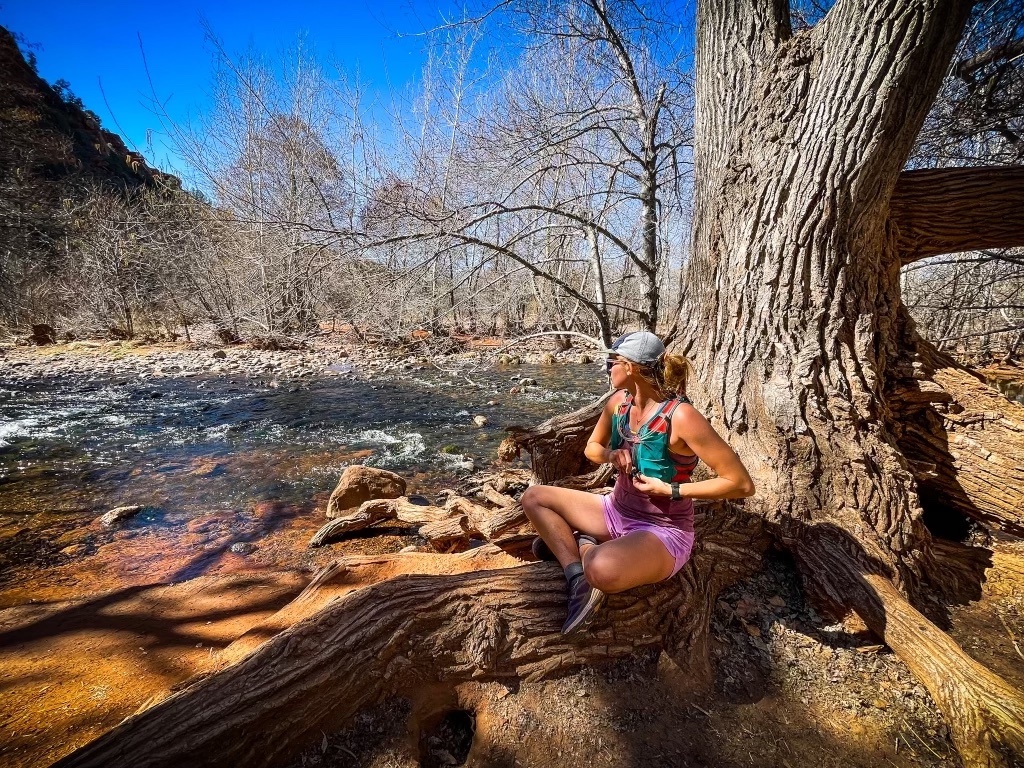 Soft flask water filter: I've seen them made by LifeStraw & Katadyn. These things are awesome. One thing you have to get used to when you set out for vanlife or just life on the road is that all your resources are depleting at all times. Gas is running out, your batteries are depleting, your water tanks are emptying. It's a vicious cycle when you're used to the tap running freely at all times, your endless electricity, your stove burning hot. To help out on the water front, this little bottle is amazing and fits in your running pack. There are admittedly many places where these filter bottles won't come in handy at all… like in the desert, but is so great for running in places where water runs freely. I'll take this out on my runs for water once I've scouted out that there are streams on the route. Its also great for decreasing the weight in water that you're carrying. If I'm camping by a stream, I'll use it as my water bottle so I'm not tapping into my fresh water supply.
Dirtbag status: Trusting that mother nature's water will be pure (lol, jk I don't recommend this).
Ultrasignup.com: Races are such a beautiful way to connect back to the community. When you're seeking out remote trails and camping spots, humans are at a minimum.. and honestly I haven't met too many full time nomads that are trail runners. I like to use races to connect with the beautiful humans that make the sport of trail running so special.
Dirtbag status: critter friends, Snow White style.
Satellite messenger: This is actually the one thing on the list that I don't own… but plan to own soon. Since finding my loving partner on the road, I've got someone to expect me at the end of my runs. I'll give him a generous timeframe so he knows when "something's wrong." Had the stars not aligned for our meeting, I'd have a Garmin in-reach or something that would be able to send an SOS message by now. When you start spending more time living in remote areas and running more on the trails near by, accidents are more prone to happen in remote areas. For example, I was 21 miles into a 22 mile run (or shall we say death march), and tripped. I somehow landed with my hands splayed with a sharp rock puncturing the skin between my index and middle fingers. It was faint inducing gross. Had I not been so close to the trailhead, I would have needed to call in some help.
Dirtbag status: smoke signals, whispers in the wind.
Alright, I think this is it! Of course when you're out in remote areas, text a friend, mother, cousin, or the 5th contact in your phone before you lose service, where you'll be and what your plans are. Be sure to let them know when you should be back in service that you'll check back in with them when you can.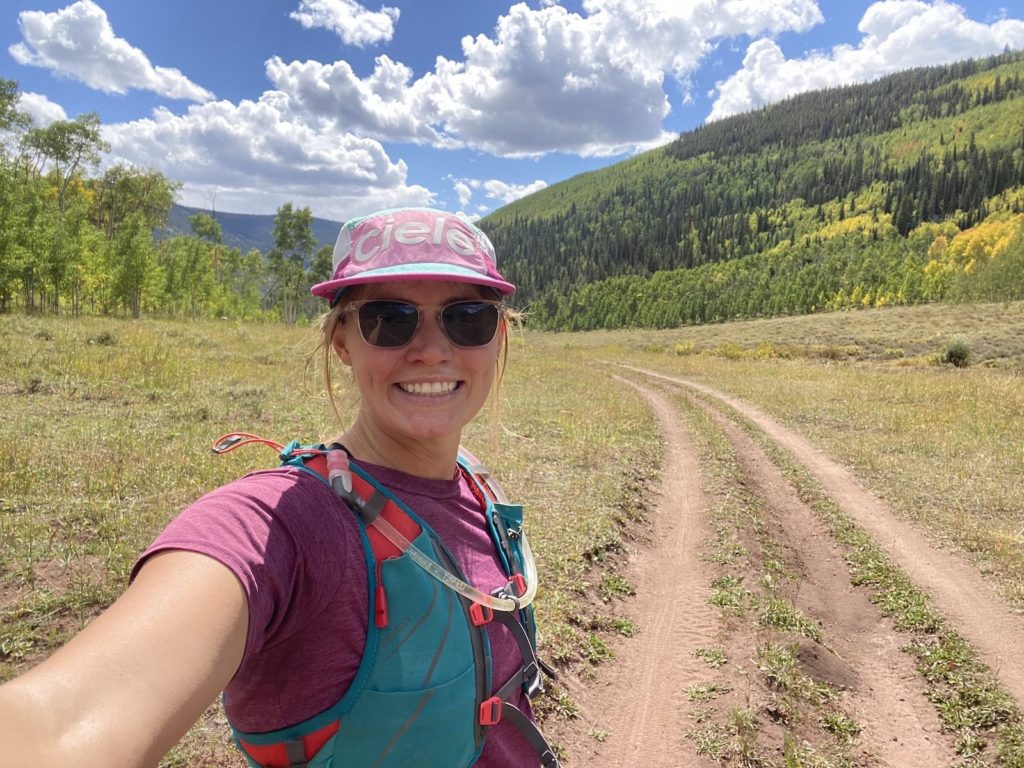 One other piece I'll leave you with, is that, if you've ever felt the pull to live life on the road to explore the beautiful trails this world has to offer… go for it, sis. It can be reasonably affordable too if you stick to the basics and upgrade over time. You'll grow in ways you couldn't imagine.
I've found trail running and life on the road to have a lot of parallels. You have to be resourceful, roll with the punches, and work for the beautiful view. It's challenging but SO. INCREDIBLY. WORTH IT.
Thank you for sharing this space with me. I hope to see you out on the trail soon!