May 5th, 1955.
Emma Gatewood of Gallipolis, Ohio, mother to eleven and grandmother to 23, hailed a cab from Jasper to Mount Oglethorpe, Georgia in an attempt to be the first woman to hike the 2,050 mile Appalachian Trail. Besides the cab driver, only her cousin knew her whereabouts. Even without the benefit of technology, news that "Grandma Gatewood" was attempting the "AT" traveled fast. At times, Emma was hounded by curious hikers and journalists asking "Why?"
She gave a few pat answers: "I did it on a lark," "Because it was there," or perhaps, more aptly "I did it for myself." Nevertheless, the public didn't seem satisfied with any of her answers. Even decades later, people still conjecture what compelled her to such an audacious undertaking. Emma was 67 years old and carried only 17 pounds of gear in a denim bag she sewed herself. While she did feel misled by an article in National Geographic about the conditions of the newly anointed trail, the threats of wild animals, traveling alone, and getting hurt were apparent, even then.
I finished a book about Emma, called "Grandma Gatewood's Walk" last week and recognized a kindred spirit. Like me, Emma had a sense of wanderlust, and a deep desire to push limits and have adventures. But, if I were to be so bold as to presume her true motivation for hiking the AT? I'd say she did it to reclaim her power.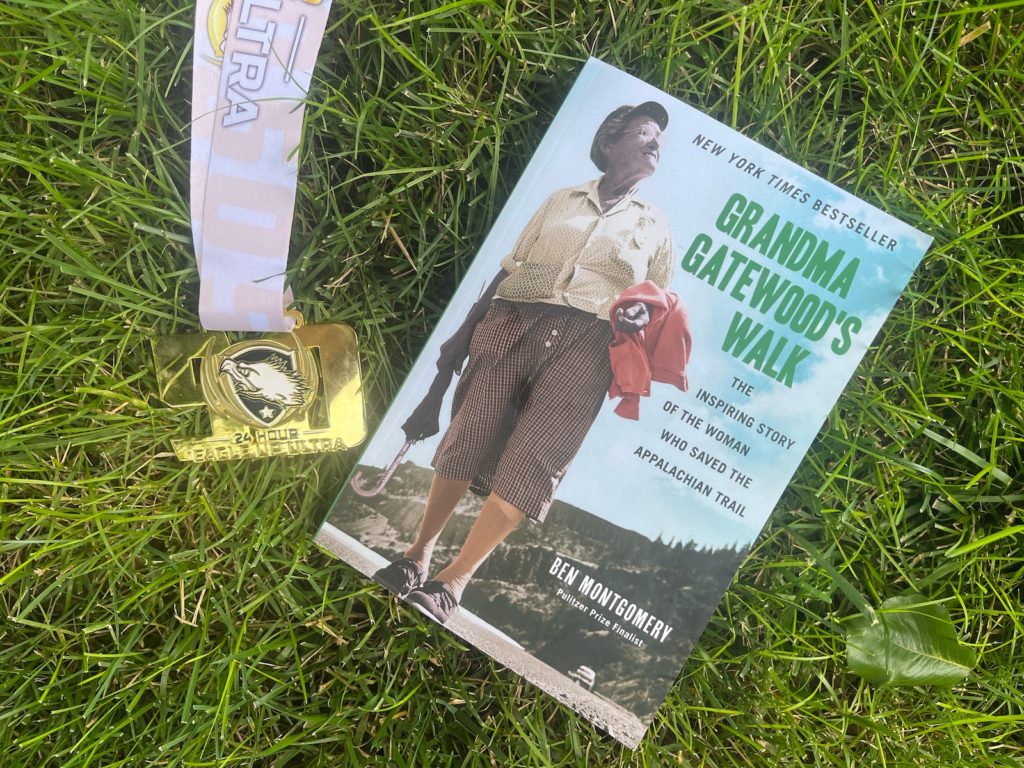 What Emma told people she met on the trail, including the journalists and local dignitaries, was that she was a widow. But, that wasn't true. She was a survivor of severe, near lethal, domestic violence. She had been beaten for decades. Her husband's temper was legendary. He killed a man and the resulting civil lawsuit bankrupted the family. Emma bided her time, hiking in increasing amounts when she could sneak away. Once she was assured her children were safe and thriving on their own, she left. She was finally granted a divorce, but not without being arrested first.
I have not been the victim of domestic violence, thankfully. The vast majority of my relationships are very supportive. I am safe and I am loved. My heart ached to learn of the trauma that Emma endured. The gravity and severity of her trauma is not lost on me. That said, in the last 12 months, I've had a bike accident resulting in a pretty serious concussion, I got COVID, sprained my ankle, tore my calf, got COVID again, and lost a friend, Jason. He was hit by a car while running. Physically and emotionally I was losing hope. Every single race (trail/road/adventure) has been thwarted. I was grieving.
Given the accident, the injuries, and the tragedy of my friend being killed while running, people have asked me, too: "Why do this?" And it came full circle. Like Emma, being in the woods soothes my soul and helps me reclaim my power. I have felt broken, sad, and questioned my worth. I have felt like an imposter, destined for insult and injury. Still, running in the woods has been a reminder that I am capable of so much more than I give myself credit for. Within me lies a creative, resilient and powerful spirit. And an ultramarathon is how and where I can prove that.
Not for others, but for myself. A week prior to the event, I registered for Eagle Up.
June 5th, 2021
Eagle Up, touted as "North America's Largest 24-Hour Endurance Race," takes place each summer in Canal Fulton, Ohio. It draws athletes from around the country to complete as many 5 mile loops along the Ohio Erie Canal as possible in 24 hours. These are Emma's "people." Despite the fact that Emma hiked solo, she was often eager and grateful for company. She frequently accepted the hospitality of people who lived along the trail who offered food or lodging. Similarly, most people at Eagle Up have individual goals, but share camaraderie and community throughout the festival-like weekend. People camp along the trail, offering words of support and high-fives along the path.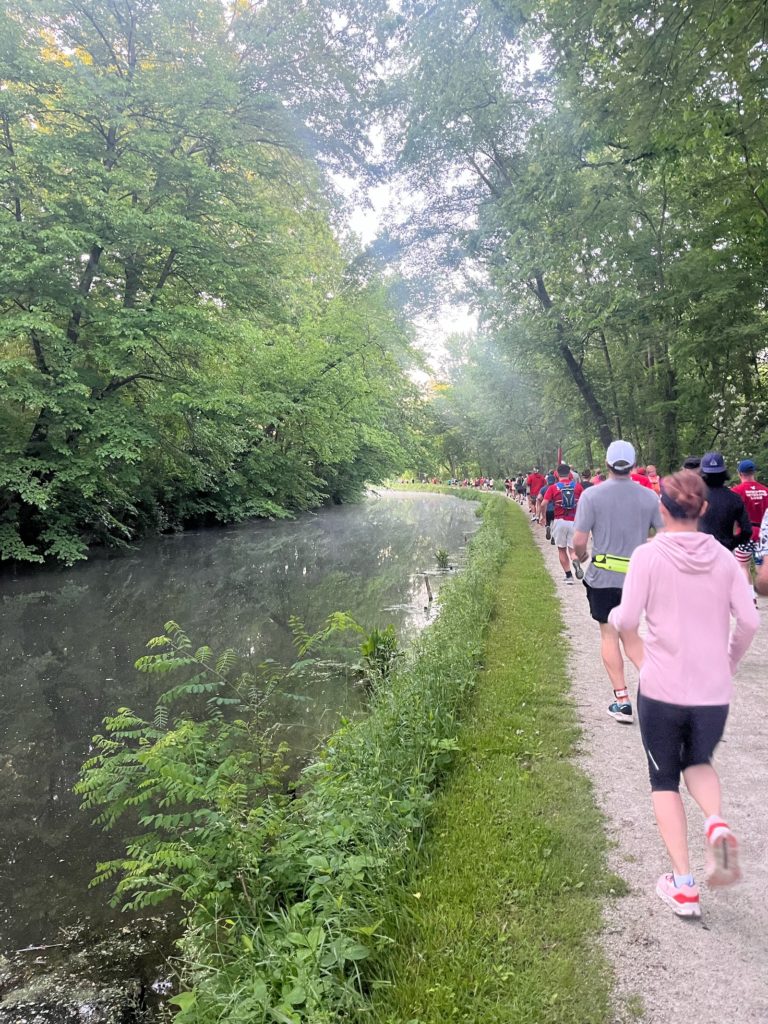 Upon my arrival I realized parking was at a premium. I struggled to parallel park until a woman literally came and offered to get in my car and park it for me. Like Emma, we (ultrarunners) humbly look to each other on the trail (and apparently, in the parking lot) to overcome obstacles. No one can cross that finish line for you, but there's a tacit understanding we all have strengths and gifts and we share (advice, food…chafing wipes) anything to help a kindred spirit on their way.
During my time on the trail, I meditated on the courage, perseverance and pluck of Grandma Gatewood. And I gave thanks that, despite the challenges of the last year, I was healthy and safe enough to compete. My friend Jason had aspired to do Eagle Up, and I prayed for my body to cooperate so I could do it in his honor. After an eventful year, I had a surprisingly smooth 50K. Unlike the prior year, where temperatures reached the 80s by 9am, this year the temperatures were moderate. The sun glistened through the trees along the canal and a cool breeze was nearly always present. When you are spending hours running on the trail, the weather can either be a blessing or a curse. And indeed, I felt blessed. While every ultramarathon implies some struggle, it is through that struggle we are redeemed. In our discomfort, our boundaries grow. Each time we feel the desire to quit and we don't, we reclaim our power.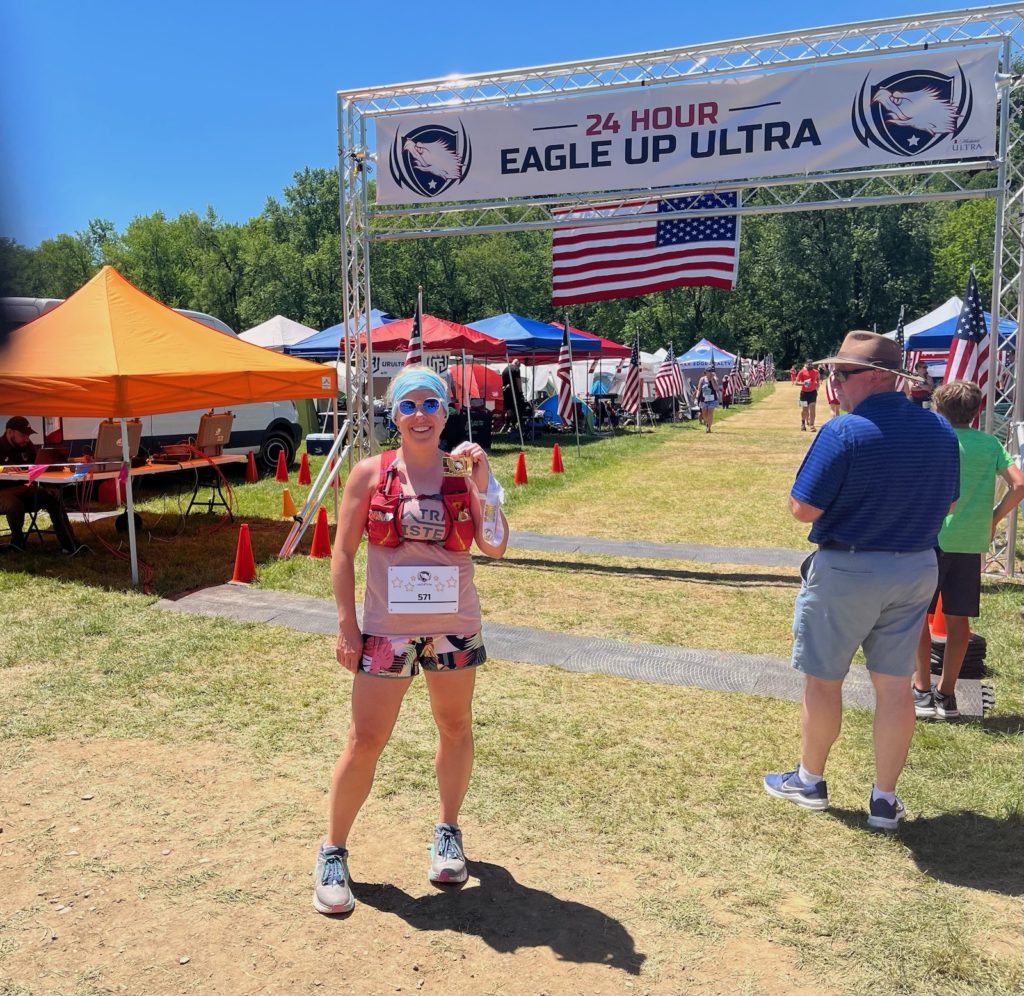 Reference:
Montgomery, Ben. Grandma Gatewood's Walk: The Inspiring Story of the Woman Who Saved the Appalachian Trail. Chicago Review Press, Incorporated. 2016.