When I was turning 50 in 2007, I was very unhappy, in an emotionally abusive marriage, and seriously considering divorce. My father gave me great advice – start running at 50 like he had. He said "set a time or a distance, start running, and walk when you run out of breath. Repeat. One day you will find you don't have to stop to walk." So, I did.
Then while dealing with my father fighting cancer, a very contentious divorce, a young teenage son and a stressful job, my first love reappeared in my life. One sleepless night I checked Facebook and people were congratulating Tim on his first 100. I thought "100 what?" When I realized it was a 100-mile run, I thought "that's crazy," and I sent him a note. Soon it was first love for the second time. And another man who loved me encouraged me to run.
I quickly moved up from 5K's to 10 milers and a few half marathons. I tackled my first marathon at age 56 – Wineglass – in October 2013. I suffered the entire second half but finished in under 4 hours and 30 minutes. Then Tim told me that a 50K was "easier than a marathon" and "like a day in the woods." Foolishly, I believed him.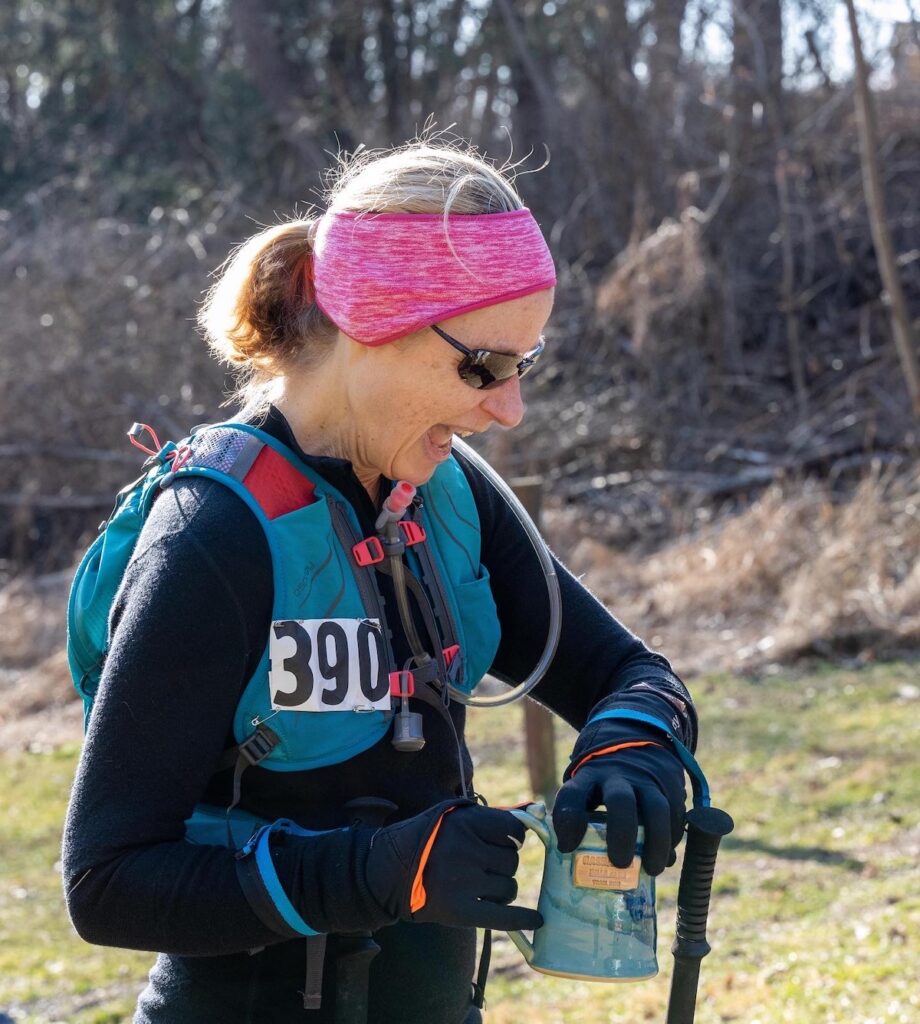 In February 2014 we completed Holiday Lake 50K in what the famous race director David Horton called "epic conditions." We woke to drizzle at 32 degrees on a course with 8 inches of snow. It was beautiful until the single track turned into a river of running muddy slush. Around mile 4 we saw a woman being carried by a group of strong men – she had slipped on ice and broken her leg. I turned to Tim and said, "if nothing's broken, I'm finishing this goddam f-ing thing." I made the cut off after the first loop and set out again, singing "Mud River" because laughing helped keep us moving forward. Near the end the only way I could lift my right leg was to jam my fist into my right groin – my psoas was done, but the race wasn't. When we finished and hit the showers, I discovered my feet were dark purple. Later we discovered we both had trench foot from having our feet in icy cold water all day.
You may wonder why I ever did another trail race after that. They had to get easier, no?!? Well, within months we learned that Tim had mantle cell lymphoma. One of the fittest, healthiest, most wonderful men I have ever known. When someone you love has cancer it is hard to know what to do. I decided to run the New York City Marathon to raise money for the American Cancer Society's DetermiNation team. It was an amazing experience, and inspired Tim. When he was able to run, we completed the New York City Half Marathon and the Marine Corps 10K together for the team.
But as his disease got worse, he spent much of the last year of his life in and out of Memorial Sloan Kettering. For me, running became more therapy and less about races. I used to drive to MSK from my home on Long Island at 5am, bring him "real" coffee and the New York Times, run in Central Park, go back to have breakfast with him, then go to the office, shower and work. Back to him after work, then home to Long Island to sleep. Repeat.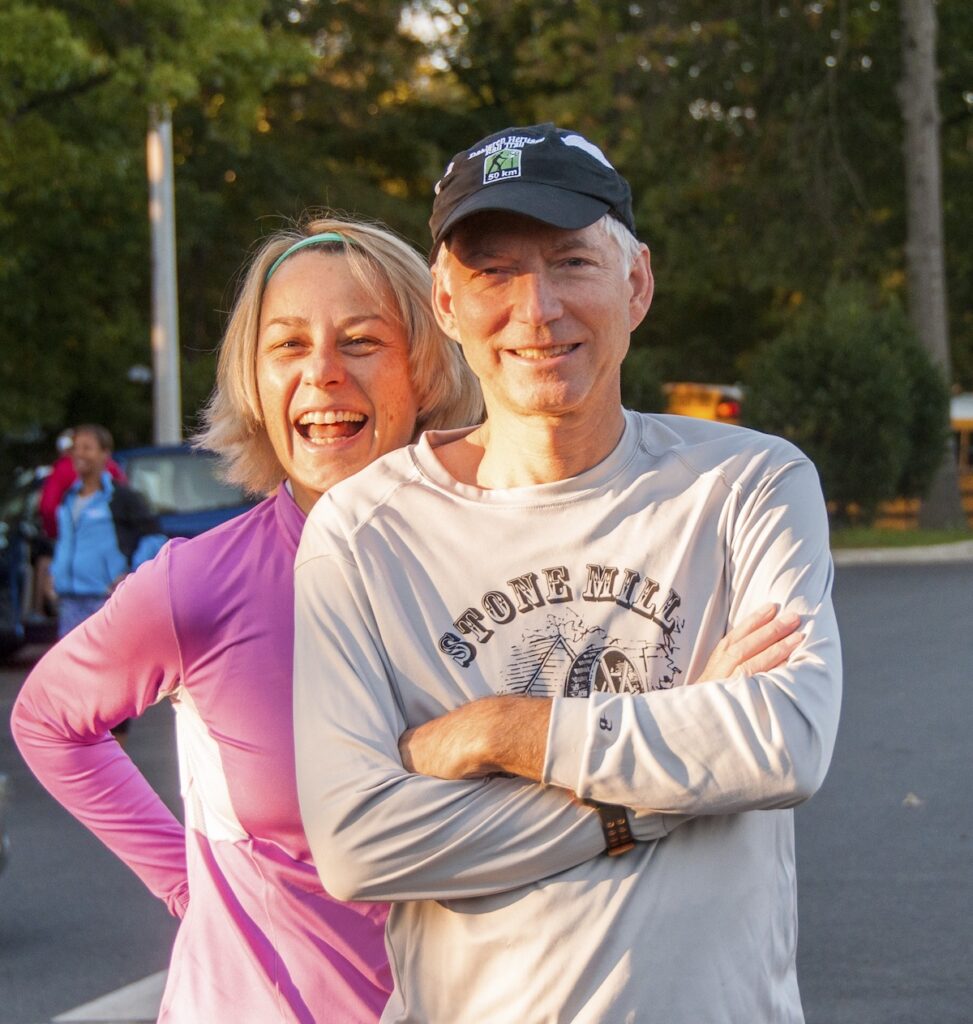 Tim died in February 2017; 6 days short of his 60th birthday. A few hours before he died, I told him I would always be with him in his favorite places – in the ocean, and on the trails. On his birthday I organized a trail run on his honor. Then I returned to more running. That spring I did the North Face Trail half marathon in Virginia with friends and the New York City half marathon alone, but with Tim in my heart. In November I ran the New York City marathon with the ACS team again – super slow but enjoying every step in Tim's honor. By 2018 I was ready to tackle another 50K.
Since I turned 60 I have completed 7 more 50K's, one 50 miler, and countless miles in training. I learned I could win my age group, usually by being the only one in it! At Holiday Lake 50K in 2019 I was cheered to the finish line by David Horton yelling through his bullhorn "here comes Sarah Humphrey, the oldest female runner here!" Many would be mortified – I was proud! In 2019 I got my 50K PR – just under 7 hours, and came in 43rd out of 100 women, despite being the oldest by quite a few years. In my 60's I have taken up biking, lap swimming, and now tennis. Next up – Tarawera 50K 2023 in New Zealand at age 65. To my surprise, I seem to have become an athlete. It's never too late!