As the weather shifts colder, it can become more challenging to determine what exactly you need for an upcoming backpacking trip. While the individual pieces may change, the principle remains the same as for summer. The rules of light layers and pack by threes still apply.
The Rule of Light Layers
While there are some exceptions in which you may want a really heavy warm piece of clothing, most of the time light layers are far more effective and versatile. The modality of backpacking is especially conducive to light layering because of the drastic shifts in your core temperature. When you're climbing steeply, you likely warm up—perhaps even to the point of sweating—even if it's cold outside. Once you reach the top of the climb and sit for a celebration or begin to go downhill your core temperature will plummet. If you've sweated through your clothes, you'll be cold. Having several light layers that you can add and remove as needed to keep yourself a consistent temperature is ideal.
Pack by Threes
So, how do you decide which layers to take? I use the rule of threes for backpacking year-round. This means you have a thermoregulatory layer that sits next to the skin, an insulating mid-layer, and a wind/water resistant shell. Keeping this rule of thumb in mind makes it easy to select your layers for a trip.
Summer layers should be thinner and appropriate for the conditions. Your next-to-skin base layers should be wicking and fast drying. The mid-layers can be lightweight and lightly insulative. Depending on the climate, you might need a waterproof layer or maybe only a wind-resistant one.
Spring and Autumn layers should include a warmer insulating layer and outer shells should be waterproof. If you're brave enough to winter backpack, these layers should be even warmer and the base layers should be warmer as well. I also recommend adding an extra base layer to prevent you from getting chilled if your do get sweaty.
Below are three of my sample layer sets to give you a starting point. Keep in mind that the layering system does not just apply to your legs and torso. Use this same system for your hands, head, and feet. In extreme conditions you can apply it to your sleep system as well.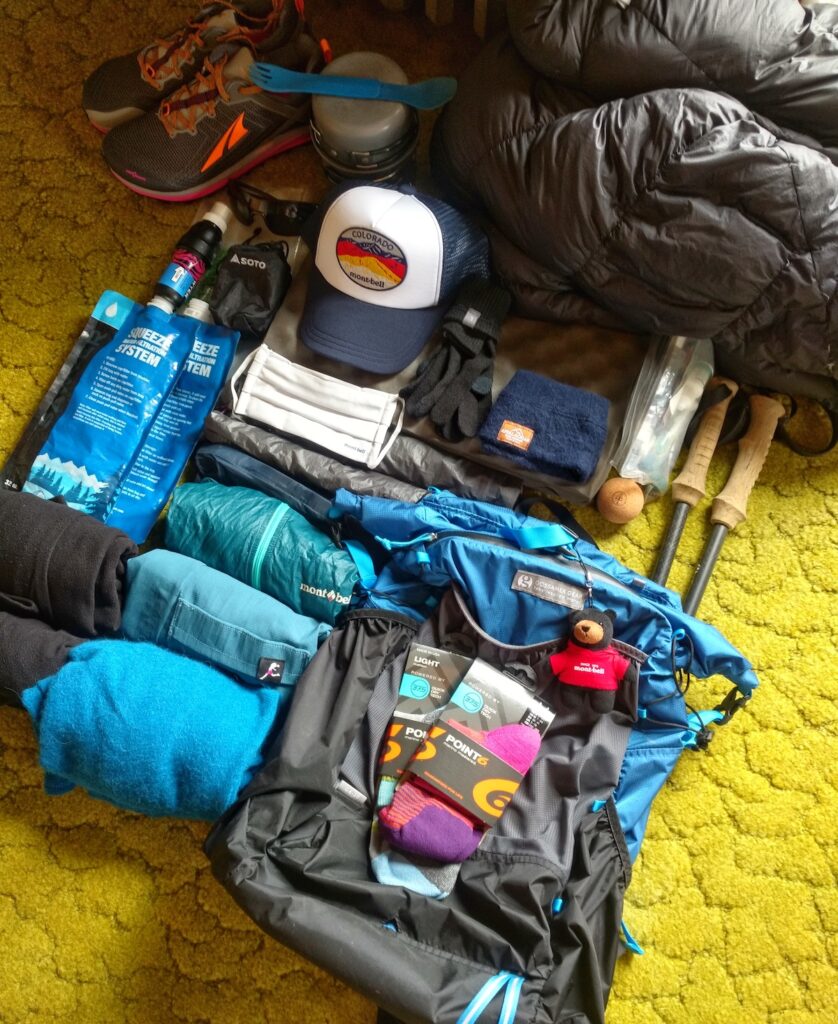 Summer:
Base: Silk or synthetic hiking dress, wool socks, fleece gloves, trucker hat or visor
Insulating/Mid: Montbell Thermawrap Jacket, fleece mittens, Appalachian Gear Company Alpaca Beanie
Shell: Montbell Tachyon Wind Shirt or Montbell Versalite Jacket (waterproof) with shell hoods, shoes function as both the mid and outer layer for the feet, wind shell mittens
Spring/Autumn:
Base: Silk or synthetic hiking dress, wool tights, wool socks, fleece gloves, trucker hat
Insulating/Mid: Montbell Thermawrap Parka, fleece mittens, Appalachian Gear Company Alpaca Beanie
Shell: Montbell Versalite Jacket (with shell hood), shoes function as both the mid and outer layer for the feet, waterproof shell mittens
Winter:
Base: Montbell Super Merino Long Sleeve shirt and tights, synthetic insulated skirt, wool socks, thin wool gloves, Appalachian Gear Company Alpaca Beanie
Insulating/Mid: Montbell Thermawrap Parka (with insulating hood) and vest or Appalachian Gear Company Alpaca Hoodie, waterproof socks, fleece mittens
Shell: Alpine waterproof jacket (with shell hood), waterproof pants or skirt, mid/high-top shoes, waterproof shell mittens