Kelly Newlon and Stephanie Howe bring you unique and exciting recipes and along with a wealth of knowledge about nutrients and nourishment in their monthly Trail Sisters column, Nourish.
Of the endless options for holiday cookies, I always start with Rice Crispy Treats. They are traditional, easy, versatile, and delicious. Not to mention, they are about as approachable as it gets. 
With just a few ingredients, this treat is quick to put together and begging for a signature twist from you the maker.
So, what does that look like at RAD HQ or at Steph's house?
Both Stephanie and I are big fans of thoughtfully adding micro and macronutrients whenever possible. The Rice Crispy Treat is an exceptional vehicle for this sort of thing.
The recipe below the basic recipe we all grew up with, but has a few things added to level it up a bit. As butter is part of the recipe, I immediately gravitate to fat-soluble dry spices that offer exceptional benefits (and color!). Turmeric powder, beet powder, green powder (for real!), etc. This year, I even plan to add cinnamon, ginger, and a drizzle of molasses and crushed gingersnaps for a gingerbread twist on this classic.
When I was a kid, my mom would add dark chocolate. She would pull out a large two-pound block of quality chocolate, rough chop a few handfuls, and fold it in at the same time as the marshmallow. It was exceptional, and I still dream of that rendition today.
If you know Stephanie, you know she puts peanut butter on everything. Try stirring in a couple tablespoons of crunchy peanut butter with some mini chocolate chips for a decadent combo. Or, try using Peanut butter puffs cereal in place of the rice crispy cereal.
Seeds and nuts add an unexpected texture and loads of nutritional benefits. Feel free to add them at the same time as the marshmallows, or layer them on top when you are flattening the treats out in the pan.
Don't be afraid to switch the type of cereal up as well. From Fruity Pebbles to Cheerios or Frosted Flakes, the possibilities are endless.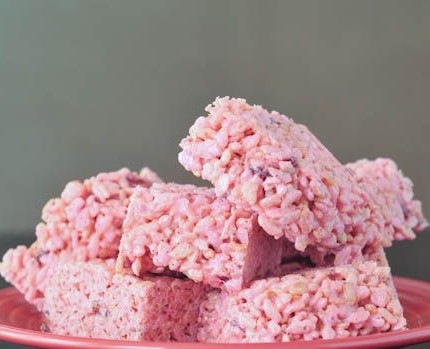 The below recipe can be adjusted in many ways for those that are gluten free or vegan as well. Rice Crispies are already gluten free. Most markets have vegan marshmallows and switch that butter out for your favorite vegan butter option, such as Earth Balance. Point being these are easily made gf/df/nf/vegan if you wish.
Our favorite combinations this year:
Candy Cane Beet Rice Crispy Treats
Turmeric Sunflower Seed Cheerio Treats
Gingerbread Hemp Seed Rice Crispy Treats
Peanut Butter Dark Chocolate Rice Crispy Treats
Dried Cherry Peanut Butter Puff Treats
Be sure to wrap them well when finished. With any luck, you may even find a combination you enjoy enough to use as fuel on your next race. For best results on the trail, wrap in reusable bees wax paper to keep them secure and reduce single use packaging.
Candy Cane Beet Rice Crispy Treats
4 tablespoons butter or butter alternative
1 package (10 oz OR 6 cups) of small marshmallows
5 ½ cups rice crispy cereal
2 tablespoons beet powder
1 cup chopped candy canes
1 tablespoon chia seeds
½ cup chopped pretzels
In a large saucepan, melt butter over low heat. Add beet powder and marshmallows and stir until completely melted. Remove from heat.
Add cereal, chia seeds and chopped candy canes. Stir just until combined.
Using greased spatula or wax paper evenly press mixture into a 13 x 9 x 2-inch pan coated with cooking spray. Sprinkle with chopped pretzels. Cool, cut and enjoy! Be sure to wrap tightly when storing.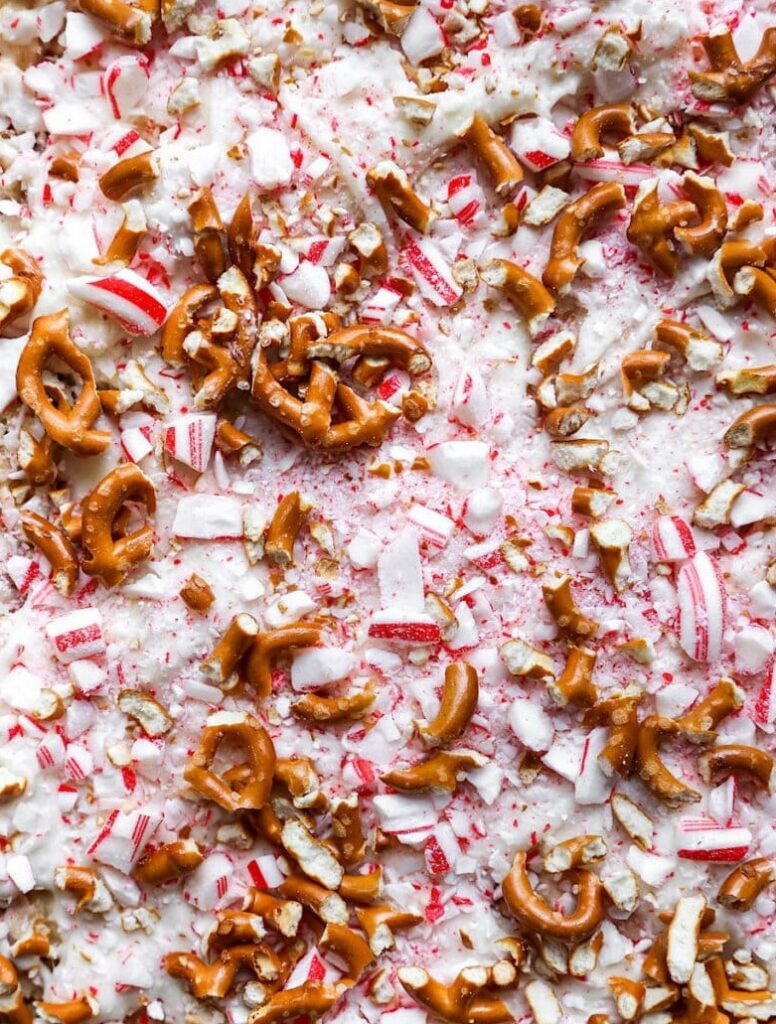 As for the above list of alternative recipes:
–Turmeric Sunflower Seed: substitute beet powder to 1 tablespoon of turmeric powder and switch the candy canes for the same volume of sunflower seeds.
–Gingerbread Hemp Seed: substitute beet powder for 1 tsp ginger, 1 tsp cinnamon and switch the candy canes for chopped gingersnaps. The chia seeds and hemp seeds are easily substituted as well.
-Peanut Butter Dark Chocolate Rice Crispy Treats: Stir in 2 Tablespoons of crunchy peanut butter with 3 Tablespoons of butter. Stir in ¼ c mini chocolate chips with the cereal. Drizzle with additional peanut butter and chocolate chips on top. -Dried Cherry Peanut Butter Puff Treats: Substitute peanut butter puffs for the rice crispy cereal. Stir in the same volume of dried cherries for the candy canes.