Every one of us has a story to share. We are united by stories and journeys that bring us to specific moments and paths in our lives. This is my story. My story has roots in grief and loss and ends with self-discovery and wings.
When I was younger, I had the opportunity to meet my great-grandmother. Like many children, I was scared to meet someone new and didn't understand the opportunity I had been given. Truth be told, she was dying. My dad tried to trick me into going into the room by offering me a ride in her wheelchair. And again, like many children, I knew what he was attempting to do and declined. I left having not met her. Days later, I found out that she had died. While I was sad that she had died, somehow, I understood that I had missed an opportunity. I made her card, gave it to my dad, and asked if it could be buried with her. He told me that it was, but to this day, I am not actually sure if it was. Why do I tell you this piece of the story first? Because it is the thread that unites what is to come.
Fast forward to my twenties. My grandfather was diagnosed with Alzheimer's Disease. According to the CDC, Alzheimer's Disease is the fifth leading cause of death for adults aged 65 and older and the seventh leading cause of death for all adults. I am not going to assume everyone has an in-depth understanding of the disease, nor am I going to get into the weeds of the biology of the disease. What I am going to say is that it is a disease that destroys memory. The use of the word "destroy" because that word comes the closest to conveying the insidious nature of the disease and its impact. I watched as my grandfather slowly slipped away from us. I felt the pain and witnessed the pain of other family members. I was there when he moved into care because my grandmother could no longer care for him at home. I remember that clearly because his sense of humor remained intact even in a stressful situation that caused great agitation for him and pain for my grandmother. My grandfather was there somewhere, lost behind a brain that was deteriorating.
As he continued to deteriorate, he eventually ended up in hospice. I had a job that lacked empathy, compassion, and understanding at the time. I struggled to get out of my shifts to go be with him when he was first moved. As soon as I could get off, I was at the hospice. Along with different family members throughout the weekend, we kept vigil. My aunt and I stayed overnight the first night with him. At one point, the next day, more family was there together, sharing memories that we had of and with him. A moment of connection and remembrance that he gave us. The second night, my menstrual cramps sent me home, unable to stay with my aunt overnight. This was a struggle of decision for me. Rewind to the death of my great-grandmother. After that death, I made the decision that I would not miss another opportunity to be with a loved one in their hour of saying goodbye to this world. To leave meant that I might not be there. And, later that night, I did receive a call that my grandfather had died peacefully.
To this day, when I reflect on this time, I can still remember the pain, and it brings tears to my eyes to think about my grandfather's death and all the loss there was for him and us as a family during the journey. Shortly after my grandfather's death, I made a decision. I decided that I didn't want another granddaughter to lose her grandfather or another loved one to this horrible disease. Shortly after making the decision, I attended a symposium put on by the Alzheimer's Association that I learned about through becoming a support group leader. While I was at the symposium, I came across a table advertising the ALZ STARS. This opportunity allowed people to enter running events such as marathons or half marathons or triathlons to raise money for the association.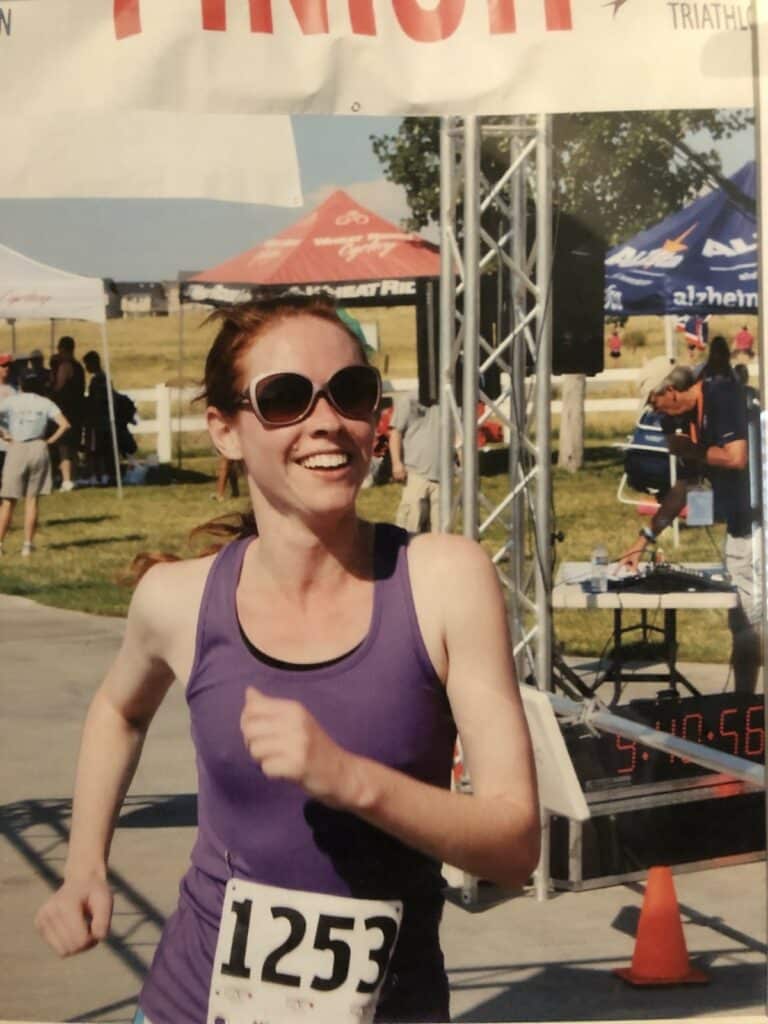 Quick interlude. I hated running. I thought it was boring and my only experiences with running were in school, where we were told to run a mile for an arbitrary grade with no training. I did grow up swimming on several swim teams. And when it came to cycling, I just cycled for fun and not long distances. I never dreamed of running any race or even attempting a triathlon.
And we return…

I noticed there were a couple of opportunities that I could potentially do. One was a sprint triathlon – one thing I said I would never do! Now there was something different. I had a reason – my grandfather and helping to bring change. Long story short, I signed up for a triathlon. That meant that I would have to get back into shape as a swimmer, learn to ride a bike for longer distances, and be able to run. And just for a cherry on top, find (ok, borrow) a bike. While I will not cover every step I took, there is one that I need to share. At this time, I had a dog who I had adopted with a head tilt spurred by chronic ear infections, and was blind and deaf. Despite all of this, she loved to run! She was quick! Her name: Sunshine. Sunshine became my running partner and inspiration. On days that I didn't want to get out there, she made sure I did.
The day of the triathlon arrived. My now husband/partner drove me to the reservoir. My mother was going to bring Sunshine. I wanted her there! I was as prepared as I could have been, given my lack of knowledge and not having a coach. One of my mantras or visuals for the day was in honor of my grandfather. And, on a funny note, my borrowed bike – a mountain bike for a very hilly course in the middle of July. The race started, and I struggled in the water having never experienced open-water swimming. Still, I finished. The bike was hard because of that mountain bike on a hilly course. Still, I finished. On the run course, I walked more than I ran, especially because of the heat. But I was determined to finish running, and I did it with a smile on my face! Having Sunshine, my partner, and my mother there made it even more special. Despite the challenges, I was hooked. In my mind, that was when I fully stepped into becoming a triathlete and runner.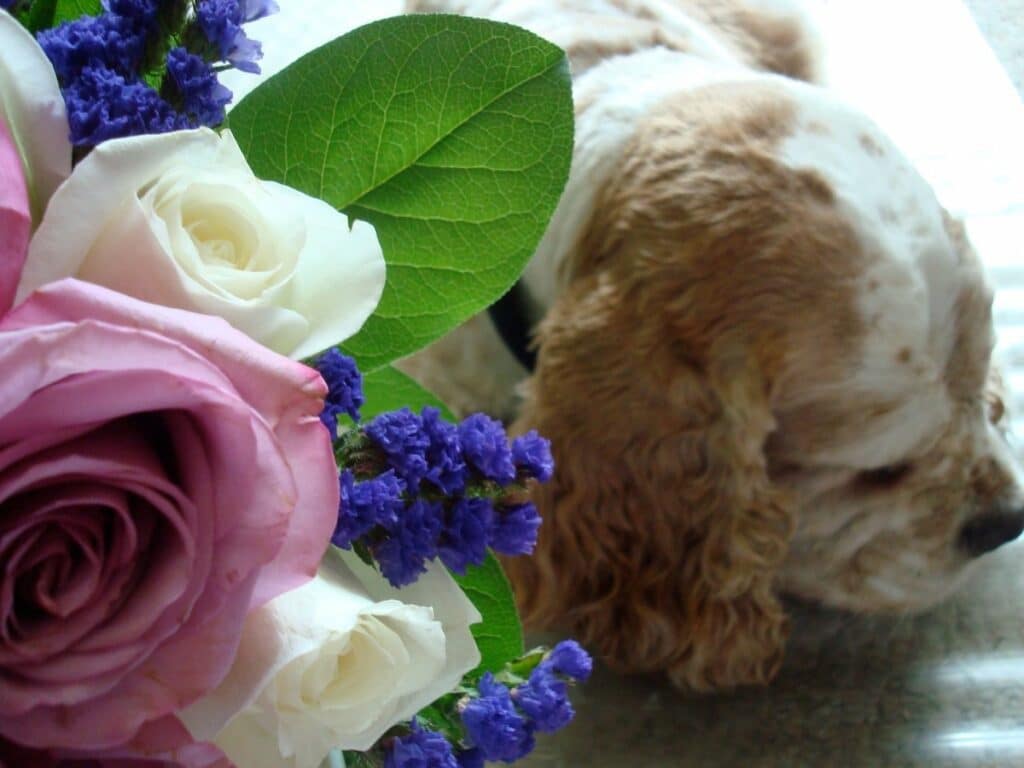 From this point on, any major event I do is in honor of my grandfather and Sunshine. Sunshine died not long after in my arms, surrounded by lots of love. The words "Always in my Heart" are on my RoadID in memory of her, and they give me strength to continue on hard days. My first Ironman was in memory of my grandparents and Sunshine. I raised funds for both the Rocky Mountain Cocker Rescue and the Alzheimer's Association. Every one of the World Marathon Majors I have done continues that tradition. There are running traditions that I continue to this day in remembrance of my little Sunshine. It is because of loss that today I call myself a runner and triathlete. It is because of loss that I have found my roots and wings.
This is my story. I am proud of my story. I found myself on this journey. I found a great connection in the running community. I found a passion for helping others through their grief journey. I am a licensed professional counselor, dance/movement therapist, sport and performance psychology doctoral student. Beyond that, I specialize in supporting clients through their own grief and loss journeys, as I hold a certification in thanatology (CT). To be with someone in their grief and loss journey is an honor and a sacred space. I probably would not have this specialization if it were not for my past. It was not until later in my educational journey to get my CT that I learned about the Needs of Mourning. Dr. Alan Wolfelt put forth this model. In the model, he talks about how one of the needs is the search for meaning. My running and other sports are how I find meaning. My grief and loss are part of my story. The rest of my story is yet to be written. Though, I look forward to it with hope!
References:
Wolfetl, A. (2006). Companioning the bereaved: A Soulful guide for caregivers. Companion Press.