"What am I doing here? There must be a mistake." Walking into the female elite starting corral for the Denver Rock N Roll half marathon on a cold October morning, I quickly regretted my decision to line up with these gazelles. I did not belong there and immediately felt an overpowering embarrassment and dread. It did not take long for me to look around and feel like an imposter. For starters, take our choices of running apparel for the morning. I overdressed in my trusty, well-loved New Balance shorts and singlet that I raced in dozens of times. It was a cold, see-your-breath kind of morning, and everyone around me was (barely) dressed in the typical elite female race kit; a simple sports bra and bun huggers. I have nothing against this racing kit and, in fact, love that women confidently wear these sorts of clothes when they are setting out to do big things. Society often judges women for the clothes they wear and those they don't.
I admire the part of running culture that encourages women to embrace the strength and power in our bodies. I often encourage other women to wear/not wear what makes them feel confident, fast, and comfortable. However, I could not have felt more out of place on that race morning. It wasn't the choice of clothes or even the attitude of the women around me that caused me to feel so out of place. Although the women around me showed up as serious and focused on the task at hand, they were friendly and encouraging each other. My fellow competitors were chatting about the ordinary things we discuss at start lines; aid station placement, course layout details, and race goals. The camaraderie was thick in a positive and supportive way. I may have felt like I didn't belong, but my competition was not making me feel this way. I had not yet developed self-belief and confidence even though I had worked hard to start with these other women. To gain entry to this corral, runners had to run a marathon in under 3:00 hours. After serious work with my coach, I accomplished this goal in my last marathon. I had put in the training, had nailed most of my workouts, and had eaten and slept well the nights before. All signs pointed to a strong race. But this race reminded me that although my body was ready for a strong performance, my mind was nowhere near ready to perform.
As everyone at that start line bounced around to stay warm and lightly stretched out tense muscles while obsessively checking and rechecking to make sure our shoes were tied just right, a thick wave of fatigue washed over me, and I felt as if I had already run the race. I was used to experiencing the nervous excitement on the start line that typically feels like I've just consumed a shot of espresso. I had practiced reminding myself to harness that energy to ensure I don't cross the start line as if I am running a 100-yard dash. This feeling was different and highly uncomfortable. My legs were heavy, my brain foggy, my breathing labored, and my mindset was in the trash can.
The gun went off, and I struggled to keep up with the leaders. I was fine to let the leaders go as I knew they were faster than me, but I was surprised that I was having trouble keeping up with the second pack of runners. While I barely hung onto this group for the first 5K, the effort quickly became too much, and my pace dropped one minute per mile after mile 4. Although these things can happen, races go sideways, and not every day on the course can be our best; this was a case of my race finishing before it even began. I had the decision to make; either slog my way through the next nine miles with my negativity or step off the course and choose the pain of a DNF (Did Not Finish). The race carried on at the top of a hill, and I pulled to a stop.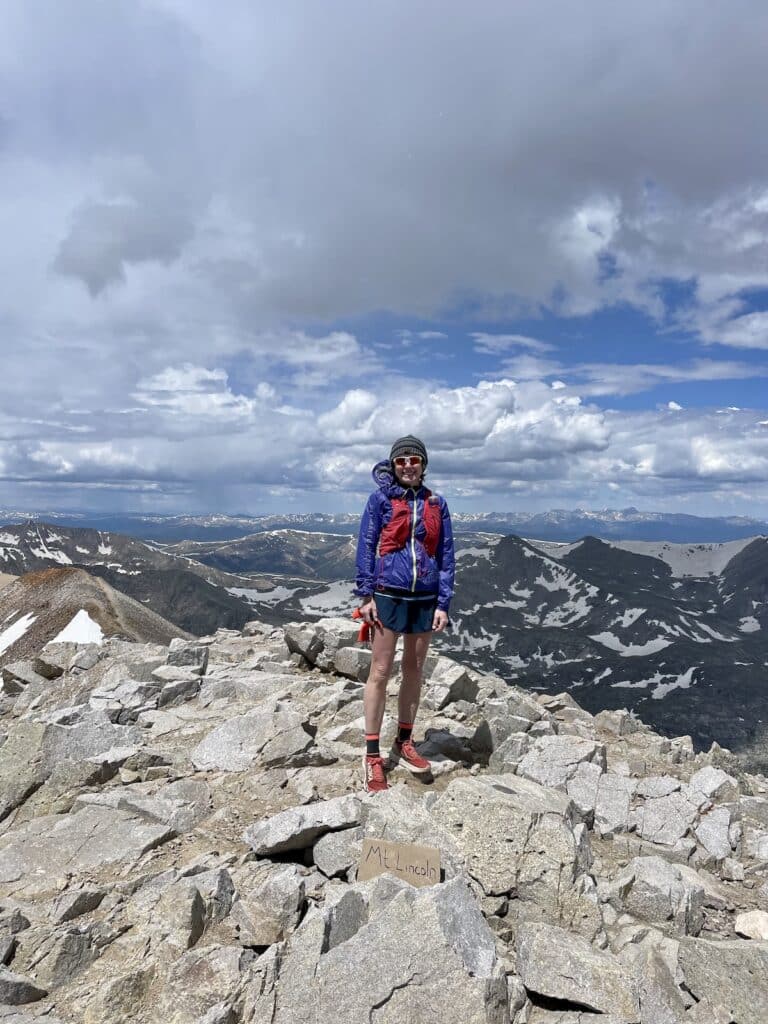 After my husband picked me up and let me ramble on about this unexpected result, I realized that the pressure I had felt came from within myself. Mike didn't expect anything from me other than my best effort. The other women on the line only wanted to do well and race to their potential. My friends and family could care less about my results and are happy to see me following my passions. The pressure I found from pinning on some silly bib with an F Elite on it in a smallish no-stakes race was something I had allowed to take over and erase all of the joy I find most times I lace up my shoes. Even though by the time I lined up for this race, I had raced up and down huge mountains, down the streets of Chicago, and up the infamous Heartbreak Hill more than a dozen times while running the Boston Marathon, I seemed to have forgotten why I do these things. I had forgotten that I had done hard things before I found running. I did not yet know that if we want to get after big things, we will all experience a bit of Imposter Syndrome from time to time and that the only way to do so is to keep showing up. To get a little closer to the edge of the unknown and make ourselves a little more uncomfortable than we'd like to be to see just how far we can go. It wasn't about feeling a sense of belonging but about self-belief and confidence. Confidence with knowing that if I want to get the best out of myself on any given day, I need to make sure I have trained my body for the challenge and also my mind.
Contrary to popular belief, self-confidence does not come solely from self-talk and unique mantras. Telling ourselves, "I belong," CAN add to our confidence when we have flickers of doubt. However, it is not enough. To KNOW that we belong and can do hard things, we must do hard things. There is no magic formula, and it is a myth that all those at the top of their sport or game were born with confidence. These are things that we must develop a practice to fine-tune. Just like running 800s on the track, dialing in progressive tempo runs, and working on sleep and our diet. We must train our minds to recognize a key component to success.
So when it feels like you are way over your head, smile, take a deep breath, acknowledge the discomfort, and let it fuel you toward the good stuff that lies outside of your comfort zones. So whether it's a pair of bun huggers, long shorts, or cut-off jeans that fuels your confidence, just get out there and do something hard.
"No one can make you feel inferior without your consent" — Eleanor Roosevelt.