It's hard to make friends as an adult. Add in introvert tendencies. Multiply that by a new city. Raise it the power of the pandemic.
In early 2020, I was a year into a new job in a new part of the country. I'd left behind a close-knit friend group that came over for dinner every Sunday. I'd left behind my twin sister. I'd left behind the gym where I trained my butt off and cheered on friends. I'd left behind the parks in the desert where I ran miles of familiar trails.
It was a massive change. And then things got complicated.
Into the unknown
In the early pandemic, I was working as a nurse practitioner in the health center on a college campus. Every day was a storm of uncertainty and anxiety. College students, already in a period of rapid change, needed enormous support and assistance as they faced this crisis away from their families.
The unknowns, both personally and globally, were enormous. The students were scared and tired and overwhelmed. So was I.
I would ride my bike eight miles to campus every day, feeling tears roll down my cheeks, wishing I was stronger and more resilient.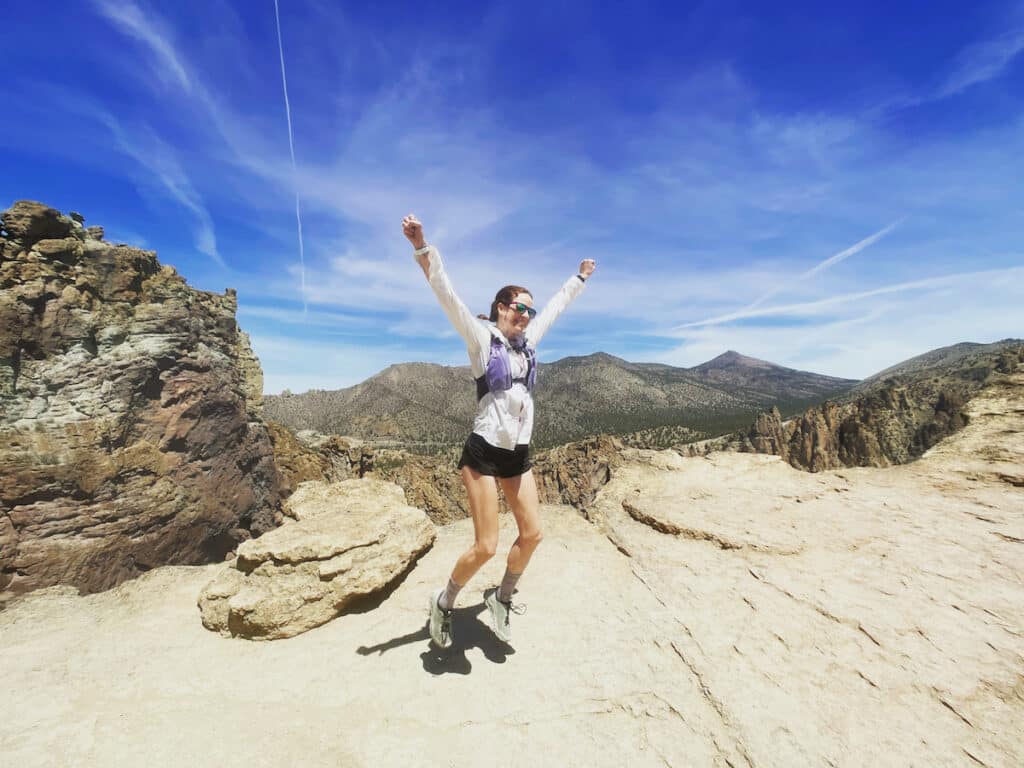 Recapturing the magic
I thought about my own time in college. What is the special magic of that time? How did unknowns turn into growth and not paralysis?
At 18, I tried on different identities and priorities. I did focused, very hard work. I spent time with other people, goofing off and hanging out without any particular deadline or agenda. There were all-nighters. There were inexplicably magic moments. I brought an intensity to everything I did that I haven't felt much since them.
Could I get it back? Could I search through the rubble of the pandemic? Could I rescue myself?
Running as rescue
I did. And I found the remedy in running.
I had to be willing to embrace the sweet, hard change of being unformed and new again.
I doubled down on what it meant to be a runner. I dove into new routines. I found new trails and ran them all the time– before work, with my local Trail Sisters group, with a local race organization. I did single-leg step-ups. I ate a lot of carbs. I read books. I camped and traveled and raced and ate dirt and got injured and healed. I made mistakes. I had fun. I made friends.
I took on new challenges– longer distances, new terrain, new people. I pushed past my introvert preference for going it alone and found joy and connection in group runs. I was not, as I had always assumed I'd be, too slow.
All of this, in a way, mirrored those college times: new priorities, time with friends, doing things because they were fun, learning, hard work. Long nights. Lots of snacks. Transformative change.
Join the rescue team
Is it a little dramatic to say that running rescued me? I don't think so. And I'm not the only one.
It's well known that exercise is good for you. So is time outside. So is social connection. They improve physical health, mental health, and quality of life. The body of scientific evidence is large and growing.
In my work as a primary care provider and a coach, I counsel people to seek these things out, and I see people feel better. But it's not as easy as writing a prescription or giving a workout. It takes effort. It takes support. It takes trying new things.
Communities like Trail Sisters can be a lifeline to people who are searching. Community helps us show up and grow as runners and people. So remember, on that group run, you're not just logging miles– you might be aiding in the rescue of a fellow Trail Sister.